×
Limited Time Offer !
FLAT 20-40% off - Grab Deal Before It's Gone. Order Now
Project Audit & Quality Assessment Models Assignment Sample
CHAPTER 1: Introduction to Project Management
A project is carried out to produce desired results within a set timeframe while effectively utilising the resources allotted (fund, equipment). As a result, the project is limited not only by time but also by budget and the calibre of the job. Therefore, projects must be managed to achieve their goals. We can therefore conclude that project management is all about accomplishing particular (predetermined) goals through resource planning, organisation, motivation, and control. Realizing all auditing assignment and project goals and objectives while adhering to the limitations on scope, quality, money, and time is the main difficulty of project management.
1.1 Various Definitions of Project Management
A project is a transient organisation established to deliver one or more commercial items in accordance with a decided Business Case.-PRINCE2.
An activity wherein human capital and financial resources are arranged in a creative method to deliver a distinctive scope of work of a given specification, frequently within the limits of cost and time to make beneficial changes defined by quantitative and qualitative goals.-Project Management Association (APM)
The planning, organising, directing, and control of corporate resources for a relatively short-term purpose that has been formed to achieve certain goals and objectives is known as project management.
Additionally, according to H. Kerzner (2009), project management makes use of the systems approach to management by assigning functional staff (the vertical hierarchy) to a particular project (the horizontal hierarchy).
1.2 Project Audit
Projects are always organised to produce the desired end result. However, it is almost never possible to complete all tasks within the allotted time span. As a result, a system of some kind must be in place throughout the project to monitor performance and ensure peak performance. "PROJECT AUDIT" is one such system that is now required because it investigates the work quality while keeping to a timetable and expedites work progress. Investigating factors that impede project progress is the primary goal of project audits. Definition "Project audit is a standards verification process of the extent to which project has been compiled with rules and principal of project management," claims the European Project Centre… Any stage of a project, including inception and closure, can be audited. Typically, the owner determines the project audit's scope. We can broadly divide the project audit into two areas. 1) Based on performance 2) based on finances, or occasionally a combination of both.
The primary goal of a financial audit is to acquire assurance regarding financial statements, therefore during this procedure, we look for any fraud or errors therein. While the most important criteria for a performance-based audit are on-time delivery, job quality, and staff (labour) audits.
Owners occasionally hire a third party (external consultant) throughout the project audit process, yet this also occurs when a team from their own internal department is given the task. Owner selects the precise concerns and inquiries to be looked into, which in turn selects the specific audit objectives. Following that, it is the owner's responsibility to produce all relevant documents on both his own behalf and on behalf of the contractor (in case construction project).
In a building project, the owner requests that the contractors keep records of labour, costs, materials, etc. The auditor may need to see all of these data. The following records, among others, may be asked to be reviewed as part of the audit.
Following stages can be used to categorise a project audit: ;
a. Audit Interview
b. Extensive Research
c. Report Creation
Stage 1: Audit Interview
In the first category, managers or sponsors are interviewed in-person to better understand their needs and goals. In these situations, a questionnaire is created prior to the interview and sent to the project's core management team. Consequently, the final interview offers a deeper understanding of the project's aims, difficulties, and ambitions. Open-ended to closed-ended questions (Business Improvement Architect) are possible. In this approach, some questions are posed in order to gain insight from project participants who are unable to participate in interviews.
These are illustrations of audit question types.
• Do you think project plans are important?
• Are you happy with how the project is organised and run? What degree?
• Will the project meet its needs, objectives, and goals?
• What steps can be taken to improve project performance?
• Have strategies been put into practise correctly?
Stage 2: In-Depth Research:
This audit interview stage is being critically analysed. At this level, a detailed study of the responses from the audit interview stage is conducted. This critical evaluation aids in evaluating current problems, issues, and difficulties as well as related documentation.
The project's goal and scope, milestones, team composition, and resource requirements are all thoroughly examined at this point.
• The project plan and vendor plan are evaluated to determine the team structure and scope (Business Improvement Architect)
• This stage is quite helpful since it identifies the lessons to be learned from previous initiatives and assesses overall performance.
Stage 3: Compilation via Report Development:
This stage involves appropriately assembling the data from stage one and having it analysed in stage two, as well as reporting and compiling it to create documents for future use. This report can be used as advice or a guide to help future initiatives perform at a higher level. Therefore, reporting has a significant influence on upcoming projects [3] [4]. This step provides performance measurement as well as a manual for avoiding mistakes and errors.
Due to the following factors, an audit is a crucial tool for project-oriented businesses.
• It aids in the identification of sufficient plans that aid in dealing with present concerns and problems that are project hindrances.
• Specify the success factors, such as the budget, resources, quality control, stakeholder expectations, and so on.
• Measuring the project's associated risk is useful.
• Project audit reports can aid in future project avoidance by identifying flaws and errors.
• The audit report is also used to determine whether present practises are keeping the project on track or off-track, and it serves as a tool for project improvement for future endeavours.
• It is also helpful, particularly for lengthy projects.
1.3. Construction Project Auditing,
The audit timetable and approach may change for the construction business. Economic and financial issues are of the biggest importance to project-oriented companies, and businesses are finding it harder and harder to facilitate capital projects and keep them on schedule and within budget. Construction management is aided by a variety of tools and procedures, including control approaches, risk management, and cost management tactics. Due to the significant financial investment made in infrastructure projects, it is crucial to validate both the standards and the project's results. There are many different types of construction project audits, and they are typically selected early on in the project based on the project's risk profile. The organisation receives confirmation through construction audits that its investment has been effectively distributed during the course of the project.
The construction sector conducts the following types of quality audits:
? Third-Party Audits for Accreditation Purposes
? Prequalification or Pre-selection Audits
? Project internal Audits
? Project Managers may conduct internal audits of projects
? Specific internal audits, or audits on behalf of clients.
? Internal "Works-Audits," "Small Audits," or "Observations":
? Different audits
1.4 Project Life Cycle
Figure 1.2 illustrates a straightforward project life cycle structure.
1.4.1 Initiation
The project's scope and objectives are determined during the first phase, and potential solutions are discussed in order to meet objectives. A feasibility study is carried out to see if each option meets the project aim, and a suggested course of action is then decided. In the end, the feasibility assessment tells us whether or not we should proceed with the project. [4] A project is started to deliver the accepted solution as soon as the suggested solution is approved. Following the appointment of the project manager and project team, the project enters the detailed planning stage.
The process of starting a project involves the steps below.
? Creating a business case
? Conducting a feasibility study
? Defining terms of reference
? Establishing a project office
? Selecting a project team
? Conducting phase reviews.
1.4.2 Planning
After the project's initiation phase, the objectives and scope have been established, and the project team has been selected, it is now time for comprehensive planning to make sure that the tasks carried out during the execution phase are appropriately sequenced, resourced, carried out, and controlled. This stage offers a very thorough approach to achieving predetermined goals and objectives. In this phase, a project plan that details the tasks to be completed while employing efficient methods is prepared. In addition to this, the following plans must be made during this phase.
The project plan - outlines the tasks, activities, and deadlines.
Resource Plan - Required materials, labour, and equipment.
Financial Plan - detailed explanation of the cost of supplies, labour, and equipment.
Quality plan - Describe the necessary and ensured levels of quality.
Communication plan - Details about stakeholders to build successful communication.
Risk management - strategies are included in the risk strategy.
After this point, the project will be ready to be carried out as it has been meticulously prepared.
1.4.3 Execution
At this stage, the written project plan is put into practise on the ground. Various personnel carry out their assigned jobs, and during meetings, progress information is discussed. Stakeholders are updated on project status and progress reports throughout the phase, which ultimately places an emphasis on metrics such as profit, cost, schedule, and quality. The final phase of a project's life cycle is the one with the greatest duration. due to the fact that in this case the deliverables are created and delivered to the clients for approval. The project manager oversees and controls the necessary tasks, materials, and costs to guarantee that the client's requests are met.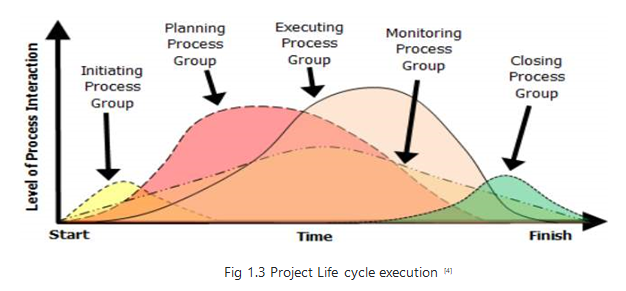 1.4.4 Closing
This is the project's last stage, also referred to as the completion stage. The necessity of handing over project papers to the business, terminating supplier contracts, releasing project resources, and notifying all stakeholders that the project is complete are all stressed during this phase. A project review must be done at the closeout phase. The goal is to gain knowledge from this experience that will help in future endeavours. What worked well? and "What do we want to change for the next time?" are the two questions that need to be posed.
1.5 Management Function
Many experts have categorised management functions. According to George and Jerry, the four most important management functions are planning, organising, acting, and controlling. Henry Fayol, however, defined management as "to forecast and plan, to organise, to command and to rule."
The management function is best described by the word "POSDCORB" coined by Luther Gullick. Planning is referred to as P, organising as O, staffing as S, directing as D, coordinating as Co, reporting as R, and budgeting as B.
However, the management functions provided by KOONTZ and O'DONNEL—planning, organising, staffing, directing, and controlling—are universally acknowledged.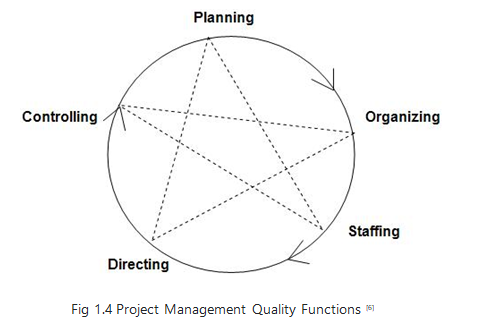 1.5.1 Planning
Planning has been regarded as management's most fundamental task. Various future courses of action are planned and decided during this time. The best plan of action is then chosen to attain the predetermined goals. Planning, in the opinion of KOONTZ, addresses 1) what to do? 2) When should I? What should I do? Planning is primarily concerned with where we are right now and where we want to be in the future. Therefore, planning is the process of determining future courses of action with the intention of achieving preset desired goals. Planning is therefore a methodical process of considering numerous approaches to achieving a given scope of work. Planning is essential to ensuring accurate resource usage (human & non-human).
So, in a nutshell, problem-solving and decision-making are the core components of planning. Planning is an intellectual activity that helps people avoid risks, uncertainties, and other problems.
1.5.2 Organizing
It is the process of deciding how to allocate and use human and financial resources most effectively in order to achieve set objectives and scope. "To organise a firm is to supply it with everything needed for its functioning," said Henry Fayol, "including raw materials, tools, capital, and employees." The following processes are involved in organising: 1) List of critical tasks to be completed 2) Activity classification 3) Assignment of duties 4) Establishing ties of and for accountability.
1.5.3 Staffing
Choosing the correct person for the position is the key to effective staffing. Numerous types of persons with quantifiable qualifications and skills are needed for a variety of positions. The most important thing is to hire the right person because everyone is necessary to the effective completion of the project's goals and objectives. The managerial function of staffing, according to Kootz & O'Donell, entails manning the organisational structure through proper and efficient selection, appraisal, and development of employees to fill the functions intended for the structure.
Manpower planning, recruitment, placement, training, professional development, compensation, performance evaluation, promotion, and transfer are all aspects of staffing. [5] [6]
1.5.4 Directing
It is a component of managerial responsibility to activate organisational techniques so they can effectively achieve organisational goals. Because staffing, planning, and organising are merely steps in the process of getting the work done, it is thought of as the enterprise's "life-spark" that ignites employee action. The inert-personnel part of management known as direction is concerned with directly influencing, leading, monitoring, and inspiring subordinates in order to achieve organisational goals. The following are elements of direction:
? Supervision
? Motivation
? Leadership
? Communication
The term "supervision" refers to a superior's oversight of a subordinate's work. It is the process of supervising work and employees.
To motivate someone is to enliven, stimulate, or inspire them to work with zeal. The incentives can be positive, negative, monetary, or non-monetary. [5] [6]
The process by which a manager directs and influences the work of subordinates in the intended direction may be referred to as leadership.
Communication is the process of passing along knowledge, insight, opinions, etc. to others. It serves as a tool for comprehending information. [5] [6]
1.5.5 Controlling
It suggests measuring achievement against criteria and, if necessary, adjusting divergence to confirm that administrative objectives have been met. Usually, controlling actions are taken to maintain each situation's norms. A successful control system foresees deviations before they really happen. "Regulatory is the process of examination whether or not sufficient progress is being made towards the objectives and goals and acting, if necessary, to correct any deviation," claims Theo Haimann. Koontz and O'Donnell state that "controlling is the measurement and modification of subordinates' performance activities to ensure that the enterprise objectives and strategies desired to get them are being achieved." Thus, controlling involves the following steps:
1. The creation of performance benchmarks.
2. Evaluation of performance in real life.
3. Assessing actual performance against standards and identifying any deviations.
4. Remedial activity.
A specific set of guidelines and instructions must be followed in order to accomplish the desired goals and objectives. In this section, a few of the project functions are explained. [3] [4]
CHAPTER 2: Types of Project Audit
The following are the several audit types utilised in the construction industry: [9]
1. Prequalification or Pre-selection Audits: These audits look at how an organisation or a project is operating with the intention of assessing a subcontractor or supplier's (including designers') arrangement before an agreement is signed with them.
2. Third-Party Audits for Accreditation: This is the stage where an outside authorise association is welcomed (or, more accurately, "enlisted"). They will assess a development extension with the goal of awarding the Certificate (commonly required by the Client).
3. Internal audits of the project's quality management system are often carried out by the project's quality team (the Quality or QA/QC Department), and they focus on looking at the internal processes that have been established for this Project specifically. Additionally included in this class are audits of designers and subcontractors.
4. The parent organisation conducts specific internal audits; these are often carried out by the department in charge of quality (Contractor or other). They are primarily focusing on tracking how the Project is being carried out, as per the business strategies. These are also quite common in joint ventures when each partner monitors the system and performance of the project.
5. Audits by the Client or Client's agents (Project Managers): These are Audits requested by the Client or Client's delegates in order to make sure that all legally required requirements regarding the quality administration arrangement of the Project are established. The Project's Quality Department frequently contacts the Contractor during the Audit. One business where the "customer" can undertake reviews as the "thing" is being created is the development sector.
6. Internal "Small Audits," "Observations," or "Works-Audits": These are usually brief assessments conducted by the Quality Department of a Project to ensure that the approved documentation (Method Statements, Inspection and Test Plan, Procedures, and so forth) is followed on location. These are occasionally also carried out as "Quality Tours or Walks," and it is typical for the Client's delegates to participate in (or view) these as well.
7. Other Audits: These are typically impromptu assessments that the administration requests following an incident. Fundamentally, they can fit under any of the aforementioned categories.
CHAPTER 3: Overview of various project audit models
3.1 Portfolio, Program and Project Management Maturity Model (P3M3)
Axelos, a joint venture between the UK Government and Capita that took over responsibility for materials in January 2014, is currently offering P3M3. Prior to this, P3M3, which has stimulated a great deal of research in the topic of wander organisation, was claimed by the Office of Government Business (OGC), a division within the UK Government. The P3M3 largely borrows from the Carnegie Mellon College's Capability Maturity Model Integration (CMMI) and attacks a related strategy. The Software Engineering Institute (SEI) of Carnegie Mellon College initially developed a crude change to the model, around 1986 and 1991. Then, as a result of its flaws, authorities improved it as the P3M3, which is taken into account when in doubt and a quick review of headings for starting any project and its administration, portfolio organisation, and programme management.
This model holds the success of an endeavour and makes use of fundamental ranges. The P3M3 model recognises exercises that must be performed at the project and programme levels as well as inside the organisation and takes responsibility for making them happen [9]. This can be used to a variety of organisation types, including private, open, adviser, and planning, and it never focuses on a certain sector. The P3M3 model suggests that searches for fundamental project requirements have been divided into two groups, referred to as Mature and Immature. In order to keep the task on schedule and in accordance with a continuing arrangement with a high standard for developing a relationship, there are reasonable and sufficient standard systems and rules. Managers monitor and control the progress of the project against the project plan and consistently take the partners' satisfaction into account.
P3M3 focuses on the seven associated Process Perspectives, which are included in all three models and are surveyable at each of the five Maturity Levels.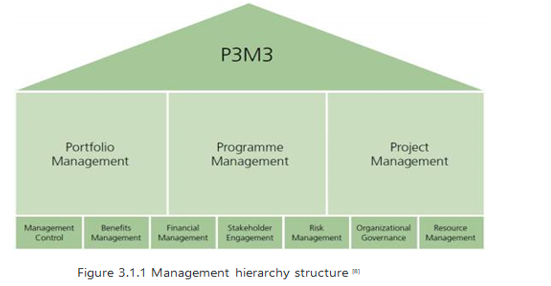 3.1.1 Advantages of utilizing P3M3
In order to optimise value for money from investment, associations must understand the optimal degree of execution in their purpose and have a realistic understanding of what they are capable of. Not all associations will be able to reach the highest level, and for some, the centre levels may be adequate to fulfil their professional goals and ambitions. Although it is possible to achieve short-term execution advantages by using P3M3 to identify and fix execution flaws, execution modification should be seen as a long-term process (Figure) in order to reap the greatest benefits from using P3M3. There are a number of reasons why associations might use a maturity model to evaluate how they are currently performing, for instance,
1. Justifying interest in administration changes for portfolios, programmes, or projects.
2. Getting recognition for the effectiveness of administration in order to support suggestions.
3. Developing a deeper understanding of their strengths and weaknesses with the aim of approving change.
P3M3 has a maturity framework with five levels, and these levels are:
Level 1 – awareness of process
Level 2 – repeatable process
Level 3 – defined process
Level 4 – managed process
Level 5 – optimized process

Table 3.1.1 Five Levels P3M3 model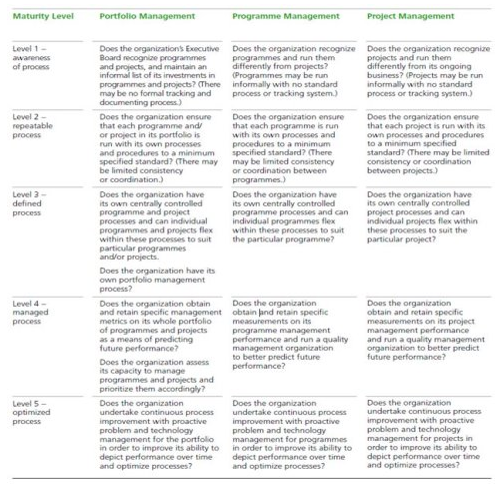 3.1.2. Maturity Level Explanation
Level 1 – Awareness of process
Typically, procedures are not reported. There aren't any prepare descriptions or there are only a few. They will typically be acknowledged since administrators may have some awareness of the important actions, but actual practise is governed by circumstances or personal preferences and is incredibly subjective and variable. In spite of the possibility that there will eventually be a common obligation to process advancement, procedures are in this way undeveloped.
Undeveloped or insufficient processes suggest that the crucial tasks for better practise are either not carried out at all or are only partially carried out. If there is any instruction or supporting paperwork, it will likely be little, and even terminology such as "business case," "chance," "problems," and so on may not be universally understood by all superiors and co-workers.
Although a Level 1 business may have carried out a number of successful initiatives, these frequently depend on the skills of a small group of important personnel rather than the knowledge and capability of the entire organisation. Such "accomplishments" are typically achieved through budgetary or hypothetical plan overspending, and because Level 1 associations lack tradition, they frequently overcommit themselves, abandon forms in times of crisis, and are unable to accurately recount previous successes. There is little any planning, little government funding, and little preparation acknowledgement.
Level 2 – Repeatable process
The association will be able to demonstrate that basic management has been created, such as monitoring expenditure and allocating resources, and that procedure are growing, by making reference to specific actions. There are important individuals who can demonstrate their successful reputations and the association's capacity to build on earlier successes in the future through them.
Process discipline is unlikely to be complete, but where it is present, activities are carried out and managed in accordance with their reported plans, for example, project status and conveyance will be obvious to management at defined foci, for example, on hitting major milestones. Even though the best management will lead the way in some activities, execution and involvement levels may vary.
Key staff members have probably received important general training. There is still a significant risk of going beyond budget and timing estimates. Uncertainty and irregularity in business targets, the absence of fully integrated hazard administration, limited experience in change management, deficiencies in communications strategy, and insufficient measures of accomplishment are some of the key factors that may have preconditioned the association to experience difficulties or disappointment.
Level 3 – Defined process
The management and specialised techniques required to achieve the hierarchical purpose will be disclosed, institutionalised, and to some extent incorporated with various business models. Process ownership and a built-up process group with responsibility for maintaining consistency and process improvements across the association are likely to exist. Such improvements will be planned and managed, possibly in response to assessments, with organised improvement and adequate resources being addressed to ensure that they are composed across the association.
The best management are consistently locked in and provide responsive, knowledgeable support. A system of training will likely be established to improve people's knowledge and skills so they can perform their given roles more quickly. Continuous use of partner audits of reputable products will be a significant component of value management in order to better understand how procedures can be improved and eliminate any potential weaknesses.
The extent of metrics, process descriptions, and procedures, including expressed aims, inputs, activities, roles, check steps, outputs, and acknowledgment criteria, is a crucial distinction between Level 2 and Level 3. This enables more proactive oversight of processes using an understanding of the interactions and dimensions between the process and its outputs. In accordance with the guidelines, these standard procedures can be modified to fit special circumstances.
Level 4 – Managed process
Develop behaviour and procedures that are quantitatively monitored, i.e., managed using measurements and quantitative methods, is how level 4 is defined. Quantitative targets for quality and process execution will be demonstrated, and they will be used as criteria in process management. The estimation data acquired will be essential in decomposing the portfolio and identifying the current limit and capability restrictions. It will also contribute to the association's overall execution estimation structure. The
Best management will submit themselves, engage others, and aggressively seek out creative ways to achieve goals.
Management may effectively manage forms and identify ways to change and adapt them to particular activities without sacrificing quality by using process metrics. Organizations will gain from improved process execution consistency.
Level 5 – Optimized process
The organisation will focus on simplifying its quantitatively controlled processes to take changing business requirements and external variables into account. It will anticipate upcoming request limits and skill requirements to handle conveyance challenges, such as portfolio analysis.
The necessity and opportunity for ability and performance improvement is strengthened by the way that the best managers are perceived as role models.
It will be a learning organisation that will spread the knowledge discovered from earlier audits. By choosing different ways to accelerate what's more, share understanding, the association will improve its ability to quickly respond to changes and opportunities.
The association will be able to better understand the causes of variation thanks to the information it gathers from its process and item measurements, which will enable it to improve performance. The association will be able to show how quantitative feedback from its implemented processes and approval of innovative ideas and advancements encourage consistent procedure change. A robust structure will be in place to handle organisational controls, execution administration, and governmental challenges. Through reading, sponsorship, duty, arranging, asset assignment, chance management, and benefits acknowledgment, the association will be able to demonstrate a strong arrangement of hierarchical goals with strategies for accomplishment.
3.2 Prince2 Maturity Model (P2MM)
This concept can be thought of as P2MM and has a position in the UK Office of Government Commerce (OGC). Using the PRINCE 2 Project Management Method, which was developed by a related organisation in 1989, this approach enables associations and businesses to assess their growth. In reality, several prestigious firms have used PRINCE2 as a project management technique with the aim of improving execution. Numerous publications published by Axelos [1-4] depict the application of the technique for the related associations. GDF SUEZ E&P UK, Scheidt and Bachmann GmbH, US Federal Government IT Projects, and Konica Minolta Business Solutions Europe GmbH.
Additionally, the Portfolio, Program, and Project Management Maturity Model serves as the foundation for the PRINCE2 Maturity Model (P3M3). They share a similar structure as a result. The Prince 2 Maturity Model employs the following five growth levels, which can be delegated:
1. Process awareness
2. Continual improvement
3. Specified Procedure
4. Well-Ordered Process
5. Improved Process
The issue that arises is how to evaluate each maturity level. Axelos has disseminated a report that speaks to a respectable response to the earlier query:
Mature Level Assessment
Level 1: Has the association identified tasks and a backup plan for guiding them?
Level 2: Does the organisation adopt the PRINCE2 Method and put it to use on all projects to create a repeatable process?
Level 3: Is the PRINCE2 methodology modified to meet the requirements of different tasks?
Level 4: Is the organisation capable of directing estimates for project management execution and dealing with its quality in order to demonstrate improvements in future execution forecast?
Level 5: Does the organisation oversee continuous improvements to its processes so it can evaluate how they are being used now and in the future?
Similar to the previous model, this one focuses on seven processes that cover the essential elements of the associations extend administration strategy. Any stage of development can be used to examine these techniques. They could be shown with the following:
? Stakeholder engagement
? Risk management
? Organisational governance
? Financial management
? Benefits management
? Management control
? Resource management
To provide insight on the substance of each process, a further arrangement of previous procedures will be made. In addition, it will provide guidelines for separating children and evaluating their level of maturity.
This process ensures that the costs are evaluated and then monitored throughout the project time frame for the Financial Management. Additionally, the financial management will take into account the availability of assets to back up the wagers without ignoring the wager of various actions that may result in various benefits.
Additionally, a crucial business handle in this approach is Risk management. It mostly negotiates with the opportunities and weaknesses present in any venture. The aim is to reduce the risk of vulnerabilities occurring by improving various systems. There should be adequate evidence to show that precautions are taken against the risks.
The Resource Management is also taken care of using this methodology. In fact, the management aspects of numerous types of material and HR are covered by this technique. The process evaluates how well the association uses its resources to achieve its objectives.
Similar to that, this model explores the Stakeholder Engagement processes. In most cases, a review of the internal and external partners is conducted to determine the level of support and involvement. The communication channels address a component of the stakeholders' engagement.
When it comes to Organisational Governance, it mostly deals with the transmission of actions in connection with organisational strategies.
Additionally, it should be emphasised that the formal appraisal must be completed by a PRINCE2 Registered Consultant (P2RC), in accordance with the guidelines provided on the PRINCE2 official website. The Association for Project Management (APM) in the UK and the American Society for the Advancement of Project Management in the USA are fundamentally the organisations that grant accreditation to specialists.
This model can be used as justification for funding improvements to project management. Additionally, it serves as a barometer to reflect strengths and weaknesses so that actions can be taken to improve the process for project management. Additionally, it's a strategy for ensuring level acknowledgment for potential clients.
One step in the process of improving the execution is the appraisal itself. The P2MM structure is a powerful tool that grants associations the freedom to choose their existing situation. Additionally, it provides a broad overview of the processes that interpret the association's project management capabilities. Then, beginning with the review, preparations can be made specifically to address inefficiencies and improve the quality of execution, depending on the level that the association needs to accomplish. It is useful to clarify that not every association must achieve level 5, but that the outcome depends on the level of execution that can meet its needs.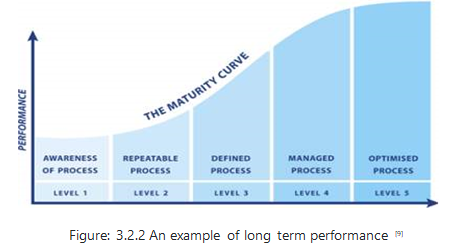 Promote the idea that organisations with low levels of maturity expose their projects to great risks that frequently result in indirect costs.
3.3. EFQM Excellence Model
European Foundation for Quality Management is referred to as EFQM (EFQM). Regarding the involvement of the public and private sectors in each area of association, this model is extremely important in the development of any organisation. The flexibility and high level of perfection in the excellence model make it a recognised standard for project or organisation improvement on a worldwide scale. According to the European Standard report, this model has three fundamental yet crucial elements.
3.3.1 Fundamental concepts of excellence
For any organisation, excellence consists of the criteria and quality that are attained to elaborate highly exceptional work and projects. This differentiation in the work or project can announce increased proficiency to numerous stakeholders and members of the public. The principles of excellence can be used to define a variety of organisational structure characteristics. The list below includes some essential elements for excellence. These ideas are necessary to satisfy numerous requirements for greatness in project outputs.
? Creating a sustainable future
? Improving organisational capacities
? Connecting creativity and innovation
? Managing with honesty, imagination, and vision.
? Maintaining exemplary performance.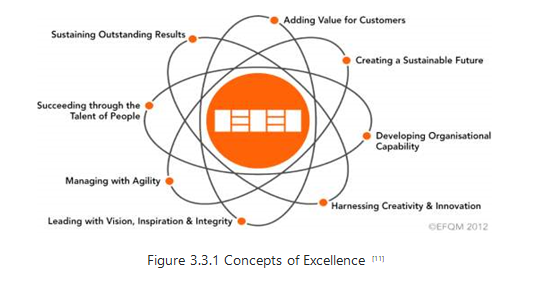 3.3.2 The Criteria
Several criteria are assigned to the EFQM's second phase. This section is crucial since it covers the fundamentals of strategic planning & organisational leadership. The European Union research states that in order to give vital results to their clients, every business or project manager must enhance its people, partnerships, and processes. To enable various improvement in one organisational task, the section offers two aspects. Along with the project's method and personnel, the two main criteria for judging the quality of the job are enablers and results.
Enablers:
Enablers are crucial tactics that an organisation must implement in order to attain specific goals. For the organization's strategic planning and development phase, enablers are crucial components. The EFQM paradigm primarily focuses on five enablers. A number of organisational development issues fall under the purview of enablers. For example, a leader is a significant component in shaping various future events and incorporating ethics and values into their work, whilst people are essential in bringing about various association goals with ethical principles. People are also accountable for contributing their great efforts to meet the demands of their organisations while upholding their Excellency standards. Strategies are crucial from the standpoint of the client because different wants of the organization's stakeholders or clients necessitate unusual work from the association. In order to implement conventional strategy, organisations must effectively manage plans, policies, objectives, and procedures. Resources, partnerships, products, and services are indisputable components of many internal and external corporate relationships.
? People
? Partnership & Resources
? Processes, Product & Service
? Leadership
? Strategy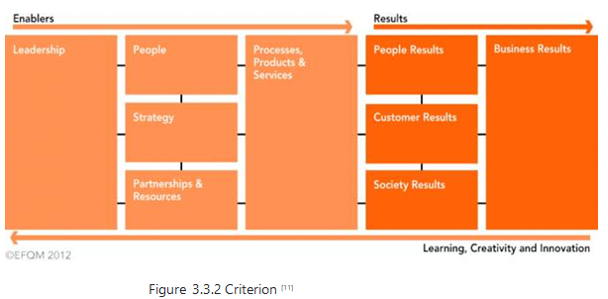 Results Criterion:
On the right side of the model presented in figure 6.2, the result criteria are displayed. These four outcome criteria must be taken into account in order to ensure diverse organisational excellence. In this level of the model, numerous strategic goals have been attained.
? One of the most important aspects of this criterion is the setting of acceptable targets for specific outcomes groups based on the various demands and expectations of relevant customers.
? The second important aspect is the segmentation of diverse results to improve how different organisational areas operate in relation to stakeholder expectations and needs.
? A consistent and encouraging presentation of business results every three years.
? In this phase, it is crucial to comprehend the numerous causes of failure and the lack of consistency in results.
? Creating a set of important metrics and related results to monitor the organization's strategy's success.
Here, four results criteria are provided.
• Results for customers
• Group's results
• Businesses results
• Society results
3.3.3 The RADAR
RADAR is a rational framework for dynamic assessment since it is thought of as a strong management tool that offers a way to challenge the effectiveness of an organisation. The four main components of the RADAR system are used to assess organisational performance.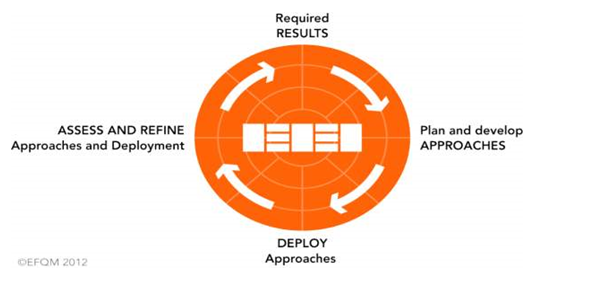 Figure 3.3.3 RADAR
RADAR serves as an example of several qualities that a company should possess.

• It is suggested that goal determination be taken into consideration while developing a plan.
• Planning and development strategies are combined to provide results that meet both current and future demands.
• The methodical deployment of a range of strategies to guarantee specific implementations.
• Evaluation and improvement of implemented strategies based on examination of outcomes.
RADAR can be quite helpful for organising different levels of labour within a company as well as for assessing both present and future requirements.
3.3.4 EFQM model applications and implementation
These models can be used to study present capabilities and performance as well as potential outcomes using a variety of assessment elements. Here are few implementation phases that were acquired to model.
? Involvement of team members at all levels in the project for better execution
? The planning phase will be chosen for the full project phase taking into account each team member.
? Giving each participant the proper instruction and information.
? Creation of an action plan using multiple strategic evaluation planning techniques
? Evaluation following result attainment.
3.3.5 Potential benefits of Model
? The excellence model provides a comprehensive framework to handle a variety of quality concerns in organisations in a methodical manner while also addressing impact through result criteria.
? The method to continuous improvement could be useful for this model.
? Analysing an organization's actions can help it use the right resources to accomplish a variety of objectives.
? This model waives the need for any external validation because it can serve as a tool for internal evaluation of its own operations.
? The model's scoring system may be published as an internal standard for the model to utilise in evaluation. This rating system can be helpful for benchmarking and contrasting various outside organisations.
? It primarily concentrated on the organization's weak areas in order to give them the necessary assistance to develop the necessary strength alongside other associational areas.
3.3.6 The model's drawbacks
? The model's scoring and award recognition methods can be pricey to utilise in smaller businesses.
? Because there is no official mark on this model, it is not formally recognisable to different buyers.
? Because EFQM was first designed for a small number of commercial applications, translating it into other languages is difficult.
3.4 OHSM( Occupational Health & Safety Management) System Model
The OHSM model covers a wide range of crucial elements, including the plan, implementation, evaluation, and on-going progress. Occupational Health & Safety Management System is referred to as OHSM. This approach purposefully focuses on on-going health and safety issues as well as numerous components that are in line with needs for development in the future. The approach was initially created to address numerous technological challenges but eventually changed its focus to emphasise corporate cultural issues as well as human behavioural variables. The model includes a few crucial management systems.
• It includes all aspects of workplace safety and health, most of which pertain to members and affiliated businesses.
• Its primary purposes are:
• Increase the model's management system's efficacy.
• Adherence to current law in order to uphold the law.
• A variety of aspects are incorporated to characterise the model's many objectives, including ethical, financial, legal, and organisational aims.
• Implementing numerous elements and fostering engagement inside a company requires a holistic strategy.
• The model approach's outputs are regarded as a tool for management system evaluation.
• This model places a lot of emphasis on the numerous workplace health and safety issues. Here are some fundamental conditions that must be met for the model to be used in any project.
• Determining and analysing workplace health and safety risks.
• The need for a variety of control techniques to eliminate or lower workplace hazards.
• Written documentation should be provided that clearly outlines policy and management commitments.
• Every workplace must have worker competency, training, and inspection programmes.
• The reporting, investigation, and organisation of emergency responses.
3.4.1 Advantages of OHMS model
Applying this concept to health and safety management in enterprises has many advantages.
? A health and safety management system can increase employee knowledge and their trust in the organisation, which will enhance their engagement and performance.
? It has been suggested as a very valuable and effective model to reduce overall workplace injuries and risks.
? By using this model, employers could encourage their employees to behave amiably and provide them with polite manners.
? Since the implementation of this strategy, there have been significant cost escalation reductions related to worker illnesses and injuries.
? This model might be useful for displaying compliance with customers and suppliers.
? As a result of the model's involvement in the organization's processes, various health-related costs and downtime have decreased.
Some consequences are evident during the certification process or as a result of a lack of standards. Below is a description of several flaws in the OSH management system certification.
As an audit of the system often ensures compliance and focuses on improvement, certification is a technique to provide additional quality to the OSH management system. The traditional management system has also seen some bias in the system's ability to spot deviations and provide fixes for persistent structural problems.
Some of the model's success elements are listed below. This success factor is mostly based on the criteria and numerous organisational requirements for achieving model success.
• More thorough research and background information may be helpful in avoiding the use of the cross-sectional method, and further comparison group implementation may be possible.
• The number of control groups, cofounders' measurements, and statistics adjustment can increase the model's success rate.
• Applying rigorous sampling techniques and collecting sample data can produce excellent outcomes.
• Different cash flow considerations and the application of strict methodologies for economic evaluation can get the desired results from the model.
• Applying a wider sampling group, as opposed to employing solo workplace surveys, can increase effectiveness.
3.5 Kerzner Project Management Maturity Model (KPM3)
Since many years ago, successful projects and other phenomena have been recognised using strategic project planning. The Kerzner project management maturity model was created by Harold Kerzner and is widely used in project management. To create the greatest strategic management plans for any firm, this model is fully equipped. Additionally, this model is a great way to improve any organization's project management system. According to Kerzner, every business can benefit greatly from using this paradigm for strategic and multilevel planning.
Harold Kerzner's maturity model can serve as an illustration of the basis for obtaining supremacy level in various strategic aims. To help with a better grasp of its functioning and project management proficiency, this model has five fundamental levels. Regarding fig. 6.5.1 These stages are also referred to as the benchmarking, continuous improvement, level of common language, common process, and solitary approach.
Process Improvement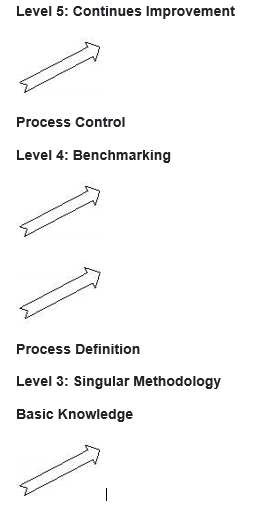 Level 2: Common Processes
Level 1: Common Language
Fig.3.4.1 Five Levels of Project maturity model.
Level 1: Common Language
This phase of the model includes several definitions of terms related to project management techniques. This level of the model takes into account a variety of tactical factors and previous knowledge of potential future developments.
Level 2: Common Processes
This level has several processes that have been modified from earlier successful projects. This level describes several management ideas and approaches for adaptation in organisational planning. These common processes essentially rely on project application, planning, and tactics to meet organisational needs.
Level 3: Singular methodology
At this level, the organisation incorporates all internal approaches while taking into account how they work together to create a single methodology. This procedure provides organisations with a specific way to move forward with the project. Combining all approaches from diverse corporate groups will have a synergistic effect that will benefit the organisation in many ways.
Level 4: Benchmarking
The goal of benchmarking is to provide organisations a competitive advantage so they can continuously develop. This level outlines several benchmarks and the justifications for choosing particular benchmarks.

Level 5: Continuous Improvement
To help the project continue to improve, this level condensed the information from the benchmarking level. This level additionally calibrates numerous methodology data for project decision-making regarding ongoing improvement.
With numerous investigations, the maturity model can give a risk factor to each stage. This risk factor is categorised into three levels: low, medium, and high. The risk level increases as the business culture is influenced (or altered). The following are some possible risks:
Low risk: The company culture is unaffected by this level of risk. Low risk levels are accepted culturally because they are dynamically less harmful.
Medium risk is defined as the presence of a variety of change-related elements and other factors that could result in a significant yet unfavourable change in an organisation.
High risk: Risks that have the potential to significantly affect the corporate level's ultimate structure are categorised as high level risks.
Benefits of the Maturity Model:
? This model contains deliberate and well-organized processes to develop varied management.
? Planning, making it versatile and comprehensive enough to be implemented in any sort of organisational structure.
? This paradigm is incredibly simple to use, comprehend, and use in practical settings.
Limitations of Maturity model:
? Since maturity level planning is significantly lacking in the model, it cannot effectively direct an organisation in a number of crucial dimensions.
? It is a generic model, which poses a challenge for intricate projects and is ineffective in intricate strategic planning.
? The project maturity model is not effective in directing and overall organisation policy planning, but it is very beneficial in basic strategic policy planning.
3.6 People Capability Maturity Model (P-CMM)
In any firm, the capacity to ensure the effective utilisation of the current personnel is a key duty. In essence, an organization's ability to grow its employees is a fundamental requirement. It is often discussed how to raise the quality of the workforce in order to assure greater organisational development. The many stages of ensuring workforce growth in businesses are shown in the people capability maturity model, together with quality management of the workforce, credibility planning, and future growth analysis. To assure workforce growth, this model primarily discusses five phases.
This model aids in the organization's strategic planning, which is primarily concerned with workforce development.
The five levels of the people maturity model are very useful in describing its applicability, efficacy, and excellence. This strategy has received widespread recognition in numerous computer system businesses due to the remarkable changes it has made to the effectiveness and quality of their personnel. Here, there are five levels.

Figure 3.6.1 Levels of people capability maturity model
Below are five levels for people capability maturity models. The brief descriptions of each level are shown in Fig. 6.6.1.
Level 1: Initial
This level is intentionally left undesignated because it serves as the model's initial or starting point. For the people capability maturity model, the initial level is the previous level.
Level 2: Managed
The second level of the model is the most crucial but initial stage of the organization's human resource management. This level is divided into a number of conjugates to accommodate workforce management. This level includes a number of components, including hiring, coordination, communication, the workplace environment, performance management, and training and development. The different level configurations for the people capability maturity model are shown in Fig. 6.6.2.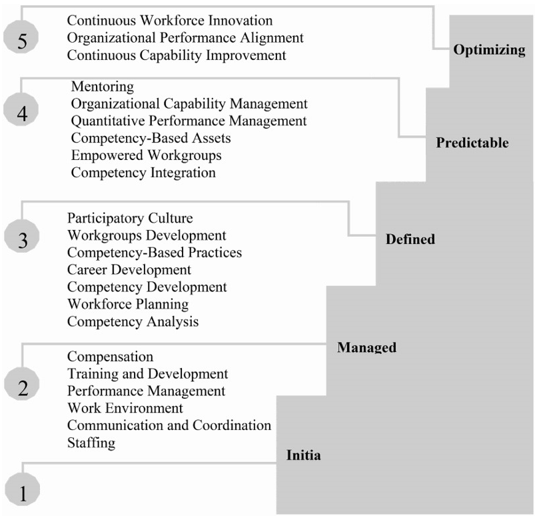 Figure 3.6.2 Levels Descriptions for People capability model
Level 3: Defined
Define level is a secondary phase that includes numerous workforce development models and analyses. In addition to the development of the workplace environment, this level includes subsidiary planning for a number of departments, including competency-based practises, career development, and participatory culture. [19] [20]
Level 4: Predictable
The phases of this model's predictable level include workgroup empowerment, mentorship, and organising capability models. The transition to level three and calibrated planning from level one have a beneficial effect on predictable phase work.
Level 5: Optimizing
The model's final phase is clearly defined for the optimization of every step before it. This level includes a variety of optimization and improvement strategies as well as ongoing workforce and capability innovation. This level of the model is crucial because it establishes the preparation and goals for future innovation.
Benefits of the maturity model for people capacity:
• These models follow sound planning technique across all phases. The success of this model is greatly influenced by this methodology.
• Several other model standards were taken into account when developing this model, which has a number of advantages over the deficiencies and inconsistencies found in other models.
• This model is also very adaptable and suitable for all sectors.
Model limitations:
• This model's complexity poses minimal obstacles to comprehension of its overall process. This model is tedious because of its drawn-out, difficult processes.
• Several model components have been flagged as high risk and have also shown to be weak in several pressing circumstances.
3.7 Organizational Project Management Maturity Model
Under the supervision, The Organizational Project Management Maturity Model (OPM3) was released as a standard by the Project Management Institute (PMI). The major goal of the OPM3 standard for organisations is to present a strategy to explain organisational project management and to evaluate the project's maturity in comparison to a wide range of organisational project management best practises.
3.7.1 Definition: Organizational Project Management
The utilisation of projects to accomplish or complete organisational goals is known as organisational project management. The application of knowledge, skills, tools, and strategies to projects and organisational activities is known as organisational project management. The term "Organization" in OPM3 refers to any organisation that intends to use its content in the OPM3 standard rather than just an agency, business, or society. It provides legislation, high-level perspectives on resources, and examples of business strategies that, when properly used, directly affect an organization's financial results. OPM is a strategic asset overall in a market that is cutthroat.
3.7.2 Organizational Maturity
The "maturity model" in organisational project management is a conceptual network that includes elements that define maturity in the target region. The maturity model also provides a procedure that can build a set of best practises and capabilities when OPM3 is used. This process results in a more mature organisation through maturing the organisational state. The integration of best practises within the programme, project, and portfolio domains shows organisational project management maturity.
The maturity model of OPM describes the cumulative efficacy that led to best practises, which are also necessary for effective organisational project management. The OPM3 can be used to evaluate a variety of factors, including the organization's maturity and its progress toward becoming more mature. Looking at best practises in relation to their cooperation with the various stages of process development is one of these dimensions. This process improvement involves standardisation, control, and measurement, and it results in the ongoing improvement of an organization's projects. The organisational project management maturity is increasing along a continuum, as depicted in Figure 1. Another factor includes the development of the best practises related to each of the domains. Project management, programme management, and portfolio management are the first three areas this dimension handles.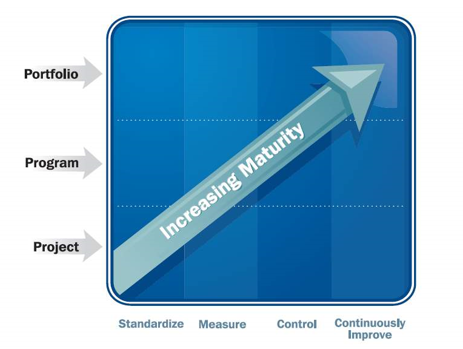 Figure 3.7.1 Organizational Project Management Maturity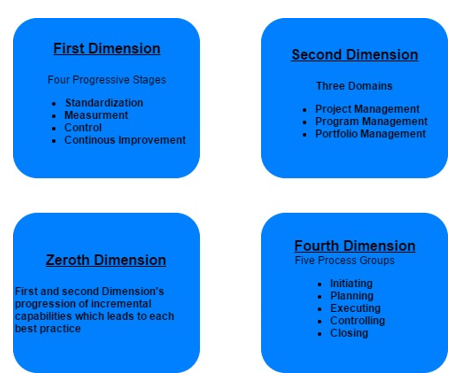 Figure 3.7.2 Dimensions of the OPM3
A system of overall maturity levels has not been included in the development of the organisational project management maturity model. The creation of the individual maturity levels is simple if the maturity progression is one-dimensional. OPM3 is multi-dimensional, though. Additionally, it classifies the competencies in relation to the five project management process groups. These process groups—initiating, planning, carrying out, overseeing, and closing—allow for the identification of the fourth maturity dimension.
3.7.3 Elements of the OPM3
The organisational project management maturity model has three interconnected components: Knowledge, Assessment, and Improvement. The user or an organisation develops standards-based knowledge capability. To be comfortable with the corpus of best practises, it covers the organisational project management maturity concept, the idea of OPM, and OPM3 methodologies and concepts. In an evaluation model, the present position on the OPM maturity continuum is determined by comparison with the standards. Finally, the Improvement element's decision to move forward with some modified initiatives leads in improved maturity, which can be used to plan and carry out this plan using the assessment's conclusions. Figure 3 depicts how the OPM3's interlocking components fit together, along with the concepts that underpin each component.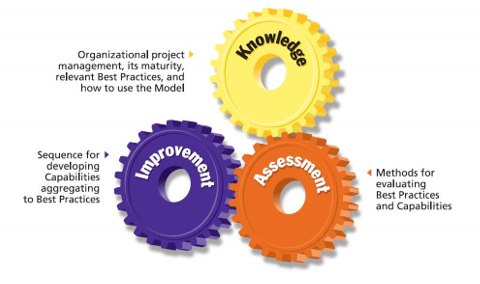 Figure 3.7.3 Interlocking Nature of the OPM3 Standard
3.7.4 OPM3 Steps
The following steps are related with the Knowledge, Assessments and Improvement Concepts.
3.7.4.1Knowledge
Step 1: Prepare for Assessment
The first stage for an organisation is to get ready for the process of determining the organization's maturity in reference to the model. This preparation entails a full comprehension of the model's contents, familiarity with how the organisational project management maturity model works, and knowledge of organisational project management.
3.7.4.2 Assessment
Step 2: Perform Assessment
Finding the organization's organisational project management maturity is the second stage. Comparison of the model's current maturity state's attributes to those in the OPM3's description of those qualities This stage involves examining the best practises that the organisation uses and does not use in order to determine where it falls on the continuum. Organizations have the option of creating their own assessment instrument or using the OPM3 tool. Following that, a more thorough examination of the organization's capabilities is conducted to identify any shortcomings, which then allows for the creation of an improvement plan, the repetition of the assessment, or the termination of the process, as seen in figure 4.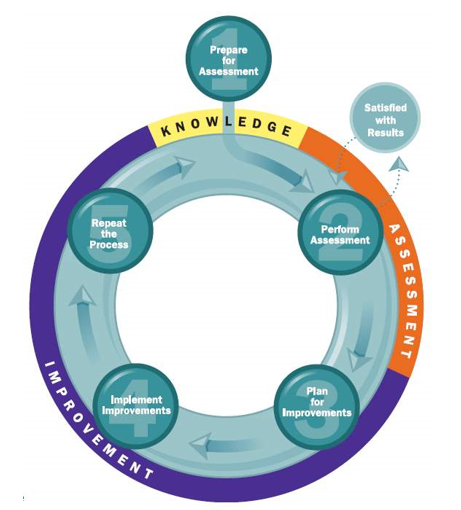 Figure 3.7.4 The OPM3 Cycle with Steps[21]
3.7.4.3 Improvement [22]
Step 3: Plan for Improvement
The outcomes of step two will result in the improvement strategy for an organization's maturity. This stage will rank the necessary capabilities and outcomes according to their importance, which can help with the development of a clear plan to enhance and attain the outcomes associated to the best practises' capabilities.
Step 4: Implement Improvement
This stage will see the adjustment or change. Once the plan has been formed in the preceding step, the Organization will put it into action by carrying out development activities to build the necessary capabilities and raise the Organization's overall maturity.
Step 5: Repeat the process
The organisation will go back to step two to revaluate its place on the continuum of OPM maturity after completing the improvement activity. Otherwise, it will go back to the improvement step and handle any additional best practises that were discovered throughout the assessment.
3.8 Roland Gareis Model
Companies with a project orientation have specific techniques, organisational structures, and cultures for managing projects, project portfolios, and programmes. The administration of the projects and programmes helps the social systems compete better. As a result, organisations across all sectors—nations, regions, and industries—are shifting toward a project-oriented approach. The project's project oriented systems' outputs and their maturity status are related to one another. Different maturity models are capable of assessing the maturities of a project or an organisation. The maturity model created by the ROLAND GAREIS Management of the project-oriented Company® has been reviewed in this portion of the learning module.
Austria's Vienna University of Economics and Business Administration is home to Dr. Roland, a professor there. Different dimensions of project maturity models relate to one another. There are eight dimensions in the ROLAND GAREIS model. Below is a discussion of these dimensions.
Project Management: A project is a provisional organisation for the effectiveness of a process with a medium or big scope that is relatively short-medium in duration, distinctive in nature, and strategically important. The sub-processes of this Important process include project coordination, project controlling, project initiation, handling project discontinuity, and project closedown.
Program Management: The achievement of the distinctive business process with a sizable scope is the role of the programme management. Program coordination, programme start, programme regulating, programme close-down, and programme discontinuity resolution are sub-sections of this.
Confirmation from the Management Project quality: Management audits and management consultancy are necessary to ensure project quality.
Project assignment: In this dimension, it will be decided if a project should be completed or not.
Project portfolio management involves making decisions about whether to start or stop a project, confirming project priorities, and planning how to allocate both internal and external resources.
Personnel management: This process includes the placement, hiring, and ongoing development of project personnel, including the owner, project manager, project team members, and project contributors.
Organizational Design: The creation or establishment of a project management office, a project portfolio group, the development of project procedures, and well specified project plans are all parts of organisational design.
Business process management in a company focused on projects: This dimension's procedure consists of a predetermined series of actions. Different organisational roles are involved in this dimension. Roland's model has 35 sub-criteria and 74 questions. The main criteria are given varied weights based on their importance, while these sub-criteria are given the same weight. Each dimension has points between 0-100, as seen in Figure 5.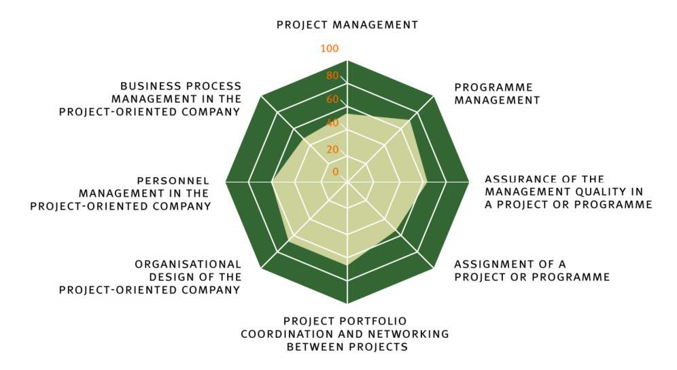 Figure 3.8.1 ROLAND GAREIS Model
3.8.1 Capacity for Project Management
The classic maturity models employ five steps to define and assess the maturity of a project or an organisation. The capacity to professionally carry out the project management process is known as project management competence (PM-competence). Project management expertise requires both project management knowledge and experience. The scales employed are initial, repeatable, specified, controlled, and optimised, as illustrated in Table 1, in accordance with the SEI Capability maturity model. The spider web presentation is a multi-dimensional display of project management expertise that enables visualisation of the various stages of development of the project management sub process. The spider web portrayal of the organisational PM competence is shown in Figure 6.
Table 3.8.1 The SEI model's maturity level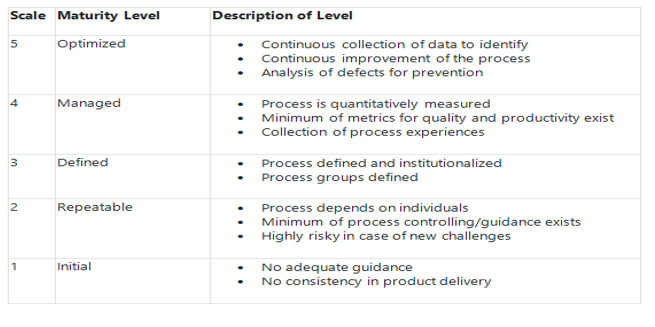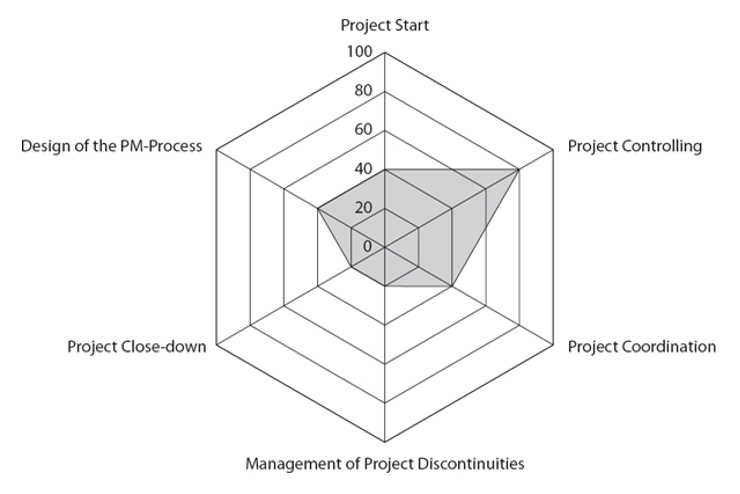 Figure 3.8.2 Web presentation of the project oriented organization
3.8.3 Advantages of Roland Gareis Model
A multi-dimensional maturity model that emphasises the various facets of an organisation is the Roland Gareis model.
• It makes use of a spider web presentation, which gives a project or organisation a visual display. The evaluation of the sub-models is also shown here.
• A set of questions known as a questionnaire is used to assess the project management competency.
• The spider web's graphical representation will also show which problems need to be solved for the organisation to become more mature.
3.8.4 Disadvantages of Roland Gareis Model.
• The project life cycle encompasses all processes from the beginning to the end of the project, hence the Roland Gareis model is incompatible with this procedure.
• Its scope is constrained, and it cannot be used at all project stages.
• Projects become separated; while the project team can work well together, there is a lack of coordination across the various teams.
3.9 Lynn Crawford Maturity Model
After Professor Lynn Crawford, this model was developed and presented by Human Systems Company in 2005. Her concept focuses on three assessment techniques for project evaluation, two of which are based on the project's work scope and one on organisational structure. "Measuring Project Performance Tool (MPP)" and "Project Health Check Tool (PHT)." Project- and organization-specific, it includes the "Practice Questionnaire Corporate" (PQC). The improvement cycle, sub-criteria, and evaluation questionnaires are all topics that the PHT does not conclude with much information on. The model merely states that it assesses the maturity of the project using 25 primary criteria, which are shown in the table below, but it provides no information about maturity levels, the number of questions, or the scoring system.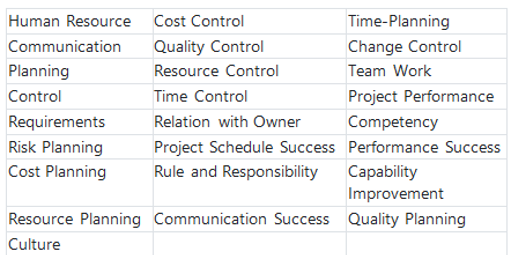 Maturity standard
The working or application approach for this concept is likewise quite difficult to put into effect. A precise picture cannot be drawn based on the way this model is set up.
The assessment methodology developed by Lynn Crawford has two sets of questions;
1) The project's output
2) Process of the project
The following six project products are plausible responses to this:
1) Certainly not;
2) Devoted;
3) Active;
4) Exercising;
5) Measuring
6) Verifying, with "not at all" standing for the worst case scenario and "verifying" for the best.
There are four viable responses to questions about the project's process:
1) None;
2) Slightly;
3) Generally;
4) Fully, where "fully" denotes the best case scenario and "none" denotes the worst.
CHAPTER 4
4.0 Ranking Criteria for Project Audit and Improvement Models in Construction Project
After reviewing the literature and examining the benefits and drawbacks of various models, the rating criteria were developed. The following are the criteria:
? Independent of Industry
? Implementing Audit Workflow
? Availability of questionnaires
? Phases of the Project
? Project Activities
? Processes for projects
? Project Results
? Relevant to Every Project Stage
? Comprehensive Analysis Report
? Different Reports
? Need for Evidence
? Development Levels
? Access to best practises
? Applicability
On the basis of the literature review that is now available, previous empirical investigations, fieldwork evaluation findings, and previous research work of these models, these parameters have been set. The pros and disadvantages analysis has also been applied to these models' ranking evaluation to give a more precise result. Only by giving each criterion a matching score in comparison to Audit Models would it be possible to assess whether the results of applying these criteria will be realistic and responsible. This score can be easily determined by looking at previous practical evaluations of construction projects conducted by managers or by the management team of the projects. [20] [21]
In this particular case, the model that achieves more scoring trends, complies with more setup requirements, counts more benefits, and complies with more relevance to the Construction Projects parameters can be ranked at the top of the list of Project Audit and Improvement Models:
4.1 Ranking of the reviewed models
Only a specific industry in which these models can be easily applied without experiencing any application faults can be used to rank project management methods. We used "Construction Industry" as our criterion for ranking the models since civil engineers. The exact application of these models to actual building projects must be determined, but our ranking reviews will be based on the findings of other research studies' observations, analyses, and conclusions regarding these projects. The opinions of the project managers and management team of the construction projects, as well as the credit they offered for these models, are one of the most trustworthy variables in ranking analysis. For the ranking of the project models to be completed, it is essential to take into account both their advantages and disadvantages.
Construction audits include not only a cost recovery assessment but also cost prevention, the detection of defects in the construction process, and solutions for them. It involves auditors who serve as an intermediary between the owner and the general contractor (GC) prior to contract execution and who also support disputes and litigation.
It does not follow that all expenditures were reasonable just because a project was on a budget or was finished within it. The same is true of the technological features. Completion of a project or a certain phase does not imply that all necessary technical requirements have been met. Principal criticisms that can be levelled
• Was the estimate figure accurate?
• The project's scheduling and planning were successful.
• Make technical projections and estimates.
• The project went as smoothly as was expected.
• Use of high-quality materials that adhere to standards
• Work performed complies with basic requirements
The inference that follows from the foregoing, Financial auditing and quality auditing are the two auditing components that make up construction auditing. It entails auditing each and every project-related action, procedure, and material. The confluence of these two elements is essentially the best auditing strategy.
4.1.1 The financial auditing involves the evaluating following aspects of projects
• Planning and estimating
• Planning
• Adherence to rules and regulations
• Transaction process
• Bid competition
• Approvals for projects
• Process for change orders
• Type of reporting system
• Financial statements
• Reports that correspond to the actual costs paid
• The cost of change orders.
• General circumstances
• Material expenses
• Labour expenses
• Equipment prices
• Payment to subcontractors
• Standard payment procedure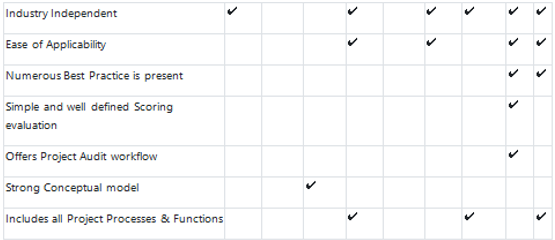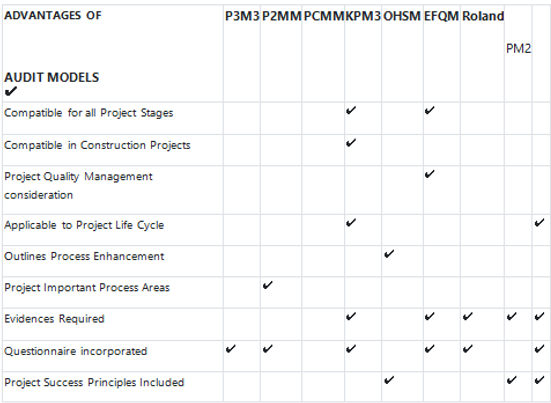 4.1.2 The Quality auditing involves the following checklist
• Following through on good intentions
• Implementation of specification
• Safety organization
• Working conditions
• Materials used
• Materials of high quality
• Amount of resources
• The level of work
• Minimum Materials and Work Standards
4.3 Identifying the Advantages and Disadvantages of the reviewed models
From the project audit and improvement models, a number of benefits and drawbacks for each model have been determined. The proposed approach will include the benefits while leaving out the drawbacks. The benefits and drawbacks of the models under examination are presented in the table below.

Table 4.3.1 Advantage comparison for Audit Model
Table 4.3.2. Disadvantage comparison for Audit Model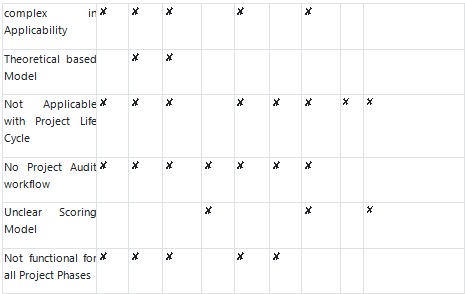 4.4 Summary
Using particular criteria including the availability of the questionnaire, maturity models, project performance, processes, and the availability of best practises, this chapter analysed numerous project audit improvement methods. The benefits and drawbacks of the models were determined by these criteria. Additionally, rankings have been assigned to these models based on evaluation and grading utilising the criteria. In order to choose the right models that are more useful and relevant to the construction sector, the evaluation is conducted utilising a check list system. Based on how many benefits a model has over competing models, the rankings of the models have been determined. In comparison to other models, the Organizational Project Management Maturity Model (OPM3), Krezner's Project Management Maturity Model (KPM3), and Project Excellence Model (PEM) are better suitable models, according to the evaluation of the improvement models in the preceding section.
First off, because the primary goal of this project is to concentrate on a model that can be utilised in the construction industry, Krezner's Project Management Maturity Model (KPM3) is more appropriate for projects in the construction sector and is also appropriate for all project stages. This concept is quite simple to comprehend and apply to actual applications.
In addition, KPM3 has five distinct maturity levels, making it a good model for defining the project's maturity level. KPM3 also has several drawbacks that may prevent it from becoming the optimal model for every project, such as the fact that a skilled auditor is necessary and that workflow is absent.
The second benefit is that the Organizational Project Management Maturity Model (OPM3) is relevant to all industries, compatible with project life cycles, simple to deploy, and covers all project activities and procedures. There are numerous OPM3 and Project Excellence Model best practises accessible (PEM). As opposed to KPM3, OPM3 is more sophisticated, requires decision-making, and requires the results to be interpreted. As a result, it is not appropriate for the majority of construction projects. For some sectors, other audit models can be advantageous since they can be more effective for the specific project functions and process.
REFERENCES
Read More