×
Limited Time Offer !
FLAT 30-40% off - Grab Deal Before It's Gone. Order Now
Commercial Law Assignment Help
When you choose our Commercial law assignment help, you gain access to the expertise of our best commercial law assignment helpers. Our experts are well-versed in the subject matter and possess years of practical experience, including practicing lawyers, legal consultants, and esteemed academics. Their extensive knowledge and industry insights enable them to deliver exceptional solutions tailored to your specific assignment requirements.
Don't let the complexities of commercial law assignments overwhelm you. Trust our expertise, and let us guide you toward academic excellence. Contact us today to avail yourself of the best commercial law assignment help available.
Key Principles of Commercial Law
Commercial law is guided by fundamental principles that govern business transactions. Here are the key principles: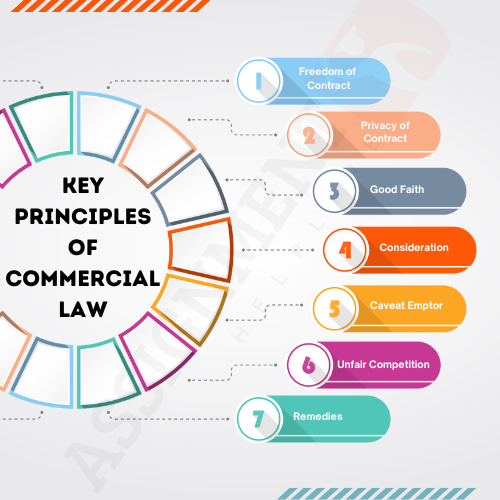 1. Freedom of Contract: Parties have the freedom to negotiate and enter into contracts voluntarily.
2. Privacy of Contract: Only parties to a contract have rights and obligations under it.
3. Good Faith: Parties must act honestly, fairly, and reasonably in their business dealings.
4. Consideration: Contracts require an exchange of something valuable between parties.
5. Caveat Emptor: Buyers are responsible for assessing the quality and suitability of goods or services before purchase.
6. Unfair Competition: Practices that harm consumers or unfairly disadvantage competitors are prohibited.
7. Remedies: Breach of contract can result in remedies such as damages or specific performance.
Understanding these principles is vital for navigating the legal aspects of commercial transactions and ensuring fair and compliant business practices.
Have A Look To Our Assignment Samples
Role of Commercial Law in Business Transactions
1. Sales Contracts: Commercial law governs the buying and selling of goods, addressing contract formation, terms, warranties, delivery, and remedies for breaches.
2. Leases and Rental Agreements: It regulates commercial property leases, defining the rights and obligations of landlords and tenants.
3. Partnerships and Business Associations: Commercial law governs the formation and operation of partnerships and other business associations, addressing agreements, liability, and management.
4. Mergers and Acquisitions: It provides a legal framework for buying and selling companies, covering due diligence, agreements, regulatory compliance, and post-transaction integration.
5. Financing and Security Arrangements: Commercial law regulates loans, credit agreements, mortgages, and security interests, ensuring enforceability and protecting the rights of lenders and borrowers.
Our Expertise in Commercial Law
Our Commercial law assignment help service is backed by a team of 550+ experts who possess extensive qualifications and expertise in the field of commercial law. When you choose our service, you benefit from the knowledge and experience of our exceptional commercial law assignment helpers. Here are the key points highlighting our team's qualifications and expertise:
• Highly Qualified Professionals: Our team comprises professionals with advanced degrees in law, including Masters and PhDs, specializing in commercial law. Their academic background ensures a strong foundation and comprehensive understanding of the subject.
• Vast Experience: Our commercial law assignment help experts have accumulated years of practical experience in handling various commercial law topics and assignments. They have successfully assisted countless students with their assignments, providing them with valuable insights and guidance.
• Diverse Specializations: Our team consists of experts who specialize in various areas within commercial law, such as contract law, corporate law, intellectual property law, consumer protection, employment law, and more.
• Updated with Legal Developments: Our commercial law assignment helpers stay abreast of the latest developments in commercial law. They continuously update their knowledge base to incorporate recent legal changes, emerging trends, and landmark cases into the assignments they handle.
• Exceptional Research Skills: Our experts possess strong research skills, enabling them to gather relevant case laws, statutes, regulations, and legal precedents necessary for comprehensive and well-supported assignments.
• Effective Communication: Our team of law assignment help experts excels in effective communication, ensuring that your assignment requirements and expectations are fully understood. They are skilled in translating complex legal concepts into clear and concise language, facilitating better comprehension for students.
• Academic Excellence: Our experts have a proven track record of delivering high-quality assignments that meet academic standards and requirements. They are well-versed in formatting, citation styles, and academic conventions, ensuring that your assignments are well-presented and structured.
Diverse Range of Commercial Law Assignment Topics
When it comes to commercial law assignments, our service covers a diverse range of topics. Whether you're studying contract law, corporate law, intellectual property law, or any other subfield, we have the expertise to provide you with comprehensive assistance.
Here are some of the commercial law assignment topics we cover:
1. Contract Law:
• Formation and interpretation of contracts
• Breach of contract and remedies
• Contractual terms and conditions
• Dispute resolution and arbitration
2. Corporate Law:
• Formation and governance of companies
• Directors' duties and liabilities
• Shareholder rights and responsibilities
• Mergers and acquisitions
3. Intellectual Property Law:
• Copyright law and infringement
• Trademarks and brand protection
• Patent law and inventions
• Trade secrets and confidential information
4. Competition Law:
• Antitrust laws and regulations
• Monopolies and market dominance
• Cartels and collusion
• Merger control and competition policy
5. Consumer Protection:
• Consumer rights and remedies
• Unfair contract terms and practices
• Product liability and safety regulations
• Advertising and marketing regulations
6. Employment Law:
• Employment contracts and agreements
• Discrimination and equal opportunity
• Workplace health and safety
• Termination and redundancy laws
Our Commercial law assignment help covers these and many other topics within the realm of commercial law. With our expertise and guidance, you can confidently tackle any assignment related to these subjects and achieve academic success.
Bridging the Gap between Theory and Practice with Our Commercial Law Assignment Help Online
Our online Commercial law assignment help service goes beyond theoretical concepts to connect them with real-world applications. We achieve this by:
• Incorporating case studies, practical examples, and legal precedents to illustrate the practical implications of commercial law.
• Providing insights from industry professionals who have practical experience in the legal field.
• Staying updated with the latest legal developments to ensure the assignments reflect current laws and industry trends.
• Fostering practical problem-solving skills through assignments that challenge you to analyze complex legal issues and propose practical solutions.
• Emphasizing the understanding of business implications and how commercial law influences business practices.
• Facilitating collaboration and communication to address questions and discuss practical aspects of assignments.
With our online assignment help, you gain a comprehensive understanding of commercial law's real-world relevance, enabling you to apply legal principles effectively in practical scenarios.
Stay Ahead with Current Commercial Law Trends through Our Commercial Law Assignment Help
With our Commercial law assignment help, we prioritize staying updated with the latest developments in commercial law. Here's how we keep you informed:
1. Continuous Research: Our experts conduct ongoing research to stay abreast of the latest commercial law trends, monitoring legal developments and regulatory changes.
2. Access to Updated Resources: We have access to authoritative legal resources, ensuring that we gather the most recent cases, statutes, and scholarly articles relevant to commercial law.
3. Industry Insights: Our team includes experts with practical experience in the legal industry, providing you with real-world perspectives and insights on current commercial law trends.
By choosing our commercial law assignment help, you can be confident that your assignments will reflect the current commercial law landscape. We prioritize staying informed about new regulations, interpretations, and emerging challenges. This ensures that your assignments demonstrate a deep understanding of the latest commercial law trends, helping you excel in your studies.
Preparing Students for Future Legal Success
Our Commercial law assignment help not only assists students with their assignments but also prepares them for successful legal careers. Here's how we empower students:
1. Critical Thinking: We foster critical thinking skills by analyzing complex commercial law issues, helping students evaluate perspectives and make informed judgments.
2. Legal Research Skills: We guide students in conducting comprehensive legal research, teaching them to find authoritative sources and stay updated with legal developments.
3. Effective Writing: Our service emphasizes persuasive writing, teaching students to structure arguments, present legal analysis clearly, and adhere to legal writing conventions.
By availing our Commercial law assignment help, students gain practical experience in critical thinking, legal research, and writing—essential skills for success in their legal careers. We empower them to handle complex legal issues, think analytically, and communicate effectively, setting them on a path to excel in the legal profession.
Exclusive Discounts on Our Commercial Law Assignment Help
We value our clients and strive to provide the best possible support for their commercial law assignments. To make our services even more accessible, we are pleased to offer exclusive discounts on our Commercial law assignment help. Here's how you can benefit: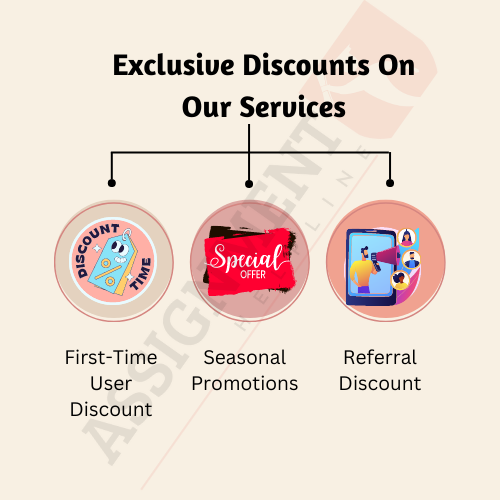 1. First-Time User Discount: As a new client seeking Commercial law assignment help, you can enjoy a special discount on your first order. This allows you to experience our high-quality assistance at a more affordable price.
2. Seasonal Promotions: Throughout the year, we offer seasonal promotions and discounts on our Commercial law assignment help. Keep an eye on our website to stay updated on the latest offers and take advantage of discounted rates.
3. Referral Program: We value client referrals and appreciate your trust in our services. As a token of gratitude, we have a referral program that rewards you with discounts when you refer our Commercial law assignment help to your friends, classmates, or colleagues.
You can get top-notch Commercial law assignment help while saving money by taking advantage of our exclusive offers. We think that all students studying business law should have access to high-quality help. Contact us today to learn more about our special pricing and how we can help you succeed academically.
When You Engage With Our Commercial Law Assignment Help Services, You Can Expect the following:
Unparalleled Quality:
We are committed to delivering assignments of the highest quality. Our experts meticulously research, analyze, and craft well-structured commercial law assignment questions and answers that adhere to academic standards and requirements.
Timely Delivery:
We understand the importance of meeting deadlines. Our team works diligently to ensure that your assignments are delivered within the agreed-upon timeframe, allowing you ample time for review and submission.
Customized Approach:
We recognize that each assignment is unique. Our experts take a personalized approach, carefully considering your specific instructions and guidelines to provide tailor-made solutions that address your individual needs.
Plagiarism-Free Content:
Originality is paramount to us. Our Commercial law assignment help service guarantees plagiarism-free work, employing rigorous quality control measures and utilizing industry-leading plagiarism detection tools.
Confidentiality and Privacy:
Your privacy is of utmost importance to us. We maintain strict confidentiality and safeguard your personal information and assignment details in accordance with our privacy policy.
24/7 Support:
We pride ourselves on providing round-the-clock support. Our friendly and knowledgeable customer support team is available to address your queries and concerns and provide timely assistance throughout the assignment process.
Frequently Asked Questions
How can your Commercial law assignment help service assist me?
Our Commercial law assignment help provides expert guidance and support for your commercial law assignments, helping you excel in your studies.
Are your writers knowledgeable about commercial law topics?
Yes, our team consists of experts with extensive knowledge and experience in commercial law. They are well-versed in a wide range of commercial law topics, including contract law, corporate law, intellectual property law, consumer protection law, and more. Rest assured that your assignments will be handled by professionals who understand the nuances of commercial law.
How do I place an order for Commercial Law Assignment Help?
Placing an order is simple and convenient. Visit our website and navigate to the Commercial law assignment help page. Fill out the order form, providing details such as assignment requirements, deadline, and any specific instructions. Once you submit the form, our team will review it and assign the most suitable expert to assist you.
Can I communicate with the assigned expert during the assignment process?
Yes, our platform allows direct communication with the assigned expert.
Are the solutions provided plagiarism-free?
Yes, we guarantee 100% plagiarism-free solutions.
What if I need revisions to my assignment?
We offer free revisions to ensure your satisfaction with the delivered assignment.
Is my personal information kept confidential?
Yes, we prioritize the confidentiality and privacy of our clients' information.
If you have any additional questions or require further clarification regarding our Commercial law assignment help service, feel free to reach out to our customer support team. We are here to assist you and provide the best possible solutions for your commercial law assignments.