×
Limited Time Offer !
FLAT 20-40% off - Grab Deal Before It's Gone. Order Now
Sample MGT501 Business Environment Report
MGT501 Business Environment Report Sample
GRAB MANAGEMENT REPORT HELP: A+ GRADE ASSURED Place Your Order Now and Get Up To 20% Discount!
MGT501 Business Environment Report Sample
Context:
Self-reflection is a way of assessing yourself and the way you work and study. Reflecting helps in developing your skills further and linking practice with theory. It is about analysing what you do and why you do it and applying what you have learned in the future. Reflective self-awareness leads to better leadership skills and performance. More importantly, an enhanced understanding of oneself also provides a solid basis for empathy and leading others.
In part A, the focus was on you to reflect on the motivation for undertaking postgraduate studies
and expectations regarding the course and ensuing career path.
Instructions:
In this subject, you have been introduced to the foundational concepts of business and reflective skills. Assessment 1 Part B is about you reflecting on the learning and how your learning can be applied in your journey of becoming a business practitioner.
Your task is to prepare a 5-minute individual video presentation about your learning experience in this subject comparing and contrasting your thinking at the start of the subject versus the end. Focus on how this subject has shaped your thinking about business and future career aspirations. Your video may also include any lessons you have learnt throughout this subject, for example, identifying strategies you can transfer to your professional life.
Please Note:
• PowerPoint/Prezi slides are NOT permitted
• You will need to find ways of addressing the audience in a compelling manner, paying attention to audio quality, lighting quality, sincerity of presentation, clarity of your perspective and overall impact
• You MUST state and adhere to a specified reflective model.
• You are REQUIRED to employ minimum of 5 reference sources, three (3) academic (textbooks & peer-reviewed journal articles) and two (2) other sources (newspaper articles, business/trade publications, and substantiated websites). References to 'Wikipedia' or similar unsubstantiated sources are not acceptable.

Solution
Introduction
I am a student studying at Torrens University pursuing the course Business Environment. Right now, I am a Business Practitioner who aims to establish a catering business and create a strategic plan with the knowledge of the business environment. In this course, I have come across the foundational concept of business and reflective skills. This study has given me access to develop my skills and connecting practice with the theory. For Assignment Help It has provided a strong fundamental insight into leading others. This assignment intends to reflect my knowledge and perception of the business environment and economic systems and the various ways that how they can support me to establish a company in the business market in near future. This study has also helped me to highlight my previous experiences and helped me set a future goal for my business. I have used Gibb's reflective cycle to explain my learning.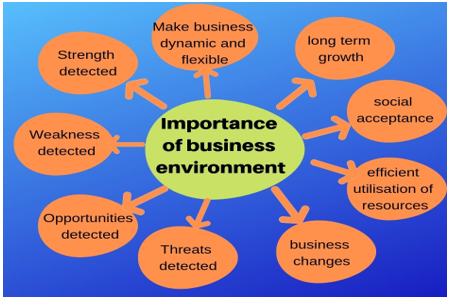 Figure: Business environment and the factors impacting it.
Source: (Kennerley & Neely, 2019)
Description
This course on the Business environment from the University of Torrent has helped me acquire knowledge that will help me to attract opportunities for my business in the future. Business environment basically means the external and internal forces that impact the operations and profit-making of the business either positively or negatively. I started this course with a mindset of business to be just an activity to exchange goods and services with money, goods, or services. But this course has helped me to dig into the deeper concept which is vast and far more interesting. The business environment comprises micro and macro. External and internal factor together forms the business environment. My definition of business has changed after the course. I have understood that it is the sum of all the internal and external elements that comprise the employees, client's requirements, and expectations. And I have understood that these are the factors that impact a business's activities and operations either directly or indirectly.
Feelings
With the help of this study, I am excited open my own business and explore my skills practically by focusing on the various aspects of the environment. This course has helped me gain skills and knowledge and overcome my nervousness that have become my strength and ability to form a business. This course has helped me to set some goals. I want to take up another course in strategically management. I am thrilled to enhance my communication skills. It's my goal to establish a catering business and research the various aspects that can impact the business. I want to research the competitors in the market.
Evaluation
The best part about this course is that it deals with every trivial as well as an important part of the business starting the job satisfaction of the employees or stakeholders demand to any changes in the economic structure of that area or the smallest requirements of the customer. But what this course lacked was the practical experience of the business environment. There could have been an internship for the students to gain practical skills. In the beginning, there were debate sessions that went very well as in involved a lot of team works and group discussion. But study material was not so informative. My teachers and other students helped me a lot, especially with the notes, statistical data, and extra study materials which helped me to understand the business environment better.
Analysis
The business environment is a strategically study that helped me to identify every constituent of the business and also understand the threats and opportunities of the business. The political, economic, social, technological, legal, and environmental factors are the most important element of the external environment. There is some remarkable insight within the long-term growth of the business environment and the technologies that support the distinct parts of the business to work better. At present, the knowledge of the business environment will help me to establish a business with a proper strategic plan and it will help me to keep a focus on both internal and external environment that includes the micro and macro environment. Having a sound knowledge of the business environment will help me to understand future changes with the business of a strategic plan. By creating a open feedback forum, I will be able to understand their requirements and difficulties that the employees are facing and that will help me to maintain the internal peace in the company. And with a strategically planning I will also be able to meet the requirement of my customers and sustain in the market competition.
Conclusion
I have learned to work in teams and realized when a group wants to distribute the work then a plan is required to complete every section of the task. Thus a business is exactly like that. Every department needs a plan and that plan must include these environmental factors. Various factors impact the business on which the business has no control. Every business has existed and survived and evolved within these forces and adapted itself accordingly. Thus, if I can apply the various precaution and adapt my business to the internal and external environment then in the future I will be able the handle any risks. The business environment renders various opportunities for the business. So, this will help my business to improve its performance in the future and maximize the profit so that it can exceed the competitors.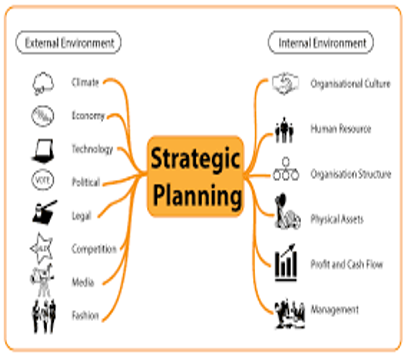 Figure: Strategic planning includes the internal and external business environments.
Source: (Montazemi, 2020)
Action Plan and application of learning experience in after life
For my professional growth, I would like to learn more about strategic management plans to draw a perfect layout for all my business operations and carry on the activities based on a proper and professional business outlook. I would also like to be more fluent in my communication skills as communication holds the key to success in the business. Other than this course, I will apply for internships or volunteer my time in practical works to acquire practical knowledge. I want to learn about financial planning to maximize the profit-making of my business. Having proper networking leads and activities that can help in face-to-face networking can be a very powerful resource in forming a successful career. The experience that I have gathered in this course such as the communication skills, teamwork projects, and knowledge about the business market competition will help in future when I will open my own business and when I will be leading my own team.
Figure: Business Environment and its various parts.
Source: (National, Science, Sports, World, Variety, & Education et al, 2021).
Conclusion
This entire reflection reports holds my experience during the course of Business environment. With the help of Gibbs' Reflective Cycle I have explain about my course, the knowledge I have gathered and the action plan which will help me to make decisions in future. This course has lead me to open my own business in future and I will be able to implement my knowledge and experiences that I have learnt from my teachers.
Reference List

Fill the form to continue reading