×
Limited Time Offer !
FLAT 20-40% off - Grab Deal Before It's Gone. Order Now
Sample NURBN2025 The Health and Cultural Diversity Assignment
NURBN2025 The Health and Cultural Diversity Assignment Sample
GRAB NURSING CASE STUDY ASSIGNMENT HELP: A+ GRADE ASSURED Place Your Order Now and Get Up To 20% Discount!
NURBN2025 The Health and Cultural Diversity Assignment Sample
Assessment Description:
Students to explore impacts to health and health outcomes for Aboriginal and Torres Strait Islander Peoples, as well as demonstrate the importance of incorporating cultural perspectives in clinical practice as future healthcare professionals.
Overview:
The purpose of this task is to demonstrate cultural safety in clinical practice. You will critically examine a case study identifying the necessity of culturally safe practice to improve the health and health outcomes for Aboriginal and Torres Strait Islander Peoples.
In assessment task 1 you identified an understanding of your own identity, along with social and cultural factors and how this has influenced your own beliefs about, and interactions with, Aboriginal and/or Torres Strait Islander Peoples. In this assessment task you have the opportunity to apply this self-reflection to practice when exploring the events of the following case study. Your responses are to be evidence-based.
Case Study
Annie is a 59 year old Aboriginal women from the Atherton table lands near Cairns, in north Queensland. Annie is passionate about being an Aboriginal community member, enjoying yarning with her community and attending local community events. Annie has one daughter Sharelle, 32 years old and one son Tony, 30 years old. Sharelle has 3 children, Sarah 12 years old, Kelly 9 years old and Alex who is 3 years old. Sharelle lives close to Annie in the Atherton Table lands.
Annie has lived independently for many years and was employed as a Murri Primary School Teacher which she loved. Annie retired 3 years ago to support her daughter with caring for her children. Annie had separated from the father of Sharelle and Tony many years ago.
Annie is visiting her son Tony and daughter-in-law Kate in Melbourne (within the Monash health catchment area). They have a baby, Lily who is 9 months old. Kate is returning to work so Annie has come to Melbourne for an extended stay to help care for baby. Annie enjoys caring for and getting to know Lily. Lily is relatively easy to look after, sleeping through the night. Annie takes over the care of Lily once Tony and Kate go to work. Annie loves signing songs to Lily. She also takes on the usual care like feeding and changing nappies. Lily will sleep about 3 hours in the middle of the day, so this gives Annie time to rest or tidy the house. Annie will take Lily for a walk if it is warm enough once she wakes up. Tony and Kate will take over the home tasks when they arrive home from work.
Annie is a bit lonely as she does not really know anyone. Annie is missing the mob in the Aboriginal Planned Activity Group where she is involved in yarning, gardening and walking activities. Annie's favourite was art as she was creating a piece for a local exhibition. Annie does not like hospitals; she has a fear of hospitals because her community have had bad experiences.
Case Study Instructions
Move through this case study by addressing the following situations:
Section one: How do you ensure you are committed to a journey of cultural safety?
You are on a morning shift at Dandenong Hospital, Monash Health and have been informed that you need to admit a patient being transferred from the Emergency
Department. You receive the handover:
Annie is a 59 year old Aboriginal women from the Atherton table lands and has Type 2 diabetes and Hypertension, diagnosed when she was 50. She has managed her diabetes with the support of the
Local Aboriginal Health Service (Wuchopperen Health Service Limited:
https://www.wuchopperen.org.au/health-support). Annie had been informed that her kidney function was deteriorating which she had been following up at this service. Shortly after arrival in Melbourne Annie becomes unwell and is admitted to hospital. Annie was experiencing intense ear pain and had become very unsteady on her feet, later diagnosed with a severe ear infection requiring intensive intravenous antibiotic treatment.
Annie arrives on the ward; you greet Annie while taking her to her bed. How do you ensure you are committed to a journey of cultural safety?
1. Provide an evidenced based strategy that enables you to continue your cultural safety journey.
2. How do you welcome Annie into the ward?
3. Annie reveals her current situation with you, as outlined in the case study. What actions would you take following this conversation? You are advised to investigate an Aboriginal Community Controlled Health Service that would be able to support Annie while she is staying in Melbourne.
Section two: Addressing culturally unsafe practice.
You are now at handover. You are presenting Annie to the nursing team. You have just described Annie's symptoms. You have said Annie is very unsteady on her feet and before you can continue you hear two nursing colleagues say, "I bet she's an alcoholic. We will make sure we limit her pain relief". To unpack this situation please answer the following questions
1. In NURBN2025 you were introduced to racism, the causes and impact on health outcomes Identify from peer reviewed literature the possible reasons why non-Indigenous people make racist assumptions about First Nations peoples. Include the following:
a. The potential beliefs, values and attitudes that have influenced these non- Indigenous nurses to be culturally unsafe.
b. Describe how these nurses have used power differentials related to their beliefs, for nursing care.
2. How would you advocate for Annie in this handover?
Section three: Promoting Cultural safety
You make an appointment to meet with your nurse unit manager (NUM) to address this culturally unsafe practice. What team based solutions could you present to your NUM. Think of this in terms of:
1. How could cultural safety be promoted within this ward?
a. What antiracist group learning strategies could be implemented?
b. How could power differentials be minimised?
Please note the word counts are a guide. The reference list is not included in the word count.
Solution
Section 1:How do you ensure you are committed to a journey of cultural safety?
The case scenario conveys that Annie is afraid of hospitals as her community has had a bad experience with care services. It is very common that Aboriginal and Torres Strait Islander patients mostly confront several issues or challenges as the medical practices including nurses and doctors carry biased attitudes toward the community (Arrow et al. 2018). Thereby for a patient like Annie confirming cultural safety and equality in accessing healthcare is very important to confirm a safe environment for the healthcare setting. In order to confirm cultural safety for Annie, stakeholder engagement is much more important to confirm openness, respect, and offer safe care to a patient like Annie. It can justify a trustworthy, flexible, respectful relationship during the period of treatment. In order to confirm cultural safety, maintaining the privacy and secrecy of the patient is another important consideration as most of the aboriginal people do not have such type of offering during their intervention in the healthcare setting for best assignment help.
Considering Annie's fear regarding her healthcare setup, it is very important to welcome her to the ward with all warmth confirming a friendly environment. It would even help to justify cultural safety in the process. The nurse needs to be skilled and professional enough to carry an unbiased attitude and treat them in the same way as other patients. A welcoming attitude can even be confirmed by behavioral attempts where maintaining eye contact can offer assurance to Annie to be comfortable in the setup. Cultural safety can even be accommodated in the practice through effective communication where more focus would be on listening as most effective communication is mistaken by speaking. More listening to patients like Annie can help the nurse to be more acknowledged of her culture, and background to address her needs accordingly. It would help to sustain cultural safety in the setup. Before proceeding with any intervention for her difficulties taking her decision and discussing the intervention procedure with her is a must to avoid ethical issues like informed consent, autonomy, etc (Beks et al. 2019). Addressing to the referred ethical issues can even help to sustain a positive, safe, cultural environment in the healthcare setup. Having an understanding of Annie's difficulties as well as cultural considerations, it would be better for the nurses to arrange a support system to confirm that her main health issue is being addressed.
Annie does not have an extended family to help her out and her son and daughter might not be that much effective to offer her support. Thereby to confirm her continuous improvement regarding all types of health issues, it will be better to take the help of community services so that she can recover first. Annie is already getting the help of services to manage her diabetes but the service is not available in Melbourne as it belongs to Queensland and Annie is in Melbourne right now. Thereby it is important to arrange for another type of health service for Annie which is available and accessible in Melbourne. The help of any local aboriginal network can be communicated to confirm cultural safety afterward. As this particular network would help to be connected with the support service for the community; thereby it would be a better consideration to confirm cultural safety. The service needs to be such where several segments like raising awareness, building partnerships, information determination, etc which would be much helpful for Annie to be self-dependent in all terms. There are services like ACCHO and NACCHO that can help Annie in her situation through their programs and policies (Bovill et al. 2021). It would even help her to get rid of her fear of hospital services as these particular support services are for the community she belongs to and it is definitely help her to be comfortable and feel culturally safe and secure in all terms.
Section 2: Addressing culturally unsafe practice
In legal considerations, it has been confirmed in Australia that equality would be there in the health sector with no discrimination for race, gender, background, tradition, custom, etc. However, the practical scenario does not get properly aligned with the same; rather there are several nonindigenous people who consider aboriginal and Torres Strait Islander people as discriminated, against, and unequal, and make them marginalized. It can be confirmed undauntedly that everyone has their own attitude, value, and beliefs but individualism should not lead to racism including hatred, discrimination, or prejudice due to their origin, or color. It even extracts the negative image of the sector as well as the societal structure of the country. Health Care sector belongs to emergency services and racism cannot be overflowing in such a sector; still, nurses often exercise power differentials as per their values, belief, or attitude. They often ignore Aboriginal and Torres Strait Islander people and do not pay proper attention to their symptoms to offer them safe care intervention (Jayakody et al. 2020). Such a type of attitude immediately confirms culturally unsafe practice on the part of the nurses. Most of nonindigenous nurses believe that aboriginal people can be only one community and there cannot be any variation regarding that. However, that is a complete misconception regarding aboriginals which eventually leads to improper addressing of cultural diversity followed by culturally unsafe practices. Furthermore, most of the non-indigenous people believe that aboriginals or indigenous people are illiterate, ill-mannered and live a gross life where they always get involved with drinking, smoking, and the use of drugs. Research even confirms that they are not very interested to work but rather always ask for everything for free. Such type of wrong information or improper belief regarding indigenous people on the part of non-indigenous people eventually attracts unsafe practice by creating a barrier in the care intervention (O'Donnell et al. 2020). Due to such type of wrong beliefs, nurses often do not share enough concern or focus for the patients or their symptoms and rather carry a biased attitude which becomes the main barrier for the entire care process. Such a type of attitude will definitely make Annie very uncomfortable, hurt, and angry due to the involved discrimination. She can even think of racist activities in the health care center which eventually can increase her uncomfortable regarding the healthcare setting. Thereby, it would be better for the nurses to exercise an open flexible environment in the setup. It is even important to exercise effective communication and shared decision-making in the process where the patient like Annie would not feel left out but rather can play an active role in the entire intervention. As the nurses of the next shift have a misconception regarding the aboriginal community and already have confirmed their biased attitude towards Annie, thereby, it is important for the nurse of the present shift to make them aware of some important considerations while the handover. It is very important to convey human rights, patient rights, and several ethical issues to be followed by the nurses during handover to assure or informed them about consequences. It would help them to be more focused on the patient without sharing any biased attitude toward her aboriginal background. It would be even more relevant if the nurse on the present shift would convey her experience with Annie (Quinn, 2019). Such information can remove the misconceptions of the nurses conveying the fact that all aboriginals are not involved in features like smoking, drinking, taking the drug, etc to confirm a culturally safe environment for Annie.
Section 3: Promoting Cultural safety
Such unfair practices need to be stopped as well as promoting cultural safety is another important consideration to be taken care of. In order to promote cultural safety in the hospital care setting, the nurse unit manager needs to be conveyed of such unfair practices. Apart from conveying the thing, it is even important to take some initiative to promote cultural safety. The first and foremost concern to promote cultural safety in the practice can be training (Skoss et al. 2021). Training would be much helpful to make the nurses informed or acknowledge about cultural diversity. The training can make them more efficient, skilled, and effective to remove the issue of cultural diversity and promote
cultural safety. If the nurses of the next shift had enough information about aboriginals then they might not have such type of generalized attitude or behavior towards Annie rather they can secure a friendly safe environment for her treatment. Hence, it immediately can confirm cultural safety in the process. Decision makers and nurses in the healthcare sector are the main stakeholders to exercise or initiate action to attain sustainability as well as success for their efforts. There are some nursing principles and foundations to avoid ethical issues. The training even needs to accommodate the same so that the nurses would have enough knowledge regarding informed consent, authority, non-maleficence, and beneficence which eventually would help them to avoid improper addressing to the patient and automatically culturally safe practice will be aligned in the setup (Tremblay et al. 2020). The training even needs to convey the consequences of otherwise situations to make the nurses aware of all positive and negative to secure cultural safety in the process.
References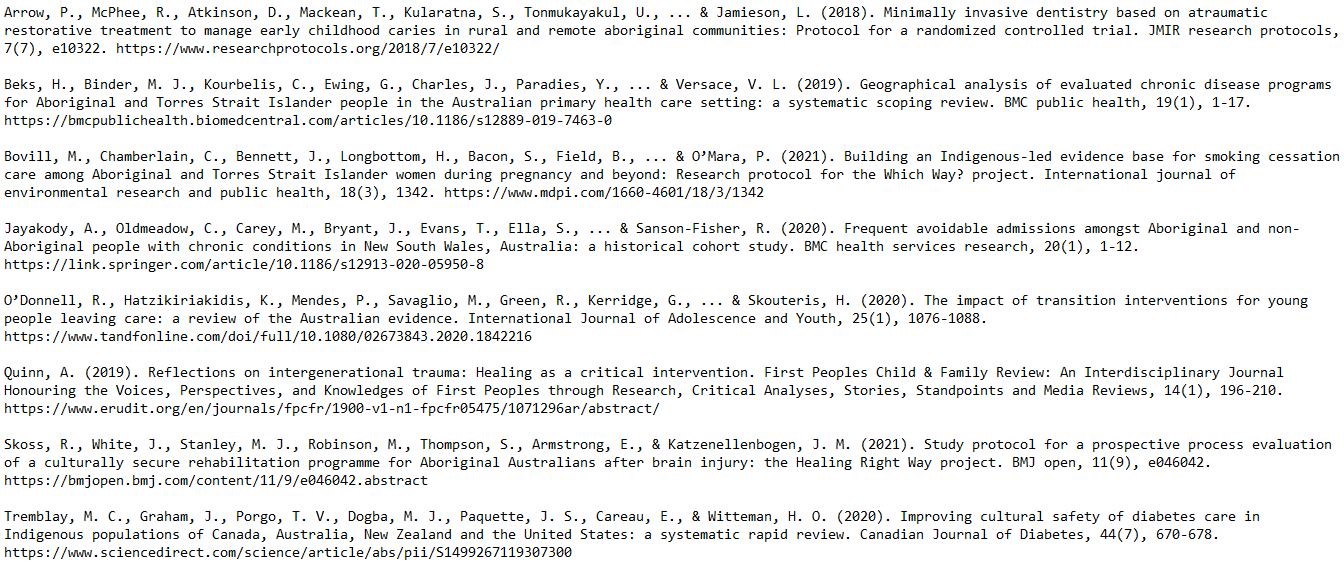 Fill the form to continue reading