×
Limited Time Offer !
FLAT 20-40% off - Grab Deal Before It's Gone. Order Now
BS7993 Fundamentals of Project Management Assignment Sample
Assignment Brief
'Critical thinking is a complex and dynamic process that encourages different thinking skills, all of which can inform deep learning (Biggs 2003; Ramsden 2003) and complex learning (Elander et al. 2006). Both, deep and complex learning, reflect a learning process where a deep approach intends to understand the topic or subject matter is taken through questioning, researching, comparing and contrasting of the familiar and unfamiliar (Biggs 2003; Ramsden 2003). Thinking skills form the basis for developing critical subject content knowledge as, regardless of the actual subject areas, the development and furthering of thinking skills lead to a more critical and thus advanced understanding of one's subject (Van den Brink-Budgen 2000). In other words, critical thinking is a continued questioning of one's own understanding of what to believe and do (Ennis 1987; Tierney et al. 1989). (Excerpt: Leopold 2010).
'Reflective learning helps to develop critical thinking, self-awareness and analytical skills and is important to staff and students. It involves an involvement by an individual in a reflective process. This can help to inform about what worked or didn't work, what might need to be done differently, or how individuals may need to develop their behaviour or practice. For students it may help them to understand better how theory can be applied in practice or where practice is consistent with concepts and theories' (HEA 2012).
The rationale therefore of reflective learning and critical thinking is that these key and highly transferable skills work towards creating and developing your reflective practice and in turn, your abilities in project management.
Both critical thinking and reflective learning contribute to a key learning outcome of the overall MSc Project Management programme. This expects that you have an individual responsibility for advancing your own learning and your own abilities to engage and research the subject areas required. This assignment supports the development of your reflective practice.
• In the format of a report, you are required to critically reflect upon the practice and theory of projects, providing narrative based on your learning.
Key points of coverage could include:
• Your engagement with your student peers;
• How you deal with the dynamics of your group and team(s);
• Your approach to and the development of your assignments and research required;
• Your engagement with the course and any material provided, (inclusive of feedback on your assignments and practice in class), or that you have sourced;
• what learning objectives you feel you have achieved as a result of your participation in this assignment in particular and the module in general.
• What steps you can and will take to correct or improve upon objectives that have not yet been achieved.
• How your knowledge on this module has complemented the knowledge you have acquired to date on project management;
• In turn, consider how the skills and knowledge you are acquiring and/or enhancing can be transferred into your working roles;
• The importance of reflective learning in the sphere of project management.
Whilst some aspects of this course will be of particular importance or relevance to you personally, the nature of this reflective assignment means that you should review your development weekly.
This is an individual activity to create a reflective report which demonstrates the development of your knowledge and understanding of project principles.
In the first week of teaching you will complete a self-assessment worksheet based on the APM Body of Knowledge (6th Ed.). In the last two weeks of the module you will complete the same self-assessment. This is to help you know what you know and just as importantly to let you know what you don't know about project management in order that you can construct a continuing personal development plan. You must include the completed assessment sheet showing the two sets of marks.
As such a log/diary of your development should also be provided as an appendix to your report. You are not expected to review in a diary format the content of your report. However, you are expected to be selective in your reflection highlighting key points you wish to convey. It is important to highlight that the key emphasis on this report is your personal, honest and critical reflection on your development: the report should not result as your review of this module. In terms of your approach to the compilation of your report and the writing style warranted, this is a highly qualitative assignment and as the core of the text is of a personal nature, the use of the first person 'I' rather than the passive and third person will be required. However, this style and approach should not be confused as to providing a descriptive report; rather the key aim is to provide a critique.
Further information as to how to approach this assignment will be provided on Canvas, introduced during Week 1 lecture and discussed in detail during the
Total Word Count: 2,500 maximum 2,250 minimum excluding citations, references, figures, diagrams, tables and appendices.
This assignment should include academic references, in terms of literature concerning reflective learning or as to the importance of this skill in project management, all citations and references must be fully presented according to Harvard Conventions. (Refer to Harvard Reference Guide on CANVAS).
In summary reflect on your experiences, on the development of your knowledge, skills and practice in a project management/leadership capacity.
Solution
Introduction
A project has been managed by the efficient performance of every participant. The leaders, workers, project manager and other stakeholders must have focused on their performance developmental procedure for delivering more effective performance and developing the present status of the project. I have played an important role in the project and performed well that has made the project more beneficial. The issue factors have also been raised in the project and this reflective study has also covered the problems of the project. The regular improvement process of a work has needed regular training that has made the team performance better. This reflective study has also provided the related situations experienced in this project lifecycle.
Engagement with team members
Completing the long-term project, continuing the performance with the team is necessary. As per the views of Daemi et al. (2021), effective communication management has developed relationships among the team members that has improved the team performance management procedure. The engaged employees can boost up the productivity level of the project and it has assisted to complete the project work in the proper time. The engagement development process has delivered a better and safe work environment to the employees. An accurate example of this situation can be determined through the situational issues that I have experienced in managing cross-cultural team. In my experience, communication gap was a prime challenge for me with my team members. Circumstances based on managing projects and dealing with workplace management regarding job-distribution resulted in missing deadlines and emergence of risks like conflict of interest. On the other hand, in the statement of Noguera et al. (2018), the team members do not have sufficient knowledge about their team members' problems in the time of not engaging with them. I have realised that maintaining a good relationship among teammates has developed the work ability and performance level of the overall team. The substitute strategies must have been found for minimising the issue factors of the team engagement and management process for best assignment help.
Process of dealing with dynamics of the team
Managing the team is not an easy thing that I have realised in the project management and development time. In the opinion of Cooper and Sommer (2018), there are different types of members in a single team and every person is from a different culture and environment. Applying some different strategies, the issue factors of a team can be managed.
? The problem factors must be minimised quickly is the best option for dealing with team problems. I have noticed that not expressing the problem in an early stage has developed complexity in the process. The factor has developed the issue in management and delayed the process more.
? Making the daily time table of a team and implementing the chart in an efficient way has made the team more productive (Putri and Mahmudah, 2021). I have experienced that in the time of not maintaining the time table, the efficiency level of my team was declining. This experience suggests to me that I should be more responsible about project development.
In my experience, I have dealt with issues in managing work distribution process as indicated earlier. This aspect imposed viable challenges for me to manage time due to my inefficiencies in strategic thinking that can be highlighted as a viable example in issues based on dealing with team dynamics. It can be observed that I have failed to apply the above-mentioned solutions to enhance my team performance.
Performance for work development
Delivering the project, identified the clear goal and objectives is needed for managing the future performance of the project. According to the views of Martinsuo (2020), not having a clear idea about project outcomes, the risk factors have increased in the process. The data have also been collected focusing on the main objectives and outcomes of the project. Some steps can be followed for work development of the project by managing the team performance level. At first, defining the project goals and objectives clearly, the project manager has instructed the participants to collect data in a systematic way that has assisted the participants to touch the project milestones. Contradictorily, I have encountered problems with my forward-planning skills in mitigating the risk factors. Determining short-term and long-term goals has been a challenge for me in my projects that can be determined as an example of lacking forward-planning skills. This scenario has resulted in the emergence of discrepancies among my team members based on decision-making.
Learning objectives, I have achieved as my result of participation
? To complete the project in a proper time range.
? To use the authentic data set for analysing data of project management.
? To conduct proper team management for delivering efficient work development.
? To recommend some effective solutions for minimising the issues of project management.
The learning objectives of the project have mainly focused on the delivery of valuable work for delivering quality work to the future. Apart from this, the project has also focused on the customers' needs and it has planned to change its plans for achieving more satisfaction from the customers. Conducting the work process in an effective way, managing the team is needed. My team has faced some cross-cultural issues in the initial stage and then I have tried to minimise the issues by implementing the problem-solving strategies. The process is one of the most important success factors in the entire project management. In the opinion of Salman et al. (2018), understanding others' problems and delivering the problem-solving behaviour to the person, a soulful relationship has been maintained. The project has not been completed in a proper time range for the issues faced in the initial stage of the project management time. I can't manage that risk as the delay was done in the initial stage. Apart from this, another success factor of this project is that the authentic data set has been used by every participant that has affected the data analysis procedure.
Steps for correcting the mistakes of learning objectives
The specific objectives that had been achieved by me were able to expand greatly upon my theoretical and practical knowledge. However, there are certain learning objectives that require modification and have also been identified in order to ensure that my project management and leadership abilities are being developed effectively. As per the words of Rengamani (2018), project management can be critical with a limited amount of experience. Gaining experiences may thus be linked to the necessity of acquiring practical knowledge. Furthermore, the practical knowledge is required to be rooted in various theoretical frameworks that ensures that strategic management of the project is being conducted.
I had not been able to develop a complete fluency in linking the theoretical knowledge with practical experiences that I will correct in the future. According to Biesenthal et al. (2018), theoretical frameworks, methodologies and models help in developing a logical and scientific perspective upon project management. Successful project management requires strategic and systematic management of various parts that constitutes the entire project. Facing difficulty in managing different aspects of a singular project has pointed to my urgent need to gain in-depth knowledge of theoretical frameworks and concepts that can be utilised practically.
The most important step to mitigate the knowledge gap is to take active participation in various learning programmes and participating in workshops. It will assist me to gain both comprehensive knowledge and further experience in project management. As demonstrated by Geraldi and Söderlund (2018), knowledge creates a solid foundation for excellence that is achieved through active learning. I have understood the importance of considering the process of learning as a dynamic process. Hence, this step for correction will further help in maintaining the dynamic nature of learning.
I have recognised that the objective concerning the conduction of proper team management in order to enhance work efficiency had required further improvement. In this regard, the step taken by me will be to seek apprenticeship in various companies to gain further practical and professional knowledge and experiences. As per the statement of Hidalgo (2019), team efficiency is highly dependent upon the development of effective and collaborative leadership. In order to enhance team efficiency in project management, gaining practical knowledge through internship will be highly beneficial.
Understanding the necessity of ethical conduct in project management and conducting operations for fulfilling various corporate social responsibilities requires further correction. I had made the mistake of not providing it with its due importance as I had been focused on fulfilling the core project management operations. According to Uribe et al. (2018), an organization is required to conduct operations in a strategic manner that can contribute significantly to society, environment, and the world at large. Hence, the required step for improvement will be to educate on the topic. I will also seek practical experiences by volunteering in various CSR projects to ensure that I am able to expand my understanding holistically. These steps will thus be taken to correct mistakes and improve upon various learning objectives that had not been achieved properly.
Sufficient knowledge and its implementation process
As per the learning objective that has been mentioned, I have gained a wide range of knowledge regarding various aspects of project management. In this regard, I have gained key understanding regarding aspects based on the five core stages that are required to be followed within any project management procedure. As per the learnings that have been provided in this module, I have derived that my knowledge regarding certain aspects was improved, while I gained completely new insight regarding other important aspects. For instance, I had existing knowledge regarding project management aspects based on initiation, planning and execution, while moderate knowledge regarding appropriate monitoring and project closure procedures.
In terms of the initiation process, I have developed further insight regarding methods to be undertaken for establishing a more enhanced project scope, with such allowing every key project stakeholder to be highly engaged. Besides providing proper project statements, key insight was also gained regarding various improved processes based on scheduling and timing of respective project stages (Dasovi? et al. 2020). On the contrary, I had extensive knowledge based on risk management and resource management and hence, no specific improvement in my existing knowledge base regarding such aspects was provided through this module. I also had a definite idea regarding the key deliverables that are to be considered in accordance to respective project operations and related outcomes.
Nevertheless, in terms of monitoring, I gained extensive knowledge regarding the overall importance of checking every key project stage at regular intervals for ensuring appropriate results are being provided (Kaiser et al. 2019). Accordingly, the core aspects related to monitoring, that were provided in this module, involved quality management and change management. I understood the methods to be undertaken in order to establish a robust quality management framework, thus allowing the effectiveness of key project outcomes to be maintained (Liu et al. 2019). This in turn would ensure that a significant level of value is being maintained across respective project stages, thus allowing a higher degree of success to be achieved for the project.
Recommendations for enhancing knowledge and skills
Recommendations can be made to ensure that my areas of development are being addressed properly. Mitigating the gap in both theoretical and practical knowledge in project management is my main aim for constructing certain recommendations. As per the words of Mandi?ák et al. (2020), specific skill sets are required for project management in an efficient manner such as data analysis, risk analysis, communication, coordination, dynamic project development and so on. I have identified three specific skills and knowledge areas that require enhancement.
Enhancement of systematic management of tasks is an important skill that can be achieved by developing self-awareness as well as understanding the importance of task prioritization. According to Ahmed (2018), prioritizing various tasks and constructing a schedule for completion helps in meeting the agenda of the project within a given timeframe. Hence, enhancing time management is also recommended. Technological skills and knowledge are essential to conduct sustainable and digitally enhanced project management. As stated by Zaman et al. (2019), nowadays, various project management software is being used to reduce the stress of work management and enhance efficiency. Gathering knowledge regarding these latest and innovative project management software are thus recommended to enhance technological skills and increase efficiency.
Effective communication skills are important to ensure that each part of a large-scale project is coordinated efficiently. As stated by Lauren and Schreiber (2018), effective leadership cannot be achieved without effective communication. Thus, developing current communication skills is recommended that will help in creating balanced and healthy inter-relationships among various team members. It will further enhance my capacity as a leader as I will be able to gather innovative ideas from others as well mitigate any grievances. In essence, developing these three specific skills and knowledge will ensure that I am able to achieve personal and professional development.
Importance of reflective learning in the light of project management
Reflective learning aids in gaining a deep understanding regarding personal development, strengths, weaknesses, and requirements for development. According to Daniel and Daniel (2018), project management skills are multidimensional and require comprehensive knowledge and understanding. Reflecting upon my project management experience has helped me to understand my strengths that may aid my future development. It has also aided in identifying my areas of weaknesses, based on which recommendations and action plans have been made.
Reflective learning in project management is important for developing self-awareness. Self-awareness and critical thinking are two essential skills for development. As stated by Cicmil and Gaggiotti (2018), through reflective learning, self-awareness is enhanced that helps in developing a learner mindset. Continuous learning and applying critical thinking skills to newly gathered knowledge is important in successful project management. Through reflective learning, I have been able to develop a learner mindset that will help in continual growth. In essence, the importance of reflective learning is multifarious as through reflective learning, the practical aspects of individual learning can be assessed without judgement of others. Hence, as a subjective learning process, reflective learning is beneficial for developing practical project management skills and knowledge sustainably.
Conclusion
In view of this reflective account, I have provided the key aspects based on project management upon which an extensive degree of insight has been gained through the provided module. Accordingly, key focus has been presented upon implementation of appropriate project stakeholder management and ensuring a proper communication protocol for ensuring greater outcome effectiveness. Accordingly, a reflective account based on the learnings related to core aspects of team management has also been provided. A definite learning related to work performance development and various related aspects has also been gained. In comparison with my existing knowledge regarding project management, I provided a reflective discussion regarding the core module learning that was provided. Through my participation in this module, I was also able to gain insight regarding the ways in which my personal learning objectives were fulfilled. Furthermore, based on the learnings that were received, I was also able to develop an acute understanding of the core factors to consider while undertaking respective procedures related to project management. This allowed me to develop a number of effective recommendations for further enhancing the project management procedures that can be ensured during future project ventures.
Reference list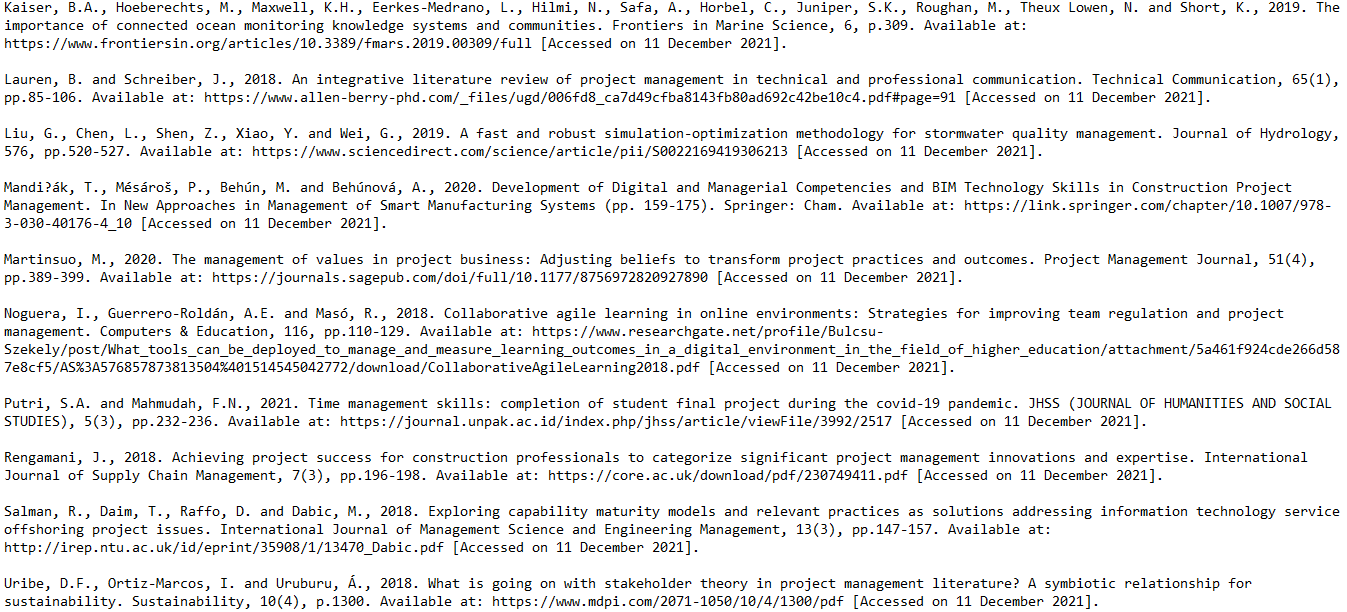 Fill the form to continue reading