×
Limited Time Offer !
FLAT 20-40% off - Grab Deal Before It's Gone. Order Now
Sample MBA501 Dynamic Strategy and Disruptive Innovation Assignment
MBA501 Dynamic Strategy and Disruptive Innovation Assignment Sample
GRAB MANAGEMENT ASSIGNMENT REPORT HELP : A+ GRADE ASSURED Place Your Order Now and Get Up To 20% Discount!
MBA501 Dynamic Strategy and Disruptive Innovation Assignment Sample
Assessment Type - Individual
Length - 2000 words (+/- 10% allowable range)
Weighting: 40%
Assessment Description
This assessment focuses on stakeholder engagement (workshop 05), business-level strategies (workshop 07) and corporate-level strategies (workshop 08). After identifying key stakeholders of Unilever, you need to develop a stakeholder engagement plan covering three stakeholders by incorporating the template discussed in workshop 05. Based on Porter's five generic strategy framework, you need to identify the business level strategy adopted by one business unit/product group from Unilever's Beauty and Personal Care Division. You must provide an analysis of the suitability of this strategy. After that, you need to identify at least 2-to 3 corporate-level strategic initiatives undertaken by the Beauty and Personal Care Division over the last decade. You must analyse the purpose of these corporate-level strategic initiatives in the context of the template discussed in workshop 08.
Need to identify 7-9 stakeholders of Unilever – Division Beauty and Personal Care and select
A. Introduction to Unilever – Division Beauty and Personal Care Provided a concise introduction to Unilever. This introduction should include a brief history, scale of the operation (revenue, staff strength, etc.), products/ services, and industry dynamics. This section should not exceed 400 words.
B. Stakeholder engagement plan
Need to identify 7-9 stakeholders of Unilever – Division Beauty and Personal Care and select three stakeholders for engagement planning. Provide a brief introduction to the stakeholders.
You must utilise the stakeholder engagement planning template discussed in workshop 05: include the completed templates in the appendix. The report should contain a summary of the engagement plan for each stakeholder. This section should not exceed 600 words.
C. Business-level strategies adopted by Unilever – Division Beauty and Personal Care
Based on Porter's Five Generic Strategy framework discussed in workshop 05, identify the business-level strategy adopted by one business unit/ product group of Unilever – Division Beauty and Personal Care. You need to indicate the rationale for determining the chosen strategy and critique the suitability. This section should not exceed 500 words.
Please note: you are only expected to explore one business unit/ product group when analyzing the business-level strategies.
D. Corporate-level strategic initiatives Unilever
Analyse the corporate-level strategic initiatives of Unilever by exploring past activities - greenfield expansions, joint ventures, strategic alliances, mergers & acquisitions, etc., over the last ten years. You must identify at least three such initiatives discussed in workshop 08. You must incorporate the template used in workshop 08 to review these initiatives' purpose: the completed template should be included in the appendix. This section should not exceed 700 words.
E. Recommendations
Based on your analysis, provide recommendations to Unilever management on stakeholder engagement, and strategic initiatives that can defend the competitive position and stimulate growth. This section should not exceed 300 words. There is no need for a conclusion.
Solution
A. Introduction to Unilever
Unilever plc is a British multinational consumer goods company with headquarters in London. Food, condiments, ice cream, cleaning supplies, cosmetics, and personal care goods are all available from Unilever. Products made by Unilever, the world's largest soap maker, may be purchased in over 190 different nations. Lifebuoy, Dove, Sunsilk, Knorr, Lux, Sunlight, Rexona/Degree, are just some of Unilever's well-known brands (Web.archive.org, 2022).
Unilever is made up of the Foods and Beverages, Home Care, and Beauty & Personal Care businesses. R&D facilities may be found in China, India, the Netherlands, the United Kingdom, and the United States. Unilever was formed on September 2, 1929, when the British soap company Lever Brothers and the Dutch margarine company Margarine Unie amalgamated. In the latter half of the twentieth century, the company started to branch out abroad and diversify its product offerings away from the production of oils and fats (Bloomberg.org, 2022). It has acquired several firms since its founding in 1971, including Lipton, Brooke Bond, Chesebrough-Ponds, Best Foods The specialised chemicals section of Unilever was sold to ICI in 1997. Under Paul Polman's leadership in the 2010s, the company gradually shifted its focus away from food brands showing sluggish performance and into health and beauty companies (Ackerman, 2020).
As well as being included in the FTSE 100 Index, Unilever is also listed on the London Stock Exchange as its primary trading venue. Due to Unilever's recent Euronext Amsterdam IPO, the company is now tracked by the AEX index. On 30 November 2020, Unilever announced that all of its Dutch and UK operations will be fully integrated under a single London-based organisation. Unilever has had an underlying sales increase of 4.5% this fiscal year, bringing in 52.4 billion Euros in revenue. The company's core operating margin is 17.4 percent [Figure 1].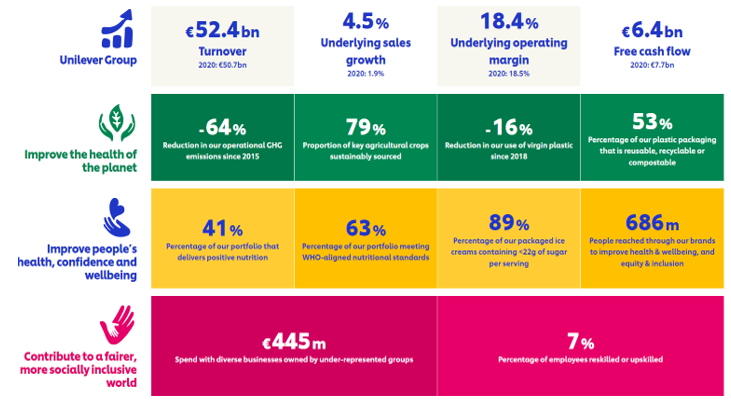 Figure 1: Background of Unilever
(Source: Unilever, 2022)
B. Stakeholder engagement plan
In the Beauty and Personal Care division of Unilever, working collaboratively with their stakeholders such as their employees, customers, investors, authorities and legislators, suppliers, researchers, NGOs, communities, and peer companies is essential to achieving their mission and growing their company (Leonidou et al. 2020). The three stakeholders identified for the engagement planning are the customers, employees, and the government in this report.
Customers
To guide their innovation and marketing efforts, Unilever has a dedicated team working on Consumer and Marketing Insights. Their 37 internal People Data Centres, for instance, examine information gleaned from social media, Consumer Carelines, as well as digital marketing to inform their responses to customer comments (Unilever, 2022).
Employees
The results of the annual UniVoice poll are a vital resource for gauging the workforce's morale. Their 2021 UniVoice staff survey saw around 90,000. Excellent levels of staff engagement were maintained across the company, putting them in the top 25% for engagement relative to industry norms. To ensure that all employees have frequent and direct access to the CEO and ULE, they organise biweekly 'Your call' meetings during which the CEO and ULE take questions from the staff and provide answers (Unilever, 2022).
Government
Communication with government, authorities, and NGOs, as well as political activity and contributions, are covered under our Code. These dealings must be sanctioned, following all relevant laws and Values, and conducted openly (Lavery, 2018). They do not contribute to or endorse any political party, politician, or interest group. In addition to stating publicly that no monetary donations were made to political candidates in 2021, they also provide this information in the Annual Report and Financial Statements (Unilever, 2022).
Based on the above discussion, the engagement plan has been designed for the three stakeholders, including the stakeholders' major expectations and how those expectations can be converted into desirable outcomes [Refer to appendix 1].
C. Business-level strategies adopted by Unilever to critically evaluate the business-level strategy adopted by the Beauty and Personal Care division of Unilever, Dove is chosen as a business unit.
Cost leadership
In order to get an advantage over the competition, cost leadership advocates cutting costs to the bone. Dove has a cost-leadership strategy across a wide range of consumer markets (Agwu and Onwuegbuzie, 2017).
Maintaining market supremacy via strategic value chain management is the primary goal of implementing this strategy. Dove is able to increase its market share by focusing on the middle class, which makes up the bulk of the consumer market in most countries, thanks to this strategy. Cost is an important factor for middle-class consumers, thus becoming a market leader in this area is essential for catering to their needs (Hacklin et al. 2018).
Dove has built a solid competitive edge due to the widespread popularity of its products and the simplicity with which they can be purchased all over the globe. Dove not only maintains competitive pricing by minimising production costs and maximising delivery efficiency but also regularly offers discounts and coupons to achieve sales targets and alleviate pressure from its closest competitors. As a result of promotions and sales, customers will hopefully become more familiar with the brand and purchase more of the product (Ze et al. 2018).
Dove's cost leadership strategy has been discussed at length, and the numerous advantages of this generic marketing approach have been described, including the company's ability to quickly build brand awareness, increase its customer base, boost consumer demand, and meet its sales goals. Even though cost leadership is highlighted as the primary strategy in the study, the firm also employs the differentiation strategy to provide the groundwork for a sustained competitive advantage in the fiercely comparative global consumer market (Omsa et al. 2017).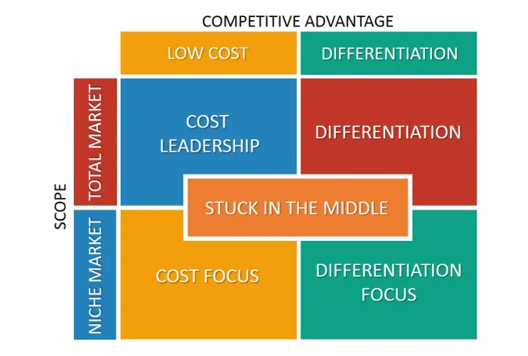 Figure 2: Porter's generic model
(Source: Islami et al. 2020)
Differentiation
Dove has been successful in broadening its customer base by taking a secondary generic strategy based on the brand's unique selling points. Dove sets itself apart from rivals by marketing its goods in a way that highlights its distinctive benefits. The company, which has earned a good name for itself in the industry, takes steps to set its wares apart from the competition. Dove spends much on marketing, advertising, and celebrity endorsement to differentiate itself from other brands (Ze et al. 2018).
Marketing and public relations efforts highlight the company's lengthy history in the market, the durability of its brand identity, and its worldwide presence as competitive advantages. The brand's logo is also a distinguishing feature. The logo has done wonders for the brand's recognition and success among consumers since it is both unique and easy to recall. One key differentiator is that the brand's underlying ideals have remained consistent throughout all of its incarnations.
D. Corporate-level strategic initiatives Unilever
Greenfield investments
In order to take advantage of the reduced corporation tax rates that apply to greenfield industrial investments, Unilever decided to establish a new subsidiary. The company behind Dove shampoo and Rin bar has announced plans to establish a wholly owned subsidiary with an approved share capital of Rs2,000 crore and an initial investment of between Rs500 and Rs800 crore to establish production facilities for current product categories (The New Indian Express, 2022). The combination of the reduced tax and the 'Make in India' drive makes it possible for the company to make investments that would have been too costly to justify before (The New Indian Express, 2022). In order to take advantage of growth prospects in today's dynamic business climate, a new subsidiary has been established, which will allow the parent firm to become more nimble and customer-centric. As of now, the Rs 38,000 crore firm employs over 18,000 employees across its more than 28 production locations spread around the nation (The New Indian Express, 2022).
Acquisitions and mergers
In 2022, Unilever said that it had reached an agreement to purchase a controlling interest in Nutrafol, a market leader in hair health products. As of right now, Unilever has a 13.2% ownership in Nutrafol via its investment arm Unilever Ventures. Hair health problems affect around 114% of U.S. customers, making them the most talked-about aspect of personal grooming for both sexes (Unilever, 2022). Nutrafol is in a great position to expand its multichannel presence, which includes a network of more than 3,000 doctors who sell its products, thanks to its cutting-edge in-house digital skills and scalable technology. Nutrafol is well-positioned for long-term, scalable, and lucrative expansion because of its dedicated client base (Unilever, 2022).
Partnerships
The 2020 launch of Unilever's Partner with Purpose (UPWP) initiative marked a new phase in the company's commitment to purpose-led partnerships, which it hopes will continue to drive cutting-edge innovation, preserve and restore natural resources, and normalise sustainable lifestyles throughout the world. With UPWP, the company can rapidly adapt to changing customer preferences because of a more modern approach to forming partnerships. To fulfill its lofty promises and foster mutual progress, they are becoming closer to its partners via this initiative by fostering more accountable and open innovation (Unilever, 2022).
To improve life for everyone, they are constructing a brand-new partner ecosystem. Partnerships with them may be formed on a one-to-one level or as part of a larger network of businesses. Regardless of the context, they count on all of their collaborators to share their commitment to fostering mutual development and competitiveness while also being a positive factor in the lives of people and the earth. They can and must accomplish both if they work together. Unilever's three Compass beliefs—that brands with purpose flourish, people with meaning thrive, and organizations with purpose last—form the basis for the UPWP initiative (Unilever, 2022).
As a company, they are dedicated to ethical and open innovation. Its ambitious sustainability objectives are defined in its Positive Beauty, Clean Future, and Force for Good division strategies, and they are working with its partners to develop and implement solutions to help them accomplish those goals.
For instance, Quix, a Chilean Home Care brand, collaborated with specialty chemicals firm Evonik to introduce the first home cleaning solution in the world to incorporate Rhamnolipid. This foamy ingredient is both renewable and biodegradable (Unilever, 2022).
To achieve their plastics objectives, they partnered with Viridor, UK-based recycling, resources, and waste management firm, to provide more PCR capability to the UK. They collaborated with Nextek, a community resource management expert, to make the black plastic wrapping for Unilever's TRESemmé and Lynx products identifiable by recycling facility scanners. This new technology might lead to an annual increase in the recycling of plastic bottles by roughly 2,500 metric tonnes (Unilever, 2022).
E. Recommendations
Stakeholder engagement
Various project activities may elicit different responses from stakeholders; understanding these reactions and developing strategies to address them can help the company to avoid unwarranted criticism. When stakeholders' environments or expectations of a company's behaviour change, they may respond in various ways (Leonidou et al. 2020). The company should match the list of stakeholders with the factors that might potentially set them off, such as construction noise, dust, or effects on their quality of life. The company needs to calculate the potential effect these responses will have on the project or strategy, and decide whether specific communication, mitigation, or a different approach is needed (Lavery, 2018).
Strategic initiatives to defend competitive position
Though cutting costs is a common strategy for firms looking to differentiate themselves, sometimes the opposite approach is the best one. "Prestige pricing" refers to the practise of charging higher prices in order to attract customers who may not otherwise consider a brand or product because of its lower price. The only exception is that the goods must be worth the higher price they want to charge (Distanont and Khongmalai, 2020). Moreover, in order to look authoritative and credible, businesses are frequently urged to utilise data points and statistics in their marketing material. A company like Unilever may be the one people use as an example. Gathering market data is simple with the use of programmes like Google's Consumer Surveys and SurveyMonkey; nonetheless, it is important to follow basic surveying and sample standards (Hagiu and Wright, 2020).
Simulating growth
Establishing a customer loyalty programme is a great way to keep the current clientele happy. It might perhaps help the company bring in new customers, too. It will benefit the business in the long term if they provide their customers with a reason to spend more revenue with them. Thus, Unilever should create a compelling customer loyalty programme and make it available to the current clientele (Kalogiannidis, 2021).
References


Fill the form to continue reading