×
Limited Time Offer !
FLAT 30-40% off - Grab Deal Before It's Gone. Order Now
Sample Strategic Management Assignment
MGT604, MGMT6011 Strategic Management Assignment Sample
GRAB MANAGEMENT ASSIGNMENT HELP : A+ GRADE ASSURED Place Your Order Now and Get Up To 20% Discount!
MGT604, MGMT6011 Strategic Management Assignment Sample
Stakeholder Meeting Simulation and White Paper
PART A: Preliminary Outline (Hurdle)

Question:
Pro-Go Pty Ltd Scenario
The scenario provides you with a brief overview of a hypothetical project for a real-life organization.
Be aware that the scenario may not cover every detail that you will need to address in the White Paper, in which case, you will need to conduct additional research, including further research into the industry concerned. [Pro-Go Pty Ltd is a privately-owned manufacturer of small, high-quality action cameras based in Geelong, Victoria. Founded in 2004 it has enjoyed continuous year-on-year growth until the last financial year. Pro-Go has a track record of innovation, and technology that provides excellent quality results in a small package able to operate with small batteries for extended periods of time. The video files these cameras produce are known for having superior colour, and operate effectively in lower lighting conditions than competitor's cameras. They are also marketed on the basis of their extreme ruggedness, and reliability. Much of the technology used in its devices has been patented by Pro-Go and is not currently available to other manufacturers.
The Pro-Go management team has recognised that the ability to capture videos is now a feature of most phones. It suggests to them that the future of the stand-alone camera may be limited. Pro-Go's CEO has requested the executive team meet independently to develop a strategy to guide the company over the next five years.]
Deliverables
The stakeholder meeting will discuss and agree on three strategy options for Pro-Go. In doing so, the Stakeholder meeting may consider strategy options that exist in adjacent markets or with related but different products or technologies. Remember to apply strategy concepts in your stakeholder meeting discussions to identify strategy options.
The deliverables required of each student are to produce a white paper covering the following:
1. Nominate the preferred strategy option and apply a strategy framework(s) to analyse and justify why you believe it is the best strategy option; and
2. Discuss the implications specifically relating to your part of the business, and what challenges these might represent. Separate the discussion into short-term and long-term issues.
Students are to address the assessment task from the perspective of their own functional area of responsibility. Integrate theory in your white paper.
Answer:
Introduction
The company, Pro-Go Pty Ltd. was started in 2004. The company is a manufacturer of high-quality cameras. This company has seen growth since its beginning but recently has seen a decline in its growth and market share. This short report will suggest some strategic plans for the company among which the best option is chosen.
Report Aim
The aim of the report is to create a sustainable strategy for the company for 5-year period.
Discussion
As a general manager of the company, following strategies has been suggested for Pro-Go Pty Ltd.:
1st Strategy: To have a collaboration with smartphone companies like Motorola, Huawei, HTC and Nokia to install their Pro-Go Pty Ltd.'s cameras in the smartphones. This can induce the promotions and sales of both smartphone companies and the camera company (Todorov& Akbar, 2019).
2nd Strategy: Tie ups with the companies to create new products like smartphones, smartwatches, andsmart headphones to gain new market share (Markides, 2016).
3rd Strategy: Rebranding can be done with the help of influencer marketing on Instagram. This is a very effective strategy where influencers can be hired, and they can promote the products of Pro-Go Pty Ltd. With the special code given to the customers if they purchase the products by using that code (Mintzer& Entrepreneur Media, Inc., 2018).
Strategy option : Preferred one.
Three strategies are suggested for Pro-Go Pty Ltd. Porter generic strategy framework has been used here to get the preferred strategy option.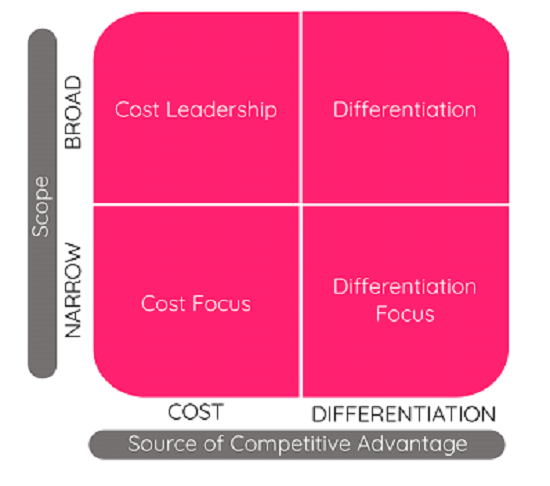 Source: Business Balls
This model shows the way in which the company should move forward so that it can an edge over its competitors (Firoz Suleman, Rashidirad & Firoz Suleman, 2019). It also helps in understanding how a company can increase its market share or sales in the market. Pro-Go Pty Ltd. develop high quality action cameras which was its USP since the start of the company but due to the decline in its sales, the company should go for tie ups with other companies which producessmartphones, smartwatches, and headphones (Xhavit, Naim & Marija, 2020). This is because the high-quality action cameras are now not in demand. The industry has become saturated now. Differentiation strategy would be the best strategy as it would broaden up the scope of the company and it will enhance the competitive edge in the market which is highly essential for the company right now (People Matters, 2021).
The company could allure broad market, millennials and also adults who are fitness freak, mobile phone users and music lovers. This would broaden up the scope of the company.
Short Run Implication of Strategy
The company can successfully implement such strategy. However, bringing companies and having collaboration with them could really take much time. It would be time taking to be in collaboration with the companies and to set up a deal fixing all the terms and conditions on the collaboration (Bolland, 2017).
Long Run implication
I as a general manager of the company will assure that the strategy remains sustainable. For this, the company would have to provide training sessions to its workers for dealing with new technology. The company would have to successfully implement change management strategies so that the strategy remains sustainable.

References
Bolland, E. J. (2017). Comprehensive strategic management : a guide for students, insight for managers. Emerald Publishing Limited.
Firoz Suleman, M., Rashidirad, M., & Firoz Suleman, S. (2019). The applicability of porter's generic strategies in pure online firms: a case study approach. Strategic Change, 28(3), 167–176. https://doi.org/10.1002/jsc.2258
Markides, C. C. 2016. Diversification Vs Focused Business Strategy. Retrieved from https://www.entrepreneur.com/article/277302.
Mintzer, R., & Entrepreneur Media, Inc. (2018). Entrepreneur voices on strategic management (Ser. Entrepreneur voices). Entrepreneur Media.
People Matters. (2021). Fujifilm's perfect shot at success - Diversification of business. Retrieved from https://www.peoplematters.in/article/c-suite/fujifilms-perfect-shot-success-diversification-business-13258?media_type=article&subcat=leadership&title=fujifilms-perfect-shot-success-diversification-business&id=13258
Todorov, K., & Akbar, Y. H. (Eds.). (2019). Strategic management in emerging markets : aligning business and corporate strategy (First). Emerald Publishing Limited
Xhavit, I., Naim, M., & Marija, T. L. (2020). Linking porter's generic strategies to firm performance. Future Business Journal, 6(1), 1–15. https://doi.org/10.1186/s43093-020-0009-1
Fill the form to continue reading