×
Limited Time Offer !
FLAT 20-40% off - Grab Deal Before It's Gone. Order Now
Sample ITECH5402 Enterprise Systems Assignment
ITECH5402 Enterprise Systems Assignment Sample
GRAB IT ASSIGNMENT REPORT HELP: A+ GRADE ASSURED Place Your Order Now and Get Up To 20% Discount!
ITECH5402 Enterprise Systems Assignment Sample
Objective:
This assessment task has been designed to help you deepen your understanding of ERP/Enterprise Systems. It comprises both team and individual components.
Aim:
You have to produce a clearly articulated and well-researched enterprise system evaluation report to be given to the Board of Directors of GBI to successfully assist the organisation with choosing the correct software product to implement for their enterprise. Please refer to the GBI Case Document.
Learning Outcomes:
Evaluate and compare various types of enterprise resource planning (ERP) software solutions and their application in global business contexts.
Identify the main suppliers, products, and application domains of enterprise-wide packages.
Demonstrate communication skills to present a coordinated, coherent, and independent exposition of knowledge and ideas in dealing with enterprise systems.
Structure:
• Introduction
• Case Context, establishing the need for enterprise systems
• ERP Selection, indicating identification and comparison of several ERP systems
• Benefits to be gained from the ERP package proposed
• 3-4 additional technology required to meet the needs of the organisation. Ideally, each team member must identify one (1) technology to be included in the team report. This makes up the individual component.
• Concluding remarks, summarising the content of the report Demonstrate depth and breadth of reading to include a comprehensive reference list
• Use APA referencing style for all references in the body of text and in reference list
• Include readings from: Journals, Conference proceedings, presentations, books/book chapters, or any other significant sources.
Solution
Introduction
Enterprise resource planning defines a process used by the companies to combine and manage the importance of their business. ERP software is important for companies as they help them to execute resource planning by combining all the processes to run a company with a single system. ERP software combines human resources, marketing, finance, sales, planning, purchasing inventory, etc. This report aims to do a study analysis on the company 'Bike Global Group' as to how they work with their resources and how it manages distribution, selling, partnership, etc. The objective of the company was to manage the company with new resources and make bikes for both the genders males and females and to do work within the collaboration. Another objective of this report is to emphasize the benefits of implementing an ERP system for the Global Bike Groups for every management. This report highlights the background of Global Biker Groups and the various problems faced by them during the expansion of the company. This report throws light on how ERP systems allow the company to overcome these obstacles. This report also includes additional technologies that can be implemented in the company for the development of this company.
Case Context, establishing the need for enterprise systems:
Background
The Global Bike Group manufacture bike for long-distance and off-trail racing. Its founders designed their first bike, nearly 20 years ago as they had to win races and the bikes that were available at that time were not of high standards. So, they started the company named 'Global Bike' and started to deliver high-performance bicycles to the world's most demanding riders. John Davis started it's making his bike when he realized that the mass-produced bike was not fit for racing and rebuilt from other bikes into a single 'Frankenstein' bike that lead him to victory in the national championship. This made him famous and started his own company at a slow pace. At the nearly same time, Peter Schwarz designed their bike and slowly his bike turned into a small company which he, later on, get partnered with local companies. Fortunately, Peter and John met each other in 2000 and realizes their passion for business models, and collaborated and distributed their work for best assignment help.
Problems in the Global Bike Group
During the expansion phase, the Global Bike Group was being subjected to more workload. This workload leads to the various problem that has to be faced by the Global Bike Group. The process of management of these company become more tangible and dealing with the demands of the bikes according to the customer become their primary objective. This leads the company to lower its management process and handling such a huge company without a proper management plan was a tough job to achieve (Gallego, Mejia & Calderon, 2020). In the case study, it was seen that working after the collaboration and working together as a whole new company that comprises different departments needed a whole new management system. Sticking to outdated management techniques leads to ineffective and lesser productivity (Anatolievna & Anatolievna, 2018). But this did not keep them back from producing more products at that time.
Another problem faced by the company was that they were not achieving the required demands at that moment. After seeing lesser sales of the finished product they soon came to know that they need modifications on the bikes to fulfill new demands according to the changing requirements of the bike. Very less customer interaction was one of the biggest problems faced by any company (Goodman, 2019). On the other hand, this growing expansion of market and distribution demanded a more accurate management system to handle and supervise such a big network that includes the marketing department, sales department, research and development department, and production department.
Solution
Requirements and needs are the factors responsible for the alteration in product quality. Changing product manufacturing needs alteration in the manufacturing process and working of departments. To manage everyday changes in a company irrespective of the intensity of the change, a company needs to have a proper management technique through which effective management of various departments can be possible. The ERP system software provides the same requirement that can handle everyday work and processes of different departments in a single place. As in the case study, various problems related to the management of different departments include the manufacturing department, production department, sales department, distributor department, and many more. This ERP system software provides a proper management platform and smooth function of different departments. Handling of the distributer through ERP can be achieved in a simple way (Costa, Aparico & Raposo, 2020). The company can easily supervise the over the working through this system software.
Another biggest problem of customer interaction can also be solved by ERP system software. ERP system allows the company to store previous interactions with the same customer and can continue with conversation from where they left off. This enables the company to understand the customer and requirements of the customer more accurately which will eventually help the company to provide better customer service. This also makes the company more responsive to the requirement of the customer (Khan, Asim & Manzoor, 2020). This ERP can reduce the burden of expansion which results in more susceptibility to tangible network management and allows the company for further extension. In this way, ERP system software can overcome the problems faced by the company.
ERP Selection, indicating identification and comparison of several ERP systems
Different ERP:
SAP ERP System:
Since System Analysis Program has been started in 1992. This system is good for all types of businesses. Broad scope challenges of business data solutions are provided by ERPs (Al-Sabri, Al-Mashari & Chikh, 2018). To choose any software from this system, the company provides a free trial offer so that users can experience a product.
Oracle ERP System:
This resource planning is the leader in the computing space. It provides its own data management to the various industries. In keeping the view of business, it is designed at small, medium, and global levels. The companies who need to transfer and share large amounts of data or merge several companies can use this system (Amini & Abukari, 2020). It is very beneficial for them to use this ERP system.
Microsoft ERP System
Microsoft is one of the most wide-ranging software companies in the world that are selling an ERP called Dynamics 365. Their ERPs are cloud-based. This can be used by every business of every size, but it depends upon the varying price (Zadeh etal., 2020). Dynamics 365 can be used for human resources, customer service, retail operations, marketing, project automation, and so on.
IFS ERP System
Industrial and Financial systems are the leading source of enterprise-level software. It is a Sweden-based company that is providing services and solutions to manufacturers and organizations since 1983 (Grobler-Debska et al., 2021). This ERP highlights its software programs in terms of coordination and flexibility.

Comparison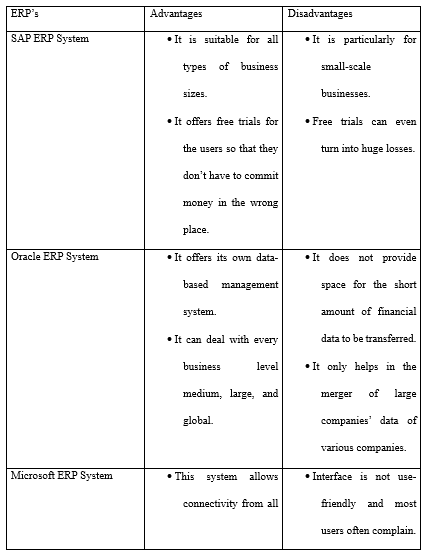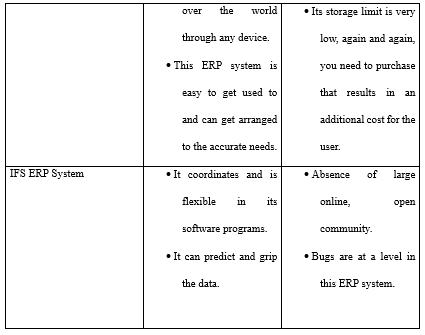 Selection
Oracle ERP is best for the organization as it is designed in such a way that it can deal with every level of the business whether it is medium, large, or global. This ERP is the leader in the cloud computing space. It covers database management for a variety of industries in sales, marketing, manufacturing, and distribution. This software is too ideal for Global Bike Company as it can help get efficient in a large amount of data (Kakkar, 2021). Oracle ERP can help them in the merging of several companies. As management is very much necessary in the company in every part. As Global Bike company needs management as well as advanced capabilities that can be gained through this ERP. It can help the company to quickly react to market changes and shifts. Oracle ERP provides a space for the company to be updated always in the current situation and can get an advantage in the market as per their competition (Elbahri et al., 2019). This ERP is the best for the management of marketing, manufacturing, sales, and the distribution sector. Oracle ERP is the modern, complete, cloud ERP. The global company should have this ERP to be in this competitive market, to manage their database, to have a look over the shifts in the market, and to get updates on the current market. As of this ERP, Global Company can make the best use of it. This ERP helps to reduce business costs too and make companies' analytics accurate too.
Benefits of ERP system
ERP system enhances business management models and functions that include preparation, inventory management, planning, order processing, production, financing, and many more. The most advantageous point which can be seen over the system is the capabilities to check and update in real-time and also enables to supervise the organization management (Rouhani & Mehri, 2018). Some other benefits of the ERP system can be brought up as key points as follows:
Data Integrated information across various departments.
Data integration refers to the process of gathering data in one place from the different departments which provides a single room for organizing data and data management. This also frames a base platform for the data analysis and production overview. For example, the data collected may originate from many sources like marketing software, customer application, CRM system, etc. All this information is required to be collected in one place for analysis for further action (Tarigan, Siagian, & Jie, 2020). The data integration task is managed by the developer and data engineers of the Company. All branches of Global Bike Groups are situated in different geographic locations, this company is required to deliver the data and services across their different branches. For these types of situations, the ERP system provides data integration which enables the organization to manage the data of different branches and different departments in one place.
Reduced data redundancy and processes
Another problem of data redundancy can be solved through an ERP system. With a data integration service facilitated by an ERP system, the same data kept in different places can be eliminated. After the foundation of Global Bike Group, expansion become the most significant part and it was seen more often in that case study. With the expansion of the company, handling of the data became more strenuous (Kumar, 2018). ERP system will ensure consistency in the work and required information can be received whenever needed in the company. Reliability of the data can be achieved with this system which was the biggest advantage of data redundancy to confirm the correctness of data while avoiding data redundancy at the same time (Chopra et at., 2022). Data redundancy enables the employee to get quick access to information as it was available on multiple platforms but this advantage is also covered by the ERP system.
Data security for the organization
Technology is the key to this globalization. Technology and globalization bring us close to the importance of data in digital platforms and its security. Dealing with a huge amount of data is the primary responsibility of any organization. All organization keeps their confidential as well as personal information along with their marketing information in a computer-based program for management purpose. Accidently losing such data can distort the organization's work (Trunia et al., 2018). For any company, data are the most important aspect to record and maintain safety. These data can be very useful in the further decision-making process which will allow the company to generate higher revenue. ERP system will allow more security for the data of any organization or company.
Effective communication across different departments
With the foundation and expansion of the Global Bike Group in the case study from a single individual to a world-class company, many departments were set up within the company, and also many branches were set up at different locations across the globe. Effective communication is the key to proper working and managing a vast company. Proper channels of communication are required for smooth functioning (Aboabdo, Aldhoiena & AI-Amrib, 2019). Data sharing across the different department are equally important through effective communication. This effective communication of data sharing in Global Bikes Group can be achieved through ERS system. This ERS system also avoids conflicts in the department as the data is properly managed and organized in a single place in a computer-based program.
Additional technologies required by the organization
New technologies are emerging every day. To fulfill the demands and survival in the competitive market, companies and organizations need to keep themselves up to date with the upcoming new technologies. These technologies allow them to channel their work properly and increase the production of products with better quality (Biswas & Visell, 2019). Apart from the ERP system, Global Bikes Group is required to implement many new technologies to fulfill the need of the company. Some of them are listed below:
AI
The traditional methods for maintaining and running an organization can no longer keep up with these fast pace evolving requirements and complex demands of the customers. This drive organization to utilize technologies based on AI for interpretation and fulfillment of the demand of customers. AI is a computer-based software that performs given tasks close to human mind capabilities (De Cremer, 2021). AI generate more revenue and perform better in completing complex task which ultimately promotes the organization's growth.
In the Case study, it was seen that after the establishment of Global Bikes Group became a vast company, managing such a big company was stressful. The tasks became more complex due to the demand of the customer (Wamba-Taguimdje, 2020). In these situations, AI can be very helpful in completing complex tasks and analyzing the demands of the customer to come up with a better result.
CRM
CRM is the abbreviation of Customer Relationship Management. CRM software is a tool that can be used to store data like marketing, sales, and customer services together with policies and customers in one place. When the business model on expanding, it became difficult to handle so the need for a remote CRM also increased (Kampani & Jhamb, 2020). This remote CRM enables them to manage sales productivity and also provide the proper platform to work with their staff and customer together.
CRM software is modifiable and it can be easily modified according to the customer and the organization's needs. Many enterprises are already using CRM software for increasing marketing, customer support, and sales. Established companies use CRM software to increase the interaction of customers with the company which helps them find out the flaws in the product (Boulton, 2019). CRM can be modified by Global Bikes Group to respond to their customer requirements.
Cloud Management Platform
With technological advancement, the organization also needs to upgrade itself. This includes using various online services to be offered by the organizations. Cloud computing platform offers a variety of services (Lv et al., 2018). In the cloud, third-party service providers develop applications that can be accessed by users.
Features of Clouds
• It can handle multiple clouds.
• It allows controlling cost.
• User-friendly interface.
• It also reduces complexity in infrastructure.
Cloud is a fundamental part of the process of digitalizing of organization. However, as clouds become more and more complex cloud management platforms become the need for the organization to fully exploit the benefits of clouds. These cloud management platforms are important components that can be used to manage these clouds. Global Bike Group can implement a cloud management platform to enable various services over the internet through clouds.
Blockchain
Blockchain work on a shared network with a decentralized authority. It can benefit the organization in the following ways:
Public
Organizations always try to interact with their customers. Organizations create a network of federation Blockchain merging public and private networks. They keep their professional data on the private network and use the public network to connect with their customer (Bodkhe et al., 2020).
Transaction Cost
Organizations are always concerned about their security. Blockchain has an intense level of security and secure transaction through this network using cryptocurrency that cannot be easily tracked. This enables organizations to make their trading more confidential.
No intermediates
Intermediates service providers are always subjected to trust issues. Most of the fraud cases are linked through these intermediaries. In Blockchain, organizations do not have intermediaries so it saves the extra charges for providing their services and also reduces the chances of fraudulent cases (Morkunas, Paschen & Boon, 2019).
Conclusion
Expansion of an organization or a company makes the company more complex and management of such a big organization becomes a challenge. The load of work for each sector and department becomes complex and increases and becomes harder to manage. For a huge company as seen in the case study, the growing demands of the customer pressurize the company to the production of more and better products. This makes the workspace more crowded and the process more tangible. Here comes the need for proper management techniques for the organization. The ERP system is more of a management technique achieved through computer software. This allows the organization to handle everyday work like project management, supply of goods, project progress, accounting, sales, etc. From the report, it was seen that Global Bike Group faces many problems during the early stage and after the expansion of the Company. Problems like handling the expanded market situated in different geographical locations, dealing with the demand of increased customers through customer interaction, etc. From both perspectives of John Davis and Peter Schwarz, managing individual departments like VIP marketing, Chief Financial Official, VIP Human Resources, Chief Information Officer, VIP operations, and VIP Research and Development become tangible and they had to involve on the ground level with the staff to manage. All of these problems faced by the company can be solved through computer software based on the ERP system. Apart from solving the problem faced by the company, ERP based software system offers many benefits that include data integration, data security, and effective communications and also reduces data redundancy. Many additional technologies can also benefit the Global Bikes Group like AI, Cloud Management Platforms, CRM, and Blockchain for the development of the company in the era of technologies. Benefits like confidentiality of trading, Cloud management, user-friendly customer interactions, etc. will lead the company to achieve greater heights in the long run.
References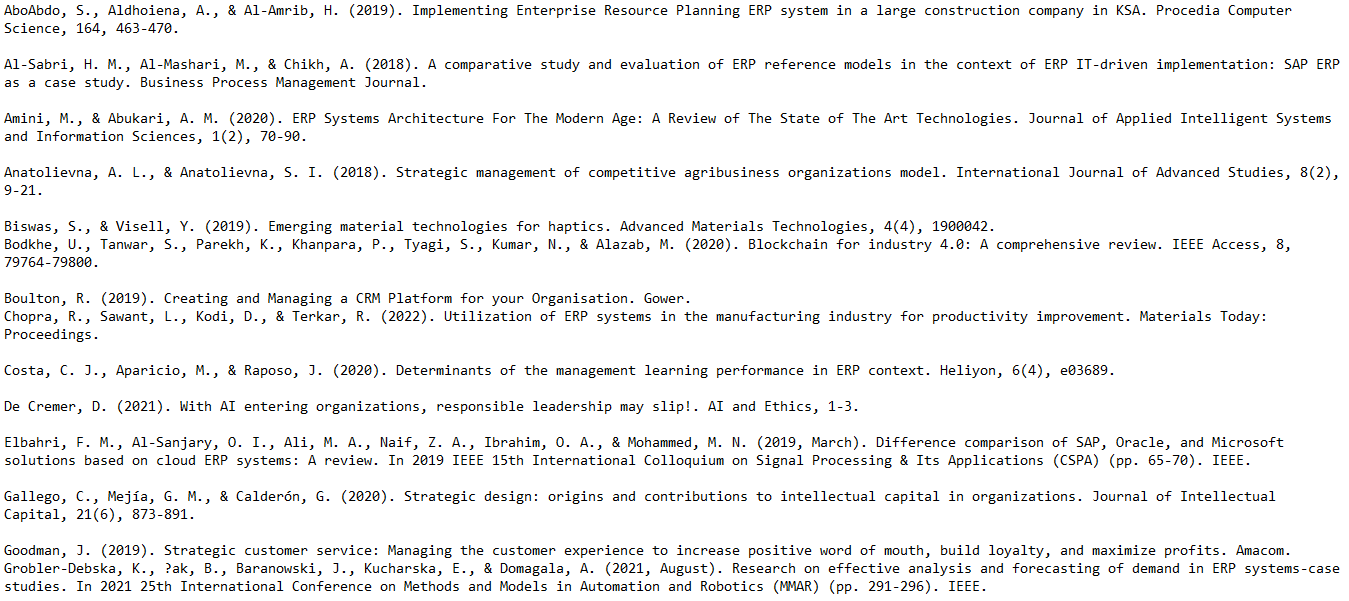 Fill the form to continue reading