×
Limited Time Offer !
FLAT 20-40% off - Grab Deal Before It's Gone. Order Now
Sample MIS500 Foundation of Information System Assignment
Still Looking for MIS500 Foundation of Information System Report? You've Come To The Right Place!
GRAB IT ASSIGNMENT REPORT HELP: A+ GRADE ASSURED Place Your Order Now and Get Up To 20% Discount!
MIS500 Foundation of Information System Assignment Sample
Introduction to Chanel
Chanel is a French luxury fashion house that was founded by Coco Chanel in 1910. It focuses on women's high fashion and ready to wear clothes, luxury goods, perfumes and accessories. The company is currently privately owned by the Wertheimer family This is one of the last family businesses in the world of fashion and luxury with revenues of €12.8 billion (2019) and net income €2,14 billion (2019).
Chanel – Case Study To complete this assessment task you are required to design an information system for Chanel to assist with their business. You have discussed Porter's Value Chain in class and you should understand the primary and support activities within businesses. For this assessment you need to concentrate on Marketing and Sales and how Chanel cannot survive without a Digital Strategy.
Source: Porter's Value Chain Model (Rainer & Prince, 2019),
Read the Chanel case study which will be distributed in Class during Module 3.1. Visit these websites
https://www.chanel.com/au/
Based on the information provided as well as your own research (reading!) into information systems write a report for Chanel to assist them in developing a 'Digital Strategy' to develop insights for their marketing and sales especially in online sales. Please structure the group report as follows:
- Title page
- Introduction
- Background to the issue you plan to solve
- Identify and articulate the case for a Digital Strategy at Chanel (based upon the data do you as a group of consultants agree or disagree)
- Research the issues at Chanel and present a literature review – discuss the marketing and sales data analysis needs and the range of BI systems available to meet these needs.
- Recommended Solution – explain the proposed Digital Strategy and information systems and how it will assist the business. You may use visuals to represent your ideas.
- Conclusion
- References (quality and correct method of presentation. You must have a minimum of 15 references)
Solution
Introduction
Businesses are upgrading their business operations by implementing a digital strategy in order to compete against rivals and stay in business. In doing so, companies must continuously keep adjusting their business strategies and procedures to keep attracting the newer generation of customers or else face a certain doom. The paper is based on Chanel, a posh fashion brand based in Neuilly-sur-Seine, France. The Chanel's business challenges in the market place are briefly assessed and examined in this research. In addition, the paper will briefly outline the advertising and marketing process, as well as how Chanel should embrace a digital strategy to maintain growth in the following decade.
Background to the issue you plan to solve
The issue is that the luxury brands, such as Chanel are lagging behind the rapidly developing trend of e-commerce and they need to implement a comprehensive Digital Strategy in order to keep their existing customers and expand their market shares. Traditionally, luxury brand companies considered online shopping as a platform for lower-end products and did not focus on investing in their social presence (Dauriz, Michetti, et al., 2014). However, the rapid development of online shopping platforms and changing behaviour of customers, coupled by lockdown measures and cross-border restrictions due to COVID-19 pandemic has exposed the importance of digital-based sales and marking even for the luxury brands which heavily depend on in-person retail sales (McKinsey & Company, 2021). Fashion experts warn that luxury companies will not survive the current crisis caused unless they invest in their digital transformation (Gonzalo et al., 2020).
According to the global e-commerce outlook report for assignment help carried out by the CBRE which is the world's largest commercial real estate services and investment firm, online retail sales accounted for 18 per cent of global retail sales in 2020 which is 140 per cent increase in the last five years and expected to reach 21.8 per cent in 2024 (CBRE, 2021). On the other hand, as digital technology advances, the customer's behavior is changing rapidly in a way that they do not only prefer to make their purchases online but also make a decision based on their online search (Dauriz, Michetti, et al., 2014). However, e-commerce accounted for only 4 per cent of luxury sales in 2014 (Dauriz, Remy, et al., 2014) and it reached just 8 per cent in 2020 (Achille et al., 2018). It shows that luxury brands are slow to adapt into the changing of environment of global trade and customers' behavior. On the other hand, at least 45 per cent of all luxury sales is influenced by the customers' social media experience and the company's digital marketing (Achille et al., 2018). However, almost 30 per cent of luxury sales are made by the tourists travelling outside their home countries, therefore luxury industry has adversely impacted by the current cross-border travel restrictions. In addition, fashion weeks and trade shows were disrupted by almost two years due to the pandemic. Therefore, fashion experts suggest luxury companies to enhance its digital engagement with their customers and to digitalize their supply chains (Achille & Zipser, 2020).
Chanel is the leading luxury brand for women's couture in the world. Its annual revenue is $2.54 billion which is one of the highest in the world (Statista, 2021). Chanel's digital presence is quite impressive. It is one of the "most pinned brands" on social media, having pinned by 1,244 times per day (Marketing Tips For Luxury Brands | Conundrum Media, n.d.). It has 57 million followers in social media and its posts are viewed by 300 million people in average (Smith, 2021). It has also been commended by some fashion experts for its "powerful narrative with good content" for marketing on social media (Smith, 2021). However, it has also been criticized for its poor websites that is not user-friendly (Taylor, 2021) and its reluctance on e-commerce (Interino, 2020). Therefore, Chanel needs to improve its digital presence, developing a comprehensive Digital Strategy.
Identify and articulate the case for a Digital Strategy at Chanel
Case for digital strategy at Chanel
As-Is State
After reviewing the Chanel case, as consultants, we are now all dissatisfied with the Chanel company's digital strategy. While making any kind of choice, businesses must first comprehend the customer's perspective. The current state of the firm's commerce was already determined based on the provided example, with the existing web-based platform employed by the company being fairly restrictive for them. For instance, in less than 9 nations, the company has built an eCommerce platform offering cosmetics and fragrance. The firm's internet penetration activity is lower than that of other industry players. The business only offers a restricted set of e-services offerings. Not only that, but the organisation uses many systems and databases in various geographical regions, which provides a disfranchised experience to the end consumers. Besides that, the company is encountering technological organisation issues, such as failing adequately align existing capabilities with forthcoming challenges and employing diverse models, all of which add to the business's complication. Simultaneously, their social media marketing is grossly insufficient, failing to reach the target luxury audience as it should.
To -Be State
Following an examination of the firm's present digital strategy, it was discovered that the company has a number of potential opportunities that it must pursue in order to effectively stay competitive in the market. The major goal of the Chanel firm, according to analysis and research, is to improve the customer experience, bring new consumers, establish brand connection and inspire advocacy, and raise product awareness . It has been determined that Chanel's digital strategy is outdated, as a result of which the company is unable to successfully compete with its competitors. Major competitors of Chanel, for example, used successful digital channels to offer products to end-customers throughout the epidemic. It is suggested that the organisation implement an information system that can provide customers with a personalised and engaging experience. To resolve the existing condition of business issues, it is critical for the organisation to incorporate advanced technology into its organizational processes in order to capture market share. The company's existing state business challenges and implications can be remedied by upgrading their e-commerce website that is integrated with new scalable technologies such as AI, Big Data, Machine Learning, and analytics. The company also must optimize their product line and revaluate their core value proposition for new age luxury customers.
Literature Review
People have always been fascinated by stories, which are more easily remembered than facts. Well-told brand stories appear to have the potential to influence consumers' brand experiences which is "conceptualized as sensations, feelings, cognitions, and behavioral responses evoked by brand-related stimuli that are part of a brand's design and identity, packaging, communications, and environments" (Brakus et al, 2009 , p. 52). Story telling in a digital world is one of the effective ways to enables conversations between the brand and consumers. Chanel takes the advantage of digital marketing to communicate with their consumers via their website and social media the core value of the brand: Designer, visionary, artist, Gabrielle 'Coco' Chanel reinvented fashion by transcending its conventions, creating an uncomplicated luxury that changed women's lives forever. She followed no rules, epitomizing the very modern values of freedom, passion and feminine elegance (Chanel, 2005). For instance, the short film "Once Upon A Time..." by Karl Lagerfeld reveals Chanel's rebellious personality while showcasing her unique tailoring approach and use of unusual fabrics. Inside Chanel presenting a chronology of its history, how they transform from evolve from hats O fashion and became a leading luxury brand. No doubt Chanel has done an excellent job at narrating its culture, values, and identity, but the contents are mostly based on stories created by marketers or on the life of Coco Chanel. The brand image is static and homogeneous, and it is more like one-way communication, consumers cannot interact or participate in the brand's narrative.

Social media is more likely to serve as a source of information for luxury brands than as tool for relationship management. (Riley & Lacroix, 2003) Chanel was the most popular luxury brand on social media worldwide in April 2021, based on to the combined number of followers on their Facebook, Instagram, Twitter, and YouTube pages, with an audience of 81.4 million subscribers. (Statista, 2021) Chanel, as a prestigious a luxury brand, is taking an exclusive, even arrogant, stance on social media. It gives the audience multiple ways to access the valuable content they created while keeping them away from the comments generated by the content. The reasoning behind this approach is that Chanel wants to maintain consistency with their brand values and identity, which are associated with elegance, luxury, quality, detail attention, and a less-is-more approach. Nevertheless, social media can be a powerful tool that provide social data to better understand and engage customers, gain market insights, and deliver better customer service and build stronger customer relationships.
However, despite having the most social media followers, Chanel has the lowest Instagram interaction rate compared to Louis Vuitton, Gucci and Dior. Marketer and researcher increase social media marketing success rate by engaging with audience and consumers in real-time and collect audiences' big data for academic investigation. Put it in another way, social media engagement results in sales. It is imperative for in Chanel to not O just observe this model from afar, but actively challenge themselves to take advantage of it. To maintain their leadership In the luxury brand market, they must keep up with the constant changes in the digital world and marketplace and be more engaging with their audiences.
Chanel revenue has dropped dramatically from $12,273m to $10,108m (-17.6%) in 2020 due to the global pandemic where international travel has been suspended, boutique and manufacturing networks has been closed (Chanel, 2021). The pandemic has resulted in surge in e-commerce and accelerated digital transformation, hence, many of the luxury fashion brands pivot their business from retail to e-commerce, this includes Chanel's competitor Gucci and Dior. Chanel is gradually to adapting to digital strategy and selling their products online, but this is only for perfume and beauty products. President of Chanel Fashion and Chanel SAS, Bruno Pavlovsky said: "Today, e-commerce is a few clicks and products that are flat on a screen. There's no experience. No matter how hard we work, no matter how much we at look at what we can do, the experience is not at the level of what we want to offer our clients." (L. Guibault, 2021) In 2018, Chanel Fashion entered a cooperation with Farfetch purely for the purpose of developing initiatives to enhance in-store consumer experiences, they insist to incorporate human interaction and a personal touch when it comes to fashion sales. Experts foresee the pandemic could end 2022 but Covid may never completely vanish, and the life will never be same again. Consumer behaviour has changed during Covid, it will not follow a linear curve. Consumers will surge in e-commerce, reduce shopping frequency, and shift to stores closer to home. (S. Kohli et al, 2020) It is important to enhance digital engagement, but e-commerce is essential to maintain sales. It might not have a substantial impact to Chanel fashion sales in the past two year, but this will change with the advent of a new luxury consumer that wants high-quality personalised experiences offline and online. Chanel needs to adapt fast and demonstrate their trustworthiness by providing superior buying experience, exceptional customer service, and one one connections in store and on e-commerce platform.
Recommended Solution
1. Deliver the company culture using a more efficient strategy
The culture, value and the identity of Chanel is mainly from Coco Chanel. Although this is impressive, it is not attractive enough now for the newly emerging market. Chanel needs to deliver their unique culture in a more effective way. For example, Chanel could launch a campaign for all the customers to pay tribute to Coco Chanel. The customers could send their design to Chanel, of which they think is the most representative style of Coco Chanel. This could encourage more customers to be curious about the culture and stories behind this brand, instead of telling the story in a one-way communication. Especially during such an information-boosting time, the unique long-time culture is not that useful to attract more customers. unless it is used in a way that suits with the current purchasing habits of customers. According to Robert R (2006), it's wiser to create value with the customers instead of using customers, converting them from defectors to fans is more likely to happen when they are bonded with this brand. Moreover, Chanel used to focus more on the in-site retail experience, which might be part of their culture, since Chanel is a traditional luxury brand. However, people are more used to online shopping nowadays, and this is the trend. Chanel needs to invest more on the online service to exhibit their culture and adapt to the current habits of the consumers. The website of Chanel is fancy, with nice colors and visuals, but it's almost impossible for a customer to find out what they are looking for. The stylish website cannot be converted directly into revenue, they should make their website more user-friendly and functional. This is not hard for such a huge company if they realize this issue.
2. Bond with the customers
Chanel used have the largest number of followers on social media but fall behind Gucci and LV's in the past few years, because they pushed to much content without enough interactions. Chanel needs to create more bond with their existing customers and potential customers. The communication between Chanel and the customers seems to be one-way in the past. Consumers receive the messages from Chanel whereas have no channel to explain what they think about the brand and what they need from the brand. Therefore, Chanel should build a closer a relationship with their customers through social media. The reasons why using social media as a channel are as follow. a Firstly, this is a more cost-effective method to get accessed to a huge market. Chanel could let more people know about their changing and the newest product through it. They could also post different advertising to different selected customer base. Secondly, social media establish a platform where Chanel could listen to the real need of the customers. Many customers think they need a platform to let the brand know what they need and hope to witness the changes from the brand (Grant L, 2014). A successful brand should let the customers believe that what they think matters, although there IS no need CO adapt all the preference of the customers, Chanel needs to show their attitude that the company treasure the relationship with their customers. Finally, failing to use social media platform could lead to huge loss of the market. While other brands are posting advertisements and communicating with customers. they are stealing the customers from Chanel. Chanel needs to take the same weapon to defense. In conclusion, to let the customers engaged into the project and communications with the brand could assist with establishing a long-term relationship with customers and increase the loyalty of them.
3. Optimize the product line of the online store
Ecommerce market has been increasing amazingly in the past few years, especially because of the Covid, people are more used to online shopping. Therefore. Chanel needs to optimize their product line of the online store. bring their fashion line online and meet more demand of their customers. Although the offline shopping experience of luxury brands has significant value, to provide an extra choice could also be impressive. Because customers are more informed and demanding the brand to solve their problem and deliver unforgettable shopping experience. There is one field that Chanel could invest IS the VR / AR fitting room. There might be some reasons that customers cannot go to the retail shop or there is no suitable size of the product. A VR / AR fitting room enable the customers to try various products online to choose their favorite one. It could be more efficient since they could do it anywhere and anytime they want. At the same time, if they do not mind sharing the detailed information, the VR fitting room could generate a model for the client, and it is more visualized. This could increase the shopping experience and attract more potential customers. On the other hand, Chanel could give different levels of permit for different customer base. This could help to keep the company culture to provide the best service for high-net-worth clients. People could increase their customer level by building up the purchase history. In summary, to bring a unique online shopping experience to customers could enable Chanel to take up more market and establish a better platform for further development.
Conclusion
This report studied the case of Chanel and analyzed the problems which they were suffering from. It studied all the issues that were present in their organization and found that they had lost their unique value proposition along the way and also lagged behind in Social Media as well as web presence. Moreover, the firm's existing Commerce platform has a lot of weaknesses that have a negative impact on the company's core continuity as well as market survival. Accordingly after a careful analysis, few strategies were suggested so that the company can fix their social media, their digital presence and how they target the new breed of luxury customers of today.
References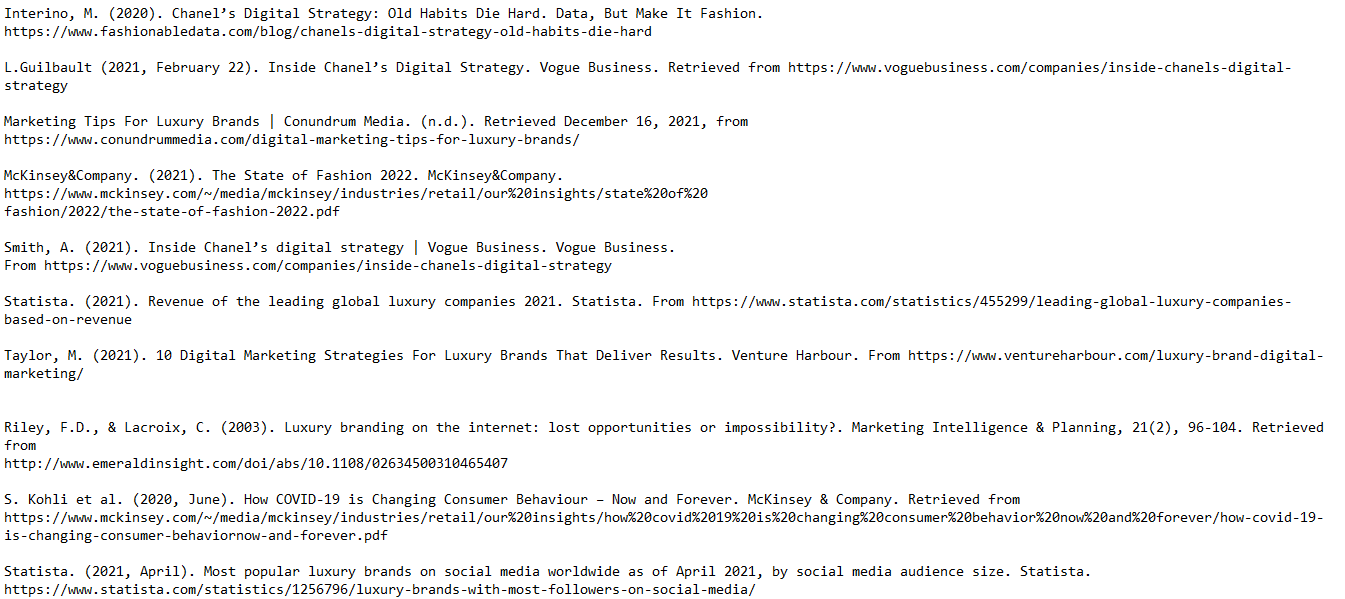 Fill the form to continue reading