×
Limited Time Offer !
FLAT 20-40% off - Grab Deal Before It's Gone. Order Now
Sample MBA633 Real world Business Analytics and Management Assignment
Read MBA633 Real world Business Analytics and Management Assignment Sample
GRAB MANAGEMENT ASSIGNMENT REPORT HELP : A+ GRADE ASSURED Place Your Order Now and Get Up To 20% Discount!
MBA633 Real-world Business Analytics and Management Assignment Sample
Assignment Brief
Assessment Title - Individual Interpretation of Analytics Report – Gartner Magic Quadrant
Assessment Type: Written Report
Word Count: 1700 Words (+/-10%)
Weighting: 30 %
Total Marks: 30
Submission: Via Turnitin.
Due Date: Tuesday Week 7, 11:55pm AEDT
Your Task
Evaluate Business Intelligence Platforms using the Gartner Magic Quadrant. Summaries your findings in a report and evaluate the best tool for your chosen analytics application.
Assessment Description
The Gartner reports on current technology contain a plot such as the one shown below that summarises their findings. The figure is extracted from the Gartner report for Business Intelligence (BI) platforms.
This assessment comprises two components.
• Firstly, you are required to study the Gartner "Magic Quadrant for Analytics and Business Intelligence Platforms" shown above and articulate the insights in a report (1200 words).
i. Search the web for the 2019 and 2020 Magic Quadrants and note the changes between the two.
ii. Clearly state a BI application (to be) used in your workplace or potential workplace. You are required to provide a thesis highlighting the shortcoming in the current business practices, the improvement this application would bring, as well as the resultant targets from the BI application.
iii. What tool would you select to perform this analytics task?
• You will also be required to provide a summary of the key points made by the guest speaker (500 words).
NOTE: You will need to show evidence of appropriate research conducted (10 references) in order to succeed in this assessment.
Word Limits for Written Assessments
Submissions that exceed the word limit by more than 10% will cease to be marked from the point at which that limit is exceeded.
Study Assistance
Students may seek study assistance from their local Academic Learning Advisor or refer to the resources on the MyKBS Academic Success Centre page. Click here for this
Solution
Gartner "Magic Quadrant for Business Intelligence platform"
Introduction
The definition of self-service is shifting in this field as augmented capabilities pervade platforms. At the same time, cloud ecosystems and alignment with productivity tools have become key selection factors. This Magic Quadrant will help data and analytics leaders plan an analytics and BI roadmap. Gartner, a public company is strongly identified for its analysis including a global advisory firm, which renders tools, techniques, including advice in numerous firms furthermore sectors like IT, Human resources, marketing, sales, plus supply chain, finance, etc. It's headquartered in Stamford, Connecticut, united states. Within utilizing the qualitative data analysis procedure, it publishes a range of research reports "magic quadrant" to describe market trends similar to directions, maturity, furthermore participants. The purposes of analytics and business intelligence are straightforward to use and accommodate in supporting the workflow in analytics of the preparation regarding data, visualization about data to achieve the generation of insights.
Background.
In the analytics and business intelligence market, vendors are registered from start-up ventures to large capital technology firms. Cloud platform performs an indispensable role in the ABI Market as the preponderance of spending within this market is based on cloud deployment including the presence of cloud platform player signify more extra in the market. Cloud vendors strive for large sets of entry points in analytics and the business market. As the market of ABI is no longer distinguished by their capacities of data visualization vendors in the ABI market can formulate fundamental execution indicator dashboards by utilizing different chart forms. Augmentation of Works like preparation of data, visualization of data, and insights of data demand the assistance of artificial intelligence including machine learning.
This study will examine specific 2019 and 2020 data including significant and notable changes.
Magic quadrants for analytics and business platforms.
The augmentation analytics procedure is stretching in every quarter. Artificial and business analytics accommodates in operating various sectors including capabilities areas, and especially domains blended with augmented analytics. Some of its features are:
• Security: Aptitudes that facilitate security platforms, user's administration, auditing, including authentication platform.
• Manageability: This function operates to track the practice of ABI platforms including works on the information management system to share the information.
• Cloud Analytics: Aptitudes in sustaining the building, deploying, moreover managing the capacity in analytics.
• Data source connectivity: While optimizing execution, this empowers the user to connect the data, query, furthermore ingest the data.
• Data preparation: This facilitates aggregating and develops the data accumulated from different sources to create an analytics model.
• Catalogue: Aptitudes to produce the catalogue for the content of analytics so that it enhances ease for customers to access.
• Data visualization: Capacities to sustain highly visualized data by using images, charts, and features.
• Natural language query: This facilitates users to undoubtedly demand their query either by typing in a search box or spoken based on analytics content.
• Automated insights: Augmentation procedure in analytics assists in automating the method of insights by using ML and AI.
• Natural language generation: This authorizes the creation of automatic linguistic classifications of answers and data and analytic content.
• Reporting: This allows the ability to generate and distribute pixel-perfect, grid layout, multipage reports to users.
Major and notable changes between the Magic Quadrant of 2019 and 2020.
The 2019 mass emigration to the cloud determined a development towards cloud ecosystem dominance. Gartner analysts stated that this accelerated extension of the BI cloud flagged a transformation where cloud mounds are forthwith awaited to proceed to a perfectly assessed ABI platform. Consumers must examine vendor lock-in as adequately as to whether or not the multi-cloud exists in their critical layouts throughout vendor preference. Analytics including BI providers are frequently possessing to determine between freeing their products or concentrate on particular market sections including aligning their marketing and products to these verticals. Gartner revamped its evaluation also admittance standards for Magic Quadrants as the software market unfolds following an influential market development in criteria.
Distinguished researcher remarks that in the year 2020, the preponderance of spending within the market of business intelligence was based on cloud deployment. Touching the other side, the year 2019 examined a mass retreat to the cloud. In the year 2019, Qlik including ThoughtSpot has been wheeled as the market leader in analytics and business intelligence. While in 2020, Microsoft Has turned as top among leader quadrant.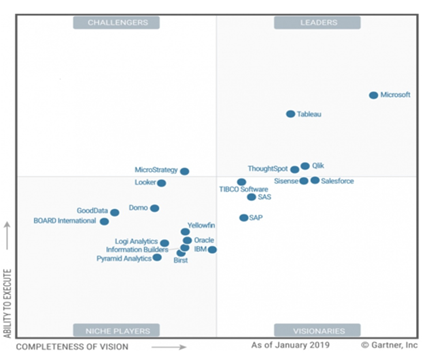 Figure 1: Notable changes in 2019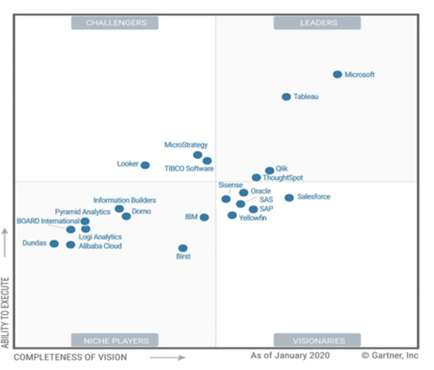 Figure 2: Notable changes in 2020
Notable changes in the year 2019-2020 among major corporations.

In comparison to 2019, the Magic quadrant has encountered many developments concerning cloud infrastructure. Gartner remarked that in 2019 for cloud infrastructure it was unavoidable to not incorporate hyper-scale cloud providers, however in same the year, Gartner also discerned that it is crucial to incorporate a broad assortment of services beyond cloud infrastructure with the hyper-scale cloud provider.
BI application and its Shortcomings.
Data analytics is molding the business today. As further information furthermore processes exercise on digital format, vehicles like business intelligence (BI) have matured astonishingly valuable. The proper amalgamation of these can provide the company an advantage above the opposition. Notwithstanding owning its benefits, BI evolves with its fair portion of liabilities. If the company is practicing BI, some prevalent obstructions are to be anticipated.
Data Infringements- One of the most constraining anxieties with any data analysis system moves the uncertainty of leaks. If the company is utilizing a BI application to manage sensitive knowledge, an inaccuracy within the process could endanger it, hurting the company's partnership with the consumers. Higher than 30% of the examination of business pronounced that security concerns are the most prominent trials meeting BI.
Unusual Prices- BI software can be costly, while the potential for a big ROI can verify this, the original price can be a hindrance to the more modest companies which possess to reflect the expenses of the hardware including IT staff.
Complexity in analyzing varied data sources- The added comprising company's BI remains the more extra data it will utilize. A variation of diverse references can be advantageous however the systems may produce struggle operating crosswise terraces.
Bad Data Quality- A plethora of data can indicate a lot of what the company's BI vehicles investigate remains remote or accommodating, mudding outcomes including lagging down the method.
Opposition to adoption- One of the abundant impediments covering BI is employees rather than departments not aspiring to desegregate into their operations.
Having asserted the shortcoming, there are some major advantages, and improvements as well of using BI systems.

The Business Analytics tools that were possible as selections to perform this stated task were:
Sisense
It is one of the most candid business analytics tools to manage, for those who remain non-tech-savvy. It is user-friendly while enabling anyone within the company to operate heterogeneous datasets including visualizing the data without the sustenance of the IT department.
System
It is a BI device ideal for an organization that necessitates solidifying furthermore streamline methods between diverse B2B and B2C channels. It accommodates boost effectiveness moreover productivity plus it incorporates particular sales characteristics as well.
Dundas BI
It is one of the uppermost browsed-based business analytics tools. Similar to most cloud BI alternatives, it is adaptable moreover empowers users to communicate in real-time various data sources. It extends visualizations under the sort of customizable charts, reports, diagrams, and others.
Tableau
It is a BI program that offers data discovery including visualization added convenience. It permits analyzing, envisions, and yield data while circumventing the IT department.
Google Analytics
It is lumped against many business analytics tools, nevertheless, it's a standalone data analysis tool that grants to shadow business performance online. It facilitates corporations to mark RIO.
SAP Business Intelligence
It contributes excellent analytics software designated for all purposes such as end-users, administration, including IT. It renders a plenitude of functionalities within a single program the facilitates machine education, planning, analysis, and BI imminent analysis.
SAS
It is one of the most extensively utilized tools on the market, it operates as a varied furthermore sturdy tool that is effortless to determine for beginners. Some new modules incorporate anti-money laundering.
Excel.
Microsoft Excel is amidst the most successful business analytics tools, approximately all data science hunkers on Excel facing one degree or another. It wields the grunt obligation of business analytics, presenting itself indispensable for data collection including company on all coverings.
The main aim of these tools was to accommodate visualization, and business intelligence capabilities for the end-users to generate their reports including dashboards. Power BI is also one such tool that includes an accumulation of various software services, and app to convert a company's unstructured data into interactive dashboards, immersive visualization, interactive insights. It helped in visualizing the data sharing the insights furthermore additionally accommodates in preparing interactive business intelligence reports. All of these consist of certain ingredients: visualizations, Datasets, Reports, and Dashboards.
References
Howson, C., Sallam, R. L., Richardson, J. L., Tapadinhas, J., Idoine, C. J., and Woodward, A. 2018. 'Magic quadrant for analytics and business intelligence platforms.' Retrieved Aug, 16, 2018.
Canito, J., Ramos, P., Moro, S., and Rita, P. 2018, 'Unfolding the relations between companies and technologies under the Big Data umbrella', Computers in Industry, 99, 1-8.
O'Connell, D., Elliot, B., and Benitez, R. A. 2018. Magic Quadrant for Unified Communications as a Service, Worldwide. Abgerufen von https://www. gartner. com/document/3891484.
Rikhardsson, P., and Yigitbasioglu, O. 2018, 'Business intelligence & analytics in management accounting research: Status and future focus', International Journal of Accounting Information Systems, vol. 29, pp.37-58.
Tripathi, A., and Bagga, T. 2020, 'Leading Business Intelligence (BI) Solutions and Market Trends'. Available at SSRN 3568414.
Klisarova-Belcheva, S., Ilieva, G., and Yankova, T. 2017. Business intelligence and analytics–contemporary system model. Trakia Journal of Sciences, vol. 15 no.1, pp.298-304.
Teruel, M. A., Maté, A., Navarro, E., González, P., and Trujillo, J. C. (2019). The New Era of Business Intelligence Applications: Building from a Collaborative Point of View. Business & Information Systems Engineering, vol. 61 no.5, pp.615-634.
Plazas, J. E., Bimonte, S., de Vaulx, C., Schneider, M., Nguyen, Q. D., Chanet, J. P., ... and Corrales, J. C. (2020), 'A Conceptual Data Model and Its Automatic Implementation for IoT-Based Business Intelligence Applications', IEEE Internet of Things Journal, vol. 7 no.10, 10719-10732.
Al-Zadjali, M., and Al-Busaidi, K. A. 2018, 'Empowering CRM through business intelligence applications: a study in the telecommunications sector'. International Journal of Knowledge Management (IJKM), vol. 14 no.4, pp. 68-87.
Tripathi, A., Bagga, T., and Aggarwal, R. K. 2020, 'Strategic impact of business intelligence: A review of literature'. Prabandhan: Indian Journal of Management, vol.13 no. 3, pp.35-48.
Fill the form to continue reading