×
Limited Time Offer !
FLAT 30-40% off - Grab Deal Before It's Gone. Order Now
Sample INF60007 Business Information System Assignment
INF60007 Business Information System Assignment Sample
GRAB IT ASSIGNMENT REPORT HELP : A+ GRADE ASSURED Place Your Order Now and Get Up To 20% Discount!
INF60007 Business Information System Assignment Sample
ASSIGNMENT TASK
1) Process Diagram
This assignment requires you to read the given Incident Management Procedures. From these procedures you are required to complete the partially completed swim lane process diagram.
Recommendation: Use the swim lane template (.ppt) provided on the third assignment page. This template includes the partially completed swim lane diagram – it will save you recreating the model.
2) Description of Incident Management Roles and Responsibilities
You are also required to derive a description of the roles and responsibilities for the following actors:
• Customer /End User,
• First Line Analyst,
• Incident Response Team Manager, and
• Incident Response Team.
This represents the written part of the assignment. You have up to 1000 words to complete this part of the assignment.
3) Critical Reflection on the Formalization of Organisational Processes
Based on your reading of the Incident Management process model (swim lane), answer the following question for assignment help: What is the motivation for organizations to formalize business processes for managing IT incidents?
Solution
1) Process Diagram





2) Description of Incident Management Roles and Responsibilities
2.1) Customer/ End User
End users or customers are responsible for protecting all kinds of information resources of an organisation that they can access. The role and responsibility of an end user according to incident management is to ensure non-computerized and computerised information security practices. The roles and responsibilities of an end user according to its management include the following:
• An end-user is responsible for understanding the participation in the BYOD program which is supposed to be voluntary and unless agreed to otherwise, it is their responsibility to assume carrier service cost, accessories, and devices (Hayes et al., 2021).
• End users are also responsible for maintaining the physical security of the information technology devices and also providing a high level of protection for sensitive information against unauthorized access. It is their responsibility to apply the TSC standards and make sure that the encryption is consistent with those standards that are required to be complied with for storing sensitive information.
• The responsibility of end users also extends to the appropriate protection of sensitive information that is transferred physically or electronically from unauthorized interception. It is also their role to enter appropriate encryption of sensitive information that is transmitted over public networks (Fuada, 2019).
• The end users have the role to consult with IT professionals to ensure that electronic information is properly disposed of in accordance with the guidelines and regulations provided in InfoSec 3.0.
2.2) First Line Analyst
The role and responsibility of a first-line analyst are to conduct investigations and resolve issues for users and is also responsible for the effective delivery of IT support services to external and internal customers. The role and responsibility of a first-line analyst are to gather facts, conduct research regarding issues, analyse and frame potential solutions for the problems and submit the information obtained to higher-level technical staff for further review. They also have the responsibility of assisting in the development and implementation of application systems and maintaining the establishment of applications using specifically defined procedures (Ahmad, 2018). Therefore, the first-line incident management analyst has the role and responsibilities in an IT organisation as follows:
• Accept or reject assigned incidents after reviewing them with precision.
• Conduct an investigation and identify the incident.
• Documents the entire incident resolution or workaround in the service management application to resolve it.
• The implementation of incident resolution which is an important activity is also the responsibility of the first line as an analyst.
• Verify the proper resolution of the incident identified and close the incident.
As a member of an IT team, the first-line analyst is responsible for solving organisational problems by analysing workflows, processes, and systems so that strong opportunities can be identified for automation or improvement of the IT processes within the organisation (Palilingan & Batmetan, 2018, February).
2.3) Incident Response Team Manager
The incident response team manager manages all technical aspects of incident response from the beginning to the end. He is also responsible for assessing the nature of the incident and determining what resources are required for the proper resolution and restoration of the service (Wolf et al., 2022). An incident response team manager will be supervising a team of IT professionals who in turn are responsible for attending to computer crimes, network intrusions, and cyberattacks. They also include direct involvement with security personnel as they are required to investigate security breaches and implement countermeasures for them. The responsibility of an incident Response team manager is to be proactive and carry out the following roles:
1. The incident manager should ensure that policies and processes are being followed with precision and that standard compliance is maintained so that best practices such as COBIT or ITIL are maintained. They require to identify gaps, assess data, inaccuracies, and trends so that actionable outcomes and opportunities can be identified (Son et al., 2020).
2. Since the incident manager is the front-line manager during incident management and requires to handle the incident or issue calmly and should have proficient working knowledge of how to resolve identified incidents and restore the business service.
3. Incident managers should use a systematic methodology to analyse, evaluate, design, and implement technology or processes to achieve measurable benefits for the business. They are required to make suitable recommendations based on recent arguments and have a clear idea of the problem or issue identified.
4. An incident management team manager should be a good communicator and problem solver because he is required to find a resolution to restore business functions and translate the messages for the entire incident response team so that they are able to carry out their individual in identifying and resolving the issue. Hence the responsibilities of an incident response team manager include being a good listener, critical thinker, and problem solver so that an incident is managed by him effectively and resolved with suitable methodologies and applications (Christensen & Madsen, 2020).
2.4) Incident Response Team
The role and responsibilities of an incident response team are to respond to different cyber security incidents or issues which include cyberattacks, data breaches, and system failure. This team is composed of different other roles and responsibilities which are delegated to other IT personnel who has specific skills. Therefore, the composition of an incident response team includes a team leader, team investigator, first-line analysts, researchers, communication liaison, and legal representatives. There can be three main types of incident response teams which are CERT (Computer Emergency Response Teams), CSIRT (Computer Security Incident Response Team), and SOC (Security Operations Centre) (Sarnovsky & Surma, 2018). The roles and responsibilities of the different incident response teams are discussed below:
1. CERT- They focus on partnerships with law enforcement, industry, and government for academic institutions. These professionals are responsible for prioritizing the development of threat intelligence and implementing best practices according to security responses.
2. CSIRT- This team has an assorted collection of IT professionals who are responsible for preventing, detecting, and responding to incident response cybersecurity incidents or events (Owen et al., 2018).
3. SOC- This incident management team covers a broad scope of the concept of cyber security and is responsible for directing incident response in addition to defending and monitoring systems, overseeing general operations, and configuring controls.
3) Critical Reflection on the Formalization of Organisational Processes
3.1) Types of Business Processes and How to Recognize Them
Since businesses are built on complicated interrelated processes and networks it is important to formalize the process so that the goals and objectives can be effectively managed and achieved. I think that incident management team managers should understand the different types of business processes and the unique roles they play in the overall business success so that they get the required motivation to undertake the process. In any organisation, business processes can be of three types, and the methods to recognize them are as follows:
• Core Processes: These are responsible for creating value for customers in a business and generating the required revenue. Also, core processes are sometimes known as primary processes because they consist of the main activities of the business organisation such as customer service, distribution, production, sales, and marketing. Common core business processes are structured processes that are managed by CRM, ERP, or vertical SaaS. Several businesses are implementing a system of engagement for optimizing the primary business processes and making them more efficient (Dorofee et al., 2018). Therefore, I think that core business processes should be formalized so that the structured process can be managed effectively and the IT functions of the business are carried out without any issues.
• Support Processes: Support processes are the activities that make it possible for the business functions to be carried out in contradiction to the core processes which provide value to customers and generate revenue. I think that support processes play a critical role in helping businesses to achieve the desired value and generate revenue by helping to carry out the business processes smoothly. I have also evaluated that the motivation during incident management regarding the support process is to service the internal customers in the organisation rather than the internal customers. I have also analysed that the formalization of business processes is to formalize the support processes with a department-specific SaaS platform.
• Long-tail Processes: These processes include the category of processes in process management strategies that are unique and emerge as a response to increasing stack complexities and evolving business needs (Cadena et al., 2020). I think that the motivation to formalize this business process is because it will help address a gap between apps, systems, or workflows.
3.2) Motivation of Business Formalization
It is important to formalize business functions because formalization comprises compliance with existing procedures and applying them to the business functions so that these functions are carried out according to the established standards and regulations required by legal laws and regulations (Bryant et al., 2019). I think that the formalization of business processes for managing it incidents can be a daunting task because it involves conformance to standards such as OSHAS 18001, ISO 14001, ISO 9001, and so on so that the documentation of the IT incidence is effective for the management system of the organisation. I have also analysed that the necessary documentation for proper incident management is quite complex and ranges between a variety of job descriptions and policies. Therefore, it is required to formalize business processes for managing IT incidents because important resources for employees when training new employees or implementing new systems can be smooth and effective (Mustapha et al., 2020). It is regarded that the formalization of business processes can be an effective tool for ensuring that all levels of the organisation are working efficiently to meet the organisational goals while managing incidents by identifying them and framing suitable solutions.
Often, I have regarded that the application of a business process modelling will help improve IT incident management as part of formalizing the business functions to manage IT incidents. Business processes should be formalized so that it is possible to communicate the business processes and procedures in a standardized manner and also understand the internal business processes with clarity. Whenever there is inadequate monitoring of incidents that prevents the proper mitigation or resolution of such issues, a formalized business process will help in better management and resolution of these escalations so that the business functions are restored. It is also possible to manage change within the organisation if the business processes are formalized and control automated for proper customization, documentation, monitoring, measurement, execution, and improvement of the business processes (Ray et al., 2020, April). I have analysed that at the global level organisations are required to formalize their processes so that IT incidents can be managed by individuals who are specialized in managing incidents by aligning themselves with the business objectives and goals. It is required to optimize the business processes so that incidents get better attention and IT professionals can increase user satisfaction through the normal functionality of a service.
The IT incident process management is generally operated by a user help desk that consists of technological and human resources with the primary objective of resolving the intimations of the service that require more attention. In large IT organisations, they have their own user help desk, for instance, SUNARP which is a public organisation in Peru has its own user help desk that is responsible for receiving different requests for user attention either through emails, in-person requests, or phone calls (Turell et al., 2020). Hence, I have evaluated that if the business processes are formalized for incident management, then it will prevent the organisation to become inefficient and prevent it from working in a disorderly manner by preventing users from communicating with the organisation and complaining that they have not been attended to yet. Through the formalization of organisational processes, it is also possible to reduce the wait time and a solution can be framed that is causing user dissatisfaction. Therefore, I think that it is important to have motivation for business formalization so that undefined procedures can be mitigated and limitations of available IT tools for managing incidents can be overcome by the incident response team.
References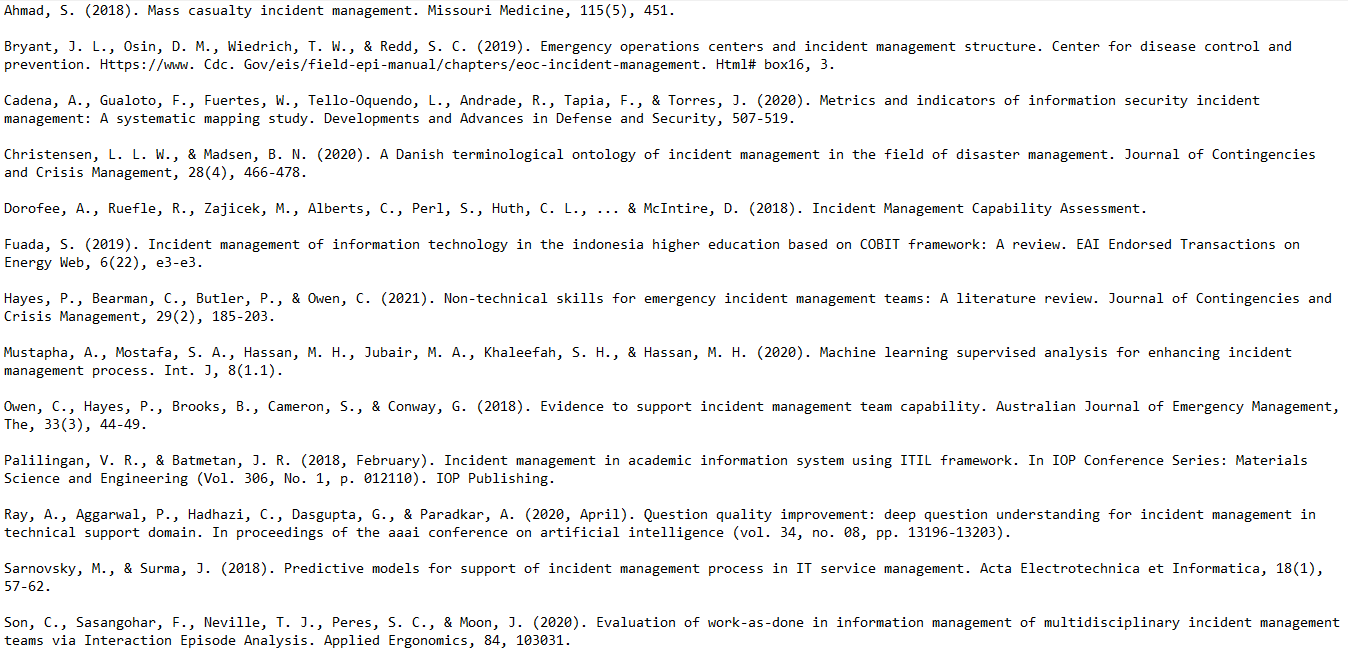 Fill the form to continue reading