×
Limited Time Offer !
FLAT 20-40% off - Grab Deal Before It's Gone. Order Now
Sample ACCY902 Forensic Accounting Assignment
ACCY902 Forensic Accounting Assignment Sample
GRAB ACCOUNTING ESSAY ASSIGNMENT HELP: A+ GRADE ASSURED Place Your Order Now and Get Up To 20% Discount!
ACCY902 Forensic Accounting Assignment Sample
The following must be included/followed:
- An essay of approximately 300 words on a separate page. A concise summary of the main aims, arguments, and conclusion(s) reached in the essay
- Introduction - Provide a clear and concise- introduction of the topic and how the essay will address the topic in the remainder of the content.
- Body/main evaluation - relevant and specific - discussion of the issues identified well, developed arguments, use of examples and research throughout to support arguments.
- Conclusion - strong, clear, concise summary of findings and recommendations.
- Are ference list including all references that have been used AND cited in the essay, with the heading REFERENCE LIST and presented starting on a new page. DO NOT list references that you did not cite in the essay.
- Harvard referencing must be used (both in-text referencing and a reference list)
- 12p font
- 1.5 line spacing
Explain the role of forensic accounting in preventing, detecting and overcome financial crimes such as cybercrime, money laundering, financial fraud and terrorist financing.
Solution
Introduction
Forensic accounting is the application of financial and investigative abilities to settle disputes in civil and criminal cases (Akinbowale et al., 2020). In investigation, the accountants applies the principles, theories and discipline to facts to handle any kind of financial dispute but a relevant process is followed for crime detection. The essay for assignment help focuses on role of forensic accounting in financial fraud detection and prevention.
Body
Forensic accounting includes the role of skilled auditors, accountants, and researchers of legal and financial records who are engaged by businesses to look into any potential indications of fraud or to simply stop fraud from happening (Utomwen and Danjuma, 2015). There is increasing problem of financial fraud such as money laundering, finances provided to terrorist, etc (Mc kinsey and Company, 2019). Considering example of Enron Accounting Scandal in 2001, company had biggest accounting scandal of $70. The full extent of Enron's wrongdoing was only discovered when the accountants looked beyond the inflated numbers (not like auditors going through all financial statements). In the end, Enron was accused with disguising debt agreements, manipulating stock prices and debt ratings, and making false statements about its financial position and earnings (The financial cell, 2021). Due to the fact that there will be a public jury in the fraud case, this is critical. However, internal auditors may not be able to provide the evidence required by a court or regulatory agency. Risks of consultant negligence and legal liability may arise if checklists are utilized in lieu of consulting an internal auditor (Tiwari and Debnath, 2017).
The process of forensic accounting starts with obtaining as much information as possible from customers, suppliers, stakeholders, and anybody else associated with the organisation (Enofe et al., 2015). Next to this, accountants perform a study of any background information that is been provided, as well as a review of any financial statements is been given, in order to find any flaws or faults in the reporting of those financial statements (Okpako and Atube, 2013.). The next step is to talk to employees to see if they can provide any light on where the fraud is taking place. Among the many things accountant will look at the foundational ideas of the business, employee evaluations, management styles, and the overall structure of the firm (Akinbowale et al., 2020). The forensic accountant will next attempt to draw conclusions from the data they have gathered when this stage is complete. Therefore, it is important to incorporate forensic accounting in financial operation so that future risk is avoided (Utomwen and Danjuma, 2015).
Conclusion
The essay concludes that to detect and prevent fraud organisation require an integration of specialized knowledge, auditing, data collection and analysis and taking a certain action. Organisation require a role of an expert accountant as it looks towards the financial operations and it regularly search for errors and it also monitors the poorly documented transactions.
References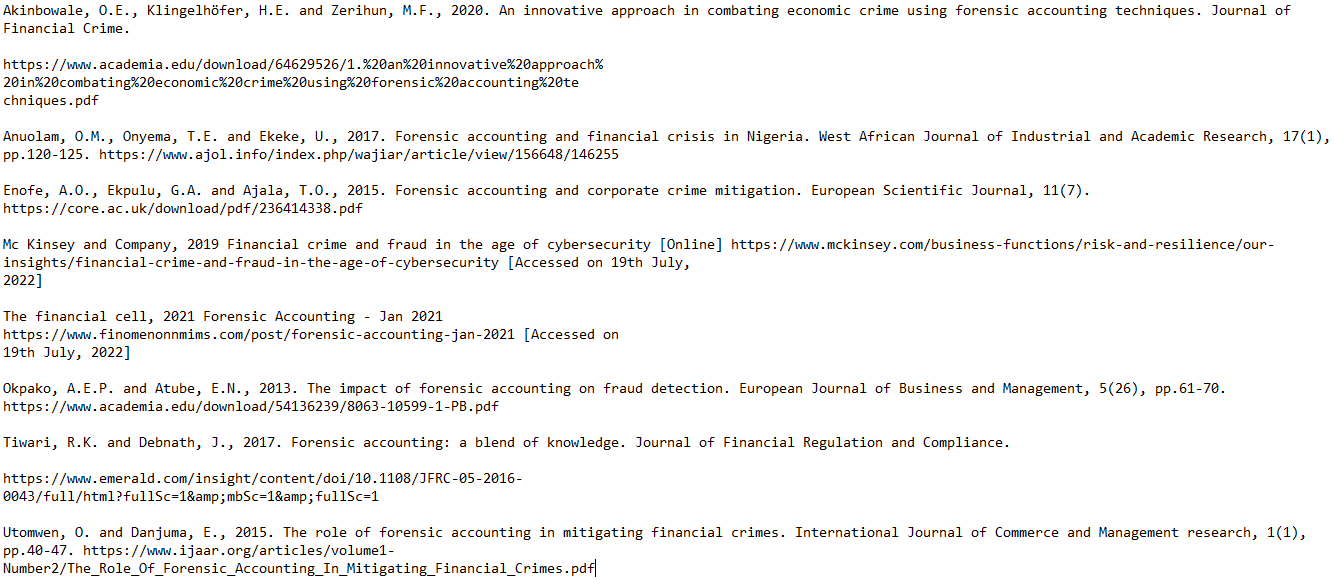 Fill the form to continue reading