×
Limited Time Offer !
FLAT 30-40% off - Grab Deal Before It's Gone. Order Now
Sample MKT101A Marketing Fundamentals Assignment
MKT101A Marketing Fundamentals Assignment Sample
GRAB PROJECT MANAGEMENT ASSIGNMENT REPORT HELP : A+ GRADE ASSURED Place Your Order Now and Get Up To 20% Discount!
MKT101A Marketing Fundamentals Assignment Sample
Individual/Group - Individual
Length - 2000 words
Learning Outcomes Addressed
a) Describe the marketing concept
b) Outline and apply the elements of the marketing process.
c) Identify and explain the macro and micro environmental factors impacting the marketing of a business or industry.
d) Demonstrate an ability to incorporate new trends to solve marketing problems and apply communication skills.
Submission - By 11:55pm AEST/AEDT Sunday of Module 5.2 (Week 10)
Weighting - 40%
Total Marks - 100 marks
Instructions for Assignment Help
Develop a marketing report based on the following sections:
a. Cover Page including:
? Business name
? Student Identifier (name and number)
? Subject code and name
? Date of submission
? Facilitator name
b. Table of contents
c. Brief introduction
d. Target Market Profile. Develop a target market profile applying two (2) variables for each of the following segmentation elements: demographic, geographic, psychographic and behavioural elements. Note: Your business may target more than one market and if so, focus on what you think is the largest target market.
e. Positioning Statement. Develop a positioning statement for the client highlighting the values and benefits offered by the brand to consumers. This may be derived from evaluating the client's website and marketing communications in order to complete the "Moore positioning statement" (template below):
For: (target customers)
Who must: (solve a specific problem or fulfil a need)
Our product is a: (describe product or solution)
That provides: (key breakthrough benefit which solves the problem and/or a reason to believe)
Unlike: (reference direct competitors)
Our product /solution offers: (describe the key point of competitive differentiation)
f. Analysis of the Current Marketing Mix. Analyse the variables that include
applications of:
i. Product strategy:
Identification/suggestion of the three levels of product
Product classification
Identification/suggestion of the product portfolio (width, depth and lines)
ii. Pricing strategies
Application/suggestion of at least 2 (two) relevant pricing strategies that may be used by the business and associated terminologies/concepts.
iii. Placement
Identification/suggestion of at least 1 (one) marketing/distribution channel strategy used and apply associated terminologies/concepts.
iv. Promotions
Identification and description of at least 3 (Three) promotional tools used by the business including relevant application of associated terminologies /concepts.
g. Recommendations. Identify at least 4 (four) marketing recommendations based on the situational analysis and applying key concepts and marketing principles covered in the modules. These recommendations should relate to any/or all of the elements of the marketing mix (Product, Price, Place, Promotion). You may also include discussion of the targeting, positioning and branding if changes are recommended.
h. References
A minimum of 4 credible and reliable sources should be used in your research
As this is a report, appropriate headings and sub-headings should be used in your writing
The reference list must be compiled using APA 7th ed.
Please refer to the marking rubric at the end of this brief for grading details
Solution
Introduction
The Little Big Dairy Co., a dairy company, was launched in 2012. The family-run company strives to provide its customers with high-quality dairy products (Little Big Dairy, 2022). The company's main goal is to ethically produce milk and dairy products and get them from the farm to the market. The company owns a farm where the milk is produced. The company aspires to become Australia's leading single-source producer of dairy products. According to the family-owned business, family members work with other members of their supply chain to maintain the quality of their milk (Little Big Dairy, 2022).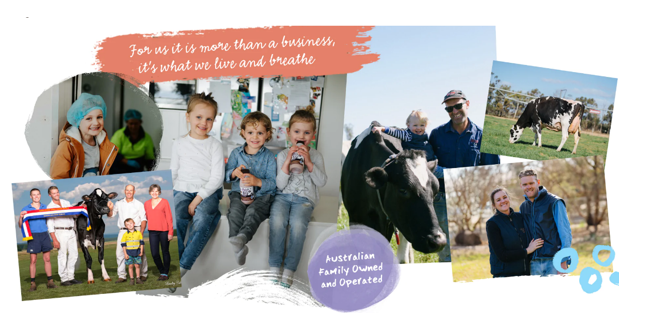 (Source: Little Big Dairy, 2022)
The company only operates in New South Wales, Newcastle, and Sydney. The company now only sells its products in stores and cafés in the above localities, using offline distribution techniques. They provide a variety of milk products, including full cream, reduced cream, no cream, premium non-homogenized milk, lactose-free milk, fair trade coffee milk, fair trade chocolate milk, honey malt and vanilla milk, pure pouring cream, and pure double cream (García-Moreno et al., 2019).
Target market
Australia's milk products market is anticipated to raise substantially throughout the estimate period. The market is growing due to population growth, increasing disposable income, and increased public awareness of the benefits of nutritious meals. The domestic dairy market is frequently directly impacted by fluctuations in the price of raw milk, which causes the dairy products industry to be unstable.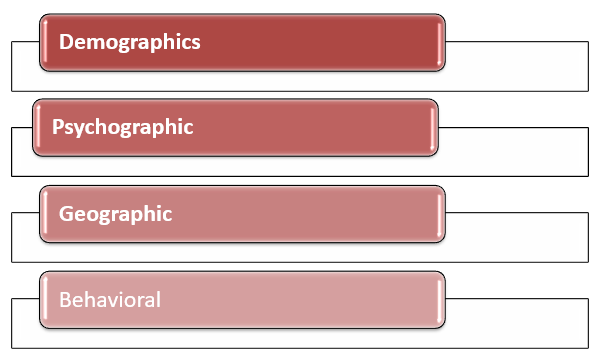 Figure 1. Target Market Key Points
(Source: Author )
Demographic:
Income, age, work status, gender, and other indicators are used to categorise the market; because marketers value these demographic traits so highly, they typically tie them to the needs and desires of the consumer (Moore et al., 2019). Target market factors are simple to quantify. The demographic factors used to divide markets are listed below. Little Big Dairy Milk uses the following characteristics to classify its aim.
Age: Most clientele are young, urban, working professionals between the ages of 20 and 40 who value their time and desire to lead healthy lives.A person in their middle or late years. Although the willing tetra package of nourishing milk is incredibly suitable for elderly folks, this is not the target market. The Little Big Dairy hopes to win.
Gender: Gender-neutral beverage The Little Big Dairy Milk is designed for anybody who wants to maintain a healthy lifestyle.
Income: The Little Big Dairy targets a market group of high-income consumers due to their brand name's association with a particular luxury level. For instance, Australian I.T. experts.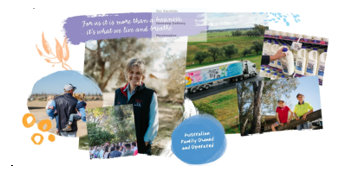 (Source: Little Big Dairy, 2022)
Occupation: athletes, health enthusiasts,working professionals, Students sports enthusiasts,
Psychographic:
Psychographic target marketpurchasers are distributed in the following ways:
• Lifestyle: High profile class, student, working executives,
• Personality:diligent and health aware.
• Benefits:Feature and fitness
• Operator status: a regular user
• Operatorlevel:regular
• Reliability rank:regular Loyal
• Readiness stage:planning to purchase
• Approach toward invention:passionate and appreciative
Geographic:
A geographic target market categorizes the market based on spatial location. In geographic segmentation, there are numerous systems for the various geographical parts, such as positions, counties, and towns (Mbuthia et al., 2015). The majority of markets are located in distinct urban and rural areas. The following techniques have been used to divide markets based on the above:
Location: The Little Big Dairy Milk restrictions itself to semi-urban as well as urban Zones in India as that is their main customer base
Town: Class-A alsoClass-B cities, i.e., metro representative cities where people can not get milk easily
Section: Scattering is constant through urban zones
Social and economic groupings:They may be used by high-level employees with practical communication skills.
Behavioral:
Behvavioral targeting foucs on the milk compnay publics view or positiion in the mind of consumer:
Website engagement
Purchase management
Campaign engagement
TARGETING
They focus their geographic efforts on regions that have a vibrant I.T. culture. Their target audience comprises young, working professionals (20 to 40 years). The socioeconomic classifications middle and high class people were the main focus of the psychographic classification (Lagrange et al., 2015). They were found to be striving for both new and loyal clients via behavioral segmentation. They target big-box stores, supermarkets, and hypermarkets where people easily access the milk of the target compnay.
Key Target Audience:
Manufacturers and distributors of dairy products in Australia
Institutions for research and advisory services
Trade groups, forums, and alliances about the dairy industry
Elected representatives who decide on laws and public policy.
Associations for trade
Research about the market and guidance a Small but Powerful Dairy
Positioning Statement
The dairy products market in Australia may be segmented on manufactured goods type, the network of distribution, and regional exploration (Key & Czaplewski,2017). Based on the kind of product, the market may be classified into divisions for dairy milk, ghee and butter,cheese, ice cream, milk powder,yogurts, spread, and other goods. Australia routinely consumes more milk than other countries in the industrialized world. Australia's "coffee culture" and the appeal of flavor-enhanced milk products will also be expected to grow during the forecasted period. Cheddar cheese is the most widely consumed variety in Australia, one of the nations where cheese consumption is rising.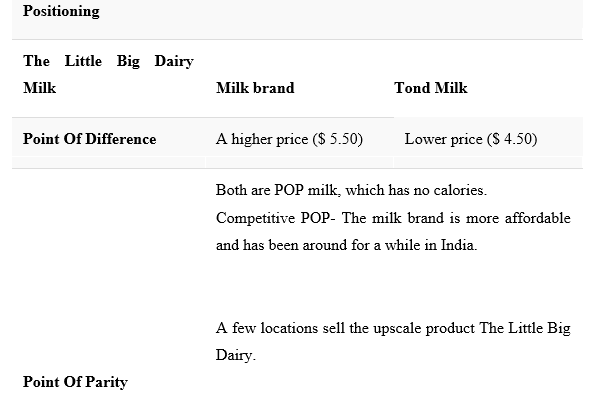 Analysis of the Existing Marketing Mix
Create marketing mix strategies to achieve the targeted market outcomes. It will be possible to implement its whole marketing strategy by creating plans that target the varied aspects of each category (Dadzie et al., 2017 ).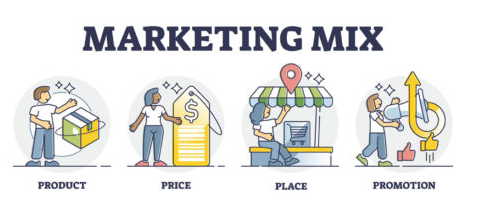 The following examines the four components of the marketing mix and suggests methods for each:
Products Strategies
It offers nine major product categories, each of which connects to a variety of items it sells. Under the trade name The Little Big Dairy, the company sells all of its goods.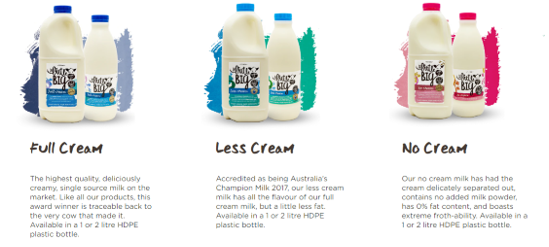 (Source: Little Big Dairy, 2022)
Offers a wide range of items for sale, allowing clients to choose the best that best meets their needs.
(Source: Little Big Dairy, 2022)
Offers customers a variety of features that its rivals do not by selling products that are highly different from one another (Capriotti et al., 2016). As a result, its products are considered as distinctive.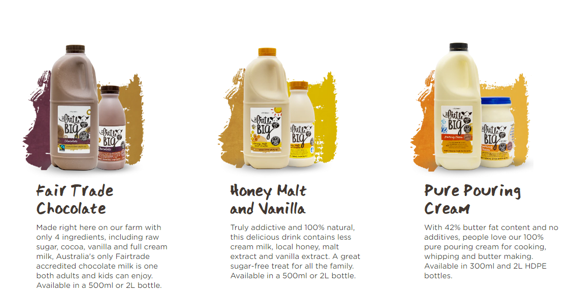 (Source: Little Big Dairy, 2022)
Its goods are regarded as being of a better caliber than those of competitors. As a result, customers are willing to pay extra for these.
Provides products that are recognized for their timeless designs and customer usefulness.
Price strategies
The pricing strategy is based on competition to choose the price level that will be adhered to. This is because there are several competitors in the industry, making information about them readily available (Kotler et al., 2015).
Expenses are also included in determining the price for a chosen few commodities for which information about competitors is either unavailable or their manufacture is more expensive.
Compared to competitors, it charges more for its items. This results from the additional features, which make up for the high cost.
Currently, it also uses product-bundle pricing, in which related items are packaged together and offered for a discounted price compared to the total of their costs.
It also uses an optional pricing model for some products, where the primary product is sold for one price. However, the accessories are priced differently (Aguirre-Villegas & Larson., 2017).

It requests a greater charge for the products it provides for online purchases. This is so because the cost of delivery is already included in the price of the items.
Prices for the finished goods have been decided. Members of the channel, such as wholesalers and retailers, pay less for the product and make money off their margins.
Place Strategies
Employs two marketing platforms to promote its products. The first scenario involves an online direct sale to the customer. The second is the sale to wholesalers, who then sell to a wide variety of retailers dispersed around the country. The customers are then sold these.
Has more than 500 outlets around the country where it distributes its products. It has a thorough marketing strategy to distribute its goods to as many retailers as possible. This ensures that customers may quickly obtain its products around the country.
Normally websites receive a significant quantity of traffic and online revenue. The firm has collaborated with several delivery service providers to handle its online operations and guarantees on-time deliveries.
It makes its products readily available to clients by utilizing an integrated online and offline retail approach known as omni-channel distribution.
Acquires the raw materials it needs to make its goods from a network of more than 500 vendors (Tamime& Thomas, 2018). Due to the close working relationship the company has built with its suppliers, it can work with them to develop and include new, enticing features in its products.
Promotions Strategies
Uses a range of mediums to promote its products. It employs traditional media, such as radio and television commercials. Due to its widespread appeal and ability to gather a huge audience, this is useful. The use of online and social media advertising, which is beneficial and less expensive, is made possible by the increase in internet usage.
It primarily advertises on YouTube, Facebook, and Twitter because of its high monthly usage rates (Cornelsen et al., 2015). It has more than 100,000 likes or followers on various websites, and these users are often exposed to updated material.

Participates in various trade fairs and events throughout the year, conducting various sales campaigns.
Personal selling uses a huge sales crew to increase its awareness at retail locations.
A percentage of sales method is used to establish the annual budget for promotions.
Recommendation
The targeting positiong and branding there no need to change and recommendation needed. The recommendation for The Little Big co. The Marketing mix is below:
Recommendation for product strategy
It should provide consumers who purchase its products with extra benefits, including warranties, delivery choices, credit, after-sales assistance, help lines, and other things.
It should introduce new products that reflect current market trends. It must identify market opportunities and release new products that capitalize on them.
It should test newly provided goods in test markets before ultimately commercializing them.
It should introduce new product lines to satisfy customer needs and broaden its product offering.
It should improve the packaging of its products to make them more straightforward to use and transport. Its packaging should also be visually appealing to attract customers.
Recommended Price Strategy
Reductions and allowances, whereby prices are temporarily lowered in an effort to entice customers and increase market share (Pirro et al., 2017). It may do this by deducting a set sum from the price of its items.
Should use psychological pricing, which makes items look more expensive than they are actually. For example, a product worth $100 may be priced at $99, so customers will view it as less expensive.
A price penetration strategy should be used when introducing new products, providing an initial price lower than competitors to gain market share. This will ensure that newly released goods are used by customers and become more well-liked than the rivals.
Recommended Place Strategy
It should open corporate-run retail locations to sell all of its products. The company could cut costs because retailer and wholesaler margins would not exist.
It should create a social media storefront where it may sell its products through posts on numerous social media platforms. As a consequence, the company will be able to boost sales. Its social media profiles and online shops should be linked to make user navigation simple.
It should put its attention into improving its online presence so that it becomes more accessible and user-friendly.
Ensure that personal selling is employed to offer its products to significant retailers. These enormous establishments have recently grown and garnered a considerable customer base. This would ensure that it increases sales.
Recommended Promotions Strategy
Should post on social media more content that is relevant to its target audience. The postings must also be crafted such that viewers are inspired to take further action, such as sharing them with others or leaving comments (Lokhorst et al., 2019). These should incorporate the newest hashtags, memes, and other social media trends.
Should begin gathering consumer information and contacting them via SMS or email, which may eventually result in repeat business from clients.
It should utilize social media influencers, such as well-known T.V./movie stars and bloggers, and highlight them in its advertisements. Bloggers may advertise by providing content on their social media accounts. T.V. and movie personalities may be utilized in advertisements to encourage customer acceptance of the products.
Should launch a marketing plan in which customers receive a unified message through all media. This will help the brand become more well-known to consumers.
Should be put into practice many digital marketing techniques to boost website traffic. Some of these include the development of its blog, SEO, and banner advertising.
 
Reference

Fill the form to continue reading