×
Limited Time Offer !
FLAT 20-40% off - Grab Deal Before It's Gone. Order Now
MGT601 Dynamic Leadership Report Sample
Assessment Task
The task for this assessment is to prepare and present a plan for your development as a leader. The period of your plan could be 2, 5 or 10 years. Select the period that makes most sense to you, depending on the current stage of your life and career. Briefly explain the reason for the time period that you have selected.
Your plan needs to be based on or anchored by an established model of personal development. A number of possible models were provided in Module 1. The choice of model is up to you. The Whitmore GROW and Boyatzis Intentional Change models are two of the most comprehensive at a personal level. However, other models may be more relevant to your current needs. You are also welcome to use an appropriate model that was not included in Module 1, provided it meets the tests of academic rigour and usefulness to you. You must provide a brief description of your chosen model and a justification for your selection. It is important that you go to the source documents and not rely only on the summary version of your chosen model.
Please also include a section in your report about the impact of national culture on your leadership direction.
Your development plan must draw on the resources of the subject to demonstrate your increased awareness of the factors that contribute to effective leadership. Your development goals should be based on at least four of the topics covered in the subject, such as enhanced emotional intelligence, more effective strategic thinking, enhanced influencing and motivational skills, greater cultural sensitivity, greater support for creativity and innovation, more effective change leadership, greater resilience, etc Additional information on leadership development to help you prepare your plan is provided in the Subject Resources section of each module.
Context
The purpose of all three assessments combined is to reflect on your own leadership journey, obtain feedback from your assigned partner and other trusted sources, evaluate your current leadership style, effectiveness and potential and then prepare a plan for your continued development as a leader. The three assessments are integrated pieces of work and you should draw on the first parts as you work on this final part. The first assessment focused on your journey so far and current capabilities. This final assessment report should present your plans for your future development as a leader. While there is some overlap between this assessment and previous ones, it is expected that students convey a more heightened sense of self-awareness and understanding, and to demonstrate that their appreciation of the key topic areas of this course has matured over the course of this subject. Simply restating discussion from previous assessments is insufficient for this task.
Solution
Introduction
Leadership development plan does represents as outline of procedures to be followed in order to be a better leader (Leberman, 2018). This cited goal could be achieved if the plan includes skills to be improved and analysis of responsibilities to be taken in future. Present report provides leadership development plan of two years with assistance of taking Whitman Grow Model as base. For Assignment Help Initially, a general introduction of Whitman Grow Model has been provided to present its basic insights and further same is being applied for self analysis. Further leadership development plan has been discussed with is dependent on development goals including enhanced emotional intelligence, effective strategic thinking, greater culture sensitivity and other necessary skills for being prominent leader. The last part of report provides analysis of impact of national culture of leadership direction with aim to explain its significance.
Aim
The main aim of this assignment is to develop effective leadership development plan for period of two years in order to set career towards advance leadership goal and senior management position. Through same I would be able to transform by personality in a manner through which I could achieve future goal of being prominent leader.
Whitman Grow Model
Whitman Grow Model is referred as coaching framework applied in everyday leadership for unlocking potential and possibilities for individuals. The cited model is known mainly for problem solving, goal setting as well as improvement of performance to significant extent (The Grow Model of Coaching and Mentoring, 2019). It has been chosen by me so that I could assess my strength, weakness in appropriate manner and take adequate initiative to transform my personality and attain main goal. The four main deceptive steps with which one could achieve success personally or as a part of team of this model are as follows:
G (Goal): The aim or aspirations.
R (Reality): Analysis of existing scenario i.e. where does us stand.
O (Options): Assessment of available alternatives i.e. possibilities, strength and resources.
W (Will): Assessment of accepted methods i.e. what will be done.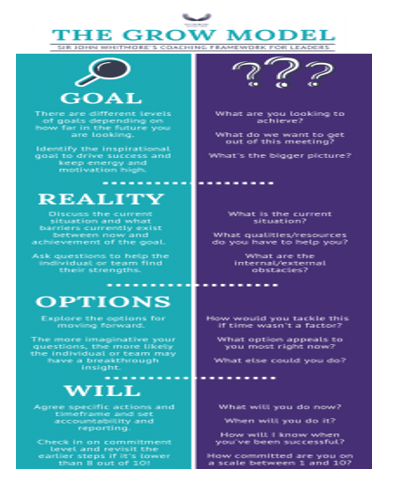 Figure 1: Whitman Grow Model
(Source: The Grow Model of Coaching and Mentoring, 2019)
Thus, it would be appropriate to state that the main key is to develop appropriate Goal which his not only required to be SMART (specific, measurable and achievable in a realistic time frame) but also challenging and motivational. Further, it is necessary to move through other phases including reassessment of goal if required. The last phase i.e. WILL would act as barometer of success through converting initial desire and intentions into successful action.
Adaptability of Whitman Grow Model for attainment of development goals
Grow Model is one of the leadership tool which easily fits in all disciplines and culture through providing true insights of real specifications of an individual. The cited model would assist me analysing my own self in detail manner and select strategies from available options in order to attain my main goal.
G (Goal): Development of goal and aspirations
The first phase is to develop goal and aspirations to be attained through leadership development plan. It is possible to look for appropriate alternative strategies to be applied if the main objective or goals are clear (Tang, 2019). Further goal should be developed considering skills and characteristic to be incorporated and obligations to be accomplished in future so that all variants which do play vital role in attainment of success are considered. I will develop main goal considering following factors:
• The Leader I wanted to be i.e. transformational, innovative, authoritative etc.
• The characteristic I wanted to incorporate in myself
• Strategies to be applied to evaluate goal to be achieved.
A common expectation from a leader is that he knows the way and shows same to other team members (Leadership and management, 2018). Thus, it is necessary that I should be able to make right decision so that desired or predetermined goals are achieved. In simple words I wanted to be a leader which does proves a difference maker between success and failure; irrespective of the way I am defined as a leader. The two leadership style which has influenced me is authoritarian leadership style and transformational leadership. A transformational leader motivates his team members and follows a vision which encourages other team members to achieve same (Ionescu & Bolcas 2019). On the other hand authoritarian leader imposes expectation and define outcome so that other members could know the efforts they have to make. I personally believe that if explanation is provided to other members regarding expectation than they know the areas on which they have to work and efficiency could be enhanced easily.
R (Reality): Assessing reality
It is second phase of the model, where one has to assess his or her actual position i.e. strength and weakness so that one could analyse concerning areas and work on same. In order to assess strength and weakness one has to evaluate different characteristic which would contribute to success. I can be evaluated after ascertaining the type of leader one wants to be. I would assess same on the basis of following questions:
• Analysing present situation i.e. what is happening at the moment?
• Assessing importance of leadership plan?
• Scaling characteristic of authoritative and transformational level on 1 to 10; and ascertaining the no. at which I stand?
• How does it impact my decision and what steps are to taken in order to get in the way of goal?
In this phase, one has to assess his or her strength and weakness so that the concerning areas could be ascertained (McLaughlin & Kunk-Czaplicki, 2020). As I wanted to be authoritative and transformational leaders; thus the main skills at which I should excel are enhanced emotional intelligence, effective strategy thinking, enhanced influencing, cultural sensitivity, effective change leadership, greater resilience etc. I would assess my strengths on the basis of Gallup Strength Finder, Human metrics Jung Typology test, test color personality test etc on the basis of various themes such as responsibility, maximize, learner, include, harmony, futuristic, ideation etc. Through futuristic theme I would be able to emphasize on skills which I need to incorporate such as effective communication, visionary, team first attitude so that I could work on characteristic such as strategic thinking and responsibility theme would assist me in emphasizing on skills such as empathy, ability to adapt, confidence etc and I would be able to excel characteristic such as cultural sensitivity and enhanced influencing. Thus, through application of different themes I would be able to assess strength as well weakness appropriately.
O (Options): Analysing options and different strategies
At this phase one has to emphasize on alternative strategies which can be applied for attaining motivation for accomplishment of goals (John, 2020). In order to move on right path I will assess strategies appropriately with assistance of below specified questions:
• Ascertaining strategies which can be applied?
• Evaluating each idea appropriately?
• Who would help in selecting final strategies?
• Where appropriate information could be attained?
• How to gather same?
Thus, I will evaluate all strategies and assess procedure relating to same so that predetermined goals could be attained in specified time period.
W (Will): Assessment of strategies to be applied
It is the last phase where selected strategies are assessed and incorporated in action plan in order to achieve the main goal (Leberman, 2018). One has to choose the right path in order to attain desired success. Thus, it can be done through assistance of following questions:
• What is to be done?
• How it is to done?
• Whose assistance or guidance is to be taken?
• Analysing commitment towards taking action?
Thus, this whole model will not only provide assistance in choosing right path for attainment of main goal i.e. being prominent leader but will also assist me in but will clear whole path so that I do not get mislead in the middle of procedures.
Leadership development plan
Leadership development plan demonstrate the steps that should be taken by me for becoming the effective leader. Before the development of such plan, I have evaluated by strength and weaknesses, which show areas that requires improvement (Millar, Chen, & Waller, 2017). It has been demonstrated that, I want to become the transformational and authoritative leader in the reputed company, and therefore it is very essential for me to determine about my strong point and weak point. On the basis of Gallup Strength finder and other tools, I evaluated that my strong qualities are learner, responsible, futuristic, include, and many others.
Transformational leader always engaged in motivating and inspiring their team members in order to achieve the desired objectives. In this, leader obtains the participation from the team members and takes decision (Bush, 2018). While, in the authoritarian leadership style, leader normally do not involve advices from the followers and they typically make choice on the basis of their own perception. It should be noted that, I have to evaluate in which situation participation of the members is appropriate and in which situation I have to take decision my own. There are a number of situation in the companies in which decisions should be taken in quick way, and if it is not taken then plans may fail, in such circumstances, authoritarian leadership style would be very appropriate (Cohrs et al. 2020). For working on such aspects, it is required by me to make participation in the distinct activities in order to evaluate the distinct opinions in the in-depth manner.
Leadership development plan consists of the development goals, actions, measurement of success, and the schedule goals, which is reflected in the following table –
Action plan of year 1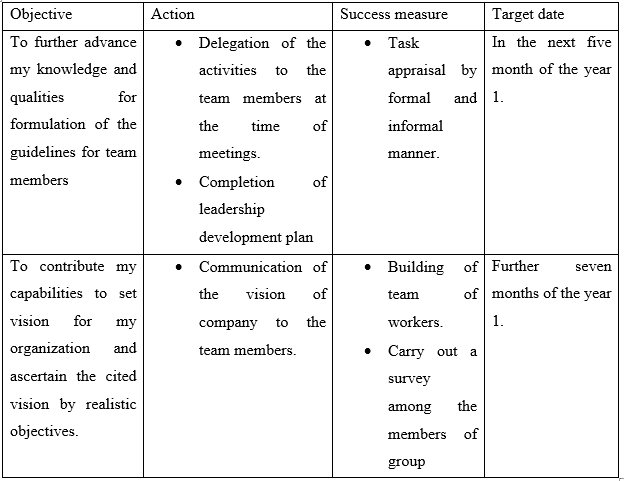 Table 1: Action plan for year 1
It has been seen that, main goal of the above action plan is to advance the skills of delegation of task to my subordinate, by which I can delegate task as per capabilities of the subordinates. With such action plan, I want to develop my skill of motivation to other people, which is one of the important aspects of the achieving success. Moreover, I would also share the organizational vision to my group members, so that they can get to know about how their work is contributing the success of company. I would like to provide appraisal to team members for their best work, which keeps them motivated for effective working in the company.
Action plan of year 2
In first year, I have made efficient efforts in ascertaining my strength and weakness and excelling same so that I could rectify concerning areas to significant extent. For instance as I assess that I do require to advance the skills of delegation of task to my subordinate and motivating other team members so that the performance of whole team can be improved. I also assessed that I do have team first attitude, simplicity and charismatic skills as my strengths. But now I would work on same so that I could excel and apply my strengths in order to attain main goal of prominent leader. The main advantage of simplicity skills is that I am able to communicate clearly i.e. in a way that other person is able to understand and act in same manner; thus desired result is attained. As a wanted to be transformational leader; thus I will work on providing constructive criticism to team members while working on different projects so that I could be habitual and motivate to make more efforts in positive way.
It is true that success of a team can be achieved only through team members and not by single effort of leader. Thus, in order to be prominent leader I have to incorporate new skills within me such as enhanced influencing, cultural sensitivity and effective change leadership. These skills would assist me playing role of a manager (leader) in multinational company efficiently which is my main objective. Notably, the role of leadership is very important, which can be understood as a manner in which leader influence group of individuals for achieving the particular goal that is particularly sensitive to the effect of country's culture and culture variations (Aw, & Ayoko, 2017). Thus, through working on cultural sensitivity skills, I would be able to assess significance of culture in detail and respect same. Accordingly, there should be not any surprise that, authoritarian leadership style would be suitable in collectivism culture. In should be noted that, for the transformational leadership style, collectivism culture would be more suitable. The reason behind the same is that, in such type of culture, individuals are more likely to ascertain them within the group and the general goal of the group normally influenced by the transformational leader and though excelled culture sensitivity skills I would be able to accomplish same with an ease (Dodge, Dwyer, Witzeman, Neylon, & Taylor, 2017).
In order to incorporate these new skills, I would develop short term goal and monitor same in continuous manner so that existing flaws could be rectified timely. Further, I would participate actively in workshops and analyse recommendations and comments attained from seniors and mentors so that I could improve same. I would also practices accepting and entertaining new ideas so that appropriate motivation is provided to innovative thoughts. Thus, through these strategies I would be able to attain main goal of being prominent leader.
Analysis of impact on national culture of leadership direction
In the present era, companies are exposing greater exposure to distinct national culture because of the globalization, and therefore they are introducing multiculturalism in their entities. Country's culture implements particular belief, rules and regulations, and attitude on its members, and by which ascertains their understanding of reality and their manner of working on it. Notably, employees of companies are facing cultural differences in external as well as internal environment, in which they are running business activities (Moonen, 2017). For say, I am from South India and brought up in a Muslim family; my aim is to be part of multinational organizations. These organizations operate in the distinct market across the world come across major differences in the assumption, values, belief, and perspective of the consumers that runs impact on their requirement and their pattern of consumption as well (Rosenhead et al, 2019). Thus, I have to deal with issues such as diversity in the workforce in the organizational environment which is increasing day by day as it may provide several benefits to the companies. However, it should be noted that, if the culturally diversified individuals are not managed appropriately, then it may create adverse impact on the functions of entities (Beer, 2020). Due to all these aspects, it is quite clear that, acknowledgment of the national culture on the organizational behaviour is one of the essential prerequisite for the robust management.
As I belong to South India where people are more punctual and systematic; thus being bought up in similar environment; I do prefer same; thus it is the reason I wanted to be authoritarian leader. Thus, I believe that , primary aspect of the leadership is the mechanism of interaction and the influence on group of people that is leaded by them, it is quite vibrant that the productiveness of such mechanism is based on the compatibility of the manner in which the leader and group of individual acknowledge the culture around them and the very way of leadership in that culture (Mirakyan, 2018). For example, in South India, people secretly favour their own people while providing promotion or opportunity. This practice might create issue of biasness; thus I have to move forward from these actions and take fair decisive actions, then they are respected, while in other culture, leaders are more valued when they use participative leadership approach, in which decision from fellows are also considered. some experts has been stated that, where the authoritarian leadership is valued in the culture then in such case it would be futile to act in a more features of participative leaders (Wright, 2017). However, when in a culture that recommends a more humanistic leadership approach, being delicate and attentive as a leader can be functional. In this aspect, Hofstede had proposed the four-dimensional framework, which is reflected in the following table, in which distinct national culture creates impact on the selection of the leadership style –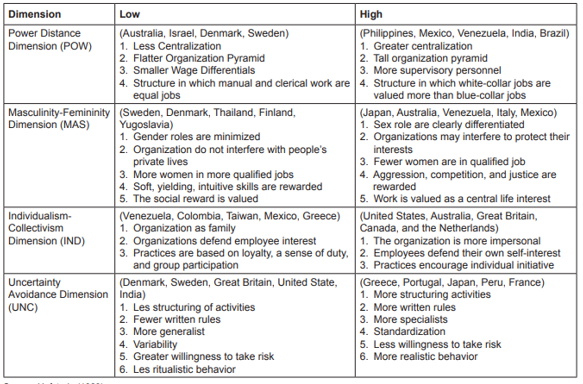 Figure 2 Four dimension in which culture of countries are different
(Source:Ahmad, Alhammadi, Jameel 2021).
The above table reflects leadership style is greatly affected by the national culture. In the individualistic culture, each person has obligation for one's own identity, and in such culture there is significant appreciation of the autonomy and independence, therefore leader may face difficulty in implementation of authoritarian leadership style (Gupta, & Gupta, 2019). In contrary to this, in the collectivism culture, it is expected that leader should be take care of fellow members and secure them from the uncertain environment, so they provide their faith and trust in return.
Since, I want to become transformational and authoritative leader, therefore it would be easy for me as being bought up in environment where collectivism is preferred over individualism. Thus, I believe that through working of acceptance of diversified approach, I would be able to adjust myself and perform well through incorporating skills of transformational and authoritarian leader in any culture.
Conclusion
It can be concluded from above analysis that leadership development plan does play significant role in attainment of predetermined goals. Thus, through above discussed plan I would be able to attain my goal of being prominent leader and perform efficiently in multi-national organization of which I would be part in future. Lastly, it can be said that, leadership directions are highly influenced by the national culture, and in order to become effective leader, it is essential to provide guidelines and use strategies as per that culture only. Hence in order to be prominent leader one has to give adequate significance to internal and external environment and culture of company and country of which individual is part.
References
Fill the form to continue reading