×
Limited Time Offer !
FLAT 20-40% off - Grab Deal Before It's Gone. Order Now
Sample MGT601 Dynamic Leadership Assignment 1 Part B
MGT601 Dynamic Leadership Assignment 1, Part B Sample
GRAB MANAGEMENT REPORT HELP: A+ GRADE ASSURED Place Your Order Now and Get Up To 20% Discount!
MGT601 Dynamic Leadership Ass 1, Part B Sample
Context:
The learning design of this subject is to focus on your own leadership journey and not to study leadership as some remote, theoretical concept that applies to other people. This assessment enables you to build self-awareness and a clear sense of how you came to be the person and emerging leader that you are today. It encourages deep reflection on your life and leadership journey to your present position. It helps you to increase your understanding of your current leadership capabilities and potential. The assessment requires you to establish a mentoring relationship with another student in the class so that you can provide mutual learning support and exchange constructive feedback with each other.
Your Task:
Your task in Assessment 1 Part B is to reflect on you own leadership journey up until now, your current role or position, how you influence others, how you lead, contribute to or react to organisational and cultural changes and your current level of self-awareness and self-confidence to lead others in your organisation and/or community.
Assessment 2, which is due at the end of the subject, builds on the first and asks you to prepare a plan for the next stage of your leadership journey. The assessments are integrated pieces of work and you should bear in mind the final part as you work on this part. All assessments need to be strongly based on the established theories and models of leadership to help you interpret and explain your leadership challenges.
Working with Your Partner:
Partners will be allocated by your Learning Facilitator after you post your personal introduction on the "Welcome and Introductions" Discussion Forum. Partners will be allocated on the basis of maximum diversity of backgrounds to enrich your learning experience. Where possible, partners will be in similar time zones. More detailed guidelines for working with your partner are provided at the end of this section.
• You should include a summary of the feedback you receive from your partner and others, combined with your reflection and interpretation of this feedback in the context of your leadership journey.
• You may wish to also include a summary of the feedback that you gave your partner and reflect on it. Feedback often says as much about the person who gives as the person who receives it. The feedback summaries can be included as appendices, where they will not be included in the word count.
While the assessment includes feedback from the interaction with your partner, each person is to submit his or her own, individual report.
More detailed guidelines for working with your partner are shown at the end of this brief.
Possible Structure:
A possible structure for your report is shown below. This is a suggestion only and is not mandatory. Other structures would be appropriate, provided that they enable you to demonstrate your learning according to the rubric shown in the brief for the first assessment.
Reflexive Writing - First Person:
You should write in the first person, because this is about YOU, your reflections and your
interpretations. (eg "I considered this advice to be..... because it had a big impact on
my........and it helped me to understand my...........").
Try to be as specific as possible, use brief examples to illustrate your points and try to select examples that enable you to demonstrate learning against the attributes in the rubric.
Solution
Introduction
The report is based on the reflective statement of my experience and learning over the ear as a leader. The job role responsibilities are analyzed in this report, and my journey of leadership is described. For Assignment Help After this, I have described my strengths which are achieved through Gallup strengths finder. In the next step, feedback from my partner is collected, and recommendations are provided (Snyder, (2013). The importance of reflection is analyzed in this report. In the last part, the conceptual Framework is aligned along with the theory explaining experience and feedback.
Main body
Job role, responsibilities and leadership
My previous work experience involves working at a local pizza store as the manager. I had worked in the store for about 5 months and have learned a lot from this experience. During my working period, I have the aim of learning effectively regarding the various qualities and activities required for being an efficient manager. During this time I always was eager to gain more knowledge regarding the various activities along with learning from my mistakes.
My overall responsibilities while being a pizza store manager involved the managing of the regular budgets along with looking into the meeting of sales targets. Other than that I was also responsible for monitoring the cost-effective and efficient operations for better profitability along with managing the human resources and marketing team.
Since I was a freshman when I started with this job role, I had to face a broad range of hurdles when it came to my leadership and management abilities. I was unable to properly manage the marketing team and was also hesitant regarding placing my ideas and opinions among the other team members. I had a lot of gaps in my communication skills which made it even harder in managing the other team members because I was not able to convey my ideas and opinions to them properly.
My leadership journey
My leadership journey has come a long way till now and it all started during my school days. I was first introduced to the concept of leadership when I served as the class monitor and was responsible for managing a positive environment in the class along with preventing any kind of chaos. This also introduced me to the concept of teamwork in collaborating with other class monitors during various inter-class activities or sports events. Along with that, I was also passionate about football and I often used to participate in various Inter-School football tournaments which exposed me to actual teamwork and helped me in developing my leadership skills further. My elder brother also had a significant role to play in my leadership journey since he used to be the captain of the local football team of the city and he gave various valuable lessons when it came to leadership.
During my graduation days, I also participated actively in managing various events as well as participated in various conferences based on leadership and teamwork for gaining more knowledge regarding the topic. When my graduation came to an end I started working in the local pizza store as a manager which was initially a tough task for me for managing all the sales executives as well as the marketing department but it taught me a lot of lessons regarding teamwork as well as help me in enhancing my management abilities. Apart from that, I also took part in various charity activities involving NGOs which were beneficial for me in polishing my communication and administrative skills (Gergen, 2019). Working under all these various environments has improved my adaptability to various tough situations and environments.
My leadership skills have come a long way since my childhood and it has improved with time due to the various activities and events that I have actively participated in, but various significant gaps still remain in my leadership capabilities and also my communication skills with people of diverse backgrounds needs a few improvements. I will further strive to improve myself in every aspect and dimension for getting the best results in any field that I wish to seek a future in.
Result and Interpretation of Gallup Strengths Finder
To get better insights into my strengths and positive qualities, I took help from Gallup. To identify the various leadership qualities that I possess, I undertook the Clifton strengths assessment. This helped me realize that my strengths are realtor, responsible, arranger, achiever, and being strategic.
Even with a few gaps in my communication skills, the realtor theme outlined my ability to enjoy closer relationships with my colleagues and other team members. It will also be beneficial for the people around me since they will be coming to me to get a better and easier understanding of certain Complex ideas and elements (Johansen, 2012). This will lead to me having close companions in the organization for whom I will be a valuable friend.
The responsibility theme outlines my qualities of honesty and loyalty towards my team as well as towards the organization. This theme highlights my quality of volunteering for certain tasks instead of waiting for someone to instruct me into doing it. This quality makes me stand out as a mature individual along with avoiding any kind of sloppy work or getting involved in some unethical practices.
The arranger theme outlines my ability to organize along with being flexible in various situations. This highlights my ability to handle several activities at the same time and yet produce effective results along with being distant from any unethical or deceitful individual (Gallup strength finders assessments. 2015). This also outlines my quality of providing timely relevant information to the team members regarding any events.
The achiever theme outlines my main ability to work hard towards any goal along with having a great amount of stamina while being busy and productive all the time. This theme highlights my ability to take things slow and work hard for reaching the goal (Polansky, 2017). This also implies that sometimes I work too long without getting proper rest.
The strategic film outlines my ability to create various alternate approaches or methods for reaching a common goal. It also highlights the ability to choose the best course of action for dealing with certain situations.
Feedbacks from Partner
Open conversation is made with my partner through telephone and video conferencing. In that conversation, my career and skills are discussed with him. Huge valuable information I received from him about accessing bi capabilities in identifying appropriate career options. I took inspiration from his past experience working in a pizza shop and currently working in a hotel container as a supervisor (Pedler & Burgoyne & Boydell, 2013, p45). I was inspired by how he does his activities to achieve his goals. The conversation was started through uh telephonic calls and WhatsApp for sharing images and finally through video conference.
Valuable feedback is received from my partner, which helps to be encouraging and full of motivation. My partner recognizes my partner's leadership qualities greatly, and he is more interested in learning more about me. He said that my experience of managing and handling different responsibilities and roles is excellent. He said that my leadership experience will help him to get huge expertise which will eventually help him to achieve his career goals. My partner is working in a hotel quarantine as a supervisor and also in a pizza shop and therefore my leadership experience will help him to gain huge motivation to achieve his aims and objectives (Ashman & Green, (2014). During our conversation, he was eager to know about the locations in which I have worked before and the job roles and responsibilities I was assigned by the management. After I told him about the job roles that I was assigned previously, he replied that I had learned many things from my experience of leadership style. He also provided feedback that I am efficient in handling myself without any guidance from others and said that I could take risks and learn new experiences. I have the ability to work as a team player and not individually as was told by my partner, and I can work effectively as a team. He has also been said that because of my strength, I can identify problems and solve them. When a problem arises, it is important to think about what works or failed to work effectively, which will help in stimulating my thinking.
It has also been said by my partner that my only negative point is my judging others which is my biggest flaw as for my partner (Mahmud & Catto, (2012). I usually judge people and it has been said by him that I need to work on it. My extrovert nature has impressed him and said that I prefer social interaction and am more enthusiastic.
Recommendation of The Feedback and Reflection on The Importance
My partner recommends that I reduce my judging behavior by understanding others instead of judging them for their actions. He said to accept things after understanding. It can also be improved by being mindful. You also recommended that I look for basic goodness in others instead of judging and ask myself why I feel a requirement to judge (Tracy, (2014). He also told me to notice what is triggered by judgemental thoughts and should consider someone's behavior. I should try to understand others and the reason why they may behave the way they do which has been recommended by him. Is feedback on my leadership styles, flaws, and qualities highly important to me as it helps me improve and develop my skills which are necessary to enhance personal performance and achieve success in life. He also recommended that I should focus more on thinking while making decisions (Osland, Mendenhall, & Li, (2019). This feedback also helps me understand the drawbacks that I currently have. This recommendation is important as It helped in correcting those flaws and achieving the things that were difficult previously. The feedback which is provided is important as it is effective and will help me to understand what I did well and how I can make it better. It also helped in motivating and provided positive criticism. It provided interactivity and engagement, and we'll show me my current level of performance. My partner also recommended that o take feedback from others and make this habit, which will help improve my performance.
Aligning Conceptual Framework and Theory Explaining Feedback and Experience
The Gibbs reflective model is used for reflection by learning. This process has six steps: description, feelings, evaluation, analysis, conclusion, and action plan. According to my partner, I need to improve my judging skills and be more prospective and should also focus on thinking before making a decision (Gibbs' reflective cycle for writing center training. 2020, p11). My feelings on this specific issue are that sometimes I judge people according to their behavior and avoid thinking. Evaluating and accessing this experience has two sides one is negative, and the other is positive. The negative effects are that too much judgment will affect my emotion and thoughts as well as physical health. It will increase my anger and anxiety. Whereas it can have a positive impact as well by providing an opinion based on evidence, feelings, and thoughts. The analysis of this issue is addressing my judgemental skills (Potter, 2015, p338). Good judgment will help in meeting deadlines and prioritizing, which is effective in a terrible situation. Based on this, it can be concluded by saying that I should be more practical and should also focus on thinking when making decisions. An action plan can be formulated with the help of the feedback of my partner by concentrating on developing my judgment and thinking skills.
Conclusion
The reflective report has played a significant role in helping me identify all my strengths and weaknesses. The gallop result was accomplished through the Clifton strength assessment as it has been beneficial for me in acknowledging the various leadership qualities that I possess and the themes help me in recognizing the main themes which I am good at. Hence I can successfully conclude that this reflective report has been beneficial for me in gaining significant knowledge along with recognizing the various vital Areas where I will need to improve myself for being a good leader.
Reference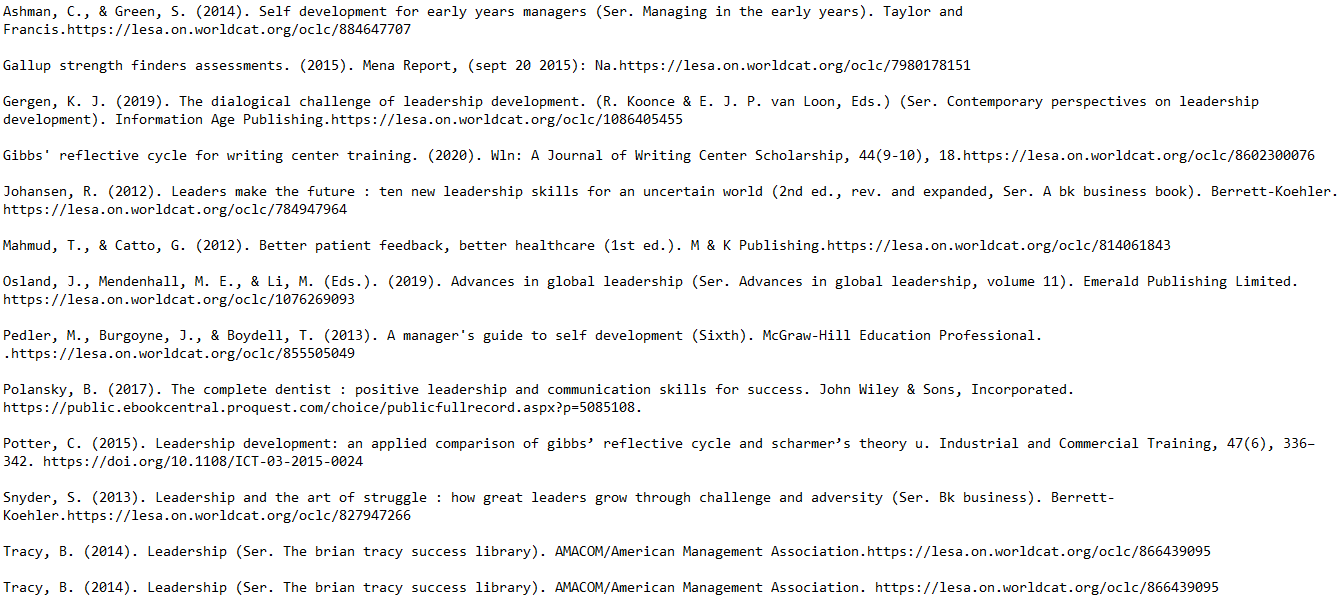 Fill the form to continue reading