×
Limited Time Offer !
FLAT 30-40% off - Grab Deal Before It's Gone. Order Now
Sample PUBH7033 Foundations of Public Health Assignment
PUBH7033 Foundations of Public Health Assignment Sample
GRAB NURSING ASSIGNMENT HELP : A+ GRADE ASSURED Place Your Order Now and Get Up To 20% Discount!
PUBH7033 Foundations of Public Health Assignment Sample
Assignment Details
12 – 15 references should be included in the literature review.
Need to select two contrasting determinants to make title of report. Chose different title than sample report.
Title (10 words)
- Introduction -100-150 words
- The health status of [insert your chosen population] (approximately 150 words)
- Social determinants and their influence on the health outcomes of [insert your chosen population] (approximately 300 words)
- How these social determinants interact with each other to impact health outcomes of [your chosen population] (approximately 300 words)
- Conclusion (approximately 100-150 Words)
- Academic Honesty and Integrity (approximately 150-200 words)
Types of social determinant of health
(Please take notes of what are some starting points to discuss under)
- Education
- Health Literacy
- Class
- Gender
- Culture
- Employment
- Location
- Social Exclusion
- Restricted Finance
- Discrimination
Solution
Introduction
Indigenous people in Australia have experienced great suffering in the last two hundred years of the history of Australia since the arrival of the Europeans accompanied by genocide, subjugation, dispossession, segregation and the introduction of European diseases. This had a huge impact on the Aboriginals and Torres Strait Islanders who made up the majority of Australia's indigenous population, saw their numbers plummet by more than 90% during the next 200 years (Jalata, 2013). The aim of this literature review has been steered to comprehend the long-term effects of Racism and Health Literacy among the Indigenous population of Australia. The literature review discusses the effects of social determinants like racism and lower levels of health literacy among the indigenous population like Aboriginals and Torres Strait Islanders for assignment help.
Health Status of the Indigenous Australian population
Research has indicated that before European colonisation more than 15,000 indigenous inhabitants of Australia used to live in Victoria, but that figure was devastatingly shrunken to a meagre 850 by the year 1901(Russell, 2015). This is evidence of the institutional and interpersonal racism that the indigenous Australian people have faced over the years and continue to face in present times. This has reduced their socioeconomic status drastically along with their exclusion from land ownership and economic rights. It has been found that the life expectancy gap between Indigenous men and women is 8 years lower than the non-indigenous population (AIHW, 2021). There are numerous researches that depict institutional racism as the basic determinant of health among the indigenous Australian population, yet most of the existing aspect in today's discourse based on racism completely denies its existence (Kairuz, et al., 2020). The indigenous population of Australia is burdened with diseases twice that of their non-indigenous counterparts which include chronic ailments, mental illness, respiratory, cardiovascular diseases and renal as some of the main concerns. The life expectancy of Aboriginals and Torres Strait Islanders remains to be 17 years lower than other Australian populations (Marmot, 2011).
Social Determinants and their influence on the health outcomes of the Indigenous Population of Australia
Racism
Institutional Racism has led to the suppression of political efforts in addressing racism while making a way to strengthen racism within society and communities. 17% of the Indigenous adult population in the state of Victoria have experienced racism from 2011 to 2014 when compared to the non-indigenous population (4.5%) have been found in a study. This shows that indigenous adults are four times more probable to experience racism than non-indigenous people in Australia. These statistics increased by 7 times when the experience of racism by Indigenous Australians was compared with the largely white Anglo-Celtic origin people of Australia as only 2.8% of them had experienced racism which was mostly based on the religious background rather than ethnicity, race or culture (Markwick, et al., 2019).
In research, it has been found that there is an association between health outcomes and racism depending on the severity of racism experienced as indigenous people who have been racially abused severely had a higher risk of psychological distress (Markwick, et al., 2019). Racism has been associated with numerous health issues through research like depression, sleeping difficulties, hyperactivity, obesity, asthma and cigarette consumption among indigenous adults and children (Kairuz, et al., 2021).
Health Literacy
Health literacy has been defined as a social construct where the ability or skill of a person to understand the basic services and information regarding healthcare is limited while being unable to decide on suitable resolutions regarding health concerns (Liu, et al., 2020). There is very little exploration of the effects of health literacy on the indigenous population of Australia but they indicate the significantly lower score in education attainment, numeracy scores and school-based literacy programs than the general population of Australia. The indigenous Australians experience hindrances in an array of socio-economic pointers like employment, education and income and thus making them highly susceptible to lower individual health literacy (ACSQHC, 2014). One of the prime reasons for the exhibition of low health literacy among indigenous Australians is the difficulty in understanding, navigating or accessing mainstream healthcare systems as the healthcare system is not designed concerning the culture or language of the indigenous people. The healthcare providers do not try to understand their traditional healing techniques and are culturally sensitive about such issues. Thus, making it one of the prime reasons for the lack of propagation of health literacy among the indigenous people (Thewes, et al., 2018).
Interactions between Racism and Heath Literacy for the Indigenous population in Australia
There is significant racism directed towards indigenous Australians which cannot be attributed to any specific determinant like lifestyle risk factors or socioeconomic status. The policymaking approach which is characterised by human rights aimed at eliminating interpersonal and institutional racism towards indigenous Australians is dominated by a paternalistic approach which in turn reinforces inequalities and racism within the policies rather than eliminating them (AHRC, 2015). The government with its initiatives like the "Close the Gap" initiative has considerably failed to accomplish what it was intended for and such inadequacies in bureaucratic requirements had not been accounted for the cultural differences among the indigenous people. The Indigenous Australians do not have the right to proclaim their right to accept information and unbiased treatment as racism is deeply seated within the bureaucracy of the healthcare system. The health providers and government have also been found to have normalised policies and practices which tried to discriminate against the Indigenous Australians irrespective of their level of health literacy (Durey & Thompson, 2012).
Because of a lack of health literacy, indigenous patients have difficulty understanding terminologies when dealing with primary care providers, which leads to a lack of follow-up care. The lack of cultural sensitivity among primary care providers can be classified as a form of interpersonal racism. It displays the rescindment of accountability for unacceptablehealth literacy communication towards indigenous people and disdain for their cultural associations within the healthcare system. This displays a form of interpersonal and institutional racism against indigenous people and also the existing lack of heath literary education among the indigenous population (Henry, Houston, & Mooney, 2004).
Conclusion
The Australian government needs to respect the connection between racism and health literacy as the former needs to be abolished institutionally and the latter needs to be reinforced within the healthcare systems. Problems of racism and paternalistic approach to policymaking have been discovered within the government policies is the biggest challenge, which has been forcing the indigenous people to adapt or wither away rather than trying to understand their predicament. The report suggests that without abolishing institutional and interpersonal racism, the government cannot be able to bring about health literacy among the indigenous people.
Academic Honesty and Integrity
The above report has been compiled while upholding the University Academic Honesty policy through accurate representation of APA guidelines throughout the report. The topic was assumed through a thorough background study of the history and struggles of Indigenous Australians. The information, concept and thoughts have been attained through the study of current trends of healthcare policies in Australia and the various journal articles, online reports and proceedings of the Australian Commission on Safety and Quality in Health Care, Australian Human Rights Commission (AHRC), Australian Institute of Health and Welfare (AIHW) and published medical journals on the Australian healthcare system. Some of the trends have also been accumulated through personal experiences of fieldwork done through Youth Work.
References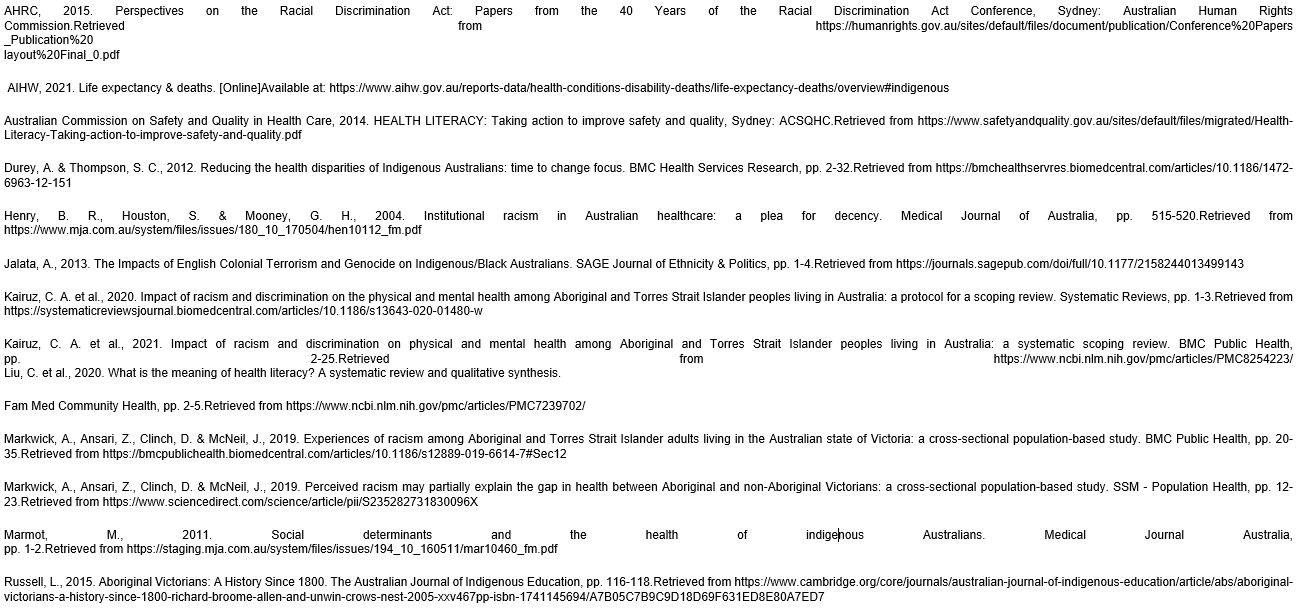 Fill the form to continue reading