×
Limited Time Offer !
FLAT 20-40% off - Grab Deal Before It's Gone. Order Now
Sample BMP4004 Contemporary Issues in Marketing Assignment
BMP4004 Contemporary Issues in Marketing Assignment Sample
GRAB MARKETING ASSIGNMENT REPORT HELP: A+ GRADE ASSURED Place Your Order Now and Get Up To 20% Discount!
BMP4004 Contemporary Issues in Marketing Assignment Sample
Assessment Brief:
Using the case study – Enterprise Cars, you will explain the nature and importance of the marketing mix within the marketing process - https://www.enterprise.co.uk/en/about.html
You will be required to discuss how the marketing mix and other key marketing theory can impact the success of marketing activity with particular reference to customer satisfaction.
You should present your report professionally using Ariel 12 pt font size and include the following sections: -
- Cover page
- Content Page
- Introduction
- Main Body – with headings and sub-headings
- Conclusion/Recommendations
Solution
Introduction
The marketing process is a process that includes the customer's fulfillment of their value-created criteria. The method used by businesses to provide value to clients and create lasting connections with them in order to get value from them in return (Kotler et al., 2015). The current report applies the marketing process in developing new product or service of the organisation. Report also covers the application of marketing mix within the case study of Enterprise Rent-A-Car (ERAC). The company is American car rental agency for the customers that want to have a business trip, leisure trip, travel to local market, etc (About ERAC, 2022). The report will cover the application of marketing process for assignment help in the contemporary business environment.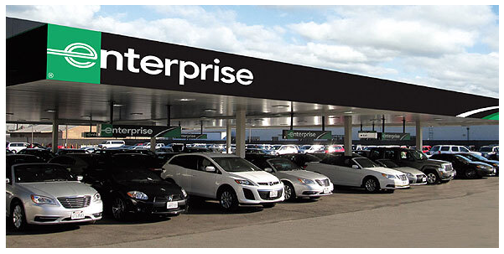 Figure 1: Logo and location of ERAC
(Source: About ERAC, 2022)
Marketing
Marketing is the activity done by business for discovering, developing, and providing value to satisfy a target market's demands in terms of products and services. This process may also include choosing a target audience and deciding what perspective actions are required to be taken to attract target market through promotion, advertising, etc (Naseri and Noruzi, 2018). Also marketing is also defined as the process through which businesses interact with consumers, develop trusting relationships with them, and provide value for customers in order to get value from them in exchange (Kotler et al., 2015). For marketing, it is necessary for business to have a marketing strategy that allow business to utilize resources on targeting the greatest opportunity for increasing sales along with customer satisfaction that results in achieving competitive advantage in market (Ferrell et al., 2021).
Marketing process
The marketing process is the five step procedure that helps business to create value for the customers and also help business to achieve profitable results (Naseri and Noruzi, 2018). Organisation follows the process for achieving the success of marketing strategy, targeting the customers and also achieving the end results (Baker, 2016). The steps are followed to create that is valuable for the customers and the last step covers building profits in return of the value offered. The below are steps applied in the case of ERAC considering the conditions of COVID-19 outbreak.
Step 1: Analysis of need, wants and demands of customer
In marketing process it is necessary to identify the needs and wants of the customers so that strategic decisions are taken for being competitive in the market, developing customer relationships and focusing on long term retention of customers.
Needs of customers of ERAC
ERAC tries to meet the need of customers of critical transportation and also mobility needs for the personal use. The services of ERAC during the COVID were also to meet the needs of healthcare workers for provision of basic necessities. The customers also need that rental cars are clean, safe and strictly follow the COVID protocols. Also customer might need a rental car when their own vehicle is on rent. The customer also might need as the replacement for result of an accident, theft, special occasion, etc.
Wants of customers of ERAC
The customers want services of ERAC as flexible in terms of booking, cancellation, ease in location access, safe and must have all legal formalities. Also customers expect to rent a car that is available when it is required so that need could be fulfilled.
Demand of customers of ERAC
There is increasing demand in form of ease availability of travel for different purpose. And for that ERAC has sustained its brand image as transportation solutions. There are customers that demand for airport pickups, car sharing, etc. With this, ERAC is solution for meeting such customer demands. Further, Flex-E-Rent division of ERAC also meets with demands of commercial vehicle requirements. The demand is fulfilled by having support of 7,900 locations and online booking facilities as it makes ease for the customers to hire a car when it is required (About ERAC, 2022).
Step 2: Carrying out situational analysis
In this step, it is necessary to carry out external and internal analysis with the application of SWOT and PESTLE so that strategic decisions would be taken for achieving the success of services of the company.
SWOT
Strengths
• ERAC is the brand of Enterprise Holdings that have the support of 100,000 people, operate with more than 10,000 branches and also it is available in more than 90 countries.
• It provides commercial rental services with 2 million vehicles.
• It takes an active role to promote sustainability by focussing on innovation, advance research, market driven solution
(About ERAC, 2022)
Weakness
• COVID has degraded the demand for rental services due to concerns of hygiene and reduction in tourist travel (Sharma and Nicolau, 2020).
• COVID has lead to suspend some of the fleet operations (Hossain, 2021)
• ERAC plans for short term as no major actions are taken for fleet expansion.
Opportunities
• It can focus on expansion of business to business services such as parcels, food and grocery deliveries along with logistical operations.
• As COVID conditions are improving, tourist can be targeted (Polzin and Choi, 2021.).
• Innovation could be effectively used to improve the fleet size, better utilisation of vehicles and managing cost to reduce margins
• Corporate sector and Universities also could be targeted for employees to replace the public transport.
Threats
• Reduction in international tourism due to conditions of COVID, increasing in fuel prices and high labour cost.
• Sudden shift in needs or turnover of the employees can affect on decreasing the productivity.
• Threat of competitors from Hertz, Avis Budget group as the businesses might offer services at low cost (Comparably, 2022).
PESTLE
Political:
• The business need to deal with operational rules.
• COVID has lead to travel ban in some of the countries.
• Government initiatives to promote car rentals for growth of tourism in country.
Economical:
• Economic uncertainty such as increase in fuel prices, tax rates, interest rates, etc can affect on revenue of the firm.
• Change in employment procedures and pressures for retention of employees by increasing wage rates.
• Support of economic conditions of some countries can lead ease in expansion of business
Social:
• Decrease in the amount of luxury travel but opportunity to have a trip for vacation.
• COVID conditions are improving and interest of people to travel to different countries is increasing.
• Post COVID will effect on increasing demand for rental cars for special occasion.
Technological:
• Mobile applications and website is leading to ease in booking (Pazour and Roy, 2012).
• New Flex-E-Rent business can lead to support in growth of ERAC
Legal:
• Support of policies related to free cancellations and refunds.
• Business need to follow legislations related to health protection and public health.
Environmental:
• ERAC is moving towards sustainability by working on greenhouse gas emission and offering solutions for reducing environmental effects (Enterprise Holdings, 2022).
• The use of electric car could be opportunity in future.
Step 3: Segmentation, targeting, positioning
Segmentation:
• Geographic: Local city, airports, Deports, University areas.
• Demographic: Age 18-24, Male and Female, full time students, service professionals, income could be £200.
• Psychographic: Social and middle class, lifestyle: travelling, part time jobs, studies, commercial segments
• Behavioural: To rent a car for airport, trips to reach University, people that prefer comfortable and economic sound cars (Busse et al., 2017)
Targeting: The new target market could be employees of multinationals, airport staff and workers, university students and staff, tourist, frontline workers (Gierczak-Korzeniowska, 2020).
Positioning: To gain the sustainable and competitive edge in car rental industry along with offering best to meet the needs of the customers. Also the business can work on introducing the electric cars on fleet to be sustainable (Roy et al., 2014).
Step 4: Marketing Mix
Concept of marketing mix and its elements
Marketing mix elements cover set of tool that business use to meet marketing objective and to plan for attracting the target market (Jain, 2013). Marketing is the customer centric process that means actions of the business to promote or launch its products and services are done to meet customer's requirement and it will affect on the profitability of the organisation (Baker, 2016). There are seven components of marketing mix applied to achieve competitive strength in the market (Appendix 4).
Application of 7 Ps of marketing in Enterprise cars
Product: The product is actually what is offered by the business to meet with need of target market (Jain, 2013). ERAC provide service of rental transportation facilities by providing commercial vehicles, airport rentals, van hire, etc. The business provides services that are accessible to customers from different location (About ERAC, 2022). The business offers free pick up and drop provision and cars are kept clean and safe as per government protocols. The business determines success through application of Product lifecycle and takes strategies to offer additional services, more innovation and satisfaction of customers (Tyulin and Chursin, 2020).
Price: The price is defined as the actual money that is charged from customers in exchange of offering services (Jain, 2013). ERAC adopts value based pricing in which the prices are based on negotiation with customers and final distance price is charged. Further, ERAC also adopt competition based pricing by assessment of what competitors are charged in market. Low pricing strategy often attracts customers and with this ERAC offers the best that is low from the competitors to retain customers (Comparably, 2022).
Place: This means locating the product or service at specific location that is provided to the target market (Jain, 2013). ERAC provide intensive distribution by providing services at airports, hotels and also has supported to supply necessities during COVID. ERAC has over 7900 branches in more than 100 countries. Further, the services are available 24 hrs and also have sensitive distribution strategy in which different outlets charge different prices as per fuel rates, luxury cars requirement, behaviour of customers, etc.
Promotion: This element of marketing mix is associated with planning and taking actions for promotion of service in market. Promotion of services of ERAC is done through well updated websites, advertisements and also campaigns "We'll pick you up" (Campaign UK, 2012). Further, it also targets customers through social media and Linked inn websites. For attracting customers, it has a new service of Car Club in which cars are available for 24/7 at £3.23/hour, along with having memberships that start from £2-£7/month depending on locations (Car Club, 2022).
Physical evidence: This element is based on developing customer loyalty and interaction as it will affect on their purchase decision. ERAC here has support of availability of physical well maintained cars. It works with qualified 100,000 people that give attention to the customers. The business assures to give the best of driving experience at reasonable pricing (About ERAC, 2022).
Process: This is defined as the procedure followed for providing services to the customers. ERAC is having user friendly website for booking a personal or commercial vehicles. Further, it has support of qualified technical team that looks towards hassle free booking procedures of customers.
People: This involves the engagement of workforce for provision of services to the customers. The business maintains connections through live messengers, web chat, mobile application and call centre available for 24/7 to maintain engagement with the customers.
Step 5: Build Profitable Relationships
Currently, ERAC is one the way to work on the sustainability by focussing on the greenhouse gas emission. Thus, with this more profitable options could be achieved. Further, in future the trend of electric cars will increase to greater extent in transportation industry. Thus, business could expand with Tesla to improve its fleet size that will contribute to less pollution also helps in achieving profitable outcomes.
Further, the customer wants convenience in terms gathering information about car rentals. Therefore, social media and website is required to be updated with offering additional discounts as that will lead ERAC to target customers.
Conclusion
Report conclusion that marketing process is very crucial for business to achieve customer driven value that will affect on business goals. The diversification strategy is required to be adopted by ERAC through innovation and technology. For instance, the target market could be corporate and Universities. Also they must have a tie up with travel agencies by offering them special discounts so that better can be served to customers. Further, social media could be used as sustaining advantage to promote its services in the market.
References

Fill the form to continue reading