×
Limited Time Offer !
FLAT 20-40% off - Grab Deal Before It's Gone. Order Now
Sample GDECE101 Early Childhood Care and Education
GDECE101 Early Childhood Care and Education Assignment Sample
GDECE101 Early Childhood Care and Education
Assessment 1:
Essay (1000 words) Inclusive strategies and approaches when working with careers/families and communities. Inclusive strategies and approaches when working with carers/families and communities.
Following the guidelines in the EYLF and the NQF, review a range of contemporary inclusive approaches and strategies related to working inclusively with carers/families and communities.
Compare and contrast the recommended practices with some of the historical approaches examined in class.
Please use the APA referencing style.
Weighting - 50%
Learning outcomes
On successful completion of this subject you will be able to:
A. Evaluate historical constructs of childhood and their impact on contemporary early childhood systems and curriculum in Australia.
B. Assess a range of strategies for promoting effective and respectful working relationships with diverse parents/carers and communities.
C. Debate contemporary educational issues in social, cultural, political, philosophical and historical contexts.
D. Appraise diverse Indigenous Australian and Torres Strait issues and epistemologies and their impact on early childhood care and education.
E. Advocate for children's rights and anti-bias approaches to working with diverse cultures and identities.
Solution
EARLY CHILDHOOD CARE AND EDUCATION
 
Introduction
Early learning frameworks for the student help in maintaining a holistic approach to the parents for understanding the needs of their child. In this assignment there are detailed strategies for promoting the impact of learning.
Contemporary childhood systems and curriculum
National Quality Framework and Early Years Learning Framework help to create better childcare systems and regulations to maintain an understanding among the caregivers or the families to convey the need of improvement in a child. These two contemporary systems work for a long time to sustain a developmental aspect on the child's health and mental development (Hamilton et al. 2019). In historical context early stage of student's development is divided into series of stages such as preoperational or sensory motor operation development. In early education system a common goal of student development is to sustain a better development of the mental health of students at an early age (Petit Early Learning Journey, 2019). Academic success and continuation to traditional process may differ in different countries. Nowadays childcare curriculum is divided into theme based, high scope based and Montessori based.
Theoretical Overview of NQF and EYLF
NQF:
The National Quality Framework, or NQF, established by the Australian Government, regulates the education provision for early childhood and promotes children's first five years' education (Ghoghra, 2017). NQF includes:
National Quality Standards
National legislation and national legislation.
National Education Framework.
Evaluation and Quality Assurance Process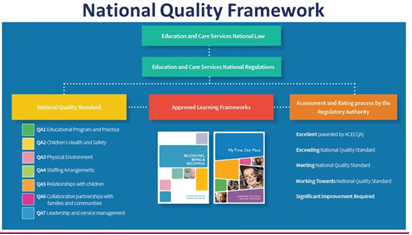 NQF
Source: (Petit Early Learning Journey, 2019)
The first impetus for change began with the COAG or Australian Government Council meeting in December 2007. They agreed to make "significant improvements in the educational areas, skills and development at early childhood ". The 2008 discussion paper 'National Framework for Early Childhood Education and Care' explains the reasons for these changes. These revealed that:
? More working parents are starting to work in Australia
? Increased compulsion to provide for families
? Providing high-quality care to multiple children:
? Significant benefits for disadvantaged children
? Improving short-term outcomes such as school readiness
? Less risk of abduction of "vulnerable" children.
? More classroom diversity.
? Establishing a healthy lifestyle and learning
? Significant social and economic benefits
? Differences and gaps in the rules for quality identification, assessment and monitoring in care and education across Australia.
? Removing inappropriate differences between education and care sectors create divisions between child care and kindergarten sectors.
? The children should be the priority above all (Petit Early Learning Journey, 2019).
EYLF:
The EYLF is the first Australian framework of national curriculum for education at early childhood. It emphasizes activities that are play-based to improve early childhood education and the significance of language communication (including early numeracy and literacy). In July 2009, the COAG approved five learning outcomes for children ages 0 to 5 as part of the EYLF and structured according to the following related factors: theory, practice, learning outcomes (Ghoghra, 2017).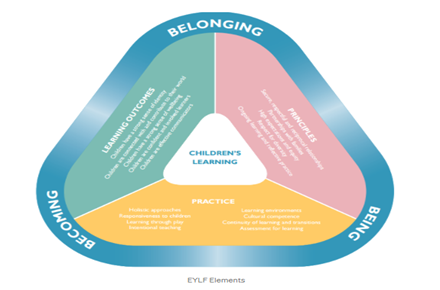 EYLF Framework:
Source: (Ghoghra, 2017)
The framework is based on a vision of children's health characterized by participation, attendance and presence. Children at early stage are mostly connected to community, family, environment and culture. (Ghoghra, 2017).
Belonging: The experience of being a part and is an important part of one's life. Children are part of a cultural group, a family, and an entire community. Being: Childhood is a time to understand, explore and understand the world. Being a child recognizes the value of life in the here and now. Childhood is a preparation not only for the future but also for the present (Ghoghra, 2017).
Becoming: Children's knowledge, relationships identities, abilities &skills, and understanding change during childhood. Strategies of effective relationship
Discovering Identity: Strong sense of identity is another important part for parents in the early age of their children's of the development. It helps working parents to get a good grasp on identifying the strengths and weaknesses of their children. The EYLF system helps to maintain a proper understanding of the importance of the development of the child system (Quality forum, 2021). Identity development is an essential phenomenon for the growing children for further development.
Connection and Contribution: In order to feel the connection to their external and internal environment it is essential for parents to keep their children in a good situation. It helps to create a better understanding to the children and they can easily learn where to contribute their intelligence. They can generate a strong sense of their rights and community values as well (Press et al. 2018).
The aims of education have different problems in clarification and it is needed to be mitigated quickly.
Mitigating problems and issues of Child care
Strategic plans have been developed for maintaining a better understanding of the indifferent development of the children in a positive environment. NQF and EYLF both have their own version of distinctive plans for nurturing children of working parents (Morrissey & Moore, 2021). Family engagement and care: It is an important step for strategic planning of the child care systems to maintain values to the care systems which in turn helps to the development of the child. They help to generate the thinking skills with the medium of play based learning systems (Hamilton et al. 2019). Mitigating quality gaps: It is important to maintain a better place without any discrimination at an early age. It is important to create awareness from an early childhood to maintain a discrimination free mentality. As "charity begins at home" it is important for parents to maintain these critical aspects of life and respect each other that can develop the mind of a child.
Leadership development: It is another important phenomenon of the child care units to develop the integrity of doing work that can help children in future. Sustainability: It is important for every family to care for their children from any harm whether it is external or internal. It is an important step for a family to maintain such understanding for better development of their children (Petit journey, 2021).
Conclusion
Strategic plans for the parents and the caregivers to create a sustainable environment for the children to thrive upon. It creates an understandable environment for the children and the family both.  
Reference list
Ghoghra, R. D. (2017, June 21). NQF, NQS and EYLF. Retrieved November 25, 2021, from Medium website: https://medium.com/@riya.ghoghra/nqf-nqs-and-eylf-2e392cdfc440
Hamilton, A., Jin, Y., & Krieg, S. (2019). Early childhood arts curriculum: a cross-cultural study. Journal of Curriculum Studies, 51(5), 698-714. Retrieved on: 12th November 2021, from; https://www.researchgate.net/profile/Yan-Jin-17/publication/330949330_Early_childhood_arts_curriculum_a_cross-cultural_study/links/5ce0db2892851c4eabacede4/Early-childhood-arts-curriculum-a-cross-cultural-study.pdf
Morrissey, A. M., & Moore, D. (2021). In whose best interests? Regulating childcare environments in Australia. Australasian Journal of Early Childhood, 18369391211050184. Retrieved on: 14th November 2021, from; https://www.researchgate.net/profile/Anne-Marie-Morrissey-2/publication/355318538_In_whose_best_interests_Regulating_childcare_environments_in_Australia/links/6171623f766c4a211c04f0b1/In-whose-best-interests-Regulating-childcare-environments-in-Australia.pdf
Petit Early Learning Journey. (2019, April 29). What is the Early Years Learning Framework? Retrieved November 25, 2021, from Petit Journey website: https://www.petitjourney.com.au/early-years-learning-framework/
Press, F., Woodrow, C., Logan, H., & Mitchell, L. (2018). Can we belong in a neo-liberal world? Neo-liberalism in early childhood education and care policy in Australia and New Zealand. Contemporary Issues in Early Childhood, 19(4), 328-339. Retrieved on: 14thNovember 2021, from; https://researchoutput.csu.edu.au/files/26276662/22831996_published_article.pdf
Quality forum (2021), A Strategic Plan for Achieving the Care We Need, Retrieved on: 14th November 2021, from; https://www.qualityforum.org/A_Strategic_Plan_for_Achieving_The_Care_We_Need.aspx
Fill the form to continue reading