×
Limited Time Offer !
FLAT 30-40% off - Grab Deal Before It's Gone. Order Now
Sample MKG203 Digital Marketing Communication Assignment
MKG203 Digital Marketing Communication Assignment Sample
GRAB MARKETING ASSIGNMENT REPORT HELP : A+ GRADE ASSURED Place Your Order Now and Get Up To 20% Discount!
MKG203 Digital Marketing Communication Assignment Sample
In this assessment, you will develop a 'real life' digital marketing communications (DMC) plan for an organisation. Imagine you are a DMC consultant for this organisation. You will choose an organisation and develop a plan for it, engaging concepts and strategies explored in the subject. The idea here is to critically analyse the current DMC approach of the organisation in relation to the marketing environment it operates in, and identify DMC strategies you think would improve its performance, supporting this with DMC concepts from the subject and current literature in the field (e.g., could be anything from journal articles, blogs, online guides, YouTube videos, research reports etc.). The key here is to provide justification to strategy development.
Instructions:
Your task for this assessment is to prepare a report providing:
1. Title page, table of contents
2. A report introduction
3. A brief company introduction
4. Situational analysis: Include digital competitive analysis (two direct competitors) and digital SWOT analysis
5. A brief summary of the company's target marketing, positioning and branding from a digital perspective and any recommendations for these strategies
6. DMC Objectives. These should be clear and specific of what you want to achieve from the strategies (SMART objectives)
7. DMC Mix plan. This is where you present your recommendations substantiated by research/course work engagement and reference to best practice. You should consider recommendations for topics such as: Website design and Conversion optimisation, Search marketing, Email marketing, and Social media and Content marketing, Digital advertising.
8. Evaluation. How will you measure the performance of your strategies? How are you able to measure if the objectives have been reached?
9. Conclusion.
10. Appendix. In the Appendix, you are to select two (2) of the following practical tasks for completion. These should support your ideas presented in the DMC Mix plan. The practical example must be supported with a brief rationale of the strategy.

A website re-design. This could be done using a mock design of the home page or alternatively, you could take a screen shot of the existing web page and annotate your changes on the relevant pages.

Design and present a short monthly company email newsletter.
Design a Google AdWords search advertisement.
Design a Facebook or Instagram advertisement.
Design a social media post example. This should be a combination of text, image and/or video.
Design a social media banner for a specific platform.
Solution
Introduction
Digital marketing communications (DMC) are generally the digital marketing method equivalent to the conventional marketing communication mix (Kim, Kang & Lee, 2021). The significance of the digital marketing communication lies in connecting a business organization with its clients or customers while they are online and this type of marketing communication plays a great role in all the industries around the globe (Bartosik Purgat, 2019). In this context, the aim of this reports for assignment help is to develop a real-life digital marketing communication plan for Dominos. In regards to this, this paper would conduct a situational analysis by including digital SWOT analysis and digital competitive analysis. This study would also demonstrate positioning, target marketing and branding of Dominos from a digital perspective. DMC objectives would be portrayed with the help of the SMART objective framework. A DMC mix plan would be done and afterwards, this report would evaluate the entire DMC plan as well.
Company Introduction
Domino's Pizza or Domino's is a multinational pizza restaurant chain based in the United States, which has been continuing its business operations since 1960 (Dominos, 2022). This organization is headquartered at Michigan in the US. Domino's has stores in more than 85 countries and in 5700 cities all over the world. At today's date, Domino's has been turned into the recognized world leader in terms of delivering pizza (Dominos, 2022). This organization has dedicated itself for delivering as well as making delicious food with the high-quality ingredients. Domino's has always aimed at offering exclusive pizza with the awesome food quality and the clients can also get the value for money simultaneously.
Situational Analysis
Digital Competitive Analysis
Table 1: Competitive Analysis Table
(Source: Dominos, 2022)
The table shown above has ranked Domino's along with its two major competitors with respect to several marketing factors such as product, quality, pricing, place, promotion, positioning, reputation, people and partnership. As per the table, it can be well-understood that Domino's has a good position within the marketplace in terms of competition but KFC is the one who has created a constant and a potential influence within the food and beverage industry. However, the positive fact for Domino's is that this organization has already surpass KFC with respect to the factors of marketing aspect like pricing, partnership and people.
Digital SWOT Analysis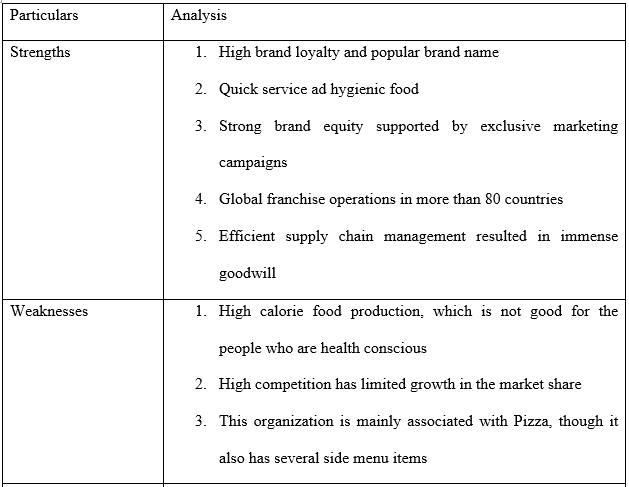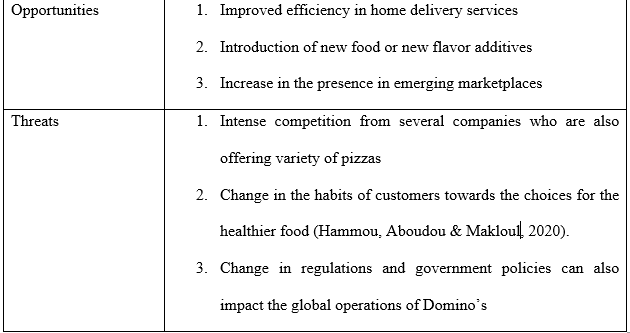 Target Marketing, Positioning and Branding
The major target marketing for Domino's is associated with the youth and children from the upper and middle classes from the urban areas and cities all over the globe. In other words, the lower middle class, middle class and upper-class income groups are the target markets for this pizza restaurant chain (Bala & Verma, 2018).
Positioning of this particular brand is related to the best pizza home delivery services. Domino's has mainly positioned itself with the strategy "Delivered in 30 minutes or it's free". Such positioning strategy has worked for Domino's and the brand has gained immediate attention (Dominos, 2022). This organization advertises their quick delivery time as well as the fact that they also have changed recently their recipes for meeting the needs of their customers. This organization also tries to advertise its online accessibility and affordability in order to order the take out.
Domino's opened in numerous stores at today's date by enhancing the total number of store locations of this company in more than 85 global marketplaces. Hence, in this context, this global pizza restaurant chain has adopted two strategies of branding such as product or range extension and brand extension (Rozaq, Hastjarjo & Slamet, 2021). Launching new food menu or beverages simply carries the established brand name of domino's and it also plays in the same broad categories as its stablemates
Recommendations - The brand extension method should also be used because this organization seeks for broadening its reach by launching services or products within a new market under an existing brand name. On the other hand, this organization should start a food section, which would be appropriate for the health-conscious people.
DMC Objectives
The objectives of the Digital Marketing Communication Plan can be deployed on the basis of the SMART framework (Vieira et al., 2019). The SMART framework always helps the business personnel in pushing his or her associated organization further and also provides the organization with a sense of direction as well as helps in reaching and organizing the goals of this company.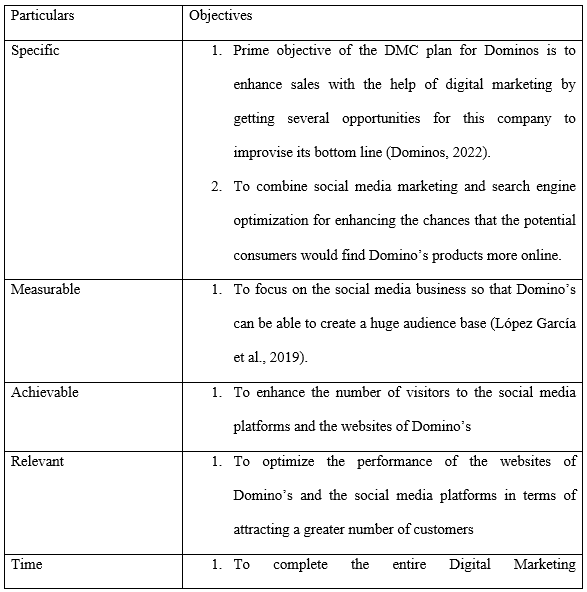 DMC Mix Plan
The DMC Mix Plan considers a single idea of promotion and also aims at adapting the similar message to be consistently displayed over various online or digital platforms selected (Kim, Kang, & Lee, 2021). Its online equivalents are known to be the channels of digital media and are also employed in several off-line and online campaigns (Bartosik Purgat, 2019). This particular plan comprises of several platforms or channels, tools and content of digital media, which are created for promoting or marketing a service or a brand. There are several tools of digital communication, which are associated with the DMC plan. In order to develop the DMC mix plan for Domino's, email marketing, social media and content marketing, search marketing and digital advertising would be taken into consideration.
Email Marketing – With the help of this particular strategy in DMC, emails would be used for promoting the services or products of the business operations of Dominos (Hammou, Aboudou, & Makloul, 2020). It would help this company to make its customers aware of the latest items or offers. It would be a cost-effective method of promoting products of Dominos and communicating with its customers and reaching its business goals (Referred to appendix 1). Personalization of messages, segmenting all the subscribers, sending mobile friendly emails as well as automating email campaigns while possible are the important strategies that can be utilized by Dominos while using the email marketing method (Bala & Verma, 2018).
Search Marketing – It is also known as a growth marketing strategy where a paid advertisement is used by a certain business organization for appearing over top of search engine results pages (Rozaq, Hastjarjo & Slamet, 2021). Within the DMC mix plan, the advertisers associated with Dominos should bid on the keywords and their target customers into the search engines like Bing and Google while looking for particular food manus and beverages (Referred to Appendix 2). Social marketing makes a measurable and controllable form of the digital marketing, which would help businesses to generate sales and leads for Dominos (Vieira et al., 2019). This method would allow advertisers of Dominos for displaying their ads along with the results of organic search by earning them the much-required visibility, which can generate traffic of website.
Social media and Content marketing – Social media marketing can be defined as the use of the websites and platforms of social media for promoting a service or product (López García et al., 2019). On the other hand, the content marketing strategy is defined as a strategic marketing approach aimed at the distribution and creation of the consistent, relevant and valuable content for attracting and retaining a clearly demonstrated audience and ultimately for driving the profitable action of customers (Kim, Kang & Lee, 2021). Dominos can utilize some important social media marketing strategies like creation of an effective content marketing strategy, creation of a personalized experience for the consumers, use of chatbots, creation of a community for the audiences of Dominos, jazzing up the profiles with a diverse content marketing strategy, use of the brand advocates, creation of profiles over the relevant channels, establishment of a social media budget, running cross-channel campaigns and so on (Hammou, Aboudou & Makloul 2020).
Digital Advertising – This particular method in DMC mix plan is defined as the marketing process over the online channels like streaming content, websites and so on. In other words, it is referred to a form of advertising and marketing that utilizes the internet for promoting services and products to the platform users and audiences (Bala & Verma, 2018). With the help of this particular strategy, a plan would be set to establish a strong internet presence for Dominos through several online channels like social media, paid ads, organic search and the other web-based mediums like its websites. It would take into account what the business operations of Dominos are doing well currently and what this organization is missing in relation to the objective that has been set by the company so that it can be capable of easily accomplishing it.
Evaluation
After deploying the Digital Marketing Communication strategies, it is important to properly measure the performance of these strategies. In order to do the performance measurement, some important factors should be taken into consideration such as brand awareness, lead generation, customer acquisition, thought leadership, engagement, website traffic, lead management or nurturing and so on. Hence, in this context, detailed research should be conducted and multiple personas of buyers should also be created. Moreover, precise keywords should be created as well as customer-oriented contents need to be created.
In order to measure the accomplishment of the objectives of DMC mix, it is important to evaluate whether achievable goals have been set. As specified in the earlier section, the objectives for this digital marketing communication have been portrayed with the help of the SMART framework. Thus, it must be a stated that achievable objectives have been set for advertising and investment in growth for making their campaigns more profitable over time.
Conclusion
After conducting the entire study, it can easily be stated that the entire report has successfully developed a Digital Marketing Communication plan that would efficiently help Dominos for better understanding its brand message and audiences as well. In addition to this, deployment of the in-detailed DMC mix plan would help this organization in keeping and creating clear path to easily communicate with the customers who would see the contents of Dominos, notably over the social media posts, reviews, messages and website comments as well. Before deploying the marketing plan, this study has also successfully conducted situational analysis along with identifying the important objectives behind the implementation of this communication plan as well.
 
References

Fill the form to continue reading