×
Limited Time Offer !
FLAT 20-40% off - Grab Deal Before It's Gone. Order Now
Sample MGT605 Business Capstone Project Report
MGT605 Business Capstone Project Report Sample
GRAB MANAGEMENT ASSIGNMENT REPORT HELP: A+ GRADE ASSURED Place Your Order Now and Get Up To 20% Discount!
MGT605 Business Capstone Project Report Sample
Context:
This subject allows the student to synthesize the knowledge and skills gained from all other subjects studied up to that point. The main deliverable in the subject is a major project. In this assessment, students will reflect on their individual experience.
Instructions:
Throughout the course of the subject, you developed a substantial project that assimilates the learning from your MBA subjects. In addition, you have recorded your journey in the form of journal entries. This final report is about reflecting on the process and experiences of putting your business capstone project together. Before you can attempt this assessment, it is essential that you understand clearly what reflective writing/thinking is. To help you with that, please read your learning resources in Module 6 in Blackboard.
In 1500 words or less, present a reflection on changes to your understanding as you applied theory from your MBA journey and the process of producing your project. It is advisable to do more research about reflective writing models and questions before you attempt this assessment. Present the report as your way of demonstrating the wider implications of your learning.
That means your reflection should also look how your learning has impacted your future.
Though reflective and written in the first person, the report still must observe academic writing conventions and be logically structured. The reflective report must use at least 20 references most of which must relate to reflection on theory and application.
Solution
Introduction
The paper will share its concern for formulating a reflective journal regarding the journey through the course of MBA with the capstone project. For Assignment Help, In order to make the reflection more effective logical and critical, the paper will take the help of Gibbs' reflective cycle as the reflective cycle is much helpful to differentiate each stage to make the reflection clear and help ton analyze the strength and weakness of the experience (Packer, 1988).
Gibbs' Reflective Cycle


Gibbs Reflective Cycle
Description - The first stage of the reflective cycle is Description and here I will describe the initial stages of my learning process as well as my development through the process. Initially, I was not much assured about the capstone project practically, nor did I have many ideas about it. Before joining the MBA course, I was completely ignorant about the process and did not understand is effectiveness in the real world, however, after joining the MBA course, I got to know about the theoretical knowledge regarding the important and future significance of doing capstone project and getting the outlining of the content (Libby, 2016). Throughout the MBA journey, l learned different modules regarding management, HRM, leadership and others and got to understand that all the modules share a close connection with each other. To assess the knowledge of the module, a capstone project was given to us, which was "issues faced by Pfizer relating to distribution of vaccine to global pharmaceutical companies". While outlining the project, I started with introduction of the capstone subject and further goes for importance of and reviewing literatures regarding the same to analyze the issue in present time and also confirm requirements of research before analyzing methodology and extraction evidences. This capstone project has further informed me do research better and in more logical way. I understood that it is important to choose effective data, however nature of the data depends upon the research question and aims, such as data collection can be both qualitative and quantitative (Krishnaswami, and Satyaprasad, 2010). Choice of Data Collection mode eventually directs the data analysis process which eventually can direct the success for the capstone project through the section of finding. With the logical flow, I have gathered information that to do a project apart from research, it is even important to evaluate alternatives to make it worthy for the long term, where effective written communication plays a significant role. Finally, the recommendation and conclusion make an end to the capstone project confirming the entire idea clear for the capstone project for me.
Feelings-Initially before having any idea about the capstone project or even the course structure, I was literally confused and was also lacking with my decision-making skills. I could not be assured that whatever decision I have taken to be enlisted in the course is right. However, with going by the process and starting to be familiar with the entire course structure, I got to know about the futuristic scope and significance if the lectures and modules which I was leaning. Further I started to feel comfortable with the entire process and feel happy that the decision was quite right to offer me a better future with all this theoretical and practical knowledge (Boogaard, 2018). After having enough idea about the MBA journey and capstone project, I was quite curious about the process of doing the project. Most importantly, I found that with the process, my motivation and active participation in any process increases continuously. Though, I had theoretical knowledge regarding the data collection and analysis, I found, it really difficult while implanting, however further with the help data collection and analysis models and framework, such as thematic analysis, content analysis and others, I have completed it properly. It is due to the fact that, I found that a single mistake in these two processes can announce failure for the entire project, which makes me really stressed out. In this stage only, I feel that I might not do a project successfully as I feel that collecting the data and proper analysis of the collected data is really difficult to confirm. However, with the process, I realize that good research can be the solution for all these difficulties and can confirm success for any project. While doing the capstone project my feeling becomes more stronger due to its vast scope of research. Besides, the process also made me personally feel that choosing a topic is not that difficult though understanding and collecting exact required information important.
Evaluation
with the completion of the capstone project, I have acknowledged that understanding the organizational culture is really important and crucial as it is the first step of the analysis in real world. During my capstone project I have experienced the importance of organizational culture as Pfizer has to struggle much to maintain the alignment of internal and external environment. Thereby, to confirm the effective analysis, it is important to understand the context properly, which can be done by analysis the different external and internal environment analyses, which helps to have a proper idea about the context and the company (Libby, 2016). For doing the same, different frameworks and models are there which include, PESTLE, SWOT, Porter 5 framework and others. Growing familiarity with all these models eventually help me to be relieved from the stress of the data collection and analysis process in future practice. I also realized that effective research through significant models can confirm proper direction for the entire project. Further, the journey and the project helps me to get proper acknowledgment of the two types of data collection process qualitative and quantitative, I become quite assured that choosing a proper data collection method is not difficult as, if the main objectification of the project is to confirm vastness, detailed information, authenticity, and reliability among the extracted information, then qualitative research method needs to be taken for the project, and if the main object of occasion is connected with the practical scenario and numerical analysis, then quantitative data collection method would be much helpful (Libby, 2016). The understanding however helps me to get rid of my trauma of thinking the project as difficult to exercise.
Analysis
Through the course I have understood that the entire capstone project is basically designed for developing and articulating practical and theoretical perspectives for managerial concerns by the project, which will be helpful in my future scenario. Pfizer has initiated the learning by sudden abrupt change in its structure. it has even clarified that management needs to be prepared for all sort of challenges. With the discussion of several subjects, I have even come to know that the course effectively demonstrates several leadership styles highlighting collaborative ownership and leadership for the practical scenario to be effective in all roles and responsibilities of a manager or a leader. The course even helps me to understand that research skills are very important for analyzing any issue in practical world and to assess solution for the same. It is important to overcome the complex management problem to come to a solution by synthesizing the research and exercising effective communication with the audience and specialist (Mykola, 2018).
Conclusion
Most importantly, the entire course structure with its processing confirms simplification of the entire scenario. I was quite surprised that at first, I was not much convinced about my decision of choosing the course whereas, in the end, I found that joining the course is the most effective decision for me and can help me to have a great future ahead and this capstone project played an important role in the same. I have learned several things specifically the entire step-by-step process of managing a project which would be much helpful for me in the future considering my future goal to be a manager in a reputed organization (Mansfield et al. 2020). I have found that data collection and analysis was difficult or challenging initially, but with time I learned to do the same. Also with the discussion, it remains that proper implementation of the learning can make the entire respect easy.
Action plan–I think it is better for me to initiate my leadership skills for accomplishing the managerial job role, as it is very important to be a successful leader (Shen et al. 2018). I further found that I need to practice research skills to be more confident about any project to direct it towards proper direction confirming success for it. While doing the project, sometimes I was stuck with the process and hence, I would even try to reflect the application of theories in the practical scenario, where I think going by several successful examples of famous leaders can really be helpful.
I also realized that it is even important for me to initiate communication and consistency level to confirm effective justification of process by properly addressing ethical standards and practice. Most importantly, I think I cannot be successful if I would not practice decision-making skills, apart from communication skills. For communication skills, I will try to communicate with more and more people exercising different types of communication skills like written, verbal, facial expression, body language, etc to address cultural diversity (Setsuro, 2014). For decision-making skills, I think it would be better for me to opt for brainstorming and Pareto principal in most of the scenarios, as I think brainstorming would help me to evaluate several ideas just like my learning to analyze alternatives and Pareto principle will help me to use minimum resources to confirm the maximum outcome.
Conclusion
with the course I have learned that understanding organizational situation is really important for which external and internal environment analysis can be really helpful. I have found that proper research can help in any project to make it successful in terms of every respect and I am quite confident that the research skills, leadership skills, different models whatever I have learned would be much helpful for me to accomplish my future goals addressing several managerial issues and responsibilities. To conclude, through this paper I have tried to encrypt my journey during the course through the capstone project with the help of which I have successfully confirmed my development or up-gradation and future-ready aspect to be successful.
 
Activity journal: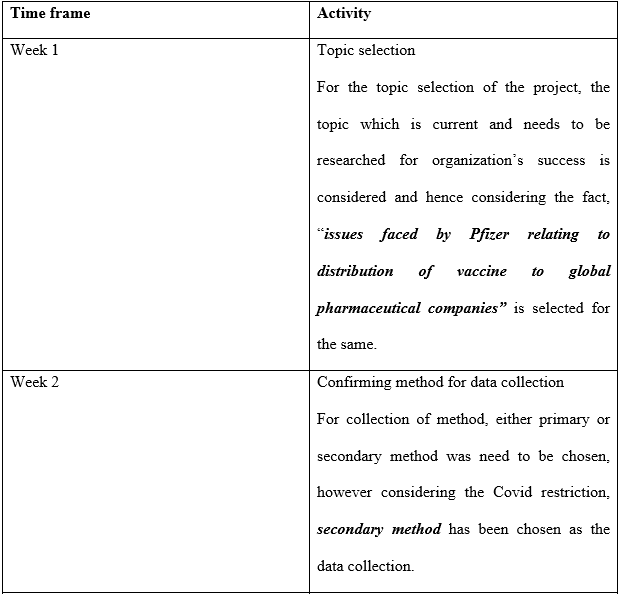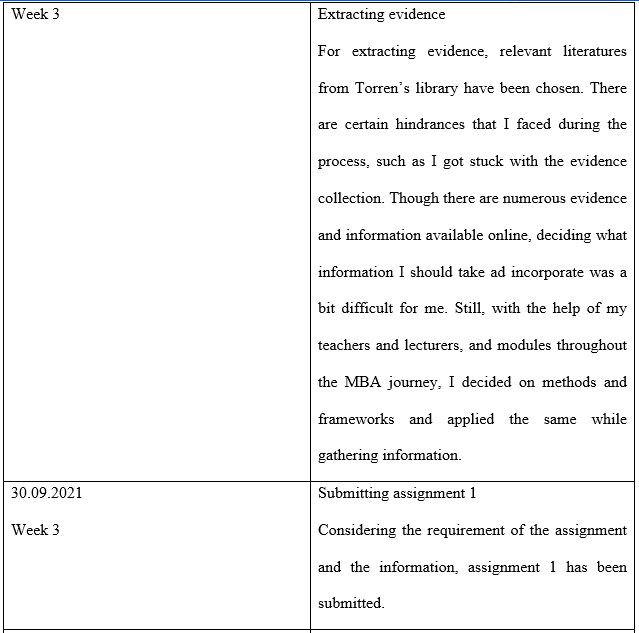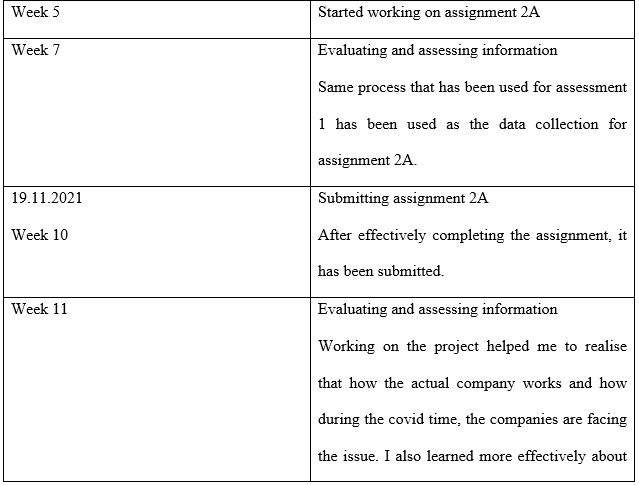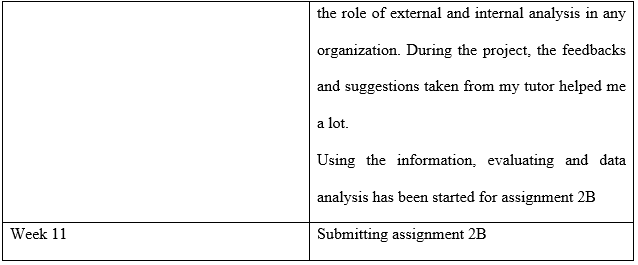 References

Fill the form to continue reading