×
Limited Time Offer !
FLAT 20-40% off - Grab Deal Before It's Gone. Order Now
Sample MIS608 Agile Project Management
MIS608 Agile Project Management Report Sample
GRAB MANAGEMENT REPORT HELP: A+ GRADE ASSURED Place Your Order Now and Get Up To 20% Discount!
MIS608 Agile Project Management Report Sample
Task Summary
You are required to write and submit a 1500-word individual reflection about Agile ways of working and Agile teams in preparation for your group assignment.
You will be expected to examine and reflect upon these concepts specifically: The Agile Mindset, a shift from 'command and control culture' to self-organised teams, how reflection is an important part of the Agile process and the concept of servant leadership and how your adoption of these will support your group's success.
- Bear in mind that you will be working in a group for Assessment 3 and there will be a requirement to use agile ways of working in your team – this is a good opportunity for you to focus on how these will prove most useful for you and your team in achieving your assessment goals.
- The focus of this assessment is to give you an opportunity to reflect on the theoretical knowledge you have developed and how you might put it into practice for your group assessment.
- Your report will need to be 1500 words in length, although you will have the benefit of an allowance of 150 words either more or less than 1500 words.
Please refer to the Task Instructions for details on how to complete this task.
Context
In professional life while some parts of a job require individual contribution but progressively more work requires collaboration and group work. Group learning is designed to help you to learn about the process of collaboration in preparation for your career. Agile teams and agile ways of working are becoming more prevalent in workplaces and it is likely that you will be a part of an agile team in your career. However, agile is very different from the more traditional 'command and control' management methods to which many people are accustomed.
Reflective practice is a process of thinking about new experiences with a view of learning from them. It is a form of personal response to new experiences, situations, events, or information. University is the best place to learn, and reflection is considered a key part of the learning process for this course.
Solution
Introduction
This report addresses the application of agile management, and the principles regarding it. The agile software development and management processes concerning personal reflection have been studied. For Assignment Help I have shared my experiences regarding my past life and current job role. This report well explains the necessities of agile management, through my personal experiences. With the help of Gibbs reflective cycle, the project has been addressed in further detail. This report is going to focus on the Gibbs reflective cycle that is important to be focused on to get the proper reflection on my working on the agile project management. It also highlighted the action plan that helps to improve personal skills and it also helps me to get the concern to reduce my weaker practices on different features of agile project management
Discussion
Gibbs Reflection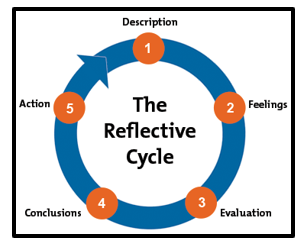 Figure: Gibbs Reflection Model
Source: Self-Made
Description
While going through my job procedure I have faced many difficulties that have been solved with the help of the agile method. There are many instances where I failed to be a determining member of the team. To elaborate on my limitations in my job procedure I will provide an example(Malik, Sarwar & Orr, 2021). When I was working on a group project which was on the recent advances in technology, I failed to gather the courage to address my views. I was not able to be vocal about my ideas and thoughts. It is very essential to have good communication skills while working in groups. I have a lot of creativity but due to my weak communication skill, I could not improvise my ideas in that project.
Feelings
When I was working on this project, I identified certain aspects of work all skills that needed to be upgraded. I specifically was inclined towards Scrum and Kanban Framework to assess and support the uninterrupted improvement of this project(Hussain et al., 2021). These frameworks are usually used by the project managers to handle their business functions and add up to the progress level of the team and the objectives. This project has helped me in many dimensions. It has helped me to improve my skills as well as have a look that the individuals working under me or with me. I have been able to gather some necessary feedbacks, which have boosted my self-confidence. I have been able to be a determining aspect of the team. I have been able to improvise my thoughts into actions that have of course benefited the project quality. There are still some negative areas, which I will try to improve in the upcoming times. After working on this project, I feel confident that I can work with a team and this project also helps me to develop concerns regarding different problems that resist me to improve my personal skills(Mergel, Ganapati & Whitford, 2021).
Evaluation
The agile method has always benefited the team as well as an individual working on a project. Its main benefits include increasing the progress level of the project, better monitoring of the project and increase the product or service quality. The recent technologies have helped to initiate processes concerning the agile method. While working on the project I had seen that the people show resistance to shift into the new set of practices(Gren, Goldman &Jacobsson, 2020). I also saw that I was facing different problems to cope up with the new mindset. This project also forces me to change the project requirements that reduce the features of better communication. Although the agile mindset is not errored free this method improves my project management skills and help me to focus on the new project management skills that are important to get viable information about the modern skills to get the work done.
Analysis
I was a very average worker. I was determined and dedicated to the work, but still, I was unable to produce the projects within the given time. I was very weak in time management and had serious problems communicating with my team members. It cannot be developed overnight. I have been able to upgrade my technological skills and analytical skills. I have followed the transactional and management theory of leadership to increase my compatibility with the job position. I have some negative aspects which do not benefit my job role. Have to understand the importance of each skill and ability.
SWOT Analysis for Evaluating The Personal Improvement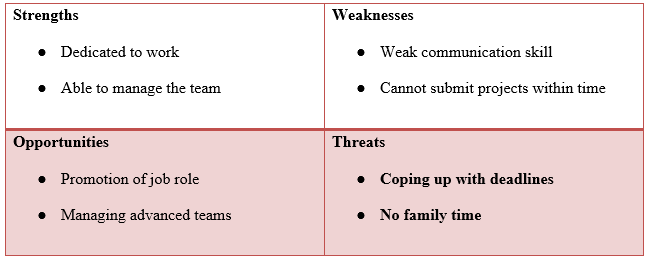 Action plan
Agile mindset
From the insights of the SWOT analysis, it is clear that I have to focus on the agile mindset that will help me to increase my communication skills and it also so help me to perform better project activities by reducing the aspects of interactions(Salvetti AND Bertagni, 2020). I have to focus on the verbal and nonverbal communication strategies that help me to interact with the team members that helped me to focus on the adoption of the agile mindset within the group members for setting up better knowledge about the team performances.
- I have to schedule the working practices that will help me to observe my personal skills and it also helps me to get the proper timeframe to achieve the success to get the agile mindset.
Motivating team
I have to focus on the daily feedbacks of my team members that will help me to gather all the requirements and information. The better reflective practices help me to focus on the various small projects that will enhance my collaboration with the team members.
- I have to get support from the higher authorities that help me to promote collaboration in the workplace environment.
- I can set different goals and proper communicating ways that help me to come up with deadlines and it also allows me to enhance my communication skills(Phadermrod, Crowder & Wills, 2019).
Focusing on The Better Leadership Traits
I have to focus on better leadership traits because it will help me to concentrate on the growth of the team members. This project helps me to focus on the leadership traits of motivation and leadership styles that will help me to improve my leadership skills to progress the overall performances of the team members (Nichols, 2016). I feel that the project can help me to focus on the changes of implementation of better leadership traits that allow me to get the abilities for energy in the project those effective communication skills by implementing the leadership traits.
- I can learn through my past experiences by skills
- It also helps me to focus on other areas of weaknesses.
- The active listening skills also help me to get the knowledge skills for managing the advanced teams.
Self Confidence
I have to improve my self-confidence by communicating with my tutors that will help me to get better self-confidence and it also enhance my self-confidence level as a team member to promote my personal skills to work within a team. Happy focuses on the confidence level that will allow you to forget all the issues that I am facing as problems for my personal development.
- I have to clarify the smaller goals that help me to increase my sense of confidence according to the different aspects of self-confidence aspects.
- I can focus on my better communication skills by reading different books about improving communication skills that are important to be focused on to get a better knowledge base about better communication skills with different peer-reviewed journals that allows me to get the proper perspectives of team members that will be helpful for enhancing self-confidence.
Conclusion
From the above report, it can be summarized that agile management is very necessary for modern workplaces. Through the application of agile management, the upcoming projects will be more accurate and authentic and will ensure more positive results. I can focus on the aspects of communication skills because it eventually allows me to get the proper outcomes by improving my personal skill sets. The Gibbs reflective cycle helps me to explore the features of the agile mindset while working on this project. The action plan also plays a significant role to develop my skills that can be aligned with better project management approaches to achieve success in project management. This project helps me to understand the importance of communication skills and it also improved my communication skills and it also allow me to focus on the aspects of performance management system that help me to know the agile project management to learn the team building skills while working on the project.
References
Fill the form to continue reading