×
Limited Time Offer !
FLAT 30-40% off - Grab Deal Before It's Gone. Order Now
ICTICT426 Emerging Technologies and Practices Assignment Sample
Overview of assessment
This assessment is based on a scenario and requires you to write a response which is made up of 4 tasks. This assessment requires you to complete written tasks. You are required to complete all tasks in the order provided. You have been given a scenario based on a fictional farming business named "ASR Farms".
You will play the role of 'Business Analyst" for IT Works, an IT consultancy company. You are required to:
• access the sources of emerging technologies
• access practices of emerging technologies in the IT industry
• Identify and document emerging technologies to meet the requirements of ASR Farms.
Your lecturer will play the role of the Manager of ASR Farms and IT Works Project Manager.
Task/s to be assessed
1. Sources of Information
2. Overview of Emerging Technologies
3. Identification of Emerging Technologies
4. Identifying Emerging Technologies relevant to the organisation (video presentation)
4IEET – Assessment – Part 1
Identification of Emerging Technologies and Practices in IT
SCENARIO: Read the scenario carefully for assignment help then complete the assessment tasks.
Business Background
For 30 years, Mr. and Mrs. Roberts (Andrew and Suzie) have owned a 3000-acre farm far north of Adelaide. Its Registered Business name is ASR Farms. They have poultry, 250 cows as well as multiple crops on 2000 acres. They produce milk and have a team to sell their milk on open market.
There is a sales team who use computers to maintain their records electronically. Mrs Roberts uses a computer to keep track of the farm's finances however her bookkeeping/accounting skills are self-taught, and she finds that dealing with finances is a stressful and time-consuming practice. All devices are stand alone as ASR Farms has no computer network, however they do have reasonably reliable internet access.
Andrew obtained the farm in an inheritance and is still using traditional methods of agriculture – for example most of the crop planting, picking, packing, weeding etc is done by hand. Most of their farm equipment is not modern and is at the point where it is due to be updated soon. They use chemical fertilisers and a variety of machines for various purposes, but due to their old equipment they need to hire a great amount of labour. Due to increasing labour costs, their profit margins and crop yields are reducing day by day.
A variety of different crops, primarily vegetables have grown in their greenhouses. In the last 3 years they have increasingly specialised in gourmet tomatoes - also known as heirloom or cherry tomatoes. These tomatoes can be very profitable, however maintaining the ideal environment for growth is proving to be challenging. They haven't been able to consistently produce enough crops to ensure a profit. The owners believe that if they could perfect their greenhouse practices, this would go a long way towards seeing the farm return to profitability, but they know this won't happen using their traditional practices.
Greenhouse environment testing is labour intensive. They manually test soil for salinity, water levels and test the temperature and humidity every 4 hours. Sometimes if there is an emergency elsewhere on the farm the greenhouse environment testing does not occur, which can result in conditions that are not ideal for crops and reduces yields.
Machinery in use is dated so repair and maintenance costs are high. They don't really have a schedule for machinery maintenance – servicing is done on an as needs basis when malfunctions occur. The manager has a written journal where he tries to keep track of machine servicing and maintenance, but it is not 100% reliable and servicing is not always done as often as it should be.
Another issue concerning the owners is that they have had several break-ins to the 8 greenhouses on the farm. This has resulted in loss of production due to theft and vandalism. They currently have no security monitoring in place for their greenhouses.
Use of technology is minimal on the farm, and staff and management freely admit they have minimal knowledge or experience when it comes to information technology.
One of the few recent investments in technology at ASR Farms has been to install a significant number of solar panels on various farm buildings. They have also invested in battery storage solutions to complement the solar panels. Andrew and Suzie's aim was to make the farm self-sufficient as regards electricity by sourcing solar power. Currently they appear to be achieving this with their solar energy system just supplying enough energy for their daily needs.
ASR Farms comprises of
• Owner (Director) Suzie Roberts
• Owner (Manager) Andrew Roberts
• Cowherd X 8
• Grape growers X 40
• Sales X 5
• Delivery Driver X 5
Their family friend Peter Hall lives in the USA. He works as a Manager in a Large-scale commercial Farm in Texas. He and his wife recently visited Andrew and Suzie Roberts in Adelaide.
Peter told Andrew that in the USA farmers and agricultural companies are turning to the Internet of Things (IoT), Big Data and Robotic Process Automation and other emerging technologies for analytics and greater production capabilities.
He suggested Andrew take advice from an IT company to implement emerging technologies in his farm as that may help him to resolve his problems.
Andrew Roberts contacted ITWorks and discussed their interest in using emerging technologies and latest IT practices on their farm to increase production and increase their profit margins. You work at ITWorks as a Business Analyst. You will be working with your project manager to investigate potential new emerging technologies that may be used in ASR Farms.
Task 1: Access Sources of Information on Emerging Technologies
Question 1:
Visit the following open source community website: https://github.com/open-source
Access two (2) current projects that are currently listed by Github on their "Trending" page.
For each project that you access, you must provide the following information:
• The name of the project.
• A screenshot of the project page that shows the URL. If the full URL is not visible in the screenshot due to its length, please copy and paste the full URL below the screenshot.
• A brief description of the project (minimum 30 words) that explains its purpose – i.e. what the subject of the project can be used for.
• The number of Contributors that are listed as having been involved in the project. Include a screenshot showing the number of contributors. The URL of the page must be included in your screenshot.
Question 2:
Access the following Crowd funding site: https://www.kickstarter.com/
Use the Search tool on the Kickstarter site to enter the search term "Greenhouse automation"
From the "Greenhouse automation" search results, access one project and provide the following information:
• The name of the project.
• A screenshot of the project page that shows the URL. If the full URL is not visible in the screenshot due to its length, please copy and paste the full URL below the Screenshot.
• A brief description of the project (minimum 30 words) that explains its purpose – i.e. What the subject of the project can be used for.
• The monetary target/goal of the project and the current amount pledged. Provide a
Screenshot of where you located this information.
Task 2: Identify and Evaluate Emerging Technologies
Question 1:
List 3 characteristics that would define an "emerging technology".
i. Click or tap here to enter text.
ii. Click or tap here to enter text.
iii. Click or tap here to enter text.
Question 2:
Provide an evaluation of the following three emerging technologies (Minimum of 100 words for each):
1. Internet of Things
2. Big Data
3. Robotic Process Automation
Each evaluation must include:
• The purpose of the technology
• Two attributes of the technology. (An attribute is a characteristic or inherent part of Something)
• Two features of the technology. (A feature is a prominent or distinctive part, quality, or Characteristic)
• Advantages (minimum of two) of using this technology for ASR Farms
• Disadvantages (minimum of two) of using this technology for ASR Farms
• Evaluate how the technology could be used at ASR Farms – i.e. which processes it could be
used to enhance or replace. Refer to at least two processes.
Task 3: Identification of Emerging Technologies Features and Functions
In this task you need to review and research the technologies that the owners of the ASR farms mentioned in their initial contact with IT Works.
Question 1:
One of your co-workers has done some research on the functions and features of emerging technologies, however their notes were partially deleted. They managed to recover part of their list of functions and features, but the list does not show which function and feature belongs to which technology.
Your task is to look at the recovered list below and enter each item into the correct position in the table that follows. In the table you are only focusing on functions and features of Internet of Things (IoT), Big data, and Robotic Process Automation (RPA). The list your co- worker created also includes functions and features related to other emerging technologies – ignore these unrelated items and only select those that relate to IoT, Big Data, and RPA.
Task 4: Reporting on Emerging Technologies Relevant to the organisation
Part 1:
Your supervisor has asked you to prepare a video summary of your findings which will be viewed by the owners of ASR farms.
Content requirements of the video are:
1. Introduce yourself by name and title (Business Analyst for IT Works) at the start of the video.
2. Describe 1 example for each technology (Internet of Things, Big Data, Robotic Process Automation) of where it could be used specifically in relation to current practices used at ASR Farms. Each technology should be related to a unique practice – i.e. you will mention 3 technologies and 3 affected practices.
3. For each technology (Internet of Things, Big Data, Robotic Process Automation) describe one advantage and one possible disadvantage that may arise if it is implemented at ASR Farms.
4. In your own words, request that the owners provide you with written feedback on the following:
a. Their thoughts on your examples of how the emerging technologies could impact practices on ASR Farms.
b. ASR Farms short-term and long-term requirements/goals.
c. What they feel is the most critical need of emerging technology in ASR farms – i.e., what specific application or individual piece of technology they would like to have in place.
Solution
Task 1:
Question 1:
According to trending page in github two projects are "ErickWendel/semana-javascript-expert06" that indicates "Spotify" project and "psf/black" indicates "The uncompromising Python code formatter".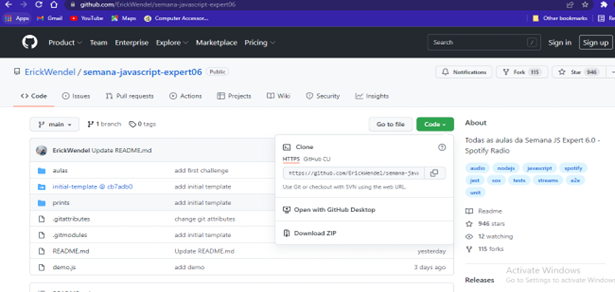 (Link- https://github.com/ErickWendel/semana-javascript-expert06.git)
Through Javascript and nodejs, a real time audio processing has been created where the stream deck is included within Spotify along with different kinds of features. In this project the full concept of Nodejs has been used for making static websites.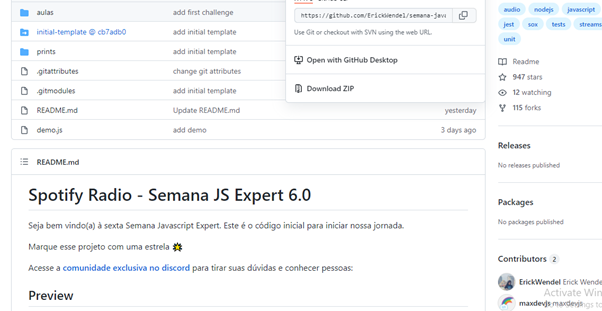 Contributors of this javascript project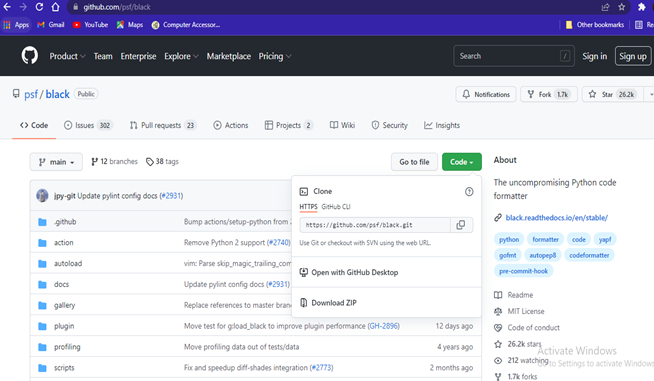 (Link- https://github.com/psf/black.git)
This project is based on "The uncompromising code formatter" and by using Black it can be controlled over minutiae of hand-formatting. Besides, Black is able to manage determinism, speed, and freedom in case of pycodestyle nagging about the exact formatting. Both mental energy and time will be saved and that makes fast code review with producing the smallest diffs possible.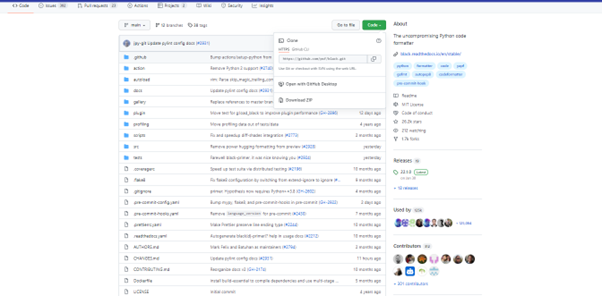 Contributors of python code project
Question 2:
The chosen project in Kickster search tools is "HarvestGeek -- Brains for your Garden".

Link- https://www.kickstarter.com/projects/2077260917/harvestgeek-brains-for-your-garden
The movement of local food has been effectively picking up with the special momentum. In this regard, over the country small scale agriculture is springing up in rooftops and backyards, altics, and basements, along with abandoned warehouses and lots in the vacant.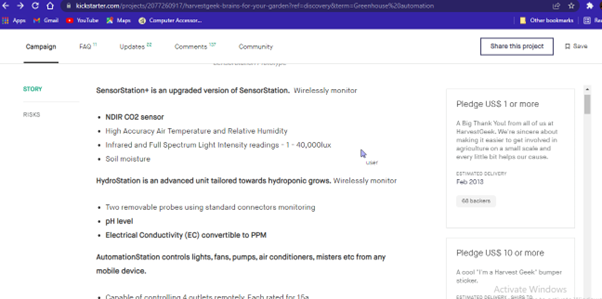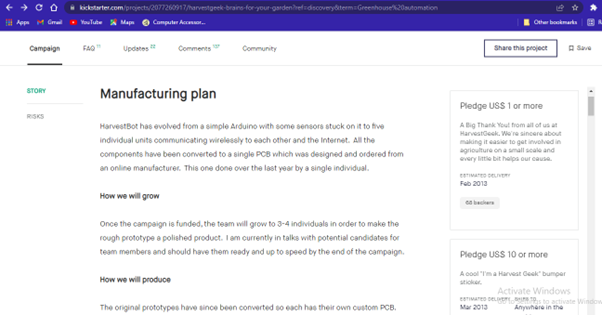 Task 2:
Question 1:
Three characteristics of "Emerging technologies"
? Radical novelty
? Relatively fast growth
? Coherence
Question 2:
IoT (Internet of Things):
In the current world, IoT technologies are growing rapidly along with its future trends in a significant manner. Different key technologies of IoT are like AI, 5G, blockchain, and cloud computing. All these are really meaningful to manage advancement of global connectivity with various features of this emerging technology.
Two major attributes of IoT are connectivity and intelligence.
Two features of IoT are lack of disposability or accountability, and ubiquity.
Two major advantages of Iot are cost reduction, productivity and efficiency and these are really useful for managing their farms (Spanias, 2017).
Two major disadvantages of IoT are viruses, hacking, cheating, and trolls, stalkers, bullying, and crime and these can be harmful for ARS farms.
ARS farms can manage their business production in managing electricity and solar energy systems through using IoT. These are increasing production, and increasing profit margin.
Big Data:
In order to increase the products' market reaching speed and decrease the time and several resources for gaining the adoption of the market, target audiences and satisfying the customers.
Furthermore, the main attributes of this big data technology is volume and variety. In order to identify features of BigData, the volume of stored data is increasing day by day along with variety of data in a significant way. This is a big factor corresponding to big data to manage data varities (Kim et al., 2021).
In business operations, big data is too effective for reducing complexity by creating different types of visualisations.
In an ASR firm, big data has a great advantage in order to optimise energy production and energy distribution. Besides, unpredictable resources are notified by big data.
Moreover, the principle of privacy is violated by big data whereas for the manipulation of customers' records, big data is utilised. Due to higher complexity, sometimes a false discovery rate is created and these are considered as disadvantages of BigData.
For business analytics, and managing various data management of ARS farms, big data can be implemented significantly.
Robotic Process Automation:
RPA ("Robotic process automation") is a technology to manage, deploy, easily build, and control software robots to emulate human actions along with digital systems (Nguyen et al., 2021).
Two attributes of RPA are simple bot creation interface, and security.
Two features of RPA are less automation script and debugging.
Reduction of errors and increasing agility are major advantages of RPA within ARS farms (Do?uç, 2021).
Error magnification and maintenance are two disadvantages of RPA and that indicates electricity production like ARS farms.
In order to evaluate a large number of production capabilities, and smart work with sensors and robots, RPA has been used in the case of ARS farms.
Task 3:
Question 1: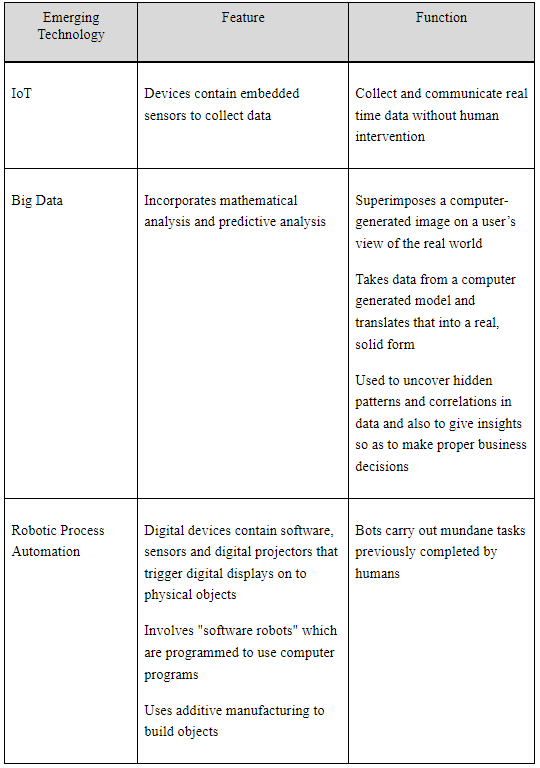 Task 4:
1. Examples of different emerging technologies that suit for ARS farms: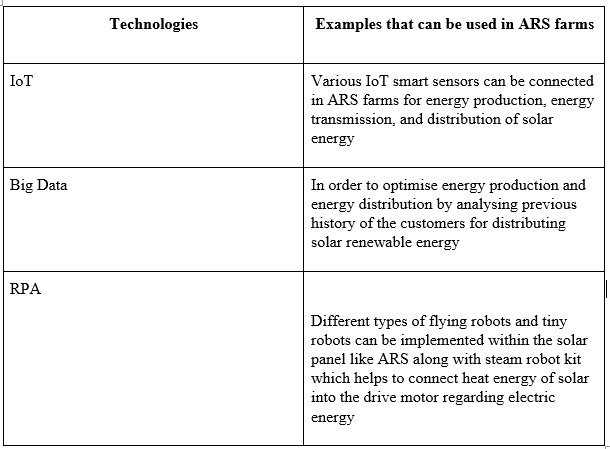 2. Advantages and disadvantages of emerging technologies in managing ARS farms:
3.Feedback of owner in the respect of suggestions of emerging technologies
a.
As per your suggestion, all the sensors and smart technologies regarding IoT, RPA, and big Data can be effective for ARS farms to manage energy production, energy transmission as well as distribution. We will try to implement all these things to provide a better customer' experience and achieve business development regarding electricity production.
b.
Short term goal is to provide better electricity to customers in their specific areas and long term goal is to manage a better power grid to deliver huge amounts of electricity by using IoT, BigData and RPA as per the requirements of customers.
c.
In order to achieve emerging technologies in ARS farms, specific applications of IoT will be effective for the development of smart energy production to produce electricity.
Reference list:
Do?uç, Ö. (2021). RPA in Energy and Utilities.In Strategic Approaches to Energy Management (pp. 217-230).Springer, Cham.https://link.springer.com/chapter/10.1007/978-3-030-76783-9_16
Kim, Y. S., Joo, H. Y., Kim, J. W., Jeong, S. Y., & Moon, J. H. (2021). Use of a big data analysis in regression of solar power generation on meteorological variables for a Korean solar power plant.Applied Sciences, 11(4), 1776.https://www.mdpi.com/2076-3417/11/4/1776/pdf
Nguyen, T. P., Nguyen, H., Phan, V. H., & Ngo, H. Q. T. (2021).Modelling and practical implementation of motion controllers for stable movement in a robotic solar panel dust-removal system.Energy Sources, Part A: Recovery, Utilisation, and Environmental Effects, 1-23. https://www.tandfonline.com/doi/abs/10.1080/15567036.2021.1934194
Spanias, A. S. (2017, August). Solar energy management as an Internet of Things (IoT) application.In 2017 8th International Conference on Information, Intelligence, Systems & Applications (IISA) (pp. 1-4).IEEE.https://par.nsf.gov/servlets/purl/10076703
Fill the form to continue reading