×
Limited Time Offer !
FLAT 20-40% off - Grab Deal Before It's Gone. Order Now
Sample MANU2123 External Project Proposal Assignment
MANU2123 External Project Proposal Assignment Sample
GRAB PROJECT MANAGEMENT ASSIGNMENT REPORT HELP: A+ GRADE ASSURED Place Your Order Now and Get Up To 20% Discount!
MANU2123 External Project Proposal Assignment Sample
Requirements
Please identify and choose one of the tender calls available for tender - these could be Australian or international (in English only) .
Your Assignment 2 Tender Project Proposal should contain all required key aspects as per structure below.
Six A4 pages maximum, use Times New Roman, font 12 with standard margins (2.5 cm from each side) and single line spacing with 6-point gap between paragraphs. If you need additional tables/charts, please add as Appendix.
Submit to Canvas as a PDF document.
Materials presented beyond 6 pages will not be marked.
External Project Proposal Structure – Tender
1. Project Title
1. Tender selection (include on-line link) – Opportunity identification and assessment for your team to be submitting a proposal to this particular call. Optional Australian sites for tender calls selection: https://www.tenders.gov.au/, (Links to an external site.) https://www.australiantenders.com.au/ (Links to an external site.) .
2. Identification of needs in tender request
3. Identification of evaluation criteria
4. Taking opportunity, needs and evaluation criteria - Your Strategy for winning a selected Tender
5. Response to tender – Proposal:
1. Description of the aim, objectives and results that will be achieved.
2. Description of Proposed Services.
3. Budgetary considerations, competitive costs consideration.
4. Completion timing and terms.
5. Location of work.
6. Measurement of performance, risks and risk management
6. References (additional to 6 pages if needed).
7. Appendix, if needed (in addition to 6 pages).
Please use headings in your proposal to match the required structure.
Solution
Tender Selection
There are different sources to find an active tender in Australia location; however, in this proposal, chosen tender can be found in this following link;
https://www.australiantenders.com.au/tenders/493260/facilities-and-grounds-management-opportunity-at-award-winning-ecovillage-in-the-beautiful-currumbin-valley/
Currumbin Valley Ecovillage has released this tender and it have not yet become active for people to participate. The tender will open on 30th of May and will close on 24th of June. However, in the 2nd week of May, it has already got 94 views from potential service providers; hence, it can be either a convenient work for applying or in this tender website, this service is mostly available for taking or people likes to work in Currumbin Valley Ecovillage for its natural beauty.
Opportunity Assessment: The tender clearly mentions about its location, service category and quality of work required. The Currumbin Valley Ecovillage requires ground and garden maintenance services, lawn mowing, maintenance activities along with caretaker services, facilities maintenance services as well.
Assessment for Our Team: Our team of workers can provide coordinated help to Currumbin Valley Ecovillage for assisting with eco-friendly maintenance services. Our team is highly experienced with gardening and open space maintenance activities. We have people who are encouraged to take care of Currumbin Valley Ecovillage gardens and greenery. We have independent caretaking contractors who provides caretaking services for facilities such as greenhouse gardens, small farms, and botanical gardens. Therefore, this tender would be a best fit for our services.
Identification of Needs in Tender Request
The tender mentioned some requirements from the applications; that is summarized in this section as following. The tender mentions the authority name as Currumbin Valley Ecovillage and location as South East Queensland. The tender provides small introduction about Currumbin Valley Ecovillage and its area dimensions with certain places (Barani, Alibeygi and Papzan 2018). For convenience of visiting the Ecovillage, the tender includes detailed location address. The description includes service requirements over two broad categories that are maintenance and caretaker services.
Maintenance service includes the need of gardening, ground maintenance, and lawn mowing, and taking care of the greenery.
Caretaker service include independent facility management and caretaking services for the area.
Moreover, the tender mentions specific objectives of the contract along with their service requirements ("Tenders - Facilities and Grounds Management Opportunity at Award Winning Ecovillage in the Beautiful Currumbin Valley - Australian Tenders", 2022). The contract should fulfil management plans, satisfactory experience to the residents, and affordable service quality. The tender encourages people who have experience with eco-friendly works and who are motivated to take care of the nature around Currumbin Valley Ecovillage.
Identification of Evaluation Criteria
The tender provides a very compact description of the entire work requirements and contract objectives. The evaluation criteria for assignment help can be derived from the contract objectives as identified in the tender. The contract objectives clearly identified three major factors as evaluation criteria of the tender.
The tender service providers should ensure development work with detailed management plans. The Currumbin Valley Ecovillage is 270 acres place with natural and regenerated forest with several open places along with others. There is a community hall, freehold lots, community facilities such as library, commercial kitchen, recreation center and others (Barlow 2022). Therefore, Currumbin Valley Ecovillage would require a development team equipped with phased management plans for different places inside the residential area and open spaces as well.
Residents should have high expectations from the tender service and authority should monitor the service in terms of eco-friendly quotient and environmentally balanced services. The tender service providers should employ workers who are efficient in handling nature and maintaining sustainability in gardening are mainly considered for offering the contract.
Authority requires that the tender service should provide best service quality at their investment amount. Tender service providers should have positive reviews from previous clients and the tender service providers should maintain their service quality at the Currumbin Valley Ecovillage as well.
Taking Opportunity, Needs and Evaluation Criteria
The selection of tender depends on opportunity assessment, requirements for the authority, and evaluation criteria for the tender. These considerations are mentioned to emphasize on a strategy for selecting a tender for the Currumbin Valley Ecovillage.
Opportunity for Selection: The tender service provider should assess the opportunity before sending bids or applying to the work. The opportunity assessment should involve amount of work, availability of workers, work management plan, and resource allocation. For instance, the tender company should visit the site, communicate with the site owner, estimate the workload and conduct some research into the work before bidding. The workers association should have positive opinion with tender authority before bidding (Egereret al. 2019). It is essential for the tender company and company workers to coincide their views and considering the tender as a huge opportunity before they start bidding. This mentality helps tender authority to work effectively and ensure their efforts are well invested towards a good outcome to the society and environment.
Needs for Selection: Thetender company should attend briefing sessions with the project authority; that is managing authority of Currumbin Valley Ecovillage. They should be clarifying about the needs in the tender document. The needs and project requirements should be clearly described in briefing sessions and tenderers should be offered site visits whenever they feel it necessary. The briefing sessions should mention the maintenance work requirements, development work contracts, and management planning steps. The authority of Currumbin Valley Ecovillage should ensure tenderers are transparent about their work requirements, rules and regulations along with work ethics. Moreover, the tenderers should address the work requirements as part of project objectives (McKinnon, Kennedy and De Cotta 2021). The objectives should be met in order to ensure project success. Therefore, the tenderer should represent their previous projects and outcomes from the projects. In this scenario of Currumbin Valley Ecovillage, tenderers should represent their previous works related to environmental works such as natural maintenance and development works. The tenderers should provide clients' comments or feedback on their project outcomes. Currumbin Valley Ecovillage authority would be clear about tenderer performance from previous works.
Evaluation Criteria for Selection: The evaluation criteria would be the key selection factor for any tender. The evaluation criteria can be determined based on several different factors however, in this tender case, the evaluation criteria is determined based on contract objectives. Contract should be prepared once, the evaluation criteria is to be approved from authority and tender side. When both parties are on-board with the contract objectives, the contract would be prepared and signed in presence of each other. The evaluation criteria from the contract should be ensured from tender side. The service provider needs to provide necessary examples of their work so that conducting authority can examine the work quality.
Response to Tender – Proposal
The section includes a proposal to the tender as a response to the online tender advertisement. The tender details were clearly mentioned and there was no communication gap in the tender document. However, before finalizing the tender, the tenderer should research on the work requirements and survey the workplace thoroughly. This proposal includes some sub-sections such as aim, objectives of the proposal, proposed service description, budget considerations, timeline, work location, and performance assessment.
Description of the Aim, Objectives and Achieved Results
The aim of the proposal is to allocate a suitable tender service provider to Currumbin Valley Ecovillage so that the place can sustain for years. In current state, the Currumbin Valley Ecovillage requires maintenance and development planning. Existing workforce is not getting proper assistance with maintenance and development work for Currumbin Valley Ecovillage. Therefore, the authority has planned to hire tender service providers for Currumbin Valley Ecovillage management.
The objectives of the tender are;
1. To maintain the open spaces in Currumbin Valley Ecovillage and conduct management planning for the places within residential areas as well
2. To provide proper maintenance support to manage grounds and grass; mowing lawns and maintenance as well
3. To help with detailed management plans for supporting authority of Currumbin Valley Ecovillage
4. To provide caretaking service in Currumbin Valley Ecovillage as independent body
The tender expects result to be satisfactory for the residents and the Currumbin Valley Ecovillage should reach the quality of service quotient with maintenance work. The natural environment and greenery should be maintained with good development planning as well.
Description of Proposed Services
The proposed services would be as follows;
Development Plan for Currumbin Valley Ecovillage: The tender service provider should develop a plan for Currumbin Valley Ecovillage so that the Ecovillage can sustain environmental balance along with natural beauty. The natural beauty and eco-friendly development would follow sustainable development goals as well. The development plan should address the objectives in form of activities and milestones during the project timeline. The development plan should be approved from Currumbin Valley Ecovillage authority.
Ground and Greenery Maintenance Plan: The tender service provider should provide quality service on maintenance of greenery and ground in Currumbin Valley Ecovillage. The authority primarily require the tender to serve the purpose of handling the ground; such as layering the open space, landscaping the places, taking care of plants, sidewalks, and taking away litters. People and crowd have the tendency to dump litter in a place while visiting; however, the management authority should hire this tender to avoid situation like this. Besides, the gardening work, the maintenance of lawns, and aesthetics should be managed with new tender service.
Caretaking Service: The tender should provide an independent caretaking service for Currumbin Valley Ecovillage. The caretaking service would be necessary for supervising the entire facility at least two times per day. The caretaker should be responsible for visiting the entire facility from one end to another. During the visit, the caretaker should keep a note to list out different aspects, the Currumbin Valley Ecovillage authority should be informed about. The caretaker would be responsible for collecting individual residents' complaints or issues in Currumbin Valley Ecovillage. The caretaker should be responsible to come up with the solution or provide relevant support to the residents for keeping their experience at peak standard.
Budgetary Considerations andCompetitive Costs Consideration
The tender should be developed within an initial investment of $2 million for the work. This investment would be utilized for assisting the development team for preparing management plan. There would be a steady wage to the gardeners and another wage would be going to the caretaker. Moreover, the development and planning work should be handled with someone else. The budget allocation should be around $3 million whereas, $800,000 should be allocated as contingency capital whereas, rest $2.2 million would be allocated as main budget of the project.
Completion Timing and Terms
The project behind the tender should be estimated in terms of outcomes and effective completion within the timeline. The project terms generally involve the budget and time-constraint for the project to complete. The authority allocates time and budget and keeps the constraint strict for making the project complete within the timeline. However, due to inconvenience of work, the conducting authority can provide adjustment in the budget and timeline if required. In this project of Currumbin Valley Ecovillage, the timeline is chosen to be completed within six weeks. The timeline is shown as follows;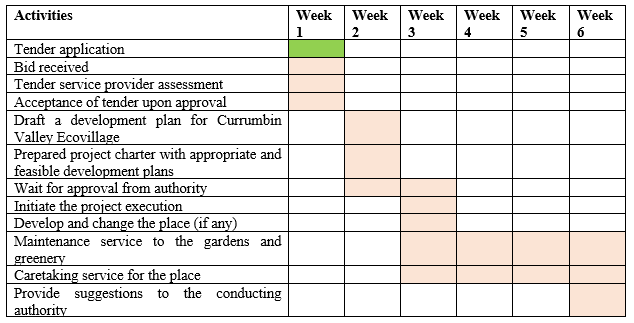 Table 1: Project Timeline
(Source: Created by author)
Location of Work
Currumbin Valley Ecovillage is a modern and award-winning sustainable community located near southeast Queensland, Australia. It has received 'The World's Best Environmental Development' in 2008 and this place can accommodate over 450 residents in 120 homes. The Ecovillage entrance is near 639 Currumbin Creek Road, Currumbin Valley QLD 4223, Australia. The entrance is at the corner of Village Way and there is ample space for cars and buses to park. The Ecovillage is located on south of Brisbane and it is 94 kilometer away from Brisbane. From Brisbane City, it would take 1.2 hours to drive and traffic during morning and afternoon make it 1.3 hours' drive("The Ecovillage at Currumbin", 2022). No connecting public transport service is available however, Translink Train stops at Varsity Lakes that is 15 minutes' drive north of the Ecovillage and visitor or worker can take cab service to reach there.
Measurement of Performance, Risks and Risk Management
The project performance and outcome would be evaluated in terms of project value. The conducting authority Currumbin Valley Ecovillage should estimate the value of the project as per the project performance. The performance should be measured based on stakeholders' responsibilities completion, each task completion per day or weeks, each activities are completed without failing to complete within deadline of the project. Moreover, the project performance should be estimated in terms of ROI (Return on Investment), customer satisfaction, cost of quality, schedule performance and others.
The project and activity performance management and measuring would be considered as part of adding value to the project goal. The ROI (Return on Investment) is estimated based on the initial investment and gaining value from customers' reviews and gaining positive revenue due to the project investment. Cost of quality can be estimated as the allocated budget that is to be used to maintain quality in Currumbin Valley Ecovillage and associating the service quality with the same amount of money. Therefore, based on customers' reviews and positive revenue gain from the quality services, this aspect can be estimated to the value of the project. Customer satisfaction can be estimated based on customers' sentiment, positive reviews, negative reviews, necessary feedbacks and supportive comments on social media. Customer satisfaction should be collected from social media or feedback discussion forum for understanding their sentiment towards the project outcomes. The project development can highlight customer satisfaction or not.
Risk Management is another aspect of the project; where the project stakeholders should address the potential issues in the project and state the issues that can turn the project success into a failure. Potential risks in this project are environmental imbalance, negligence of greenery, lack of maintenance performance, overlooking caretaker works due to piled up works, and violation of wildlife refuge. The tender workers should be aware about the wildlife refuge law and they are prohibitedto violate it.
References

Fill the form to continue reading