×
Limited Time Offer !
FLAT 20-40% off - Grab Deal Before It's Gone. Order Now
Sample MIS611 Information System Capstone Assignment
MIS611 Information System Capstone Assignment Sample
GRAB IT ASSIGNMENT REPORT HELP : A+ GRADE ASSURED Place Your Order Now and Get Up To 20% Discount!
MIS611 Information System Capstone Assignment Sample
Individual/Group - Group (five people)
Length Part A—Report (3,500 words +/–10%)
Learning Outcomes The Subject Learning Outcomes demonstrated by successful completion of the task below include:
a) Analyse relevant industry challenges to support the development of IS solutions for addressing specific organisational problems.
b) Produce the appropriate documentation to provide evidence of project progress with project stakeholders.
c) Integrate professional and SMART skills to complete individual and team tasks in collaboration with team members to develop a robust solution that meets stakeholder needs.
d) Demonstrate professional skills to complete individual and team tasks Communicate progress and solutions to the client/representative and non-specialists and adjust according to feedback.
Submission Due by 11.55 pm AEST/AEDT, Sunday, end of Module 6.1 (Week 11)
Weighting 20%
Total Marks 100 Marks
In this assessment, you will finalise your report and recommendations to your client/organisation. You will incorporate all feedback provided by your lecturer throughout the trimester, including additional research or content to be completed. The final report must be structured as per the guidelines detailed in these assessment instructions. Note, you are producing an industry-level final report, not resubmitting your previous assessments.
Please refer to the Task Instructions for details on how to complete this task.
Format of the report
The report should use 11-point Arial or Calibri font, be 1.5–line spaced for ease of reading and display page numbers at the bottom of each page. If diagrams or tables are used, attention should be given to pagination to avoid the loss of meaning and continuity by unnecessarily splitting information over two pages. Any diagrams must be appropriately captioned.
Solution
Introduction
This report is conducted to define the major issues of Giverly's current shopping platform. The customers of Giverly are facing issues while they make orders. They also get issues to individualize and make orders. Due to these issues, Giverly's customer base came in danger and its overall sales get reduced. Giverly wants a permanent and robust solution against such issues This report aims to analyze the overall system needs, stakeholder requirements, and customer demands so, that an appropriate solution can be proposed. This report is mainly a roadmap of new planned shopping platform of Giverly so, that previous platform issues can be resolved and customers' expectations can be maintained. This report covers the stakeholder details, customer feedback & perceptions, brief research to implement the system, stakeholder needs, problems associated with new system, UX/UI elements for planned system, cyber-security considerations, prototypes, testing, and communication plan to deliver the project.
Purpose
The goal of this project is to implement a greater-designed shopping platform for Giverly so, that its customers can effectively make orders of Giverly goods as well as services on individual level. Based on this goal, the purpose of this report is to design a roadmap so, that client can analyze the scope of project and ensure everything is in right place. This report will provide an idea of how will be the project implemented including all-possible details such as stakeholder details, its user interface designs, customer needs, possible issues/problems, overall testing, etc.
Background
Giverly is an online retail company that a customer can use for shopping all-kind of products in a single system. Giverly has a large customer base as it offers multiple products with high quality, 24x7 availability, and cost suitability. The delivery facilities are also free for most of the shopping in Giverly. The customers are well satisfied with Giverly's performance and online shopping facilities but for last 2-3 months, customers are complaining to have issues with its system while making orders (Giverly, 2022). They have also restricted to individualized orders of the products. Due to this issue, Giverly is planning to implement a new system so, that customers can easily access and make orders on that. This planned project is almost ready to be implemented as its overall planning is done including stakeholders, customer needs, resources, problems, security considerations, interface designs, and testing. Now, this time, a complete roadmap and information related to proposed Giverly platform are presented.
Scope
a) Goals and Objectives
Goal
To implement a greater-designed shopping platform for Giverly so, that its customers can effectively make orders of Giverly goods as well as services on individual level.
Objectives
• To measure the potential issues of Giverly's shopping platform.
• To gather and understand the needs of customers to design new shopping platform.
• To develop a customer-driven Giverly shopping platform.
b) Exclusions
• The difficulties to design Giverly's shopping platform for marketing and sales.
• The unsafe & risk-oriented resources, applications, as well as activities.
• Access of Giverly data to all-associated project members.
c) Constraints
• The participation of sales team is not approachable/active in developing this shopping platform project because of their busy schedule.
• To get customer requirements/feedback, additional time is needed.
• The development time estimation for this Giverly shopping platform is six months which can influence current customers & Giverly's overall sales.
d) Assumptions
• Due to any new demands raised by customers, additional time requirements for research, and other changes due to market changes, the budget can be increased.
• During project implementation phase, security-based risks can occur (Giverly, 2022).
e) Deliverables
• A roadmap for Gierly's new shopping platform.
• The user interface designs of the shopping platform.
• A customer-driven platform.
Stakeholders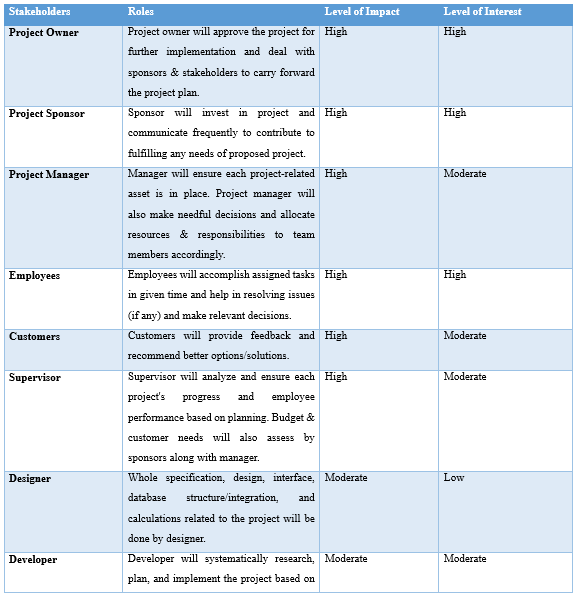 (Smith, 2000)
The stakeholders that should be managed by Giverly organization are their sales team, employees, customers, and HR team. It is also necessary that they should adopt provided recommendations if they seem it will be worthy for them otherwise, they can give their suggestion, and then overall decision can be made to satisfy them and to make the system successful.
Customer Persona
Persona1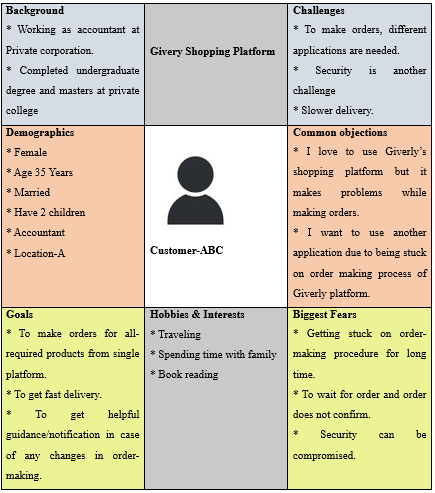 (Duda, 2018)
Persona2
(Duda, 2018)
Empathy Maps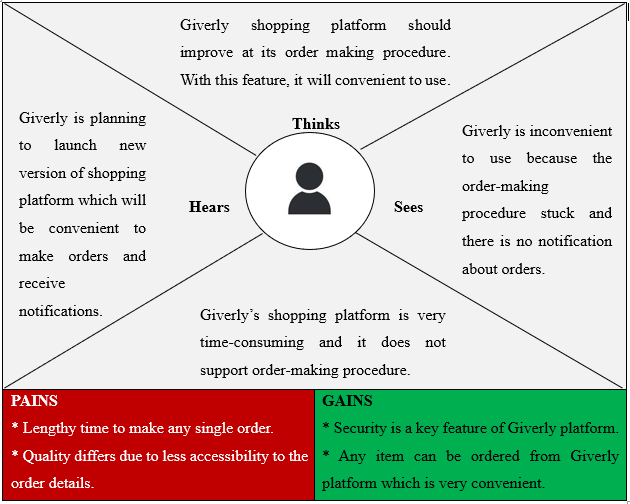 (Melo, et.al., 202)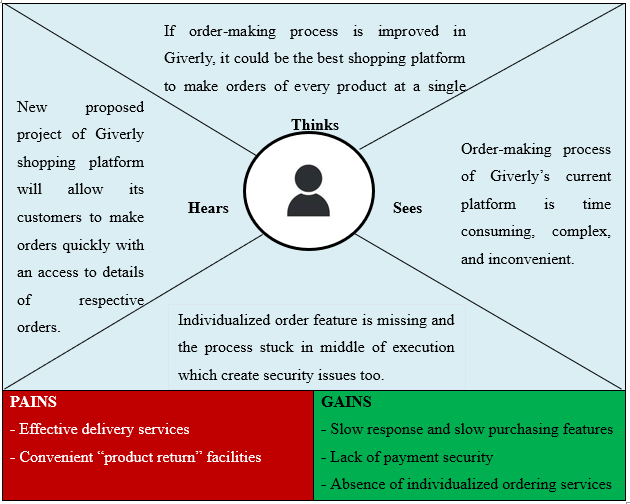 (Cairns, et.al., 2021)

Research
By researching both customer personas, it can be stated that they are particularly satisfied with Giverly's shopping platform. They are using this platform largely to make any kind of orders because Giverly offers a number of orders including fashion, hotel, grocery, travel, technology, and entertainment at their single sales platform. The customers want to use this system as they found it convenient and secure. But they are facing issues related to making individual orders from this system due to some technical or other errors (Giverly, 2022). When they make orders, their order-making process is stuck in the middle and the details of orders are also inaccessible to them. Therefore, they have similar kinds of objections to using this application/system due to the order-making issues and lack of individualized ordering features. Both customers are well-educated and working in relevant positions. One customer is married woman and another customer is single male. Both are dependent upon Giverly's platform to make most secure and fast delivery but in last few months, they are facing order-making troubles.
Therefore, they have objections to using this Giverly platform and seeking new alternatives to make orders. They found Goverly's current platform unresponsive, time-consuming, and unapproachable. They have fears to got stuck while making orders and due to absence of notification, their order will be unconfirmed which can waste their time.
Stakeholder Requirements
To define the requirements of key stakeholders, simple method i.e. MoSCoW is used.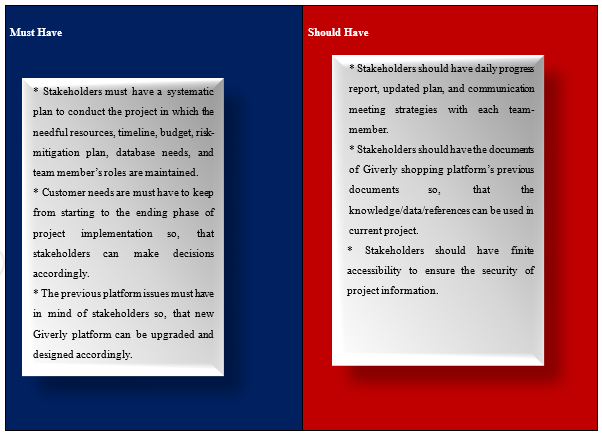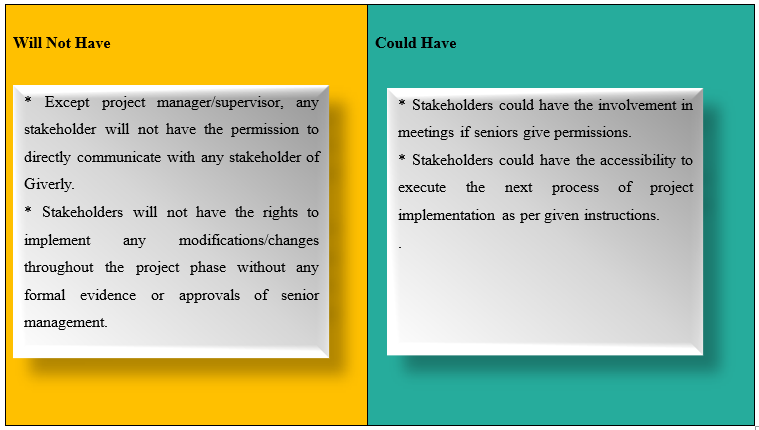 (Sharma, 2022)
Customer Journey Map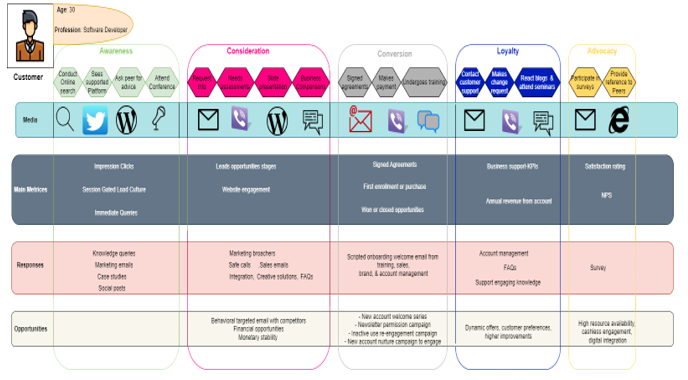 Figure 1: Journey map
(Source: Author)
Problem Statement
In Giverly, the stakeholders are facing issues to fix the fault of order-making process in their online shopping platform. The order-making process also faults that it does not allow the customers to individualize and make orders. The process of order-making is stuck in middle and it takes longer time to execute. The sales team and other employees identified this issue and informed the system developer (Giverly, 2022). The Giverly system is not responding to the customer's approach and it became complex to address that issue. Thus, the major problem of Giverly belongs to their sales platform where order-making process is not working properly which causes the stoppage of platform's overall functionality.
UX/UI
By considering the problem associated with Giverly's platform, a new system/platform is planned to develop in which user-friendly interfaces along with transparent functionalities will be designed which effectively regulate the order-making process and individual order-making as well. The UX/UI design will be done with a very simple and visualized format so, that customers can understand and access each feature easily. The UX/UI design's layout will be designed in such a way, that different categorized products are arranged in a systematic series so, that customers can easily reach them. The associated details will also keep in layout. Each notification will be visualized to customers and they can also put their items in their wish-list, favorites, and shopping cart for later shopping. Interactive interface, navigation bars, and menu items will be designed with proper image specification so, that customers can conveniently approach everything they want (Ho, 2021).
Accessibility Requirements
To make Giverly's current platform highly accessible by forming it operable, perceivable, robust, and understandable. Therefore, to ensure these factors for proposed Giverly shopping platform, the accessibility requirements are maintained by keeping the balanced contrast ratio, labeling the layouts clearly, keeping consistent navigation, and keeping simple headings. Subheadings, & spacing, giving user control, designing different categories, views, and screens, not relying on colors, providing feedback for omissions & errors, and offering alternatives specifically for consuming media (DBS, 2022).
Cyber-Scurity Requirements
To resolve the issues of current Giverly shopping platform, a new system is planned and proposed so, that the order-making issues can be removed completely and a new version of Giverly platform satisfied customer needs. As discussed, due to this order-making issue, the customers are in fear of security risks. Thus, to maintain and ensure the security in new updated version of Giverly platform, security technologies and models will be implemented. Customers are needed security environment while dealing with this new application so, the whole system will be implemented by concerning the sensitive security considerations and providing automatic saving features in case of any disruptions. Other security considerations that will be implemented in this Giverly system are-
• User authentication
• Data authentication
• Cloud infrastructure
• Payment security
• Network security
• Cybersecurity features
• Accountability, privacy, & confidentiality in engagement with system
• Limited access to customers and database security
• Encryption & decryption (Adu, et.al., 2018)
Wireframes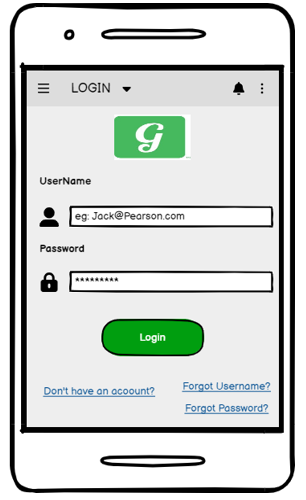 Figure 2: Login Page
(Source: Author)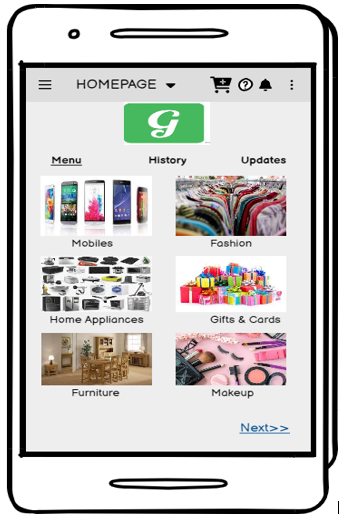 Figure 3: Home-Page
(Source: Author)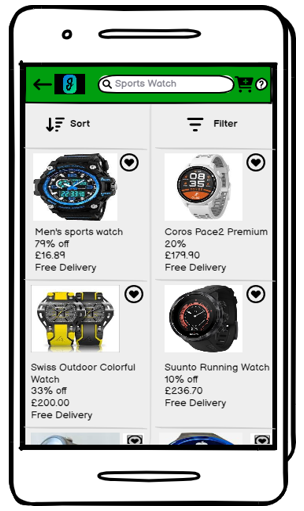 Figure 4: CategoryPage
(Source: Author)
Test
The above-specified prototypes are clearly showing how customer will be getting their new Giverly shopping platform. This new version of platform will help the customers to provide the overall shopping of all-possible products in a single system. These prototypes are designed with a user-friendly format in which the users are allowed to visualize, access, and save the products. Security is highly considered so, that each customer can rely on Giverly shopping platform without compromising their privacy and confidentiality. Each layout is designed in an effective manner and simplicity is maintained so, that customers can conveniently use the application to search, order, and cancel their needed products.
The first prototype is a simple login page in which the user can login after registering on the application. The login page is very simple and easy to understand without any additional animation or unnecessary images. Another page is home page where user can easily see the layouts i.e. menu, history, and update. The layout "menu", is categorized into different shopping formats with different products. Customers can scroll down the categories and select particular categories of products. On history page, the customers are allowed to access the details of their previous orders, canceled orders, confirmed orders, payment details, etc. Another layout is update layout in which customers can easily update their payment-related details like bank details, phone number, address, login credentials, and many more. Therefore, they are also allowed to add the products to cart and wish-list. Consequently, another page is category page that is designed as an example to show if a customer will search for a particular product like sports watch then a list of latest & trendy sports watch will be categorized. The customer can click on particular watch and see overall details. After being satisfied with details and prices, they can make orders with free delivery facilities. Hence, customers' order-making issues are completely solved with new version of Giverly platform. At last, the project needs to be updated time-to-time for further use.
As mentioned in above section, the proposed Giverly platform will provide effective, clear, straightforward, and convenient ways to make orders as per customers' needs. The older version of Giverly's platform was unable to make orders conveniently. Due to some technical or software issues, the platform stuck in the middle of order-making process which became a failure of Giverly's online shopping system. Thus, the management team has decided to implement a new system so, that customer needs can be fulfilled quickly because customers want to use Giverly platform because it is secure and have all-possible products in single system (Giverly, 2022). The proposed solution i.e. new Giverly shopping system and this new system is highly user-friendly, secure, and convenient to make orders. Customers can directly search for a product and categorized order layouts will be helpful for them to approach needful products. They can also access the details of each product so, that they can confirm that order and add in wish-list for later purchases.
Communication Plan
This is very simple for Giverly to deliver this new solution to their large customers because Giverly has large customer base. Giverly customers are eagerly waiting to have a solution because they trust Giverly's products, security, and service facilities. The solution will take a significant time to be implemented completely till then Giverly advertises this solution and promotes its new features using social media platforms, and its organizational website, and directly communicate with customers when they come to Giverly's shopping centers. In addition, a survey can also be conducted to get the customer's response on newly proposed solution.
To deliver the proposed solution to the customer, Giverly can use visual engagement tools like video chat so, that they can get aware of this system. By giving the access link or application on social media platforms and official websites, the customers can get the system on their devices. Customer metrics & chatbots are other communication alternatives to inform the customers about newly launched Giverly system (Patel, 2022).
Recommendations
With an overall experience of this Giverly project, it has been analyzed that the scope of project is very vast and profitable from the business perspective. The customers are also well satisfied with the newly-proposed system's standards. The main issue for which, Giverly and its customers are facing issues is completely resolved by implementing new system. The previous platform had an issue with making the orders and it restricted the customers to make individualized orders. Based on the issue, Giverly's management team has decided to implement a completely new project in which the issue will be sorted out and customers' needs will be prioritized (Giverly, 2022). To ensure the project's success, stakeholders are finalized to develop the system as per their interest and impact levels. The customer's responses are also taken so, that previous mistakes can be improved and customer's needs can be fulfilled. Giverly should understand the customers deeply and try to establish their perceptions using customer personas, empathy maps, and customer journey maps, The MoSCoW method is also supportive for Giverly to interpret the project accordingly.
Consequently, the problem statement is clearly articulated so, that relevant solutions can be planned. Based on the solution, potential UX/UI designs are proposed in which user-friendly environment, security considerations, easy order-making functionalities, and easy accessibility. However, the cyber-security considerations are well-planned using network security, encryption, decryption, and many more methods. The prototypes are designed as per mentioned solutions that customers will find more suitable to make individualized orders with other features. The testing done in this report is also ensuring that the proposed project will be highly successful.
With this new project, Giverly will get new opportunities to do business and earn trust of their customers. It will result in high productivity and future stability of Giverly. In future, based on the customer's responses the planned project will be implemented and delivered (Zakharenkov, 2019). Consequently, its timely security and upgradation will be monitored and done so, that best online system can be provided for customer's usability.
Referencing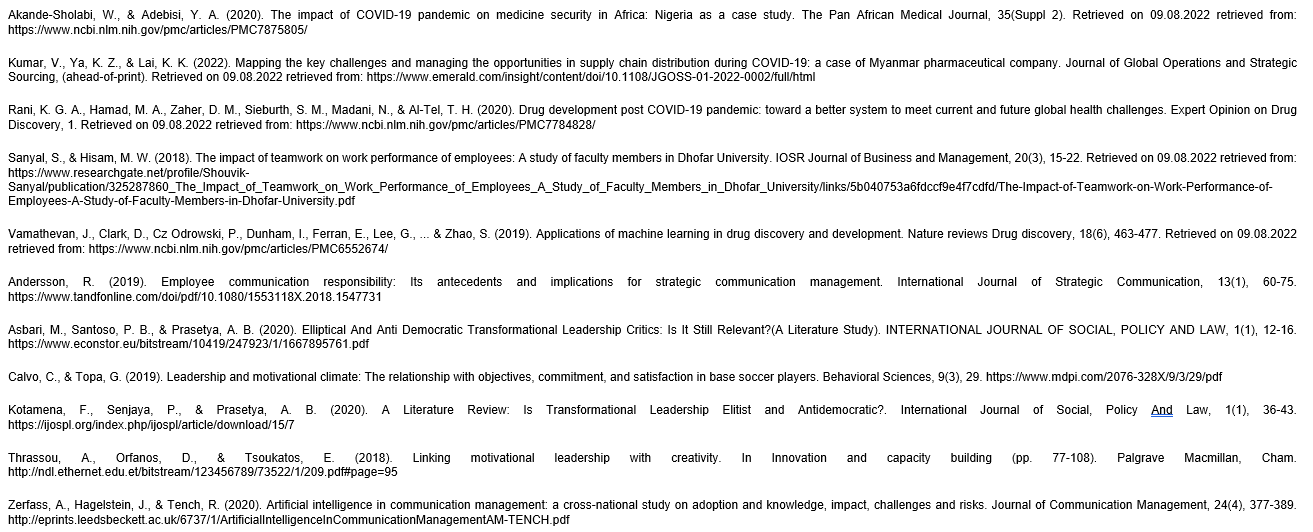 Fill the form to continue reading