×
Limited Time Offer !
FLAT 30-40% off - Grab Deal Before It's Gone. Order Now
Sample NRSG367 Transition to Professional Nursing Assignment
NRSG367 Transition to Professional Nursing Assignment Sample
GET STARTED NOW AND GRAB NURSING CASE STUDY ASSIGNMENTS HELP Up To 20-30% Off - Don't miss out on this chance and fill up the below form!
NRSG367 Transition to Professional Nursing Assignment Sample
Assessment Task Overview
Critically analyse the following case study to answer the essay questions.
Case Study Background
Harry is a Graduate Registered Nurse (RN) who is 8 weeks into his first graduate rotation at the local metropolitan, tertiary hospital. He is currently working on a Medical Ward. For the first four weeks Harry worked alongside his nurse preceptor, predominately rostered on morning shifts. Harry has just completed his first five (5) night shifts yesterday morning and is back on an afternoon shift today (Saturday).
Harry is still trying to manage his roster and other commitments like social touch football with his friends and mountain biking. Today, Harry is feeling tired and frustrated because he slept through his alarm this morning and missed his sister's birthday breakfast celebration. He is also disappointed that he can't join his team for the touch football end of season breakup in the evening.
On Shift
Harry has arrived 15 minutes prior to this shift starting. On arrival, he realises that he hasn't worked with the Nurse-in-Charge before but there are other nurses on the shift that he has met.
Harry feels a little nervous, but he knows two (2) of the patients he has been allocated from his recent night shifts and he is allocated a further two (2) patients who are to be discharged this afternoon. He has not arranged a discharge before so he prioritises these activities as he prepares his shift planner.
A short time later the Nurse-in-Charge tells him that his patient allocations have changed due to skill mix. A different nurse will arrange one (1) patient discharge and Harry will be receiving a new patient from Emergency Department.
Harry feels overwhelmed with the admissions and discharge. He is unsure how he will cope with the rest of his shift. Harry has not looked after a patient (Mr Somersby) who is confused, high risk of falls and wanders around the ward. He is reluctant to ask the Nurse in Charge for assistance as he does not want to appear 'incompetent'. He decides he must push on, and soon it is time for handover.
At handover, Harry realises that after he had not given Mrs Williams her IVAB. To help with his time management, Harry had set the observation machine to take automatic observations. However, he had forgotten to go in and check this patient for the last 3 hours. Harry has not yet completed the admission documentation for Mr Sommersby as he has been trying to stop him from wandering out of the ward.
Additionally, he has not completed any of his patient notes on the computer on wheels (COWS) machine. The nurse he his handing over to rolls her eyes when this information is handed over. Harry stays 30 minutes after the end of his shift to complete his work.
Following his shift
On his commute home, Harry feels anxious and feels that he did not provide sufficient care for his patients, in particular Mrs Williams. He is frustrated with himself that he may have missed other things this shift and that he had to stay late to finish his patient notes. At home, he spends some time reflecting on his shift and plans to ask his nurse preceptor for any advice/tips on their next shift together.

Harry appears to be struggling during his clinical shift. He also seems to be having difficulty maintaining a work/life balance. Critically analyse the provided case study to answer all the following three questions within an essay format:
1. Determine and justify whether the graduate RN met (or did not meet) their role and responsibilities as an RN during his shift. Provide at least two (2) case study examples and support your discussion using evidence, including Nursing and Midwifery Board Australia (NMBA) Registered Nurse Practice Standards (2016).
2. Construct at least three (3) recommendations as to how the graduate RN could have undertaken this shift differently. Consider in your discussion the knowledge, skills and attitudes inherent in the RN role, including utilisation of technology and teamwork skills, and support your discussion with literature .
3. Transitioning from student to Graduate Registered Nurse can be difficult. Construct at least two (2) evidence-based strategies that could be implemented to promote resilience, build capacity, and support work/life balance during the graduate RN's transition period .
Instructions:
• Word limit is 1800 words (+/- 10%), including the introduction and conclusion.
• Paper to be written in essay format, must answer the above questions, and should be written in academic writing style (not first person). You may use headings.
• Ensure you consider the AT2 Rubric, Appendix 2 in the Unit Outline, when undertaking this assessment task.
• Submit your paper to Turnitin by the due date.
Solution
INTRODUCTION
This study will answer three questions based on a case study for assignment help in which Harry failed to perform his Registered Nurse (RN) role. This will also examine the negative examples that have made Harry agitated due to his poor performance in this workplace and taking proper care of patients assigned to him. Moreover, some recommendations will also be given along with strategies that help Harry balance his work and personal life.
DISCUSSION
Meeting the RN Role
Harry is a newly appointed graduate Registered Nurse who joined his workplace 8 weeks prior. He was assigned his duty during the morning shift and was suddenly given night shifts and again allotted an afternoon shift the next day. This has made some issues for Harry in balancing a professional and personal life. Moreover, time management was one of Harry's biggest challenges that impacted his working pattern. The day when Harry was allotted an afternoon shift, Harry was depressed and agitated because he wanted to join a football match; however, due to his duty, he had to miss that match. This has impacted his professional life as he has failed in appropriately playing his duty. Work and personal life balance help a person to enhance the level of productivity that helps in career development (Zhu et al., 2022). Due to a lack of time management, a skill that every RN must possess, Harry has failed to take care of his allotted patients. He has failed to give proper medication to Mrs. William. Lack of Time Management is one such negative example of Harry as he has failed to balance his personal and professional life properly, failing to attend the football match. It is significant to note that time management is quite important for RN in getting huge success in their career (Popejoy et al., 2022). Another negative example was that Harry failed to look after Mr. Somersby, who has a high fall risk. Harry was confused and even failed to ask the head nurse for help.
Mr. Somersby would receive proper treatment.
Notably, a registered nurses role is to coordinate the treatment and care of every convalescent. Their responsibilities also vary from drawing blood and educating convalescents regarding their health (Henshall et al., 2018). An example of the case study given in the Nurse and Midwifery Board of Australia is that Ms. Jaclyn Stratton, who was working as a psychiatric nurse, was suspended from her job role as she failed to diagnose the vulnerability of the patient with whom she was dealing. It is important to note that she has failed to perform her duty as she needs to balance her personal and professional life properly. One of the biggest responsibilities RNs play is assessing, observing, and speaking to the convalescents regarding their health issues (Halcomb, Smyth & McInnes, 2018). They are also responsible for recording the symptoms of the ailments, results of the diagnosis and all other essential records regarding the patient's history (Mahoney et al., 2020). Preparing the patients for operations and various tests and offering them essential treatment facilities and care is also a significant duty of an RN. It was also found in one of the case studies in 2018 that two people die due to poor performance standards of registered nurses. The family members of the dead persons have complained that one of the registered nurses was responsible for providing the wrong medication and that impairment has taken away the lives of two people (Chang & Daly, 2016). According to the Nurse and Midwifery Board of Australia, professional conduct is concerned with significant values that can be easily outlined in the set of obligations; codes of midwives and nurses must be prepared for explaining and justifying the actions and decisions. Nurses offer services to the convalescents to be easily cured of their ailments. A lack of time management and balancing work/life are the biggest reasons registered nurses become agitated and fail in performing their job roles (Nursing and Midwifery Board of Australia, 2018).
Moreover, they must possess certain skills which are significant in maintaining patients' health and giving them better healthcare and treatment amenities. Harry lacks one of the basic skills that every RN must possess: emergency assistance in medical care. When Mr. Somersby's condition deteriorated atrociously, he failed to call for emergency help so that he would be able to give him better treatment. Rather he remained silent and did not ask for help, which could have taken away the life of Mr. Somersby.
Recommendations for Harry to improve his skills as an RN
The following recommendations are given so that Harry can improve their time management skills and give proper treatment facilities to the patients. This includes emergency cases when the health of the convalescent deteriorates.
Teamwork in nursing is concerned with patient-centric behaviour focused on accomplishing targets working with other nurses (Rosen et al., 2018). Harry must learn to work within a team as it will help give proper care facilities to the convalescents. It also helps in enhancing the standards of outcomes for the patients. Hence, the major motive of the teams in healthcare must work in a team to make other nursing staff learn how to provide high standards of healthcare amenities that aid a patient receiving from ailments (McLeod et al., 2021). Nurses are required to purposefully integrate teamwork and their working patterns to further assist in seeing better responses from the patients and more enhanced accomplishment of the goals.
Registered nurses must work together in collaboration that helps develop solid safety and security outcomes for patients. In addition, it is recommended that when registered nurses work in collaboration, it helps improve the level of communication and productivity of these nurses and helps the healthcare centers to gain maximum benefit in the competitive edge (Zajac et al., 2021). This will help Harry improve his conversation skills with other nurses, which will help reduce his nervousness and enable him to approach other nurses without fear when an emergency occurs. This also helps improve strong nursing care facilities and interdisciplinary linkages (Herzberg et al., 2019). Teamwork skills must be learned so that the efficiency standards can be enhanced in caring for the convalescents, which leads to more brand awareness of the healthcare institutes and more competitive advantage.
It can be concluded that Harry, a registered nurse, must develop certain skills so that he can be able to provide better healthcare facilities to the patients. It is also analysed that better communication standards, developing resilience and using digital technologies must help healthcare professionals in providing better services and it also helps personal development.
Reference list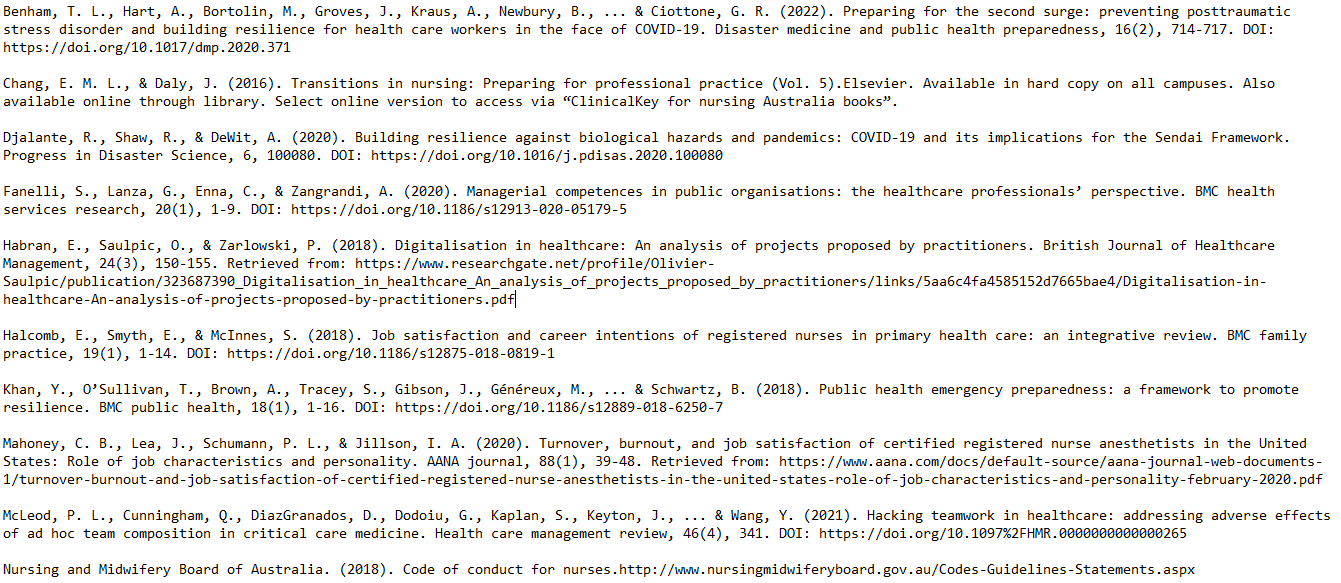 Fill the form to continue reading