×
Limited Time Offer !
FLAT 20-40% off - Grab Deal Before It's Gone. Order Now
Sample PUBH6004 Leadership and Effecting Change in Public Health Report
PUBH6004 Leadership and Effecting Change in Public Health Report Sample
GRAB NURSING REPORT HELP: A+ GRADE ASSURED Place Your Order Now and Get Up To 20% Discount!
PUBH6004 Leadership and Effecting Change in Public Health Report Sample
Instructions:
In this assignment, you will be provided a scenario (problem) involving a public health leader that you will need to analyse using the knowledge gained from this subject for 3 modules. Subsequently, immersing yourself in the scenario, you will evaluate yourself as a public health leader.
Note: Case study will be provided after Module 2
You will be writing a 2000 word report in three parts, as follows: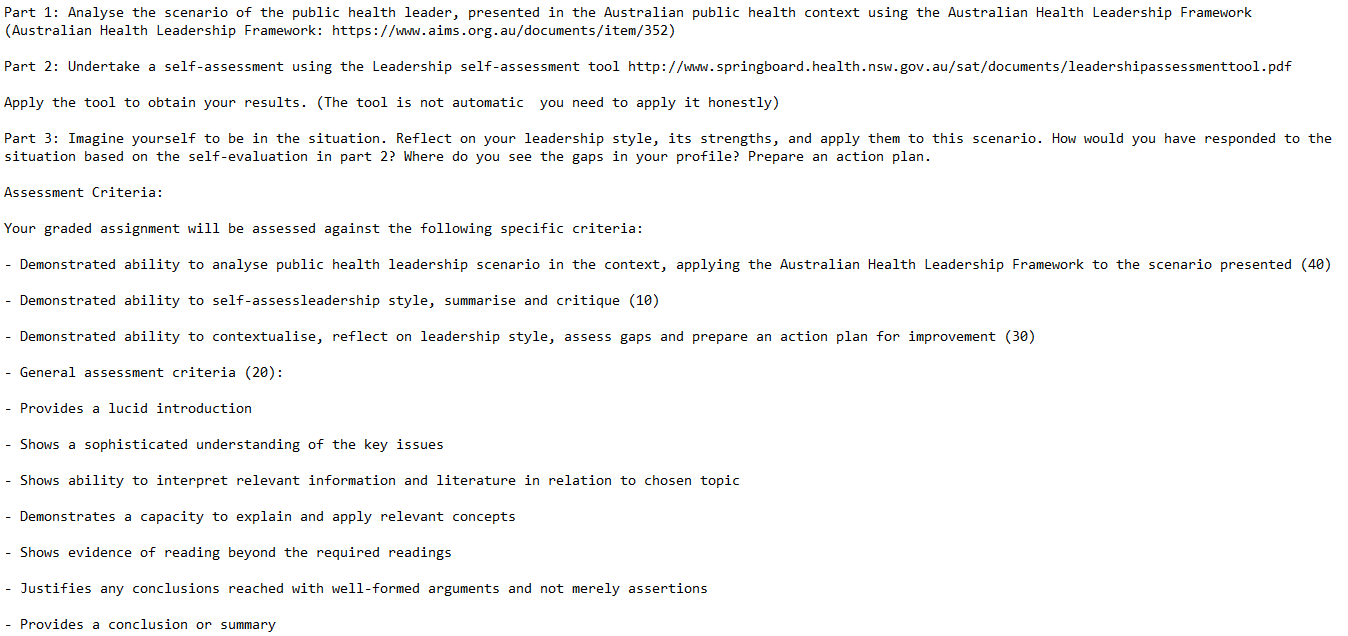 - Correctly uses academic writing, presentation and grammar:
- Complies with academic standards of legibility, referencing and bibliographical details(including reference list)
- Writes clearly, with accurate spelling and grammar as well as proper sentence and paragraph construction
- Uses appropriate APA style for citing and referencing research
Solution
Introduction
Australian Health care sector has been evolving for years coupled with increasing complexities due to rising disease & patterns of infections. The pandemic has created pressure on the already pressured healthcare organization accompanied by a shortage of labor and an increasing number of patients (Walshe & Smith, 2011). Since resources are scarce and the management directly impacts the well-being of the workforces.
Part A- Evaluating public health leader
Since the healthcare system is highly complexed, thus, NSW has defined leadership traits that are important for managing complexities in the public health domain. Health Leads Australia has created a leadership framework that is embedded in the principles like owing leadership, development of capable leaders, and mediating personality in the leadership role (Health workforce Australia, 2013). For Assignment Help In addition to this, Dr. Tania has been recognized as one of the most effective public health leaders during her tenure in varied positions in international health organizations. Thus, the leadership traits will be analyzed through the framework designed by Health Leads.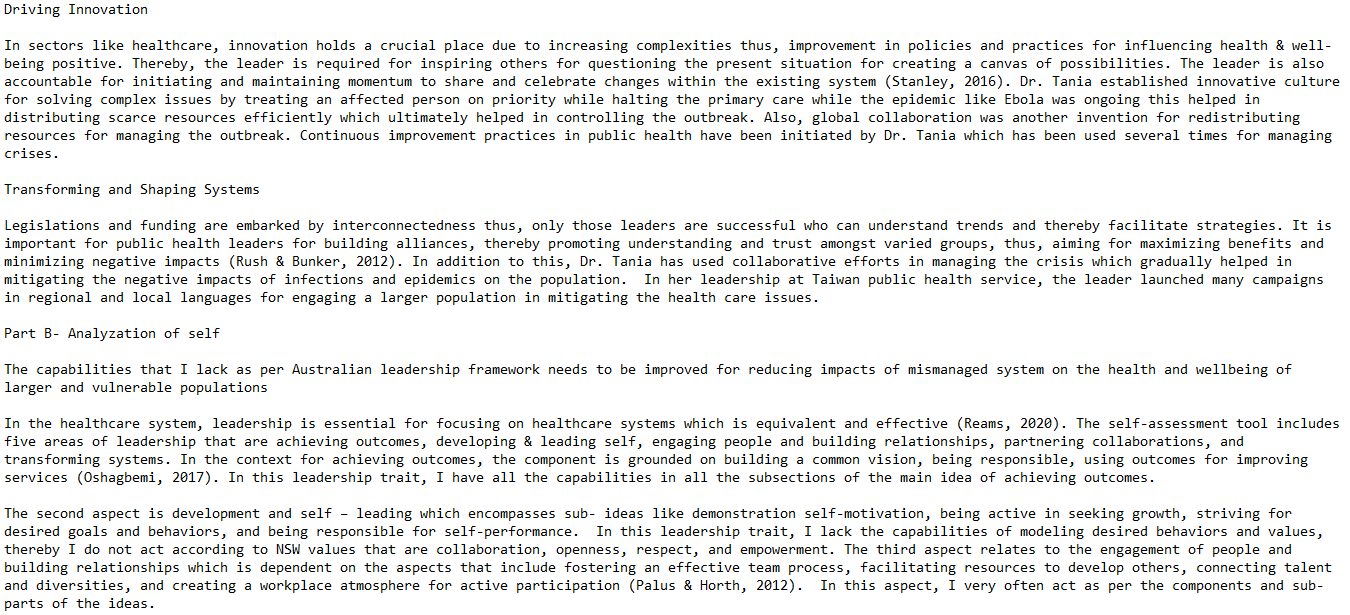 Also, the leadership framework includes aspects like partnering and collaborating across boundaries, which relies on deploying collaborative approach, mobilization different types of people, creating of cross- sectional collaboration, encouraging fresh insights from varied types of sources for fostering innovation (Bercaw & Poole, 2013). In all the sub- aspects of partnering and collaboration, I lack initiatives for creating cross-sectoral collaborations for service delivery agreements while I also lack competencies for mobilizing people for undertaking collaborative actions to fostering service transformation. Leaders need to possess the capability for delivering high patient outcomes eliminating redundancies and improving the transformation of the systems. Thus, the core ideas of transforming the system include shaping the preferred future, demonstrating critical system thinking, assessment of work through resistance while also being politically astute to foster changes. This aspect contains several sub-parts which are often used by me while working in the healthcare systems.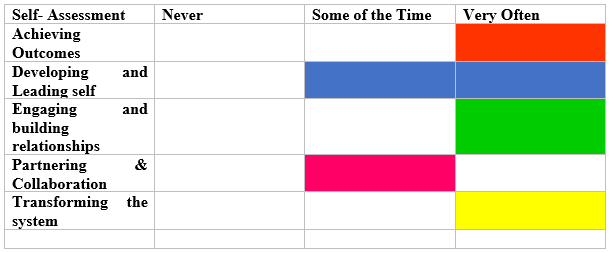 Part C- Identifying Strengths and leadership style
The self–assessment tool has been very helpful in identifying gaps and improving them for higher efficacy in healthcare management. In addition to this, in the aspect of achieving outcomes, I have acted according to the sub-sections of this component whenever I work in the healthcare domain. In addition to this, I was in the place of Dr. Tania, I would have also collaborated with different stakeholders like consumers, colleagues for setting the goals for achieving the common vision that is well- being of all socio-economic classes in epidemics and crisis. Since I focused on achieving outcomes, it would help me in aligning resources and influencing decisions for providing a quality and patient-centered approach. Thus, I will continually monitor and celebrate achievement by realizing being accountable in both the outcomes that is failure and success.
The second approach is leading self and developing, as it is very important for the leaders being self-aware thereby understanding strengths and limitations. I also realized that I am highly committed to improving myself, thereby displaying integrity in the roles and context. In addition to this, this strength would help in actively reflecting on the performances, thus responding to engage others for fostering learning and growth. I try achieving outcomes as I am self-aware and thus, apply honest and ethical principles while making crucial decisions in epidemic events. As per the self-assessment tools, my third strength will be engaging others, by recognizing values and cultural responsiveness in different countries I would work in. Since I have efficient skills for engaging others, I am approachable, possess active listening, with a clear presentation of ideas and issues. This strength would also help in actively and easily participating in very difficult conversations displaying humility and respect.
Engaging with others also helps me in inspiring others while enabling them for sharing ideas and information, thereby reaping opportunities for growth and opportunities. Besides, I have strengths in shaping the system as I can understand and can effectively communicate system awareness with all the stakeholders. As a leader, it is very important for involving consumers and varied types of health policy for creating policies, education, training, and other factors that impact well- being of societies at large. However, if I were in the position of Dr. Tania, I would have portrayed good outcomes as I lack competencies in partnering and collaboration. When placed in a leadership position, it is very important to be part of lower socio-economic background, without which equal distribution of resources cannot be assured. Thus, my weakness in forming a coalition would impact the lives of vulnerable populations in times of crisis and epidemics. In addition to this, I also lack competencies in managing myself and being aware as I am majorly focused on uplifting others; hence I am not able to recognize my strengths and reaping opportunities for seeking personal growth.
An action plan for improving gaps has been provided below.
Conclusion
Healthcare leadership is important in all industries as it is embarked by rapid changes in population demographics supported by a lack of efficient resources. Also, leadership has direct and indirect impacts on the health and well-being of all levels of the community. Leaders in the public health domain hold a crucial place thus, every individual like me must work hard and focus on continuous development to managing healthcare infrastructure effectively.
References
Fill the form to continue reading