×
Limited Time Offer !
FLAT 20-40% off - Grab Deal Before It's Gone. Order Now
Pure Gym 202202 Marketing Mid-term Coursework Assignment Sample
ASSIGNMENT BRIEF
Marketing
1500 words assignment
Pure Gym case study
Case study based on Mintel "Health and Fitness Clubs UK 2021" August 2021 and IBIS "Gyms and Fitness Centers in the UK" March 2021, and January 2022
Following forced gym closures throughout 2020 and early 2021, virtually all gym members either had their memberships frozen or opted to cancel. However, it hasn't taken long for the majority to reactivate their memberships with 58% returning to gyms as at June 2021, while most of those yet to unfreeze their membership planned to return in the following 12 months. One in four consumers said COVID-19 has made them more interested in taking part in leisure activities that benefit their physical wellbeing. The pandemic has altered consumers' purchasing habits in the long term. Younger consumers have become more financially aware and are more likely to favour cost-effective options. Just over 1 in 4 16-24s who have a membership or are interested in joining the gym would prefer a discounted off-peak membership, whilst a quarter would prefer the pay-as-you-go payment option.
The main threat to the private health and fitness industry is the potential for future lockdowns. Online fitness services served consumers very well during gym closures and higher demand for these services will be one of the main legacies of the pandemic even now gyms are open again. Moreover, government initiatives aimed at tackling inactivity and obesity are expected to increase industry operators' potential customer base. Competition is forecast to intensify, with low-cost and luxury gyms capturing market share from mid-market facilities. Demand for outdoor fitness continues to grow as consumers seek safe ways to exercise and a change of scenery. Fitness operators should continue to focus on enhancing their online and outdoor propositions in order to offer best 'hybrid memberships' that offer access to both online and offline services, including outdoor facilities.
Pre-COVID and current health and fitness club membership, by age, 2021
Base: 2,000 internet users aged 16+
"Were you a member of a private health and fitness club when the first COVID-19/coronavirus restrictions were introduced in March 2020?"
"Are you currently a member of a private health and fitness club? If you have more than one membership, please answer for the private health and fitness club you visit most often."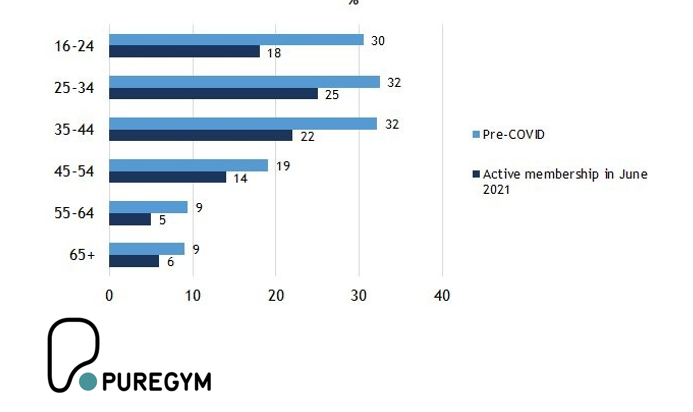 Pure Gym is the UK's leading low-cost gym chain. Founded in 2008, Pure Gym was a pioneer in the UK's budget market, which allowed them to quickly build a large consumer base. As of December 2021 the company had just over 300 locations in the UK, and as of June 2021, 1.1 million members. In June 2021, Pure Gym reported that its paying UK member base had recovered to 97% of its pre-pandemic level.
Pure Gym describes its proposition as one that offers low cost membership fees, no obligation to sign a 'locked in' contract, excellent standards of hygiene and cleanliness and 24/7 access to high quality, well maintained gyms.
In the past five years it has opened 142 new gyms in the UK. Recently it has focused on small box gyms which are typically between 6,000 and 9,000 square feet in size and allow Pure Gym to open new sites in areas previously unserved by the industry.
Pure Gym has the highest level of users and the second-highest recommendation level. 18% of consumers have ever used it and 83% of these people would recommend the brand. 29% of consumers say the gym is modern and affordable, and over half of consumers say the gym is accessible. Pure Gym is seen as trustworthy (29%) and good value for money (35%). It scores lower on prestige and expertise.
Just under a third of consumers say the brand is innovative, making it the brand most likely to be associated with this attribute of those surveyed. In the long term this quality will work to its advantage; for example, it can enhance its online offering by collaborating with brands that offer interactive experiences such as IFIT's mind body home workouts, and cater to the 35% of current or potential members who think any online fitness service is important.
User profile of Pure Gym, 2021
Pure Gym is popular among 25-34s (17% used the brand in the last 12 months vs 9% of total). 16% of those living in cities have also used Pure Gym in the last 12 months.
The word cloud below visualizes the relative overall usage of Pure Gym by major demographic groups. Demographic groups that over index on usage appear larger and in a deeper shade of green in the clouds, while those that under index appears smaller and in a deeper shade of red.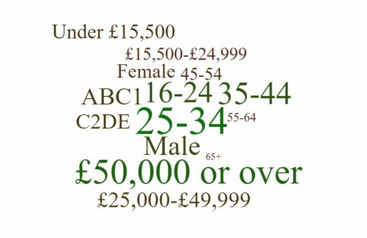 Trends in the fitness market
Low-cost segment is expanding across the UK
Despite all the challenges and uncertainty relating to the pandemic, the UK's low-cost health and fitness club segment has further expanded in 2021, driving the wider market forward with new site openings and expansion plans. The total number of sites across the low-cost sector has significantly increased from 399 in 2015 to 767 in 2021.
Estimated low-cost operator number of sites, by year, 2015-2021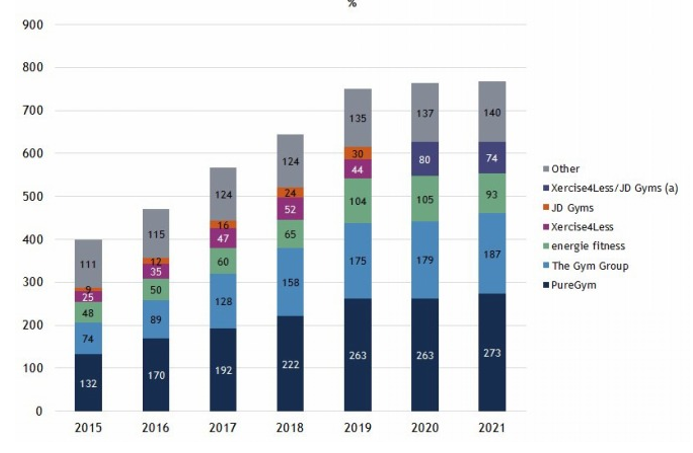 (a) Combined figures in 2020 and 2021 due to JD Gyms' acquisition of Xercise4Less in July 2020
Source: Mintel, August 2021
The low-cost segment is defined by memberships costing approximately £20 a month or less; The Gym Group has a monthly membership fee of £20.99 while PureGym has membership fees as low as £9.99 a month. Furthermore, with day passes and off peak memberships in addition to regular monthly memberships, low-cost gyms are highly flexible and have the opportunity to be even more flexible by adding bolt-ons to their offering. The low-cost gym segment will thrive as consumers, particularly the younger demographic, will be selecting more affordable options.
Key players in the low-cost segment by estimated market share in terms of number of sites, August 2021 Source: Mintel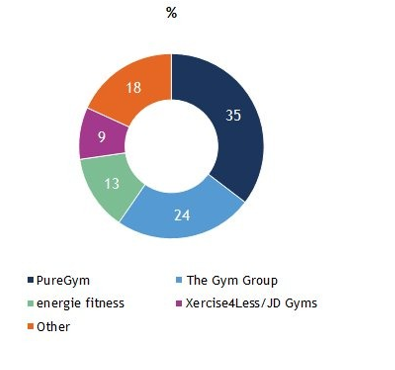 Hybrid working calls for hybrid fitness models
37% of full-time workers expect to work from home more often than they did before the pandemic, even once COVID-19 is no longer a significant threat. Remote or hybrid working is expected to become a trend that outlasts the pandemic, which will see more consumers move out of cities or commute into cities less often.
As more people work at multiple locations, this will also see them work out at different locations, whether at home, near their home, or near their workplace. Around 1 in 5 consumers who are currently members of a private gym or are looking to join one find it important that a gym membership includes access to indoor, outdoor and online facilities/services.
As many consumers will most likely only be travelling into the office a couple of times a week, fitness clubs may need to follow suit and offer part-time memberships that allow people to visit 2-3 times a week. Research shows that 16% of current/ potential gym members would prefer to sign up to a discounted subscription that only allowed them to visit a certain number of times per week.
Gyms can appeal to more aspects of health
There is an opportunity for gyms to capitalize on the growing interest in mental wellbeing; 68% of consumers who exercise said that COVID-19 has made them more aware of the importance of mental wellbeing. A third of exercisers would be more interested in joining a gym that offered services to improve their mental wellbeing, and the same proportion would be more interested in joining one that helped to improve their diet/nutrition.
Growing need for third spaces
With many people likely to spend less time in the office, venues such as gyms can benefit from growing demand for 'third spaces' that allow consumers to meet others or even work in locations outside of their home. There are also opportunities for gyms to develop a range of 'add-ons' that consumers can opt to tag on to memberships for an extra fee each month. These could include online personal training services, nutritional supplements, health foods or spa/beauty treatments.
Technological Solutions
Mintel's Technology Trend Driver states how technology will become ingrained in our daily lives. Technology will advance and keep consumers informed about their own personal wellbeing. Fitness operators that offer technological solutions that contribute to improving consumers' wellbeing will be able to stand out in the health and fitness market. The Gym Group is the first chain to combine the brick-and-mortar health club experience with digital fitness, providing exercisers with interactive HIIT studios, in partnership with Fiit.
iFIT, an on-demand fitness streaming platform, has started a selection of new interactive body mind workouts designed to redefine fitness. Launched in May 2021 in line with National Mental Health Awareness Month, the interactive workouts are aimed to improve exercisers' mental health, focusing on mindfulness, meditation and movement.
Rejuvenating High Streets
In July 2021, the government introduced a new strategy to support local economies, guaranteeing 15 Town Deals to regenerate high streets, repurpose derelict buildings into new homes and give communities the chance to own pubs, theatres and corner shops. The health and fitness sector has an opportunity to capitalize on the government's initiative to expand high streets, opening up new fitness sites in local communities to promote good health.
Young Consumers Lead The Way
Young consumers (aged 16-44) show the highest interest levels in returning to or joining gyms in the next 12 months. Younger consumers are more likely to take part in strength-based as well as high intensity workouts, suggesting that these could be two areas for gyms to focus on when offering tailored packages.
END OF CASE STUDY
Assessment scenario for assignment help (This Case Study provides the context of your assignment)
You are a Marketing Consultant for Pure Gym and have been tasked by the Board to produce a Marketing Plan for the next three years.
Your coursework MUST be in REPORT format ONLY and MUST include all sources of information in a 'References' section using APA style. Students must use tables / diagrams and bullet points wherever possible to present the key elements of a professional business report.
Students should refer to appropriate theory learned to demonstrate their knowledge and understanding and have read the set book. Not all subject areas will be covered in lectures and seminars. Students are expected to study independently and read / research extensively.
Students must use tables / diagrams and bullet points wherever possible to present the key elements of a professional business report.
Format should include the following elements:
• Title page.
• Contents page.
• Introduction in brief.
• Marketing Plan (include PESTLE, Porters Five Forces, Consumer decision making, Internal environment and Portfolio analysis, SWOT, SMART Objective, Marketing strategy with STP and Marketing programmes – please refer to next page for detailed marking scheme).
• Bibliography.
• Appendices.
Students should refer to appropriate theory learned to demonstrate their knowledge and understanding and have read the set book. Not all subject areas will be covered in lectures and seminars, students are expected to study independently and read / research extensively.
The word count is 1500 words.
PESTLE, Porters five forces, SWOT and Marketing programmes (Marketing mix) can be included in tables and their content will then be NOT included in word count.
Deadline: 3.59 p.m on Friday, July 8th 2022
Submission via Turnitin
Use the coursework guidance document, sources and references list document available on Moodle to explore necessary information to finish the coursework.
Other important notes to students:
Title, ICP Student ID, Word count to be included.
Font should be Ariel or Calibri.
Font size to be 12 for above font types.
Have 1.5 line spacing with page margins of 2.5 cms top and bottom including left and right.
Have clear line spaces between paragraphs.
Be fully blocked – paragraphs should not be indented.
Be justified to the left hand margin only.
Have all pages numbered.
Include Student ID number on each page.
Proof read with no spelling errors or typographical errors.
Please see the marking grade criteria given at the end.
You need to type the answers only in Word document and upload it on Turnitin link on your Moodle site.
The Turnitin similarity % should be much lesser than 20% (the lesser the better).
Please note the weighting for each task and divide the word count up appropriately.
Kindly refer to the detailed marking scheme provided at the next page.
Solution
Introduction
In the following report, the market plan is going to be structured through the analytical perception of the macro-environment. Through the Pestle Analysis, the factors are going to be observed which are affecting the growth of Pure Gym. Furthermore, Porter's five forces will ensure the micro environmental factors that will provide evidence to the information that will be collected. Then the consumer decision-making processes will be verified to study the internal environment through SWOT analysis.
PESTLE Analysis
Importance of Pestle Analysis
The Pestle Analysis dispenses circumstantial resources regarding the business flow. The brand positioning can also be determined from the analysis along with favorable growth in the required areas and examine the risks involved in the field of productivity (Cie?likowski & Kantyka, 2018). The sustainability of the available services and products can also be derived from the analysis and endorsements of new products can also be developed.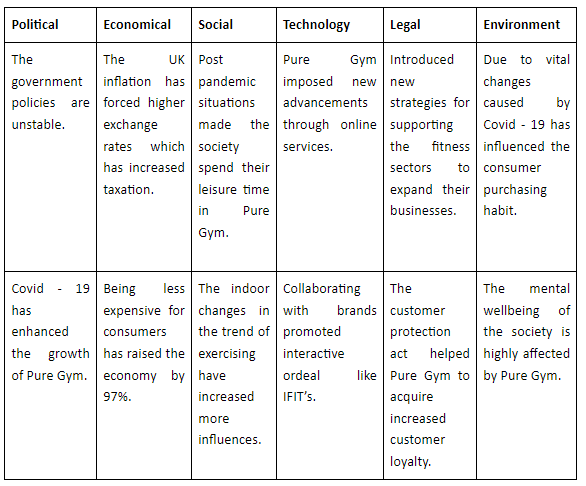 (source: as per Cie?likowski & Kantyka, 2018)
Analysis of the factors
Political: The effects of the Covid - 19 have made the UK government protective for personal development for which Pure Gym was highly affected (Chand, Lal, Prasad & Mamun, 2021).
Economical: The high inflation rate and interests have brought major changes in the daily lives of the people but Pure Gym invested its potential in innovating its services (El Khateeb & Shawket, 2022).
Social: The major changes that took place in renovating the trends to expand the low-cost segment attracted a huge percentage of customers in the youth demographic.
Technological: The advancements made in the technicalities were to raise awareness of being fit and influenced many customers to go to Pure Gym. The demand of low cost gyms by the consumers in the UK is represented in the graph mentioned below.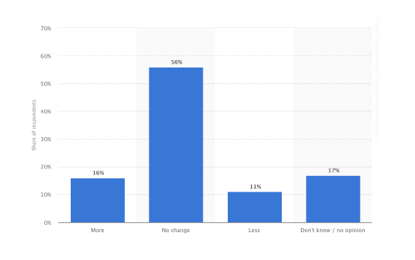 Figure 1: The demand of low cost Gyms
Source: (Glofox, 2022)
Legal: The various resourcing by the UK government has forced people to be involved in activities to lead a healthy life which has enhanced the growth of Pure Gym (El Khateeb & Shawket, 2022).
Environmental: Pure Gym maintained high sustainability to maintain a healthy environment by maintaining their low-cost segment to attract more customers.
Pure Gym is one of the highest low-cost gym chains in the UK offering low-cost subscription fees for members. The members of Pure Gym are free to come and go as Pure Gym has no contracts that restrict consumer willingness (Dick et al., 2020). They are very particular about maintaining hygienic factors and cleanliness. The quality of services that are provided by Pure gym is always accessible.
Porter's five forces
Michael Porter's five forces model is required for the understanding of the competitive constraints in workplaces in any industry. The importance of this tool is to yield manufacturing or work-related processes under constant pressure (Bhatt & Singhi, 2020). The affected competition in the working environment reflects the increment in the profitability of the business.
Porter's Five Forces Analysis
Competition in the industry: The competition in the market is reasonably high due to the Gym group in the UK also having a wide chain and popularity (Chiu, Kokkinis & Miglionico, 2021). The flexibility in the low-cost segment in the gym sector affects the debt management proactively (Mintel, 2022).
Potential of new entrants: The factor of Pure Gym to lead in the market of the United Kingdom makes fewer ultimatums for the new entrants which are a positive impact for Pure gym (Abeysiriwardana & Jayasinghe-Mudalige, 2021). The below graph is representing the growth in the fitness industry in the UK.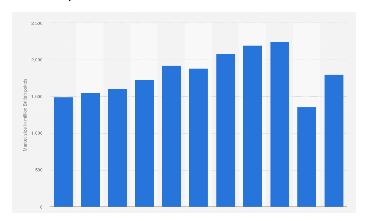 Figure 2: Fitness Industry growth
Source: (Statista, 2022)
Power of suppliers: The gym sector hardly requires any supplies in products which reduces the power of suppliers as Pure Gym also relies on services mainly. The infrastructural technicalities were provided by Pure Gym which caused changes in the behaviour of the staff (Shin et al., 2021).
Power of customers: The power of the customers is very moderate as there is plenty of availability of consumers due to the low membership costs of Pure Gym.
New entrant threat: Though the registration fees are low Pure Gym never compromises with maintenance and customer satisfaction is one of the main aim by innovative technology (Goc?owska, Pi?tkowska & Lenartowicz, 2019). They also have various online services that have increased their businesses by 97% in the post pandemics.
Consumer decision-making
'Pure Gym' has personal trainers who are certified with the appropriate skills, abilities and knowledge to maintain an effective and safe programme of exercises. It helps the customers to achieve fitness and health goals. The membership packages of this gym are very low in the UK as fitness and leading a healthy life was the dedication of the peoplein the post pandemic (Tanisawa et al., 2020). There is so much flexibility in service which is provided by the outdoor and indoor activities of Pure Gym. The main focus of this gym is generating good gym experiences. Hygiene is significantly maintained by Pure Gym.
Port Folio Analysis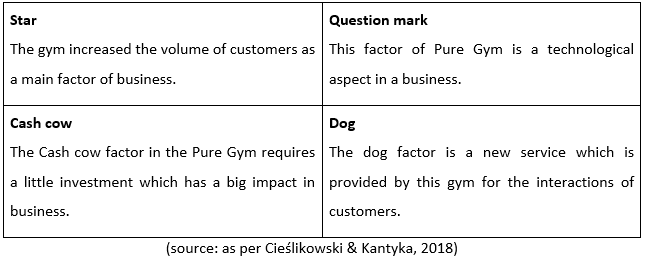 Star: Pure Gym has a star factor in the gym industry in the UK. The membership which is provided by this gym reports customer satisfaction in the business (Hamilton & Webster, 2018). The gym increased the volume of customers with personal trainers and a safe programme of exercises. It helps the customers to achieve fitness and health goals.
Question mark: There is high growth in some sectors and the share of the company is low which will be a question mark as fighting with the diseases calls for fitness training (Amagasa et al., 2022). The market share of certain products of Pure Gym is low but the market share of those products is relatively high which has to be identified. The technological aspect helps to grow a brand with better marketing (Moshrefi et al., 2020). The technological aspects of Pure Gym are moderate.
Cash cow: The cash cow of Pure Gym is its various offers which will compel its clients to avail of its lucrative membership plans which will benefit both the gym and the clients (Zin, Bombana & Barcellos, 2018). The easy and affordable membership plan of the gym will ensure clients hold on to the plan throughout the year.
Dog: The new facility that the gym chain is providing to its clients is the third space facility which will allow the clients to socialize often raises dilemmas regarding digital citizenship (Calzada, I., & Bustard, J. R. (2022). This service will have a low growth rate in the market and it will not add value to the larger objective of the gym chain.
SWOT Analysis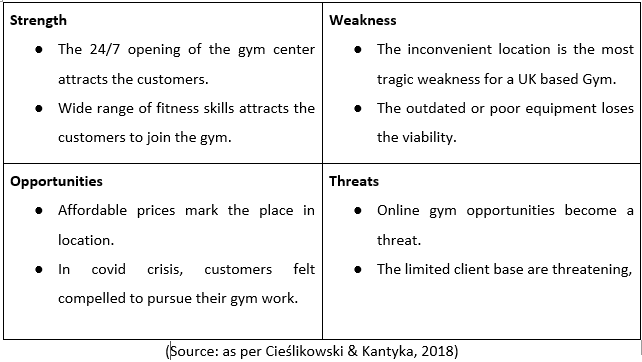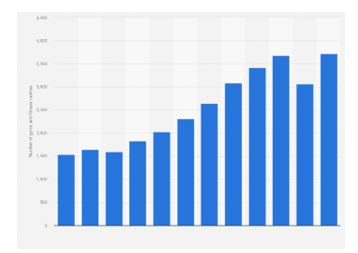 Figure 3: UK fitness gym centers after pandemic
Source: (Statista. 2022)
Importance of SWOT Analysis
SWOT analysis shares the internal capabilities and measurements of the given organization or center and provides its internal viewpoints.
Strength: Pure Gym is open 24/7 in the UK which attracts customers and structures the gym's market plan (Jing et al., 2021). It has a wide range of fitness skills that allows more customers to share their physical well-being.
Weakness: The biggest weakness for a UK-based gym is the inconvenient location and technical issues that challenges the customer allowance in the market (Polyakova & Ramchandani, 2020).
Opportunities: Affordable prices can lead to more customer visibility and pursuing training in covid crisis is the biggest opportunity for Pure Gym (Andreucci, 2020).
Threats: In recent times, online gym training and limited client basis has become the biggest threat for Pure Gym (Yin, Li, & Dila, 2020).
Marketing Objective (SMART)
Marketing objectives
The marketing objective is an important factor in determining the success of a brand that wants to sustain itself in the competitive market. Setting up specific objectives will ensure that the short, long, and medium-term goal of a company is achieved in a time-bound manner (Sugiat, 2021). After the covid, there is a different situation with consumers getting conscious about the financials and wanting cost-effective solutions.
Selection of objective: The SMART objective was selected as a marketing objective for Pure Gym. The immediate target is set in a specific and time-bound manner which is to increase the turnover to over 330 million pounds by 31st December. Pure Gym has also made a target of getting over a million members by the same stipulated time. The SMART objective will ensure that the target is relevant in today's environment and is gained on time (Santoki & Parekh, 2020).
The reason behind the selection
The marketing objective that uses a SMART model sets a time-bound goal that will be easy to accomplish due to efficient planning. The specific model of the marketing strategy was used to take the logical step which will be relevant in today's environment.
SMART Table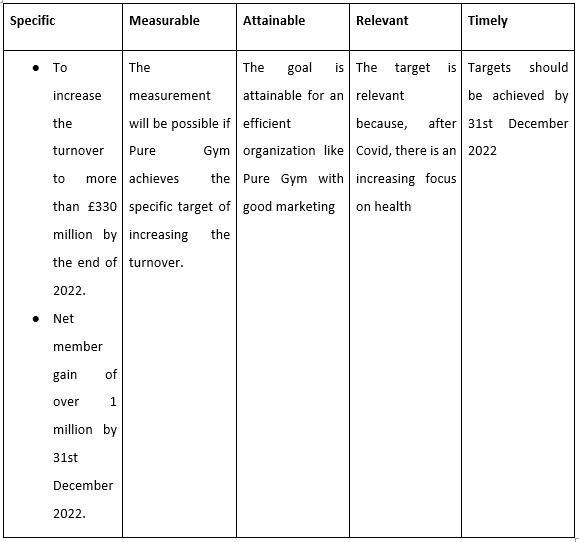 Marketing strategy and STP
STP helps a brand target a particular segment with clarity. The commercial attractiveness of each segment should be taken into account before developing positioning for each product segment including a marketing mix for the sector (Huijsmans et al., 2019). STP is relevant to digital marketing which enables a company to communicate tactically.
STP Analysis
Segmentation: Segmentation should be based on demographics and the interest of people in a particular location. The characteristics and the purchasing power of a particular segment should also be focused during making the marketing strategy
(Ghahnavieh, 2018). There is a group of young people who are actively involved in sport and who may play at the national level who need to be physically fit using the right equipment.
Targeting: The target market should be fixed according to the forecast of revenues for each segment. Losing weight and having a toned body is the general fitness goal of this segment (Liu & Shan, 2021). People belonging to the 18-45 age groups will be particularly targeted as they are highly likely to be regular members and they will purchase various fitness-related products.
Positioning: The customer proposition of Pure Gym is disruptive which its biggest marketing strength is. The positioning of each product should be based on the particular segment targeting. The positioning will be mainly for the young clientele who are likely to spend more money on fitness.
Marketing strategy: Increasing popularity among the targeted audiences
Ansoff Matrix
The four dimensions of the Ansoff matrix are product development, diversification, market penetration and market development.
Penetration: Pure Gym is focused to penetrate the untapped segment which will boost its revenue. Pure Gym is using various digital marketing tools to go to the new sectors. It also has strategic alliances with other fitness centers and celebrity fitness influencers (Khajezadeh et al., 2019).
Market development: New products are promoted in different countries as a part of the strategy (Khajezadeh et al., 2019). Pure Gym is mainly focused in the UK now it is expanding internationally.
Product Development: The gym chain has already begun to give new offers to its clients based on attractive plans. It is focused on launching new plans and offers which will be aggressively promoted on social media.
Diversification: Diversification will be risky for Pure Gym which is expanding rapidly (Krupina, 2021). Existing products should be marketed heavily before diversifying.
Porter's competitive advantage: Porter's generic competitive strategy includes cost leadership which will be applied to get a competitive advantage. The various changes were identified due to pandemic in the customer's responsibilities (He & Harris, 2020).
Marketing programmes
Importance of marketing programme
Prioritizing a primitive video sharing on the gym training and physical fitness structure can be an accurate marketing program for Pure Gym. The shadings of customer reviews and their affective experiences in Pure Gym upgrade its market structure and acquire the marketplace (Yin, Li, & Dila, 2020). Thus, the market program is important to analyze the UK's gym training centers and current conditions before the customers.
Planned marketing actions
? The increase of customer allowance and sale of company.
? To develop mental and physical health conditions.
7 Ps of Marketing Mix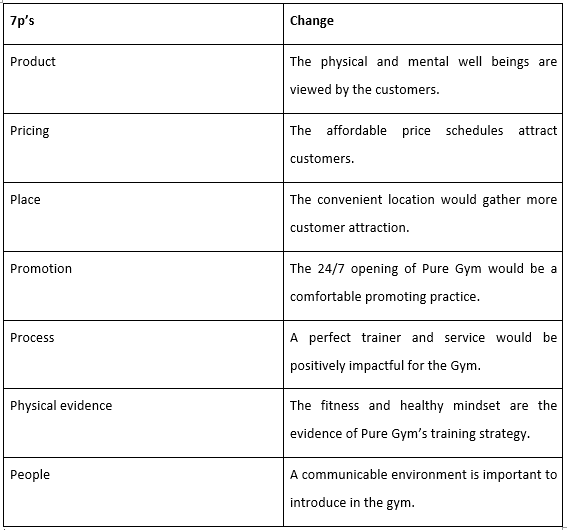 Conclusion
The above research paper provided a detailed marketing strategy and its plan for the popular gym chain Pure Gym in the UK. With the help of analytical tools like graphs and tables, various marketing models were discussed in the above research paper. Pestle analysis, SWOT analysis, portfolio analysis and STP models were discussed in the report. STP is based on the principle of effective marketing mix strategy and product position for each system.
Reference list
Abeysiriwardana, P. C., & Jayasinghe-Mudalige, U. K. (2021). Role of peripheral analysis methods in adoption of successful KPIs for a research institute working towards commercial agriculture. International Journal of Global Business and Competitiveness, 16(1), 61-71. DOI: https://doi.org/10.1007/s42943-021-00021-z
Amagasa, S., Machida, M., Ding, D., & Inoue, S. (2022). Preventing infectious diseases outbreaks at exercise facilities. Managing Sport and Leisure, 27(1-2), 22-25. DOI: https://doi.org/10.1080/23750472.2020.1779116
Andreucci, C. A. (2020). Gyms and Martial Arts School after COVID-19: When to come back to train?. Advances in Physical Education, 10(2), 114-120. Retrieved from: https://www.scirp.org/journal/paperinformation.aspx?paperid=100121
Bhatt, I., & Singhi, R. A. (2020). New framework to revive industries with the help of advanced technology used as marketing tool. International Journal of Engineering Technology and Management Science, 4(4), 1-11. DOI: 10.46647/ijetms.2020.v04i04.001
Calzada, I., & Bustard, J. R. (2022). The dilemmas around digital citizenship in a post-Brexit and post-pandemic Northern Ireland: towards an algorithmic nation?. Citizenship Studies, 1-22. DOI: https://doi.org/10.1080/13621025.2022.2026565
Chand, A. A., Lal, P. P., Prasad, K. A., & Mamun, K. A. (2021). Practice, benefits, and impact of personal protective equipment (PPE) during covid-19 pandemic: Envisioning the UN sustainable development goals (SDGs) through the lens of clean water sanitation, life below water, and life on land in Fiji. Annals of Medicine and Surgery, 70, 102763. DOI: https://doi.org/10.1016/j.amsu.2021.102763
Chiu, I. H. Y., Kokkinis, A., & Miglionico, A. (2021). Addressing the challenges of post-pandemic debt management in the consumer and SME sectors: A proposal for the roles of UK financial regulators. Journal of Banking Regulation, 1-19. DOI: https://doi.org/10.1057/s41261-021-00180-2
Cie?likowski, K., & Kantyka, J. (2018). Fitness market in Poland and its determinants. European Journal of Service Management, 26, 37-44. DOI: 10.18276/ejsm.2018.26-05
Dick, J., Carruthers-Jones, J., Carver, S., Dobel, A. J., & Miller, J. D. (2020). How are nature-based solutions contributing to priority societal challenges surrounding human well-being in the United Kingdom: a systematic map. Environmental Evidence, 9(1), 1-21. DOI: https://doi.org/10.1186/s13750-020-00208-6
El Khateeb, S., & Shawket, I. M. (2022). A new perception; generating well-being urban public spaces after the era of pandemics. Developments in the Built Environment, 9, 100065. DOI: https://doi.org/10.1016/j.dibe.2021.100065
Ghahnavieh, A. E. (2018). The influence of marketing factors on the marketing strategic planning in SNOWA corporation. Business and Management Studies, 4(4), 52-61. Retrieved from: https://core.ac.uk/reader/228084810
Glofox. (2022). Glofox.com. Retrieved 30 June 2022, from https://www.glofox.com/blog/10-gym-membership-statistics-you-need-to-know/.
Goc?owska, S., Pi?tkowska, M., & Lenartowicz, M. (2019). Customer satisfaction and its measurement in fitness clubs of Warsaw. Economics & Sociology, 12(2), 205-218. DOI: 10.14254/2071- 789X.2019/12-2/12
Hamilton, L., & Webster, P. (2018). The international business environment. Oxford University Press. Retrieved from: https://books.google.co.in/books?hl=en&lr=&id=qQN6DwAAQBAJ&oi=fnd&pg=PP1&dq=The+international+business+environment+(3rd+ed.).+OUP.&ots=9PytUJXVlM&sig=JaCVotTXNTtSThMQbDE1SSj5Ouc&redir_esc=y#v=onepage&q=The%20international%20business%20environment%20(3rd%20ed.).%20OUP.&f=false
He, H., & Harris, L. (2020). The impact of Covid-19 pandemic on corporate social responsibility and marketing philosophy. Journal of business research, 116, 176-182. DOI: https://doi.org/10.1016%2Fj.jbusres.2020.05.030
Huijsmans, I., Ma, I., Micheli, L., Civai, C., Stallen, M., & Sanfey, A. G. (2019). A scarcity mindset alters neural processing underlying consumer decision making. Proceedings of the National Academy of Sciences, 116(24), 11699-11704. Retrieved from: https://www.researchgate.net/profile/Jung-Hwan-Kim-2/publication/347417100_Consumer_decision-making_in_a_retail_store_the_role_of_mental_imagery_and_gender_difference/links/5fe8c80a299bf14088503002/Consumer-decision-making-in-a-retail-store-the-role-of-mental-imagery-and-gender-difference.pdf
Jing, Y., Ma, D., Liu, Y., Cui, J., Zhang, S., & Chen, Y. (2021). Decoding the Street-Based Spatiality of Urban Gyms: Implications for Healthy City Planning. Land, 10(2), 175. Retrieved from: https://www.mdpi.com/2073-445X/10/2/175/htm
Khajezadeh, M., Niasar, M. S. F., Asli, S. A., Davari, D. D., Godarzi, M., & Asgari, Y. (2019). Application of neural network in portfolio product companies: Integration of Boston Consulting Group matrix and Ansoff matrix. International Journal of Economics and Management Engineering, 13(6), 821-825. Retrieved from: https://www.researchgate.net/profile/Sali-
Asli/publication/360928851_Application_of_neural_network_in_portfolio_product_companies_Integration_of_Boston_Consulting_Group_matrix_and_Ansoff_matrix/links/629340546886635d5cad0cbf/Application-of-neural-network-in-portfolio-product-companies-Integration-of-Boston-Consulting-Group-matrix-and-Ansoff-matrix.pdf
Krupina, N. N. (2021). Development of a Matrix Tool for Visual Market Research in Strategic Management. ??????? ????????????, 13(2), 10-23. Retrieved from: http://sv-journal.org/2021-2/02/en.pdf
Liu, Y., & Shan, H. (2021). Fresh Fruit Time based on STP analysis and statistics method (Changchun) Word-of-mouth marketing strategy research. In E3S Web of Conferences (Vol. 233, p. 02055). EDP Sciences. DOI: https://doi.org/10.1051/e3sconf/202123302055
Mintel. (2022). Mintel market reports: consumer, market sizes, annual reviews. Mintel Store. Retrieved 6 July 2022, from https://store.mintel.com/mintel-market-reports.
Moshrefi, S., Abdoli, S., Kara, S., & Hauschild, M. (2020). Product portfolio analysis towards operationalising science-based targets. Procedia CIRP, 90, 377-382. DOI: https://doi.org/10.1016/j.procir.2020.02.127
Polyakova, O., & Ramchandani, G. (2020). Perceived service quality among regular users of gyms in public sports centres in the UK. Managing Sport and Leisure, 1-20. DOI: https://www.tandfonline.com/action/showCitFormats?doi=10.1080/23750472.2020.1853594
Santoki, A., & Parekh, M. (2020). Marketing strategies during COVID-19. Journal of Critical Reviews, 7(14), 2309-2315. Retrieved from: https://www.researchgate.net/profile/Ashwinkumar-Santoki/publication/357683384_MARKETING_STRATEGIES_DURING_COVID-19/links/61da4916d4500608169b4985/MARKETING-STRATEGIES-DURING-COVID-19.pdf
Shin, H., Sharma, A., Nicolau, J. L., & Kang, J. (2021). The impact of hotel CSR for strategic philanthropy on booking behavior and hotel performance during the COVID-19 pandemic. Tourism Management, 85, 104322. DOI: https://doi.org/10.1016%2Fj.tourman.2021.104322
Statista. (2022). Number of UK fitness/health clubs 2022 | Statista. Statista. Retrieved 30 June 2022, from https://www.statista.com/statistics/1194837/gyms-fitness-centres-uk/.
Statista. (2022). UK fitness/health club market size 2022 | Statista. Statista. Retrieved 30 June 2022, from https://www.statista.com/statistics/1194831/fitness-health-club-market-size-uk/.
Sugiat, M. (2021). The Role of Changes in Customer Behavior on Smart Marketing Strategies in The Post-Covid Pandemic Era. Journal of Economics and Business UBS, 10(2), 228-235. Retrieved from: https://jurnal.ubs-usg.ac.id/index.php/joeb/article/download/72/208
Tanisawa, K., Wang, G., Seto, J., Verdouka, I., Twycross-Lewis, R., Karanikolou, A., ... & Pitsiladis, Y. (2020). Sport and exercise genomics: the FIMS 2019 consensus statement update. British journal of sports medicine, 54(16), 969-975. DOI: 10.1136/bjsports-2019-101532
Yin, M., Li, Z., & Dila, A. (2020, April). Risk assessment of safety accidents in small and medium gyms. In IOP Conference Series: Earth and Environmental Science (Vol. 474, No. 7, p. 072044). IOP Publishing. DOI: :10.1088/1755-1315/474/7/072044
Zin, R. A., Bombana, L. P., & Barcellos, P. F. P. (2018). Evaluation of two companies' sales teams with the BCG matrix using profit and contribution margin. Gestão & Produção, 25, 826-838. DOI: https://doi.org/10.1590/0104-530X634-18
Fill the form to continue reading