×
Limited Time Offer !
FLAT 20-40% off - Grab Deal Before It's Gone. Order Now
Sample MIS500 Assignment Research Report
Still Looking for MIS500 Assignment Research Report? You've Reach The Right Place!
GRAB IT ASSIGNMENT REPORT HELP: A+ GRADE ASSURED Place Your Order Now and Get Up To 20% Discount!
MIS500 Assignment Research Report
Context
The assessment suite in this subject is built on top of skills you are building in your learning activities. Although the learning activities do not carry any assessable weight by themselves, completing them and seeking input from your peers and the learning facilitator is essential for you to achieving a positive result in the subject. While researching and writing this assessment, be sure to work through content and the learning activities in modules one and two.
Sneakers have revolutionised fashion, lifestyle and the environment.
Sneakers and streetwear have revolutionised fashion, lifestyle and the environment.
Global Footwear Market Report 2021, reports that the Sneaker Market is Projected to Reach $403.2 Billion USD by 2025 - Driven by New Design Trends and Rising Discretionary Spending Among an Expanding Middle Class Population. From Nike, Toms, Puma, Adidas to Converse, Veja, Yeezy to Gucci, Louis Vuitton and Chanel everyone is wearing sneakers. Kanye West, Mark Zuckerberg, Taylor Swift, Virat Kohli, Beyonce and people from all walks of life both young and old are wearing sneakers. The sneaker industry like all industries has had to pivot itself to environmentally friendly and sustainable sneakers. Spain, Italy and many countries in South America are leading the way in producing sneakers made of recyclable materials including food.
In this assignment you will audit, analyse and evaluate the social and digital media of an environmentally and sustainable sneaker brand.
Introduction
Describe the history of the environmentally and sustainable sneaker brand (Nike, ID.Eight, Toms, Allbirds, Veja, Flamingos Life, Cariuma, Native, Nisolo, Sole Rebels, Oliver Cabell, Thousand Fell and Adidas). You can use Australian or international sneaker brands.
Discussion
Discuss (in the 3rd person) why this environmentally and sustainable brand was chosen to be Audited, analysed and evaluated.
Audit and Analysis:
Visit the brand's website and audit their social media platforms. You should be investigating the traditional website advertising and the social media platforms (Facebook, WeChat, Instagram, Pinterest, Snapchat, QQ, Tumblr, Qzone, LinkedIn, Youtube, TikTok, Twitter etc.).
As a future IS professional audit, analyse and evaluate the brands website and use of social media that is currently present.
Based upon research, is the website and social media platforms engaging? Evaluate, discuss and provide evidence.
Discuss how your chosen brand engages their audience in its marketing of Corporate Social
Responsibility (CSR) sneakers. Your discussion should centre on the production of ecofriendly and sustainable products. Does the company or retailer actively engage with their customers? Using research that you have conducted in the landscape of social media discuss whether the website and social media platforms are engaging? Justify using evidence.

Recommendations using Porter's Value Chain model
Use the Porter's Value Chain model to identify and explain the business's primary activities using the company website and the social media channels to obtain this information. (Marketing and Selling).
Make three recommendations to the Sneaker Company or Sneaker Retailer on how Porter's model can enhance or maximise marketing (exposure and impact) selling (increase sales traffic)
Conclusion
Discuss the actions that the Sneaker Company or retailer should engage in so as to increase sales and engage more actively with its customer base in the purchase of ecofriendly and sustainable products. What other types of social media (based upon research) should be introduced to the company or retailer?
Recommendations
Make three recommendations to the Sneaker brand on how the company can enhance or maximise the value offered to 'customers' by producing more ethical sneakers and delivering a strong message via Social Media and their official website.
Solution
Introduction
Nike Inc is an American sneaker company that is engaged in the design, development, manufacturing, and marketing of world-class sneakers and shoes. For Assignment help, This footwear apparel has the largest supply of athletic shoes and it is the leading manufacturer of sports equipment (Boyle, et al., 2019). In this report, an evaluation of the social and digital media of an environmentally and sustainable sneaker brand, Nike will be done.
Discussion
Nike is environmentally sustainable in manufacturing its sneakers in a cruelty-free way. So, it has been chosen for this audit report. The sneakers are made of fruit waste, recycled materials, and are environmentally sustainable. The sneakers are made in Italy from innovative andenvironmentally sustainable wastes for unisex and distributed all over the world. Nike also follows a sustainable packaging for the sneakers that allow people to save the environment by disposing of the boxes. These boxes are mostly made of disposable and bio-degradable products. Nike focuses on the efforts in using raw materials to reduce its water footprint. The company is trying hard to reduce the use of freshwater in manufacturing high-quality shoes that are used for dyeing and finishing textiles. Nike promotes wastewater recycling to make environmentally sustainable sneakers (Boyle, et al., 2019).
Audit and Analysis
Nike still believes in traditional marketing on its websites and social media platforms. In today's world, traditional product marketing is very much alive and used by large companies. Nike promoted their products based on "emotional branding" by using the tag "Just Do It" on their website and social media platforms. Nike is now focusing on strong branding through social media hashtags, posts with emotional captions that lift up the people's spirit, etc. Nike has come up with traditional branding tools that increase the brand's appeal among local people as well as celebrities all around the world (Center for Business Communication, et al., 2021).
By choosing the right person for advertisement and branding, Nike gains the trust of common people. Nike's digital marketing channel is large enough to distribute knowledge about the products effectively. Nike also holds subsidiaries like Converse, Jordan, and Hurley that help them to grow. Nike has also collaborated with Facebook Messenger Bot to promote their special product, Nike Air. In order to create this campaign, Nike teamed up with an AI platform named Snaps. It established a conversational setup between the company and the customers where news about the products are sent to the customers on a weekly basis. The news is divided into 3 categories, such as; Air Jordan, Shop and watch (Thompson, 2016). Facebook Messenger Bot enables a two-way conversation between the people and the company that provides a unique opportunity to connect directly to Nike's Air Jordan. The bot is effective in making conversations with an open rate of 87% (Henry, 2012). The users/customers can set up notification time and collect useful website links for buying the products. So, it can be said that Nike has a strong digital advertising system where social media is quite engaging. In 2020, Nike has spent $81.9 million on community development globally. Since 2001, Nike has focused on its public commitments and aligned its operations with business priorities. Nike's corporate governance shows that the company has strong commitments to monitor the effectiveness of policy and decisions taken by it for a long time. It approaches governance to increase its long-term shareholder value in the global market. It also enhances the CSR, human rights and improved sustainability of its products. Based on Nike's global report, it spent $417 million in communities and $130 million in promoting equality and improving sustainability in the environment (Thompson, 2016).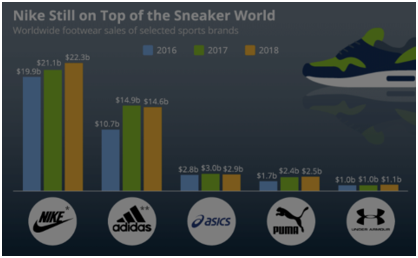 NIKE'S MARKETING STRATEGY MAKES IT REACH THE TOP OF BRANDS (THOMPSON, 2016)
Recommendation with Porter's Value Chain model
Porter's Value Chain model deals in the strategic development of the management tool that gives power to the company to increase its value chain.
Inbound logistics: Nike focuses on product quality and sustainability as they are the main reason for their success. The company focuses on inbound logistics to promote quality checks, sustainability. It has independent contractors, manufacturers and more than 500 factories globally to operate (Henry, 2012).
Operations: this includes manufacturing, assembling, packing and testing sneakers in the warehouse before distribution. Nike focuses on operation analysis on a regular basis to improve productivity and efficiency and increase value.
Outbound logistics: this includes activities to store and distribute products all over the globe through retail marketing (Henry, 2012).
Marketing and sales: The primary activities that the company undertake in marketing and selling include inbound logistics, operations, outbound logistics, marketing and sales, and service (Karvonen, ET AL., 2012). The goal of the five sets of activities is to create business values to generate higher revenue for the company. Nike promotes its products through emotional branding, story-telling, physical marketing, and promotion through social media channels (Thompson, 2016).
Service: It has 100 million customers as per the report of 2017 that the company wants to keep. So, it provides customer registering service, discount facilities, etc (Henry, 2012).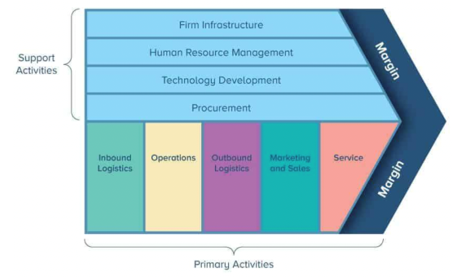 PORTER'S VALUE CHAIN MODEL (Karvonen, ET AL., 2012)
Three recommendations to Nike on how Porter's model can enhance or maximise marketing (exposure and impact) selling (increase sales traffic):
• Nike is always focusing on improving its primary business activities. So, to improve its business value it should follow Porter's model.
• Nike uses its website and social media channels to do all of its business activities that make them more reputed and trustworthy. So, it should use porter's model to maximise marketing activities over the website and social media channels.
• By using the services and operations model, the company can promote its selling.
Conclusions
It is important for the Company to enter the mind of its customers and hold loyal customers through proper promotion and branding. Nike should include promotions on tumbler and LinkedIn. Nike should use digital marketing more to engage its loyal customers and increase the base. This should be done through eco-friendly marketing and a sustainable product manufacturing system. It is analysed from the study that Nike Inc. has a revenue of USD37.4 billion in 2020 and is forecasted to increase much higher in the next decade. The company spends a lot on branding its sports equipment through digital media channels and websites. A few recommendations on improving the supply chain of the company to meet required needs in the market.
Recommendations
In this section, three recommendations are made for Nike Inc. on how it can enhance or maximise the value offered to the customers by producing more ethical and eco-friendly sneakers.
1. It is recommended to increase the sales per customer to hold loyal customers through digital marketing and using effective social media channels.
2. Nike should retain customers longer through offers and discounts and providing good quality products. Nike should fulfil consumer demand in every season.
3. It is recommended to lower the cost of the sneakers to increase business value. Also, it can lower the cost by using renewable and recycled resources in making footwear. Nike should completely stop using freshwater for any kind of manufacturing purpose as freshwater is not sustainable for manufacturing and also very costly to maintain.
References
Fill the form to continue reading