×
Limited Time Offer !
FLAT 30-40% off - Grab Deal Before It's Gone. Order Now
Sample MBA641 Strategic Project Management Assignment
MBA641 Strategic Project Management Assignment Sample
GET STARTED NOW AND GRAB PROJECT MANAGEMENT ASSIGNMENT HELP Up To 20-30% Off - Don't miss out on this chance and fill up the below form!
MBA641 Strategic Project Management Assignment Sample
Assessment Description
The purpose of this assessment for assignment help is to foster students' ability to evaluate and determine project viability, including the analysis required in the selection process. This will also form a part of students' ability to create project portfolios that meet an organisation's strategic goals and requirements and analyse project lifecycles and the processes involved in project development. Students will also demonstrate the criteria required to evaluate the success of projects based on an organisation's goals, strategy and standards and analyse the project lifecycle and the process involved in project development.
Assessment Instructions
Presume that you are advancing for the STH BNK by Beulah project and that you have now been asked to prepare a detailed risk analysis and stakeholder management plan before commencing the project. Complete a comprehensive risk assessment of your project proposal and statement of work (SOW), linked directly to the case study. In addition, complete a stakeholder management plan, in which you will propose ways to manage the relationships between the stakeholder groups identified in the case study and the proposals you have put forward in the first and second assessments. Your analysis needs to be directly linked to the case study and related to all the elements you addressed in the Project Strategy Framework and Statement of Work (SOW).
Your risk analysis should be approximately 800 words. In it, you must include the concepts studied in weeks 4 and 5, accompanied by at least one or more of the risk assessment techniques used, such as risk assessment grid or project risk picture. You must identify potential risks in addition to your research on the project and its site by stating a clear outline of how these will be managed.
Your stakeholder management plan should be approximately 1200 words. In it, you must follow an appropriate, professional presentation style addressing the client who has commissioned the project and should include the identification of the various stakeholders, their interest and influence over the project, and a clear outline of the engagement strategy for each stakeholder group. Please don't forget
Assessment Information
COMMONWEALTH OF AUSTRALIA Copyright Regulations 1969
This material has been reproduced and communicated to you by or on behalf of Kaplan Business School pursuant to Part VB of the Copyright Act 1968 ('Act'). The material in this communication may be subject to copyright under the Act. Any further reproduction or communication of this material by you may be the subject of copyright protection under the Act. Kaplan Business School is a part of Kaplan Inc., a leading global provider of educational services. Kaplan Business School Pty Ltd ABN 86 098 181 947 is a registered higher education provider CRICOS Provider Code 02426B. to outline the appropriate objectives and measures for the various stakeholders, using the relevant frameworks, concepts and diagrammatic tables, as necessary, to explain your reasoning clearly and concisely.
In addition to the case study, you are required to use at least 15 sources of information and use the Kaplan Harvard Referencing Style. These may include government publications, industry reports, and journal articles. These sources must be presented in the form of in-text citations and a reference list at the end of your submission. Wikipedia and other 'popular' sites are not to be used.
Solution
Introduction
This project will aim to discuss the risk management and stakeholder plan. Beulah's Sth Bnk Project is a construction project in Melbourne that aims to build the tallest and most eco- friendly building. This project will build two skyscrapers that combine luxury and sustainable patterns. One of the buildings will be 102 storeys while the other will be 59 floors. The construction project will involve many stakeholder groups along with risk assessments.
Risk Management and Control
Construction projects involve huge risks, investments and efforts; hence, risks can be considered a vital part of any construction project like that of Beulah's Sth Bank Project. The project is exposed to many risks, including safety, financial, legal, project and environmental (Dekkers et al. 2016). Before continuing the explanation for risk management and control for Beulah's Sth Bank Project. It is important to understand profound differences in uncertainty and risks. Uncertainty refers to events that are not known, while risks are generally calculated and known (Aven 2016). Although, uncertainty in each phase of the construction project might impact the success of Beulah's Sth Bank Project. Thus, it is important to assess risks at every phase to explore unknown risks that might result in cost overrun, design failures and others.
Below is a risk description and analysis matrix, which will identify specific risks related to two construction phases.
Risk Assessment and Analysis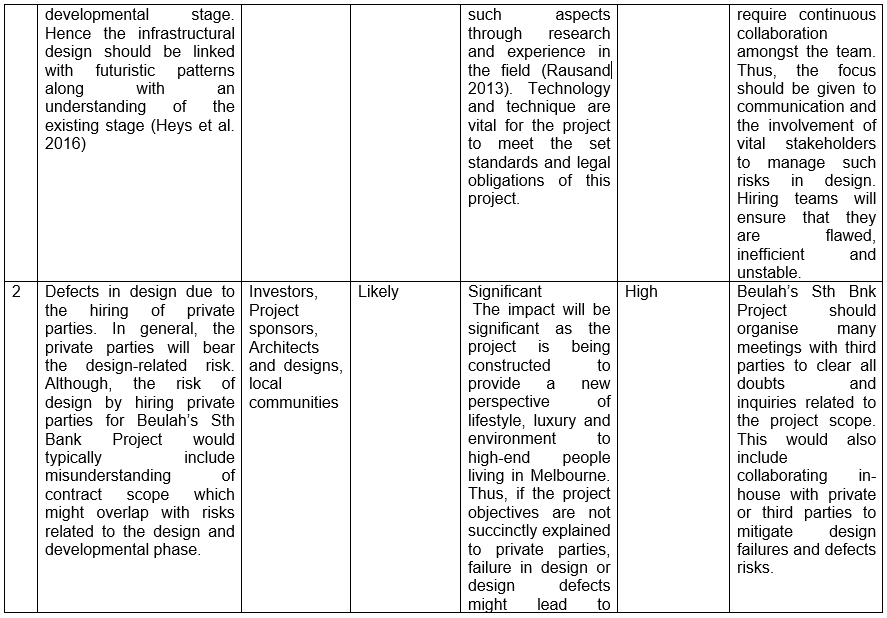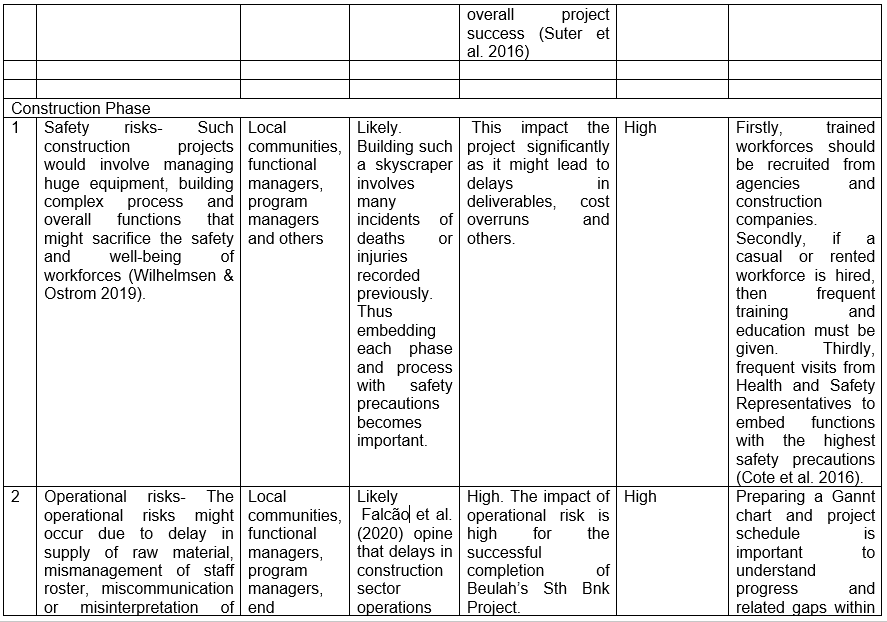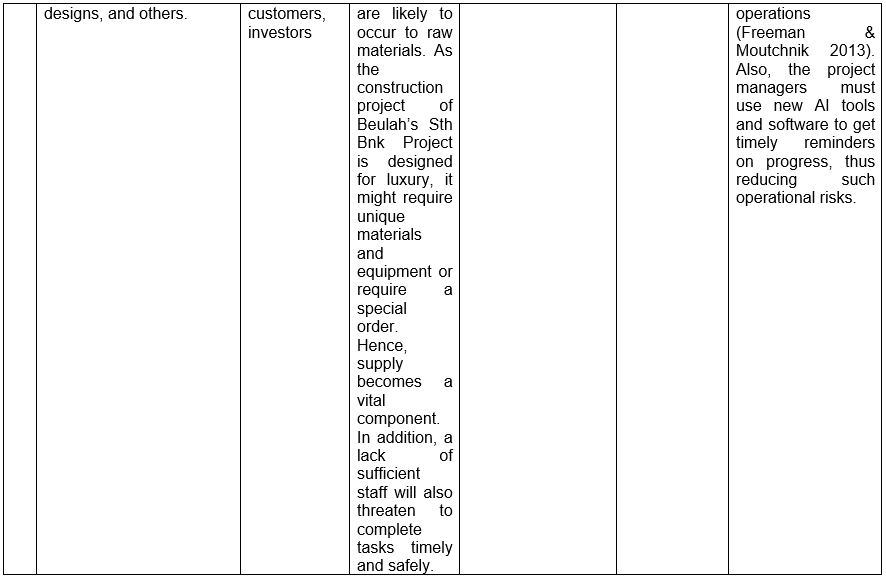 Stakeholder Management Plan
List of Key stakeholders:
Stakeholders are individuals, groups and organisations whose existence impacts the organisation. Stakeholders might be actively involved and work hard to make the project successful. In addition, stakeholder groups will also include groups or agencies like governments, investors, and sponsors. Thus, they might be internal or external (Eskerod & Huemann 2013).
For the project, Beulah's Sth Bnk, which is a luxury and sustainable real estate project, the list of stakeholders would include
- Architecture and designers
- Technological and environmental experts
- Project sponsors and investors
- Program managers
- Contractors and subcontractors
- Project-related employees and suppliers
- Government authorities
- Suppliers
- Labour unions
- End – customers
Create a Matrix based on Power and influence grid: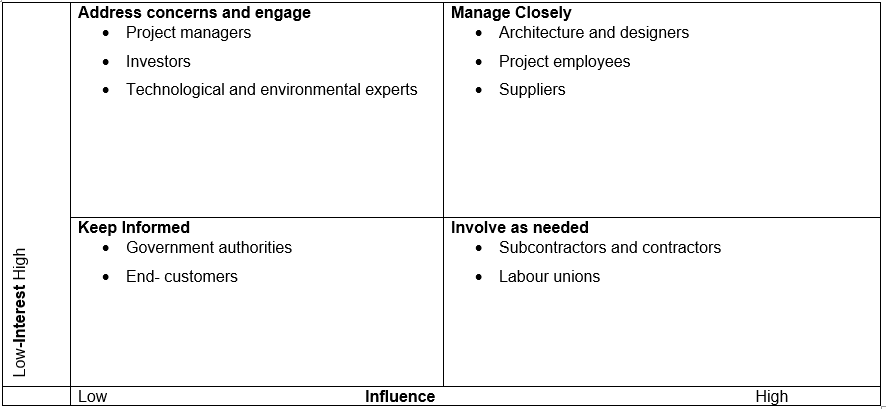 Who are we engaging, and how do we reach them?
External stakeholders: This stakeholder group would include governments, suppliers, technological and environment experts, labour unions, contractors and others

Community:

Internal stakeholders: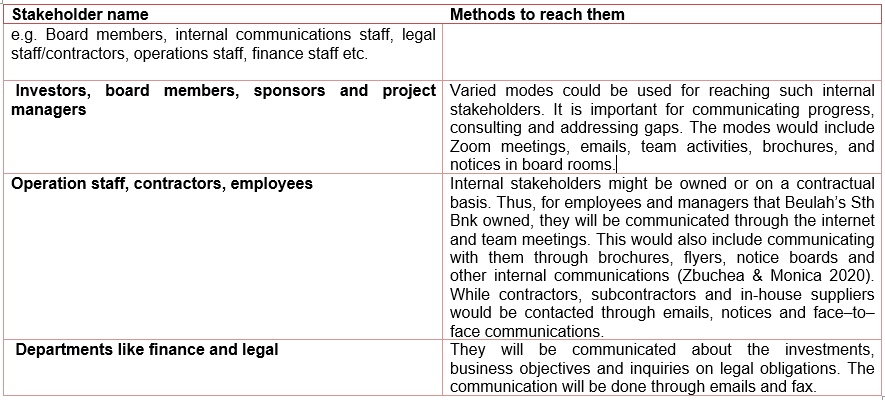 How do we collect input/feedback?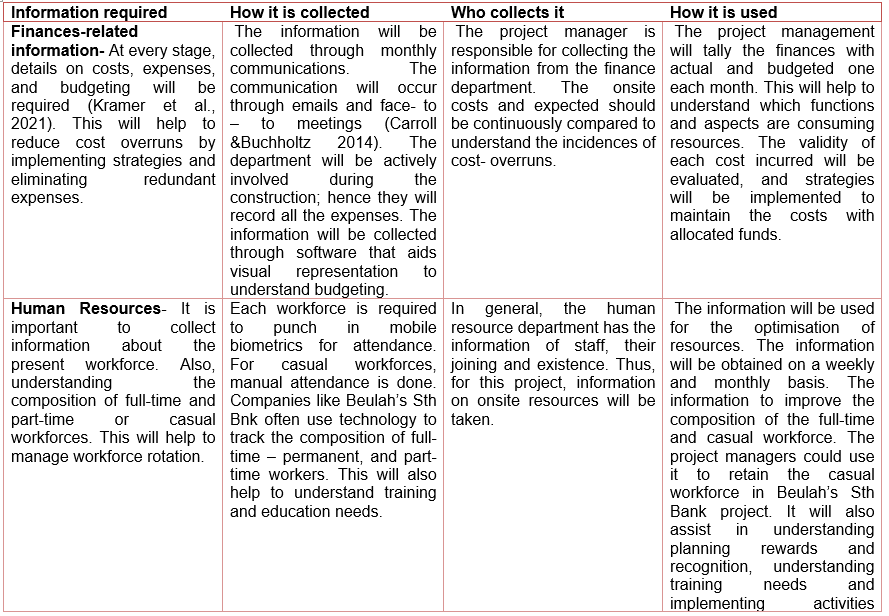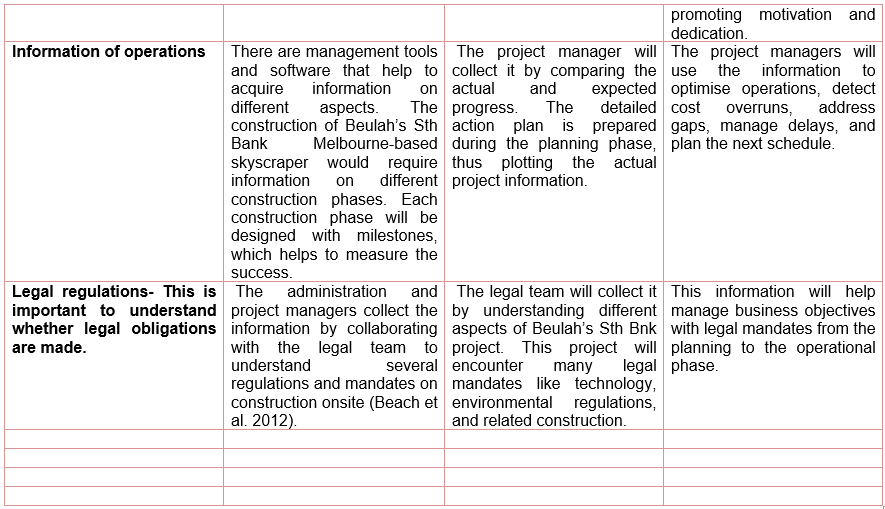 Plan: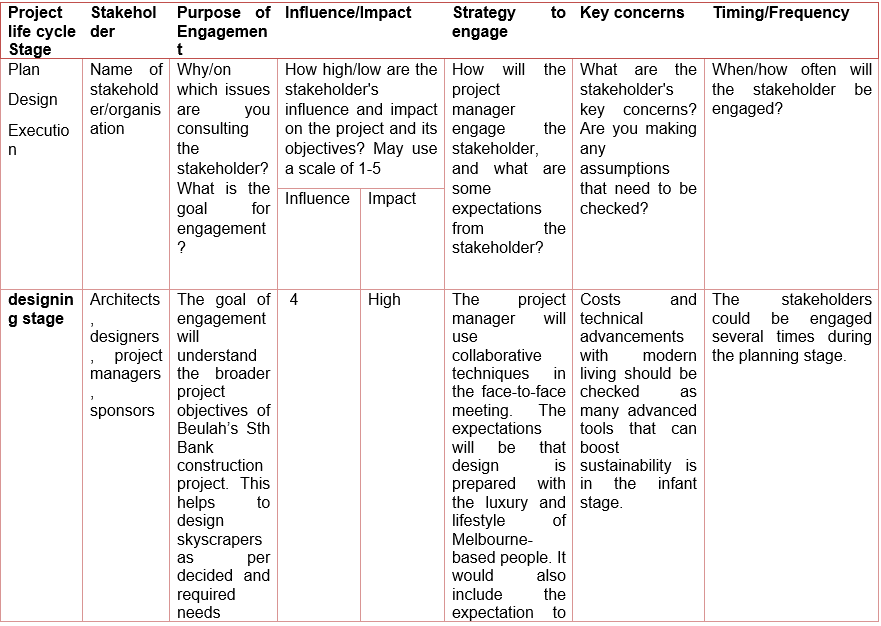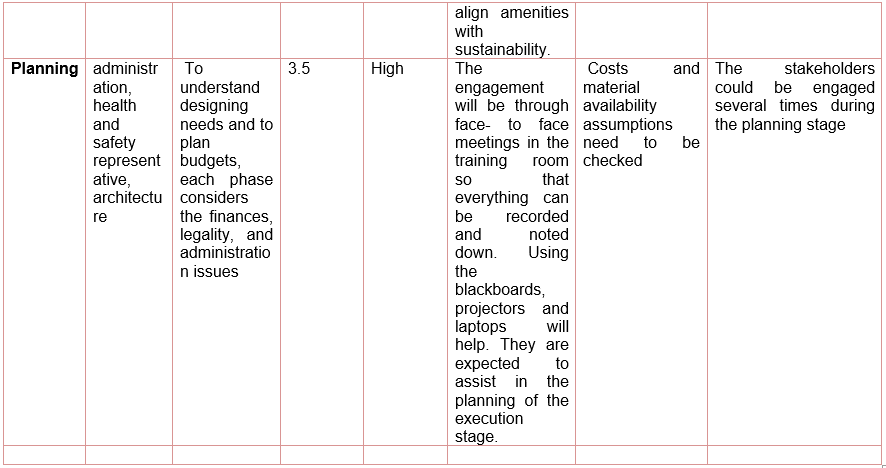 References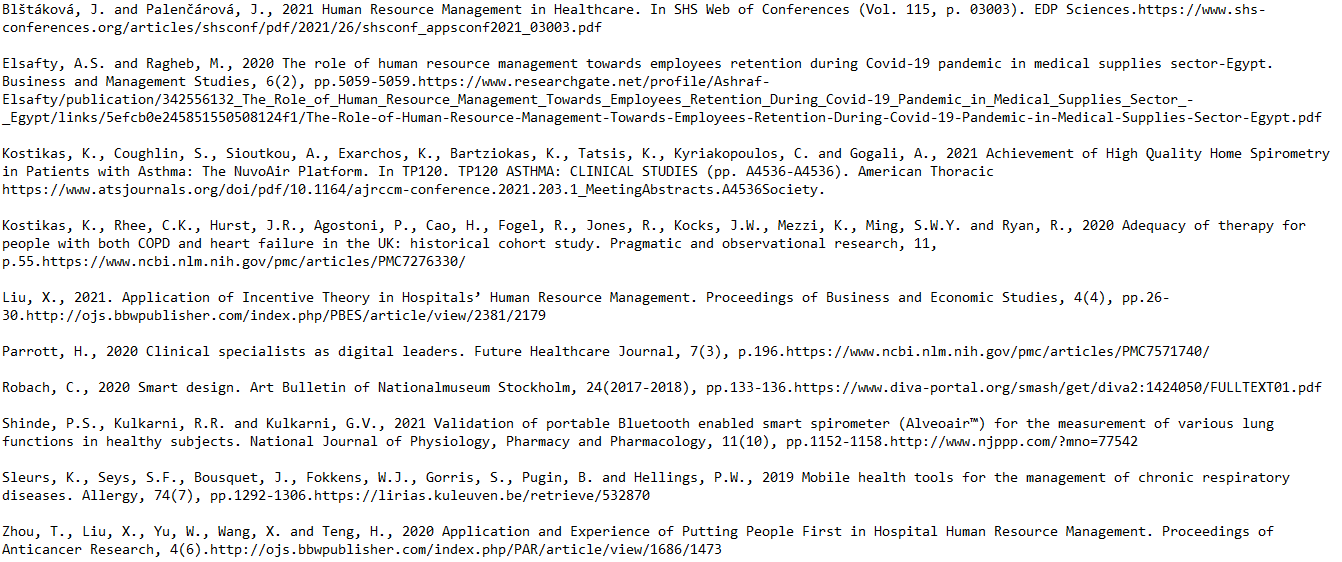 Fill the form to continue reading