×
Limited Time Offer !
FLAT 30-40% off - Grab Deal Before It's Gone. Order Now
Sample MKTG10001 Principles of Marketing Assignment
MKTG10001 Principles of Marketing Assignment Sample
GRAB MARKETING ASSIGNMENT REPORT HELP : A+ GRADE ASSURED Place Your Order Now and Get Up To 20% Discount!
MKTG10001 Principles of Marketing Assignment Sample
The 3 questions -
PRELIMINARY RESEARCH
1. What car manufacturing company are you looking at?
Toyota
2. Research what kinds of car products that your company sells?
Vehicles, engines, car air-conditioning compressors, car electronics, battery and stamping dies
3. Whatare the target markets that your company targets? (e.g., environmentally conscious drivers who want to reduce their carbon footprint, outdoor lovers who like to go off-roading)
Toyota has a large variety of car types one such is the corolla which targets its customer base by model
Report format:
Introduction
«Company overview
«Car categories that your company sells
«What type of consumer products does your company sell?
«Purpose of the report
Industry Overview
«Opportunities and threats in the biscuit industry
«Identify a new car product that your company wants to introduce
Market Segmentation
« Market segment that your company will target for your new car product
Marketing Mix
3.1 Product
« Define product and discuss why it is important for marketers to introduce new products
« What stage of the product life cycle is your new car product at?
3.1.1 New Product Development Process
3.1.2 Branding & Packaging
3.2 Price
«Define pricing and discuss why itis important for marketers to understand pricing for their new car product
3.2.1 Pricing Objectives
3.2.2 Pricing Strategies
3.3 Place
« Define place
«Discuss where will the new car product will be sold
3.4 Promotion
Define promotion and discuss the importance of pricing for your car product
3.4.1 Promotional Objectives
3.4.2 Promotional Messaging
3.4.3 Promotional Strategies
Conclusion
Solution
Market Segmentation
Toyota uses various methods to analyse customers' needs and preferences. Toyota is a well-known automobile company, and for launching their new car product i.e. Corolla, they will target the market segment that brings value to their new car product. By conducting a market segmentation process, for assignment help Toyota will be able to decide on the market segment with similar attributes, socioeconomic background, buying behaviour etc, for reaching the group of customers efficiently and effectively (Dolnicar et al., 2018).
Toyota uses a mix of geographic, demographic and psychographic segmentation strategies for understanding the needs of different customer groups and customer profiling for launching their new car product.
Geographic- This segmentation divides the overall market based on various geographic units like countries, zip codes, states, cities, trading blocks, etc. Toyota is using this segmentation for the international market to understand the different cultures and preferences of customers.
Demographic- Toyota will mainly target customers of 30-50. It will also focus on targeting middle income customers (Tarun, 2020). Also in the B2B segment it will target companies of tours and travels.
Psychographic- Toyota uses psychographic segmentation and it will target environmental conscious drivers that take care of the environment. Also in terms of lifestyle, it will target people that are in love of off roading (Nkomo et al., 2019).
Marketing mix
4.1 Product
It is seen that when the company cannot accelerate the growth rate through the existing products, they need to develop new products to widen its market, increase sales, and earn profit through its innovative product. Also, a product is considered a centre of all the marketing activities and captures the customers' attention, if it fulfils their needs and preferences (Rodrik, 2018). A good and effective product is considered as a key to the market success. Hence by identifying the needs and demand of the products, a company launch new products to attract customers and generating profit in the targeted market.
At the current time, Toyota is known as one of the largest car manufacturers in the world. Toyota is developing and manufacturing automobiles and its related products such as engines, vehicles, car-conditioning compressors, batteries, car electronics- its components and device and stamping dies. For many years, Toyota has been offering a diverse range of products, and it is essential for them to introduce new car products to fulfil customers' changing needs and preferences (MOHSIN et al., 2021).Toyota needs to introduce new car products to explore emerging opportunities.
Stage of product lifecycle
Toyota has introduced a new car product and currently, the new car product is at the first stage of the product lifecycle. This is known as the introduction stage, one a product gets developed, it is introduced into the targeted market(Nkomo et al., 2019). At this stage, the product is released into the market first time and launched in the marketplace. During the introduction stage, the marketing team of Toyota begins creating awareness about the product and also reaching to potential customers to grab their attention towards the product. In general, when the product gets introduced in the market their sales are low at the beginning and the demand of the product builds slowly.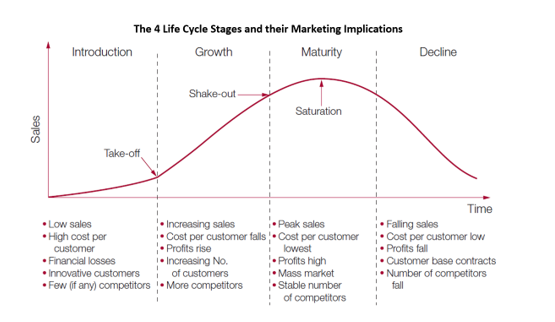 4.1.1 New Product Development Process
The company's marketing team majorly focuses on promoting the product by creating and running marketing and advertising campaigns. Toyota works on checking their distribution channels and also tries to create awareness among potential customers about its products. At this stage, the product faces no competition or less competition as the demand is slow (Tyulin & Chursin, 2020). The new car product by Toyota is currently at the introduction phase where the marketing team of Toyota is investing more on advertising about the new car product to drive customer engagement. Toyota is evaluating its sales strategy at this stage to check the efficiency and possibility of their product in the future.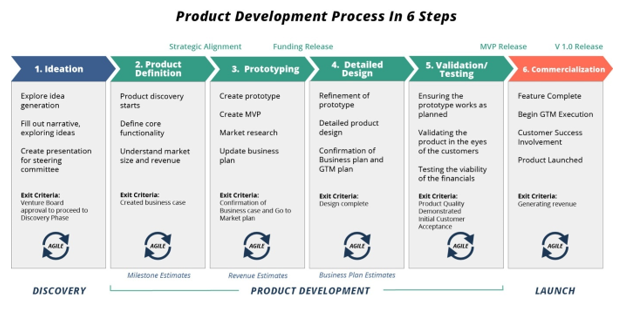 4.1.2 Branding
Toyota to achieve a higher level of customer satisfaction, it manufactures and markets its wares in a manner that caters to certain clientele utilising a differentiated targeting strategy. Toyota draws emphasis to the useful benefits that may be gained from using its goods and services via positioning strategies that are value-based and user benefit-oriented. (Jones & Bonevac, 2013).
References

Fill the form to continue reading